Finding the best enterprise ecommerce platform for your business can be an uphill task.
Wonder why?
Firstly, every large business is unique in its setup
Secondly, even for similar industries and business types, the requirements could be as different as chalk and cheese
Singling out the best-fit enterprise ecommerce solutions that streamline your large-scale business, needs a lot of thinking through, evaluation and assessment. After all, your brand needs a comprehensive solution that gears it up for success and growth in the trillion-dollar ecommerce industry.
So how would you define, identify and choose the best enterprise ecommerce software?
Let us start from scratch. In this blog, we will answer the FAQs about enterprise ecommerce software to help you choose the best ecommerce solutions for your large-scale business.
An enterprise ecommerce platform is a comprehensive software solution that makes it possible for high-volume, large-scale businesses to sell their products and services online and grow their sales. The best enterprise ecommerce solutions have advanced features that help business owners to manage inventory, customers, dealer-seller networks, and streamline operations needed to run the everyday business of large-scale businesses.
This software can be self-hosted or on-premise and usually have additional features to handle the complex requirements of high-volume businesses. Off late, both B2B and B2C large businesses have shown a preference for turnkey enterprise ecommerce solutions over legacy software. Turnkey enterprise software offers battle-tested solutions which can be tweaked to build tailor-made solutions for the brand. Also, off-the-shelf enterprise solutions reduce costs and speed up the go-to-market time.
Ecommerce platforms for large businesses differ in the way they are built and what they offer in terms of technology, set-up, features and ease of use.
On the basis of how they are built, enterprise ecommerce solutions can be of two types, namely;
On-premise Enterprise Ecommerce Software
Cloud-based Enterprise Ecommerce Platform
Large brands are increasingly favouring cloud-based turnkey solutions for enterprise ecommerce as it can be implemented at a fraction of the time and cost needed for implementing on-premise solutions.
Cloud-based enterprise ecommerce solutions can be of the following type:
Open-Source Solutions: In this type of solution enterprise brands can own the code and make changes in the code as and when needed. While open-source enterprise ecommerce software gives you control it is also vulnerable to security threats and is programming intensive.
Saas-based Enterprise Platform: In this type of enterprise software, you get fully hosted and managed solutions wherein the software is leased to you as a service. You pay monthly or yearly subscription fees and the service provider owns the code and is responsible for managing the hosting, upgrade, debugging etc. SaaS-based enterprise ecommerce solutions are hassle-free in a manner that they completely take care of the technical aspects and leave you to focus on your business.
Furthermore, SaaS-based enterprise software can be of two types based on its architecture:
Monolithic Architecture: In this architecture, the backend and the front end of the platform are tightly coupled. This means that any changes to the backend will require extensive frontend changes and vice versa. Customizations become lengthy and complex in a monolithic architecture.
Headless Architecture: Enterprise ecommerce platforms built on the decoupled headless architecture give better flexibility and creative control to implement customizations, and personalisation and help in creating tailor-made solutions for enterprises.
Headless enterprise software is the most in-demand solution as it gives large brands the agility to quickly adapt to market dynamics.
An ecommerce platform for large-scale, high-volume enterprise businesses is just not about shopping carts and checkouts. It needs a lot more features and functionalities.
When you are reviewing enterprise ecommerce solutions, you need to think in terms of scalability, flexibility, agility and the best technology stack that fulfils all the current requirements of your business and also offers future-ready solutions for growth.
Basically, the best enterprise ecommerce platform should have the features to;
Handle large orders
Implement extensive customizations
Scale to millions of users, products, vendors etc
Offer seamless integrations
Support a variety of business models
Automate various negotiations
Shorten long sales cycles
Help implement custom prices
Cater to diverse geographies
Penetrate international markets with features like multi-currency payments, multilingual marketplaces etc.
Manage multi-level networks of suppliers/distributors/sellers
Ensure security
Implement custom checkouts
Go for hyper-personalisation
And a whole lot of other features that modernize, simplify and automate your day-to-day enterprise dealings
Quite a long list, isn't it?
To simplify this complex set-up you need an enterprise ecommerce platform that incorporates solutions to implement all of the above. Also, it should automate the processes, introduce efficiencies and make it easy and seamless to run your business.
After all, you want to make your business stand out by offering the most engaging customer experience!
Turnkey enterprise ecommerce software makes it busy for brands to modernize their business processes and set their brand on a growth trajectory.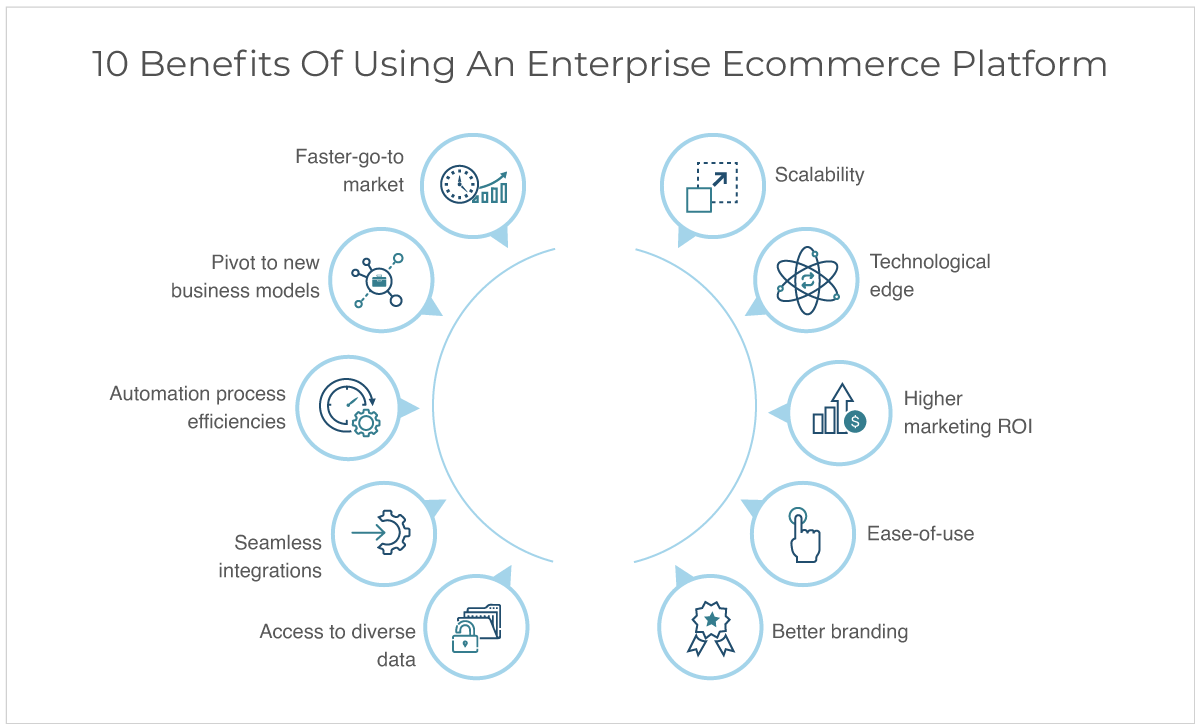 Here are the few undisputable benefits of using E-commerce platforms for enterprise business:
Faster-go-to market with battle-tested solutions for a variety of business models and industries
Better scalability with cloud-based solutions that scale up or down based on traffic and demand
Easy to pivot to new business models with battle-tested built-in features and modules
Technological edge as enterprise ecommerce platforms keep upgrading software to meet market demands and changes
Access to a variety of features that help in automation and introduce process efficiencies
Enables achieving higher marketing ROI with built-in and integrated marketing tools/software that simplify personalised marketing
Seamless integrations help in building out-of-box ecommerce environments that foster growth
Ease-of-use so customers can be engaged better and nudged towards faster conversions through automation and self-service on the enterprise ecommerce platform
Access to diverse data from multiple sources (built-in reports, integrations with best analytics software, data from multiple sales channels like website, mobile apps etc.) to make strategic business plans for faster growth
Better branding with a multi-channel online presence, marketing across channels and seamless handling of customers, orders, processes etc.
With the best enterprise ecommerce software at their disposal, large-scale brands can easily reap all the above-listed benefits.
We understand that enterprise ecommerce software offers many advantages over legacy software. But the question that remains unanswered is - how to decide the best one for your business.

To help you make an informed decision, we present a complete evaluation of the 7 best enterprise ecommerce platforms for 2023 and beyond:
StoreHippo offers a SaaS-based turnkey ecommerce platform for enterprise businesses. The DIY enterprise ecommerce platform is designed on cutting-edge next-generation technology that helps brands build an omnichannel presence. It is an easy-to-use, inherently scalable enterprise solution with scope for extreme customizations.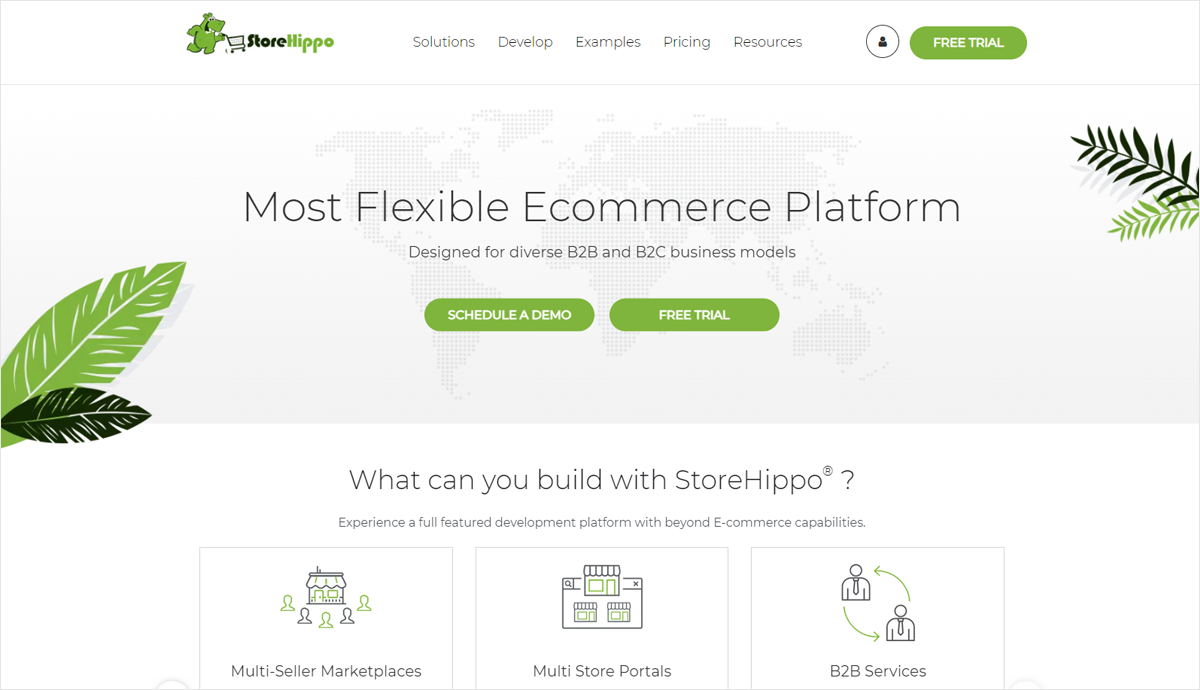 Pros
The fully hosted and managed low-code platform has ZERO development hassles. Built on MACH (Microservices, API-first, Cloud-native, Headless) architecture that gives greater creative control to implement personalization and build innovative, tailor-made solutions for enterprises.
The inherent flexibility of the platform makes it easy to tweak the frontend as well as the backend. StoreHippo offers peak load tolerance with inherently scalable infrastructure.
StoreHippo offers comprehensive enterprise ecommerce solutions with inherent features like pricing overrides, enquiry generation forms, customized checkouts and invoicing, RFQ, MOQ, bulk order processing and much more.
Built on the mobile-first principle all stores built on StoreHippo are PWA. This makes your whole online store look, feel and behave like a mobile app when opened in any browser. The use of SPA and MEAN stack also makes the stores lightweight and many times faster than stores built on old technology stacks.
Along with this, the StoreHippo enterprise ecommerce platform offers 300+ inbuilt features that take care of every aspect of the business. The inbuilt features eliminate the need for any paid apps or expensive plugins. You can also create numerous customer touchpoints and customize user experiences with StoreHippo's headless commerce solutions.
StoreHippo also offers inbuilt solutions for multi vendor marketplace, multi-store business models, multilingual websites, hyperlocal ecommerce solutions and multi-currency payments. StoreHippo supports enterprise businesses build on different business models like B2b, B2C, D2C etc.
The PCI-DSS-compliant enterprise ecommerce platform offers enhanced security with free SSL and audit logs. You also get inbuilt marketing tools, customizable themes, a tax engine and CMS. The SEO-friendly platform also helps you with optimizing your site for better organic traffic.
Along with these, StoreHippo offers 120+ pre-integrated solutions and you can also integrate with any custom third-party CRM/ERP/mailing software of your choice. StoreHippo also offers 60+ integrated payment gateways and 30+ integrated logistics solutions. You can also white-label your enterprise ecommerce solution built on StoreHippo.
Cons
Many of the advanced features are available only with the Business and Enterprise plans
StoreHippo users say they would have loved having integrated marketing services
Does not have its own POS system
Price
Business Plan - $179/month
Enterprise Plan- $359+/month
Enterprise Platinum- Custom Pricing
Adobe Commerce previously known as Magento's Commerce offers on-premise as well as cloud-based enterprise ecommerce solutions for large businesses. With a host of third-party extensions, it offers features to manage high-volume businesses.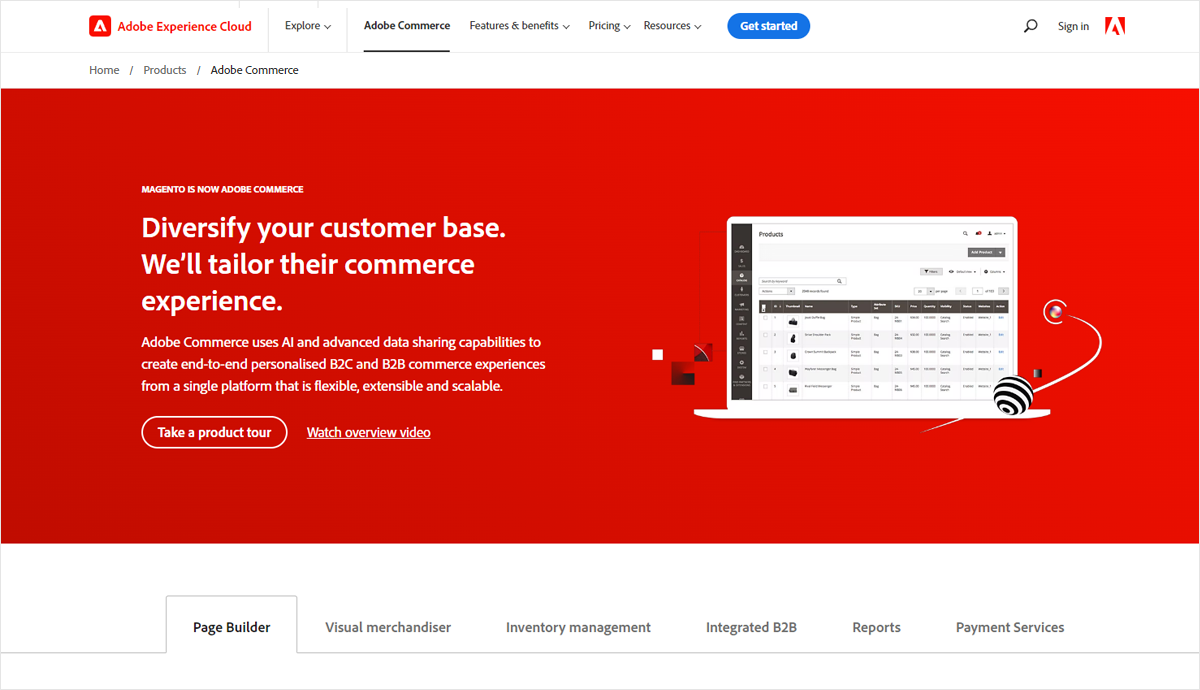 Pros
Magento enterprise ecommerce software has other features like detailed inventory and multi-store management required by high-volume enterprise businesses. Magento has a wide customer reach and offers extension-based as well as built-in customization possibilities.
Also, Magento enjoys the support of a large developer community that helps in finding solutions and fixing issues of your enterprise ecommerce solution.
Cons
Will need developers to manage, maintain and support your IT infrastructure
Some users complain that the platform is slow and buggy as the business scales
Security remains a major concern with regular security breaches
Magento platform upgrades every few years, migrating from one upgrade to another forces enterprises to undergo cumbersome, costly and complex migration every few years.
Price
Magento Enterprise ecommerce solutions can range between $22000 to $50,000 and requires ongoing costs for development teams.
Shopify Plus enterprise ecommerce platform offers a SaaS-based hosted solution through its Shopify Plus plan designed for large businesses.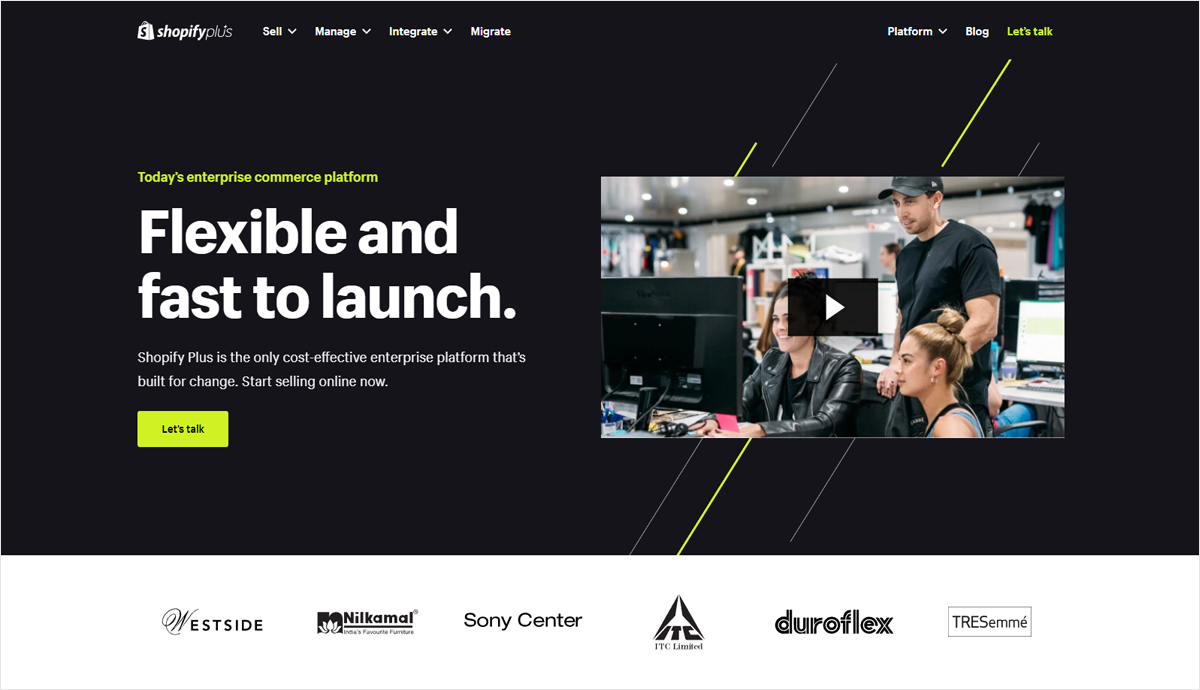 Pros
Shopify Plus offers all the features to build a store for high-volume businesses and gets it up and running quickly. It has support for payment gateways and inbuilt marketing tools as well as SEO capabilities. Shopify also handles sales increases effectively. Shopify Plus offers an app-based solution for enterprise businesses wherein enterprise features ( like multi-vendor marketplace, multilingual solution, multi-currency payments etc) and solutions can be implemented using multiple apps.
Cons
Use of multiple plugins makes the enterprise ecommerce platform set up complex, slow and cumbersome
Plugins can inflate the cost beyond budget
Shopify expert developers are needed to understand, implement and sync various third-party apps
Limited themes and templates which restrict the design layout you can implement
Limited apps compared to other similar open-source platforms that offer full customizations
Despite having a global presence international support for tax requirements, foreign regulatory compliance etc. is limited
Price
Shopify Plus enterprise ecommerce pricing starts at $2000/month or INR 1,52,000/month for standard setups and integrations. Shopify has a variable fee structure for higher-volume businesses.
BigCommerce offers SaaS-based enterprise ecommerce solutions through its higher plans aimed at large and wholesale businesses. Designed for large selling requirements this plan offers features like advanced filtering, price lists for pricing overrides, API calls for third-party integrations etc.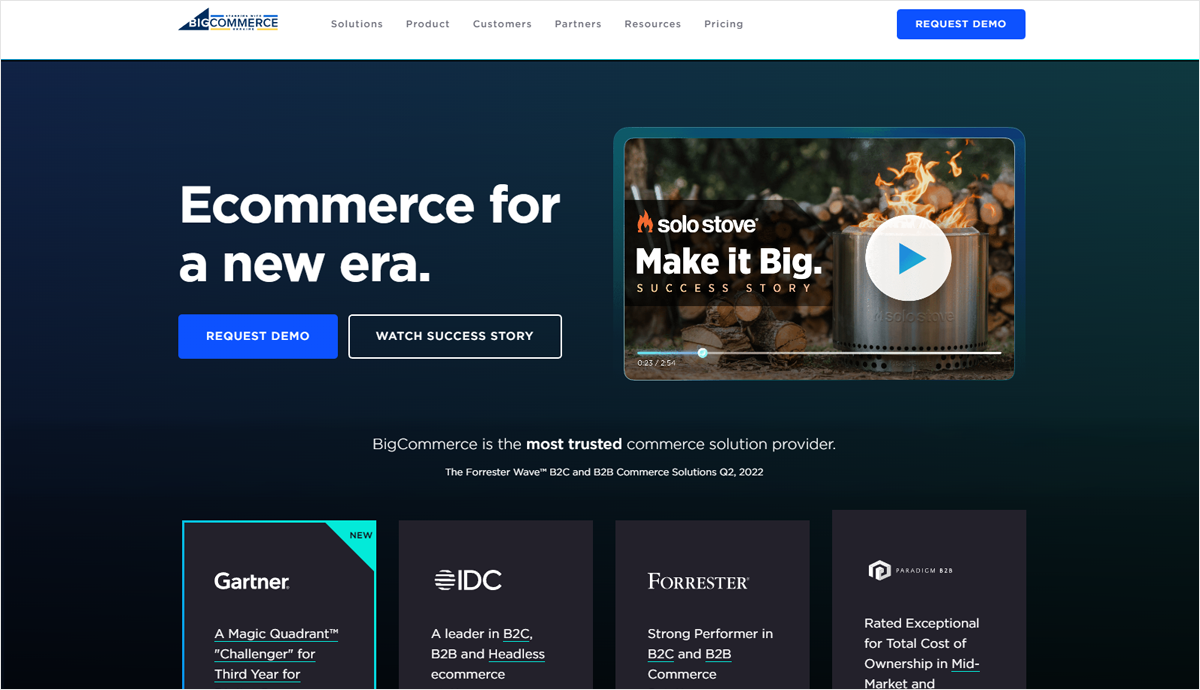 Pros
You can get a host of core features to manage your business without the need for any apps. BigCommerce can handle large complex catalogues and also offers multi-tier discount and coupon solutions. It also complies with security standards.
BigCommerce enterprise ecommerce platform also offers support for cross-channel commerce and works with many payment gateways. It has a wide partner network and can handle high traffic.
Cons
Steep Learning curve
Does not have an inbuilt solution for advanced enterprise-grade features like multi-store, multi-vendor or multilingual ecommerce
Depends on apps or workarounds that either cost extra money or extra coding or both to implement
The enterprise ecommerce platform needs better m-commerce features despite claiming to be built on mobile-first principle
Themes are limited and the SEO feature leaves much for asking.
Limit on annual sales which is negotiable but can make your complete solutions costlier than you set out to pay
Price
Custom pricing+ additional cost for plugins
Called Demandware earlier, Salesforce Commerce Cloud offers a SaaS-based enterprise ecommerce solution designed for large-scale businesses. It gives businesses a quick start with easy-to-manage inbuilt tools, automation, easy customizations and efficient management.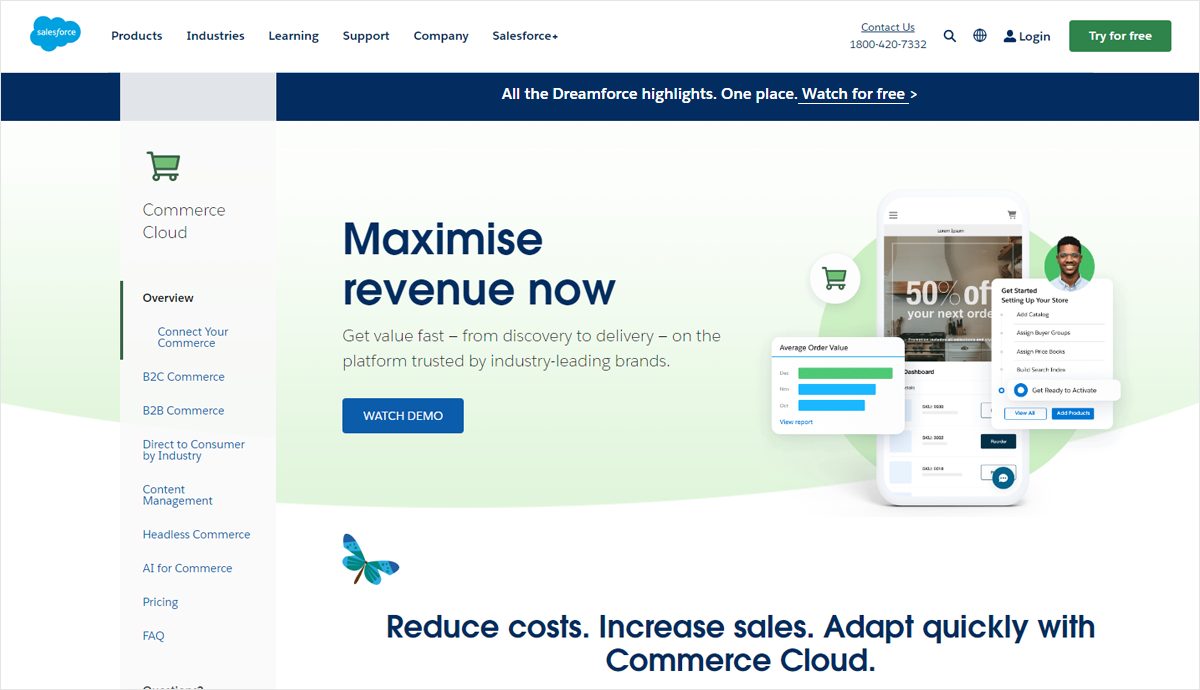 Pros
It offers automatic upgrades and maintenance along with scalability. It also has inbuilt tools that make it easy to achieve AI-driven personalizations. Salesforce also offers unlimited customizations, omnichannel sales through multiple touchpoints, user-centric shopping experience and holistic integrations for ecommerce.
Cons
Cluttered interface and freezing of sessions too frequently
Users find it complicated to customize the APIs
Customizations can go haywire in scope and cost if not handled by experts.
Steep learning curve
Lack of community support with very few enterprise ecommerce solution agency partners that can help with Salesforce integrations and development
Some users complain of limited data storage capabilities
Becomes expensive due to frequent upsells to other solutions within the portfolio
Price
Billed as a percentage of GMV
SAP Commerce Cloud, formerly known as SAP Hybris offers enterprise ecommerce solutions to large businesses with a presence in many countries and product verticals. It can be easily adapted for on-premise or cloud installations.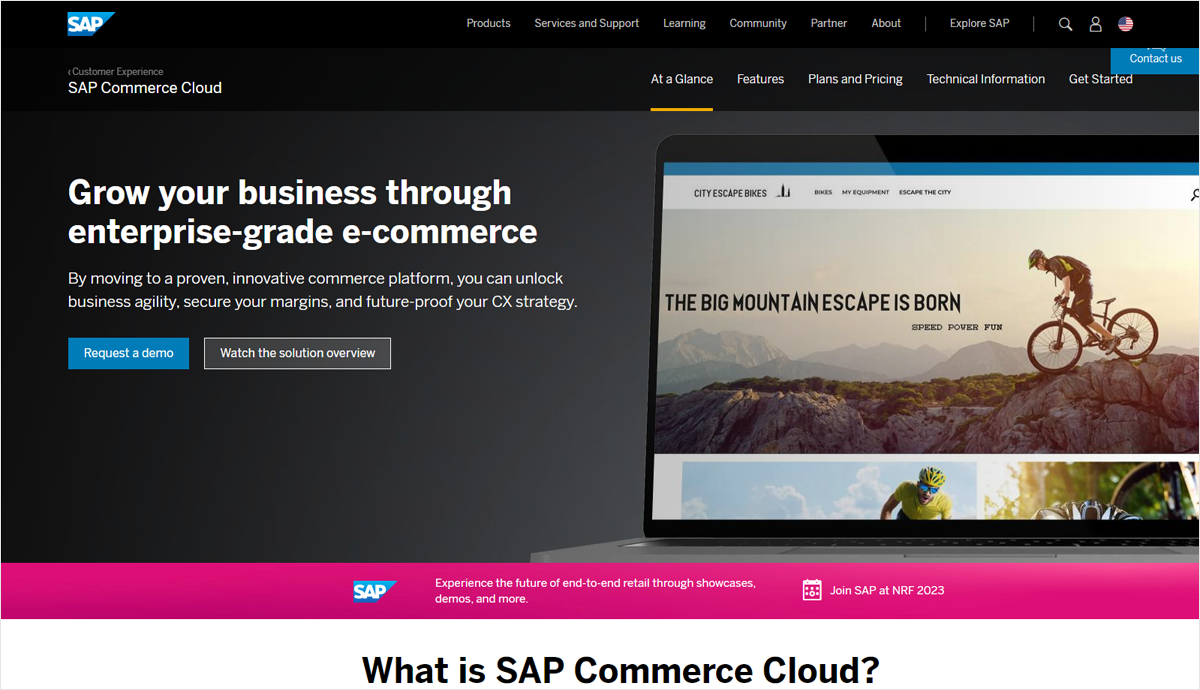 Pros
SAP Hybris offers inbuilt support for complex catalogues, differential pricing, customized price quotes for individual clients etc. due to its adaptable solutions and enterprise-grade solutions, it is good for businesses dealing with multiple brands or product lines spread across multiple geographies. SAP enterprise ecommerce platform also offers safe data handling, marketing automation and multilingual support.
Cons
Need to hire developers to handle your development, maintenance and upgrades
Developer-oriented model is complex for new users and not very adaptive to changes
Coding is difficult for developers handling the platform for the first time
Issues with site speed as reported by some users
No standard pricing, need to negotiate individual pricing quotes for specific products or suite that you need
Extensive customizations can cost much more than other enterprise ecommerce solutions of this level
Analytics and reporting capabilities are also not at par with other enterprise software
Pricing
Starts at $54,000 per year ($4,500/month) and goes up depending on the complexity of requirements.
WooCommerce offers an open-source enterprise ecommerce solution with the help of hundreds of free and paid extensions. WooCommerce enables enterprise brands to add any features and sell the products of their choice by tweaking the platform for their unique needs.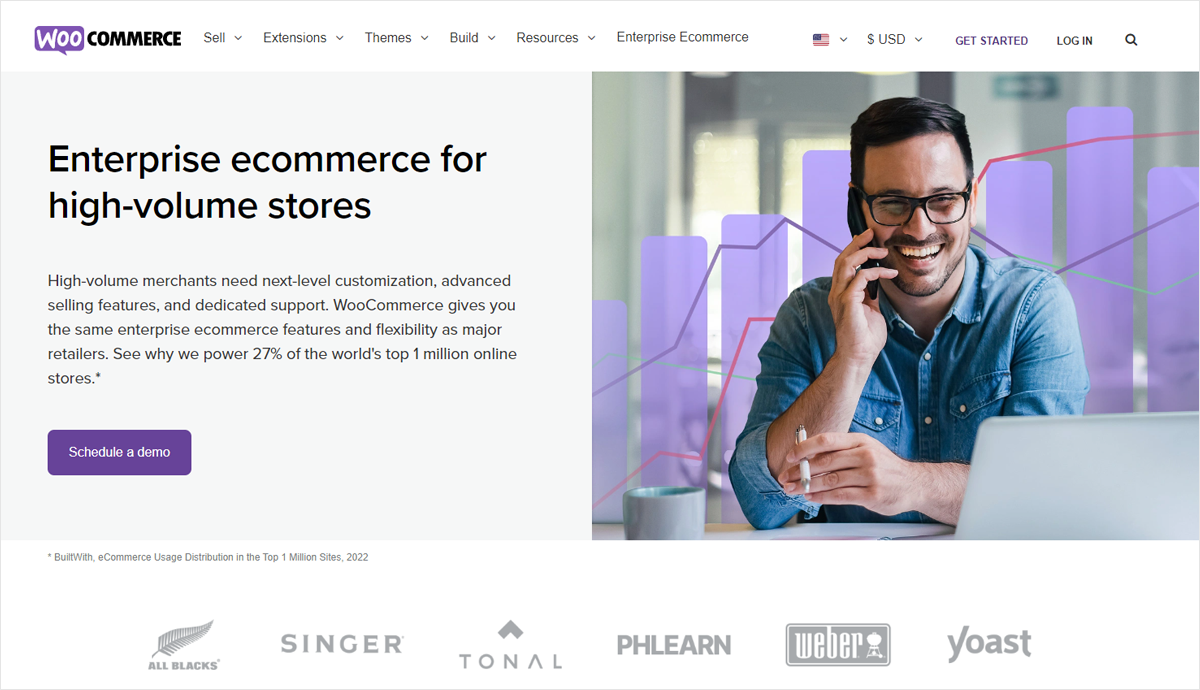 Pros
Built for WordPress, WooCommerce integrates with many payment gateways, marketing solutions, logistics solutions etc to offer comprehensive solutions for the specific needs of large-scale businesses.
It is open-source and customizable and a good solution for users who already like WordPress
It also got help from an active community of developers and experts.
Cons
Self-hosted enterprise ecommerce platform so enterprise brands need to handle updates and maintenance
Requires cost and resource-intensive higher hosting plans to manage peak loads
Built with developers in mind. Needs additional cost in hiring technical support/developers with an understanding of WordPress to help you with coding and scripting plugins
Customizations will need expert coders who understand the platform well.
Some users complain that aligning WordPress themes for WooCommerce needs complex changes which can be time-taking
Lacks important SEO tools which necessitate hiring a technical person for resolving small issues like canonical URLs, page doubling etc.
Expensive enterprise ecommerce solutions when you factor in the cost of hosting, upgrade and maintenance
Price
Variable depending on features, sales volume, hosting, development fees, plugins and other factors.
Despite reviewing the best enterprise software, deciding the best-fit solution for your large business can be confusing. While there is so much to be considered, calculated and factored in, making an informed decision requires asking some detailed questions.

Here are the top 3 you should be looking for in your enterprise ecommerce solutions:
While every business has a different vision and goals, some of the common goals irrespective of a brand's industry vertical and size are:
Improve overall business processes and performance
Boost orders and profits
Reduce costs at multiple levels
Make working easier, faster and connected between internal and external teams
Improve customer experiences
Enhance business scalability, stability and speed
Easily integrates with existing business software while making it easy to add/remove any software
Have access to multiple reports that give data-driven insights about business
To cope with changing buyer and market demands, enterprise brands need advanced technology that can support their business in days to come. Your enterprise software should fulfil the following technology requirements:
Ability to build disruptive solutions for your enterprise ecommerce brand
Scalability to accommodate business growth
Flexibility to adapt quickly to new business models
Provision to add multiple sales channels
Mobile-first solutions to leverage M-commerce
High uptime that keeps your business up and running all the time
While the enterprise software is aligned with your business goals and offers a technological advantage, it should also be the ideal fit for your budget. Your enterprise ecommerce software should fulfil the following budget requirements:
Offer transparent pricing
Should not involve additional costs for maintenance and upgrades
Has built-in design themes to add a personality to your enterprise brand
Does not require too many plugins which snowball your costs
Migrates you from your existing enterprise ecommerce solutions in a pain-free and cost-effective manner
Does not involve additional cost
Offers post sales support at no additional cost
The enterprise ecommerce platform you choose should have provisions to achieve all of the above. Narrow down your choices based on the above considerations and go for the enterprise ecommerce platform that aligns with your business goals, offers the technical support for running and growing the business and fits your budget requirements.
We have put forward the most detailed evaluation of the top enterprise ecommerce platforms that have the best enterprise-grade features for large businesses. As each business has its own sets of unique requirements, there cannot be a single best-fit enterprise ecommerce solution. While some enterprise software might have a set of desired features for your business, it might lack some other features.
Before you choose your enterprise technology partner, you need to evaluate their offerings in and out and find answers to queries that might not be clearly defined. The best way to do this is to get in touch with their sales team and ask as many questions as you need to understand the benefits and drawbacks of each of the above-listed enterprise software.
Ready to give a new edge to your enterprise business? Get started evaluating the enterprise ecommerce platforms right from the top of the list. Schedule your StoreHippo free-demo right away!