With 79% of online buyers choosing their smartphones to complete a purchase, m-commerce has been the driving force behind the stupendous growth of e-commerce in recent years.
Due to our dependence rather than addiction to smartphones, m-commerce is here to stay. Smartphones literally gave us a magic wand that opened up a whole new world for us. Right from connecting with our friends and family to watching the news, ordering food, booking tickets, buying gifts or everyday essentials and yes finding partners we do it all on our smartphones.
That's the magic of mobile commerce, everything you need is just a touch away! So, you need to have a mobile presence to reach your customers and grow your business.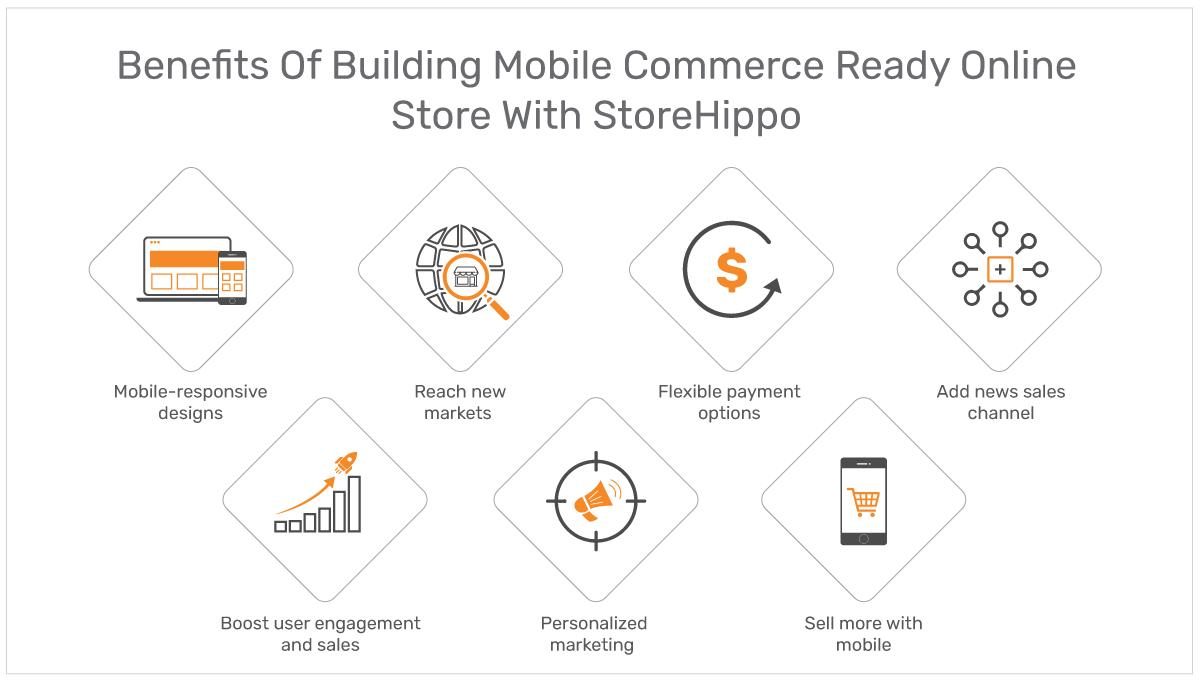 Mobile-Responsive Designs Are The Future Of M-commerce
Whether it is an ecommerce website or mobile application, the look and feel of your website is always the foremost factor that drives sales. Every user wants to see a beautiful website with responsive navigation on all devices.
With the hundreds of design themes and advanced features of StoreHippo, you can also build a user-friendly and compatible ecommerce website to get more user attention, more sales, and more business growth.
Reach New Untapped Markets To Boost Your Business Growth
With the increasing penetration of mobile users, online shopping is rapidly moving towards mobile. By 2021, the number of people who own a smartphone will rise to 3.8 billion (Source: Statistica). And this is over half of the current population of the world. So, every person with a mobile device is your potential customer and to access this large user base and leverage the new opportunities, you need a mobile-ready ecommerce platform.
With StoreHippo, you can reach new markets while optimizing your ecommerce website for mobile and also, leverage the benefits of mobile commerce.
Leverage Flexible Payment Options For High-End User Experience
Online payments are always the key ingredient to achieving a best-in-class user experience. If you already have a mobile app or are thinking of being on mobile, flexible payment options are a must. It may seem to be easy to add multiple online payment options but managing the business payments securely is not at all easy.
You need a one-stop m-commerce development platform like StoreHippo that can keep your mobile apps easy to use while providing multiple payment options like internet banking, debit card, credit card, UPI, cash on delivery to enhance your user experience and ultimately, business growth. Start leveraging a wide range of online payment options with StoreHippo to increase the convenience of buyers and make the checkout process easy.
Add News Sales Channel With Mobile-Specific Benefits
Mobile commerce provides an additional sales channel to grow your business like never before. Most of the customers are used to visiting the retail store to check and evaluate the product physically and then buy it online. Building a mobile presence offers a new sales channel to buy the product anytime, from anywhere they want. The benefits of mobile commerce lie in the familiarity of consumers with smartphones and mobile devices.
Along with the familiarity, StoreHippo allows you to leverage the host of mobile-specific features like push notifications, device-specific offers, personalized discounts, and much more. Building a high-end mobile presence also keeps your customers loyal to your brand.
Boost User Engagement And Sales
Most businesses believe that offering a responsive website is enough to enhance the user experience. But this is actually far from the truth. Mobile applications are 1.5 times faster when loading data and search results on mobile devices. As a result, the buyer journey is accelerated on their smartphones and mobiles.
You can also take the massive benefits of an accelerated customer buying journey with the advanced mobile commerce features of StoreHippo. We provide a superfast, lightweight website that works seamlessly on all devices and keeps your customers engaged. The Progressive Web Apps also help you to sell better in tier 2 and tier 3 cities where internet connectivity is a problem. With PWAs, your website will look, feel and work as a mobile app even on entry-level devices and on poor connections.
Personalized Marketing With Extensive Customer Data
Isn't it blissful to give your customers exactly what they were looking for? Today's era of personalization demands customized offerings. The "One-size fits all" approach does not do the trick for today's generation. Everyone wants personalization every single time they buy online. It can be a personalized coupon, discount, informative notification, recommendations timed for the moment they need it.
Well, StoreHippo can help you get all the benefits of personalization on mobile commerce applications in the easiest ways. The powerful discount engine of StoreHippo allows you to offer order-based promotions, device and user behaviour based discounts, marketing automation and much more.
Optimizing your website for mobile gives you improved possibilities of online selling and grab all the online sales opportunities. Today, 90% of consumers prefer to use coupons and get a positive feel to complete the orders with some discount applied. And mobile apps have a direct connection with higher sales and rapid business growth.
Personalized marketing gently pushes the buyers towards fast checkout and impulse buying increasing the overall revenues. The host of mobile commerce features offered by StoreHippo helps you to gain these enormous benefits. Check out the features here:
Set up different discount rules to create unique personalized offers for your customers

Create a variety of coupons codes and run multiple promotions

Plan flash sales with a limited period offers

Prompt your customers to order more by offering order level discounts

Brand or seller specific discounts to push customers to complete the order quickly

Personalized discounts for a single customer and group-based discounts

Push notifications to keep customers engaged

Frictionless one-click checkout on all mobile devices

Offer special discounts to loyal customers

Send real-time offers to upsell or follow up abandoned checkouts
Well, we have already seen the top ways to grow your business with mobile commerce solutions. And the best part is that you do not need to work on it through disparate systems because you can leverage the next generation technology with StoreHippo. We are all set to take all your mobile commerce pains while providing device-specific tools, mobile apps (Android/iOS), PWA (Progressive Web Apps).
The mobile-ready ecommerce platform of StoreHippo is built on the next-generation technology stack to head start your B2B and B2C businesses. Also, we are pioneers of using PWAs to make your website look, feel and work like a readymade ecommerce app across multiple devices. With StoreHippo, you can get your Android and iOS apps ready right from the admin of your online store without any coding. Along with this, the host of features will be highly useful in maximizing the benefits of mobile commerce.
Ready to enter the mobile bandwagon with our mobile-ready ecommerce platform? Schedule a 14-day free trial to explore all the exclusive features by yourself now.