Do you know that when you create an online store, your business takes flight; it will soar quarter to quarter, year over year? That is until a day comes when you find that you have grown so fast that you cannot keep up with the customer's expectations and demands, or your business has reached a growth plateau.
You must plan for the future growth of your ecommerce business. To be a leader in your niche you need to envision and execute plans for exponential growth.
So, how do you prepare your business for exponential growth?
Sssh….The secret lies in finding the right online store builder.
A store builder can help you modify your online store according to the changing trends and dynamics. A store builder which not only offers built in solutions but also customisation is a great option, in the long run, to help you compete in the online market.
How does an online store builder can help you scale your business?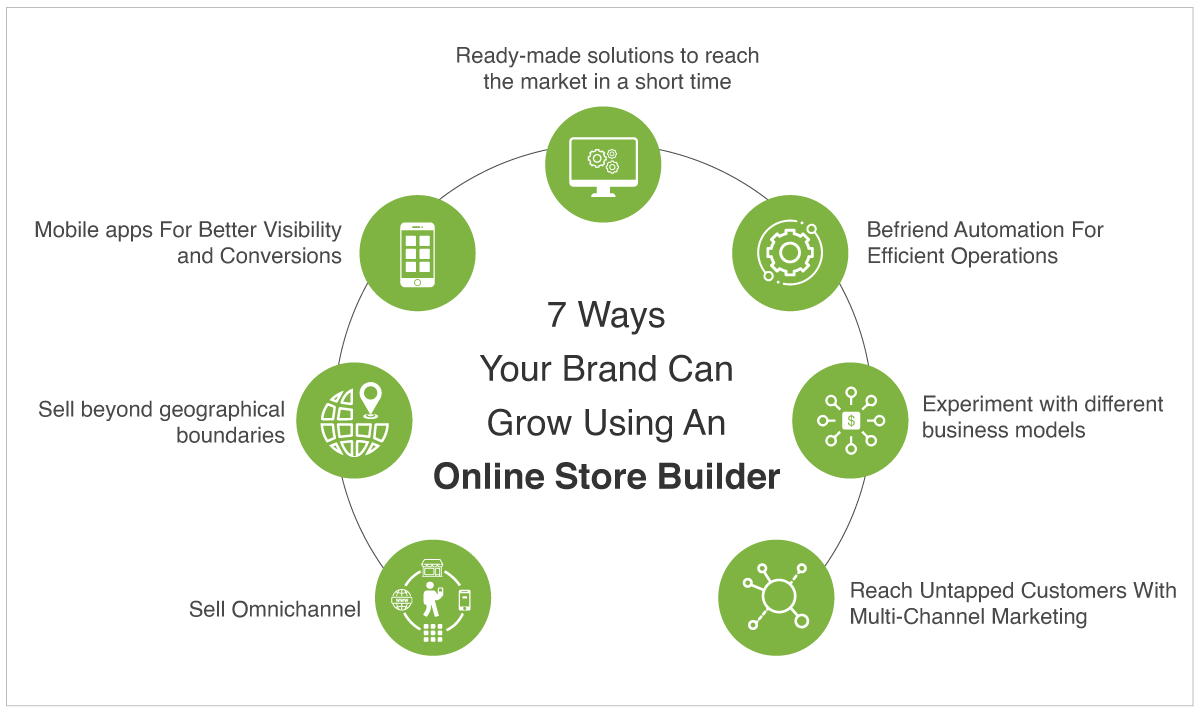 An ecommerce business might face difficulty in scaling with their existing software. Your IT team may take ages to come up with new ecommerce solutions suited for the changing markets. An online website builder is a lifesaver if you choose the right one for your business.
The ecommerce website builder offers turnkey solutions B2B and B2C businesses to build an online store quickly. The best store builders provide comprehensive 360-degree solutions that bring everything you need together to sell online. Now, wouldn't you like a store builder with inbuilt features that help you scale and expand your business quickly?
Here's how a store builder can help you to scale:
1. Ready-made solutions to reach the market in a short time
Modifying your website depending on recent trends, customers' needs and expectations or future innovations may be a challenging task. Your IT team may take a lot of time in creating new codes and solutions based on your preference. The time which would have been utilised in gaining a competitive edge would now be lost to fixing bugs or creating or developing templates.
An online store builder with the latest technology provides you with readymade solutions through which you can quickly adapt to new market changes. The store builder offers you various flexible options with which you can customise your online store.
StoreHippo, the best ecommerce platform helps you build a scalable online store in no time. With the help of fully hosted and managed solutions, StoreHippo supports business owners in their growth and expansion without letting them worry about the IT aspects.
2. Mobile apps for better visibility and conversions
Did you know that 73 per cent of all online sales come from mobile devices? You can attract new users, grow your business, and increase your brand's sales if you create an online store that is mobile-ready. Mobile websites or apps can enhance the overall customer experience and retain customers.
An online store builder which offers one-click checkout, fast loading, easy navigation, personalised user experience and more can help you attract more shoppers to your mobile commerce application and site.
Now, isn't that wonderful?
And there's more. With a great online store builder, you can also build a mobile app consisting of preferred designs, themes and templates, thus saving time and money.
StoreHippo ensures that your online store is future-ready with mobile readiness. Your store can be accessed by all customers using any smartphone application because the best ecommerce platform is compatible with all mobile devices and is available on both applications-Android/iOS. All stores powered by StoreHippo get PWA support to make your website look and feel like a native application on any device, thereby letting the customers access your website even when offline.
3. Sell beyond geographical boundaries
Amidst the pandemic, the CFO research survey reported that 45% of respondents were either currently expanding their businesses globally or planning to do so within the next year. (Source: CFO research) By moving your business to new territories, you gain a whole new audience, meaning potential tapping customers and more sales.
Supposedly, you find that there is good demand for your products in markets beyond your place of origin. You can easily scale to new markets and customers if you create an online store that comes with inbuilt features to help you sell in the global markets. You can altogether leave your worries about marketing, shipping, and currency payments, multilingual websites, etc behind.
StoreHippo powered stores get ready-to-use features like multi-currency, multilingual, multi-stores, international shipping, and many more to make your online global journey easier. The best ecommerce platform helps you achieve your dream of global expansion.
4. Sell omnichannel
For business owners, an omnichannel strategy offers an opportunity for a seamless shopping experience from physical retail stores through a variety of digital channels. Doing so, not only differentiates you from your peers but also gives you a competitive advantage.
An online store builder that supports headless architecture can enhance customer experience and conversions. It completely removes the need of building entirely new websites optimised for various devices or touchpoints, hence, making it so much easier for you to sell on multiple channels. Your online store will attract, engage, retain customers and ultimately boost your business growth. Creating a store on the best ecommerce platform results in streamlined digital experiences, and multiple touchpoints to increase sales and revenue.
StoreHippo headless commerce disintegrates the frontend and backend of your online store. Using 250+ API endpoints, the best ecommerce platform gives you an opportunity to produce streamlined digital experiences and multiple touchpoints to increase sales and revenue.
5. Reach untapped customers with multi-channel marketing
Once your business hits a plateau, online marketing is the key to helping your business grow and scale. From engaging with your customers to responding to customer complaints to delivering content to establish your business as an expert in a niche, integrated marketing is a necessity to scale your business.
The best ecommerce platform designed using the latest tools and technologies provides you with enough scope for your digital marketing tactics to bring in huge amounts of traffic and increase sales. When using an online store builder with inbuilt marketing solutions, marketing becomes simple and automated. The store builder already understands the metrics behind winning and losing campaigns, user behaviour, SEO friendliness, and what types of creatives you should develop to attract audiences.
Just like StoreHippo, the best ecommerce platform offers an end-to-end marketplace solution with multiple integrations. With the help of inbuilt tools, SEO friendly features, social logins, Google analytics, a powerful blog engine, and much more, you can stay ahead of the competition.
6. Experiment with different business models
Understanding the various ecommerce business models and setting yourself for long-lasting success is the key to growing in the online space. When you create an online store, you must understand your business models, determine your client's needs, and determine what structure will align with those requirements. A business model which works now may need tweaking or complete change in the future.
In a dynamic world, you have to go out of the box and adapt to new trends to pivot the business quickly. An online store builder with an inbuilt solution for multi-vendor, multi-store, B2B, B2C, D2C business models can help you create disruptive business models that have the potential to establish your brand as the leader.
StoreHippo offers you the tested solutions for various business models such as B2B, B2C, multi-vendor, multi-store, etc. The best ecommerce platform is highly scalable and offers your business a one-stop solution to manage vendors, shipping, inventory, and a lot more based on your model.
7. Befriend automation for efficient operations
When you create an online store, it usually involves a lot of work. From keeping an inventory check to fulfilment and shipping to marketing and communication, you have to keep your store updated all the time. Automation is the solution that you are looking for when you scale your business.
The most obvious advantage that automation gives is time. By automation, you can bring down the man-hours needed to complete the tasks that are time taking and manual error-prone. This leaves you with time to focus on core operations and new ideas. By automating your operations at every level of business, you can make your processes efficient and faster which eventually help you in winning more customers.
An online store builder with inbuilt automation tools can help you optimize resources and free up time for critical tasks like creating marketing campaigns and content. You can easily automate the complete process from signup to checkouts. The best ecommerce platform with automated tools can help you keep track of order management, inventory management, product management, shipping, thereby reducing manual tasks and focusing on ROI activities.
StoreHippo has inbuilt automation tools to automate your online store operations. When you create an online store with StoreHippo, you can automate inventory updates, order tracking, order fulfilment, marketing emails, taxes calculation, and much more.
Conclusion
When you create an online store, the primary motive is to grow and increase profits. But as you grow gradually, you may come up with new challenges and obstacles. The correct way to adapt to growth is to choose the right path from the beginning. An efficient store builder is a right choice to make use of budding opportunities.
StoreHippo, an online store builder, offers a gamut of features to ensure your business never loses an opportunity of missing out on the sales channel. Built upon the mobile-first principle and over 300 advanced features, StoreHippo empowers your brand to capture new audiences. So, get moving to take your business to new heights. Start our 14-day trial period now.