E-Commerce is the way to align your wholesale (B2B) brand with changed buyer behaviour and unlock success like never before. And how do you do it? By relying on a growth-oriented enterprise ecommerce solution to make your business shine.
Wonder what makes your wholesale ecommerce platform growth-oriented? Isn't building a digital presence enough to reach new buyers and hence grow better?
Well, well, just building your B2B online marketplace is not going to translate into more customers and more orders.
You certainly need to understand what your customers want and implement these insights to strategically target your customers.
Not sure how to do this?
That's where your enterprise ecommerce solution comes into the picture!!
Before we talk about enterprise solutions for business growth, let's first evaluate the trends in the B2B ecommerce industry. With the trends, we can easily decide upon the growth-oriented features needed in the enterprise platform.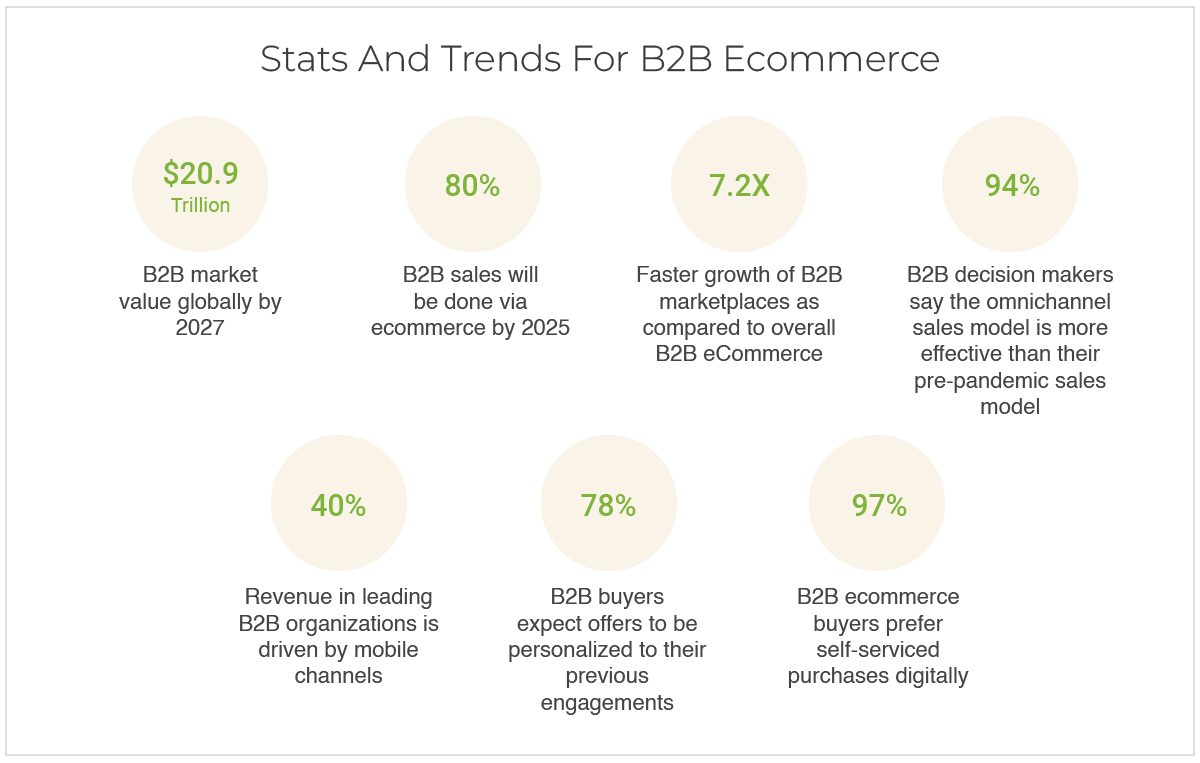 $20.9 trillion is the B2B market value globally by 2027
80% of B2B sales will be done via e commerce by 2025
7.2X faster growth of B2B marketplaces as compared to overall B2B eCommerce
94% of B2B decision makers say the omnichannel sales model is more effective than their pre-pandemic sales model
40% of revenue in leading B2B organizations is driven by mobile channels
78% of B2B buyers expect offers to be personalized to their previous engagements
97% of B2B ecommerce buyers prefer self-serviced purchases digitally
Source: Statista, McKinsey & Company, DHL Express
The trends clearly highlight the changes reshaping the wholesale business environment. B2B businesses, driven by customer demand for digital buying, self-service, personalisation and ease of shopping on online marketplaces are adapting their business models to cater to these demands.
And to make cutting-edge solutions for the above requirements brands need enterprise ecommerce solutions that have the right features to implement the changes.
In this blog we will understand what is a future-ready enterprise ecommerce platform and what are the features that it should have to accelerate your brand's growth.
In a nutshell, enterprise ecommerce platforms allow the enterprise or wholesale businesses to build their B2B online marketplace, onboard sellers/distributors/manufacturers etc. and sell a variety of products or services online.
The tools and functionalities of the enterprise-grade solution not only help in managing orders and vendors digitally, they also streamline the complete business flow and give better visibility to the owners.
With the right wholesale ecommerce platform at your disposal, you get the following benefits:
Gives you tools to streamline, standardize and automate your wholesale business
Enables to adapt quickly to market changes and gain first-movers advantage
Helps in managing multiple categories of products for different stores, locations, and customers
Enables creating tailor-made ecommerce environments with a wide range of features, tools and seamless integrations
Makes it possible to experiment with new business models by offering turnkey solutions which can be used to create disruptive hybrid models
Get vital business insights to track the online behavior of the customers, automate customized marketing campaigns, and offer personalized recommendations to the customers
Having a feature-rich enterprise ecommerce platform sets up your business for growth and gives you an edge over the competition.
The primary aim of an enterprise ecommerce solution is to provide better control and visibility to the management. While most ecommerce platforms do have features to run the business digitally, enterprise businesses require something Extraordinary to hack growth.
Now, that "Extra" in an "Ordinary" ecommerce platform is growth-oriented features that help you create a niche in the ecommerce industry and propel your business to new heights.
Growing an enterprise business requires tech solutions that can support your growth plans and strategies. Here is a list of must-have features in your enterprise ecommerce solution that enables your brand to solidify its presence and chart an upward growth trajectory.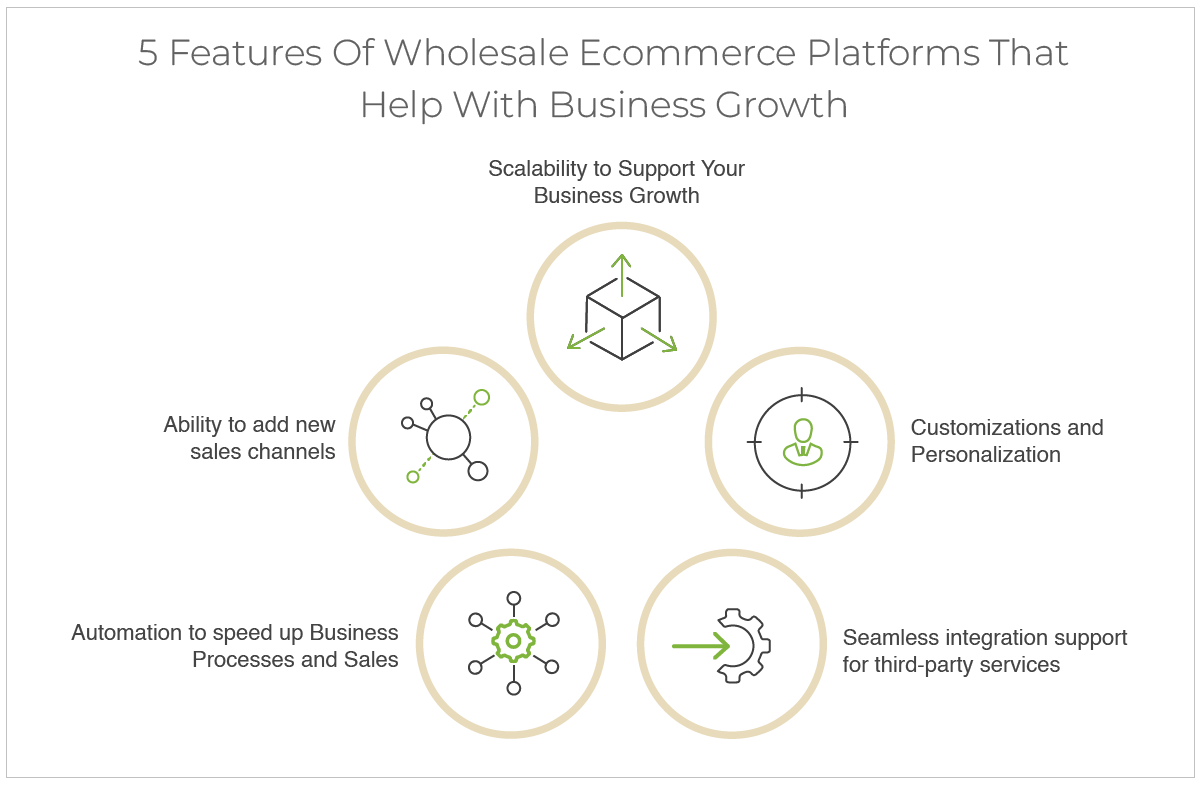 Growing businesses need technology platforms to accommodate their growth and let the business scale without any disruption or change in tech infrastructure. The scalability factor is of particular interest to wholesale business owners because as they deal in high-volume orders and scaling to a new market or new product/industry segment might sometimes require accommodating exponential growth in customers, products, orders etc.
So, it becomes imperative to have a wholesale ecommerce platform that has elastic scalability and enables your B2B marketplace to process more orders, serve more customers, and add more complex functionalities as and when required.
And do you know the best part? With StoreHippo as your enterprise ecommerce solution and its cloud-based infrastructure, you can grow and scale your business without incurring additional costs. Thanks to the headless architecture, you don't need to rebuild your platform every time you alter any of the business processes. You can tweak the backend and front end separately without needing a major overhaul.
No two B2B businesses are the same even if they are catering to the same industry and target audiences. When you add new product lines and explore new markets for your B2B online marketplace brand, you might also need to add new flows, and customize the sales cycle for a given product, add new software etc. For this reason, you need a wholesale ecommerce platform that can be easily customized and tailored for your brand's unique requirements.
Customization combined with personalization creates excellent business growth and success. When you customize your buyers' journey to offer them personalized content, UI/UX, prices, discounts, service providers, payment options, deals and discounts etc. your B2B online marketplace attracts more buyers and also gets more conversions.
To implement such personalized and customized buyer journeys your wholesale ecommerce platform should have loosely coupled components that can be operated independently. The loose coupling enables the platform to adapt and grow as per the demands of a fast-growing business.
For this reason, SaaS-based ecommerce platforms with MACH architecture have become the first choice for enterprise businesses. The components of MACH architecture,i.e; Microservices, API-first, Cloud-native, and Headless give enterprise brands greater flexibility and creative control to implement personalisation and customisations.
The cloud-based platform StoreHippo allows extreme flexibility and the ability to tweak the backend as well as the front end and more. A flexible enterprise ecommerce solution also helps you to do innovative customizations for your enterprise business to set your business apart.
With StoreHippo you can customize your B2B online marketplace to offer a memorable buying experience to your clients and close your deals faster with tailored product recommendations matched to your customers' needs. You can also help them navigate your site in their native language using StoreHippo's multilingual feature, help your customers pay in their preferred currency and show them the desired products on custom marketing pages.
Gone are the days when customers used to shop on one or two sales channels. An average customer nowadays used 4-6 channels to finalize their purchases, mobile being one of the favorites among all channels.
To connect with your customers better your wholesale marketplace should create a number of sales channels and be available to the customers on their preferred channels. Brands with a strong omni channel presence have 250% higher purchase frequency as compared to. single-channel brands.
So your enterprise ecommerce solutions should make it easier for you to make new channels commerce-enabled for your customers. StoreHippo's headless architecture enables you to easily use the same backend logic and API endpoints to create new frontends. StoreHippo's comprehensive omni channel solutions make it possible for wholesale brands to add a buy button to blogs, social channels, new-age wearables and any other frontend.
The mobile-ready platform comes with an inbuilt mobile apps builder that builds B2B marketplace apps without any coding or additional cost. Also, all stores and marketplaces powered by StoreHippo enterprise ecommerce solutions are PWAs, which means these stores look and work like apps even when opened in a browser. PWA B2B online marketplaces work seamlessly even on slow networks and entry-level devices.
By helping with your brand's multi-channel presence StoreHippo enterprise solutions enable you to grow faster and keep your customers engaged.
Do you know 99% of B2B buyers are using some sort of digital self-serve tools during their ordering process? Also, 75 % of wholesale buyers say they find digital self-service and self-exploration to be better than faces to face contact with sales reps.
Automating the sales processes on your B2B online marketplace can go a long way in growing your business. By introducing multi-level automated sales enquiries and support options you can cut short the negotiation time and gather customer requirements faster. This can lead to faster decision-making from the concerned decision-makers and quick sales closure.
StoreHippo comes with a host of B2B features and tools to automate your business and sales processes. With built-in and customizable forms by StoreHippo, it becomes easy to gather a variety of requirements for your customers. RFQ, MOQ, min-max order quantity, 3-party seller-admin-customer chat, chatbots and live chat, pricing overrides, and tiered pricing are some other features that automate the sales process on your B2B online marketplace.
With a well-rounded product and order management feature, discount engine, shipping automation and detailed reports you can also automate your day-to-day operations and create a connected, standardized and modern business environment using the cutting-edge enterprise ecommerce solutions from StoreHippo.
If you think that building a fully-functional B2B online marketplace, with streamlined and automated business flows, multi-channel presence and scalability ensured will be all that you need to grow your brand, you are sadly mistaken.
While these features and solutions will certainly create your brand presence, to make your brand stand out from the others you will need to create an ecommerce environment that sets you apart from the competition. And for this, you will need to integrate the best-in-breed software and service providers as well as the existing software or services being used by your business and your vendors.
An advanced enterprise ecommerce solution that integrates seamlessly with your existing and new software helps you in managing your online marketplace effectively. StoreHippo's fully-integrated wholesale ecommerce platform enables you to integrate with your ERP, marketing, accounting software, payment gateways and logistics solutions etc. to boost your ecommerce business.
Also, StoreHippo comes with 120+ built-in integrations. We have a variety of payment, logistics, marketing and accounting solutions integrated to help you streamline the processes on your B2b online marketplace and set up your business for growth and disruption.
Are you ready to take your wholesale business to the next level and leverage the growing online market? StoreHippo enterprise ecommerce solutions come pre-loaded with a host of growth-oriented features to help your enterprise brand build innovative solutions to carve your own niche.
With a long experience in building wholesale ecommerce platforms StoreHippo can handle your business requirements whatever be your business model or industry type. Our future-ready technology, mobile-first approach, 300+ inbuilt tools and features help you to reduce cost, improve efficiency, enhance business reach, acquire more customers, and improve sales.
The enterprise ecommerce solution StoreHippo, offers a comprehensive solution for complex ecommerce business models with wow website designs. It helps you create enterprise ecommerce stores with exceptional B2B and B2C features. Explore all of these growth-oriented features by starting your 14-day free trial today.