If there is one thing that you can be absolutely sure of in business, it's that the market will inevitably change. And if you do not leverage ecommerce strategies in order to protect and grow your brand, your business will cease to thrive.
Your brand's greatest threat isn't your competitor; instead, it is being anchored to the past. Dynamic innovations, rising customer expectations, evolving business environments, new technologies, and changing consumer preferences wreak havoc on even the best-laid plans.
If you want to have the best possible chance to survive, your business needs to adapt to change and future-proofing.
Future-proofing your business made easy
Future-proof means that you should anticipate the future and develop methods to minimize the effects of stresses due to future events. It means that you need to come up with innovative solutions or develop methods to increase the chances of your business survival. Many enterprises have taken cognizance of unforeseen challenges and are now working to make their business future-proof. For instance, many brands have begun omnichannel retail as part of their future-proofing strategy.
Consider these five ecommerce strategies that can help you think differently about embracing disruption and even leveraging it to your advantage.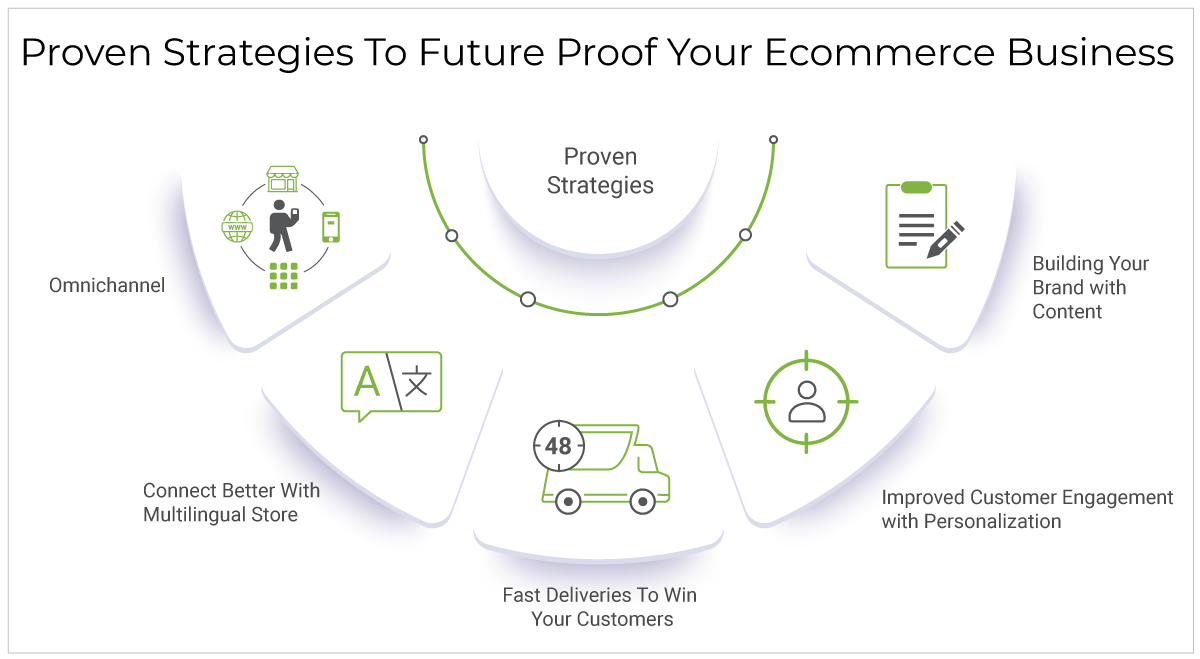 5 Ecommerce strategies to future proof your business
The retail industry is witnessing constant change. Technological disruptions, demanding customers, and changing shopping behavior have resulted in extreme competitiveness in the retail industry. Retailers who cannot adapt and respond to these challenges are finding it hard to thrive and survive in the industry.
Those in the industry that are able to thrive have strategically responded to new digital strategies by building modern retail supply chains, logistics solutions, creating the finest retail experience for their customers, and most importantly, using omnichannel retail strategies.
Retailers have discovered that future-proofing retail business goes beyond thinking through a multichannel sales lens. Instead, an omnichannel retail strategy enhances the customer experience and offers more platforms for customer shopping–whether on the mobile, web, or in stores.
Integrated marketing campaigns and an omnichannel sales strategy enable brands to meet the complex demands of modern customers while seamlessly combining the best of both on and offline consumerism.
How StoreHippo Can Help You Create Omnichannel Strategies
Becoming a successful Omnichannel retailer might look difficult and complex. Retailers have to build multiple touchpoints, standardize their customer experience and integrate their physical store presence with their online store-all in one place. The right business solution provider can tackle all these challenges easily.
StoreHippo is conceptualized and designed on headless architecture. It makes it easy for businesses to add multiple customer touchpoints using the same API and backend logic. StoreHippo also offers a gamut of tools to build, run and grow the business. The ecommerce software offers 120+ inbuilt integrations, 300+ API endpoints, and 300+ inbuilt ecommerce features.
You don't need to make any coding changes to the website as there is event-driven programming, and thus you can reduce your go-to-market time. The ecommerce software offers optimized performance powered by multi-tier caching and the fastest response time to keep your customers engaged.
StoreHippo helps you scale your front-end and back-end separately, retain and grow your customer base, and experiment with your marketing. With easy scalability options, it helps you grow your business.
2. Connect better with multilingual store
Do you know that 75% of global customers prefer to buy from websites in their native languages?. The growth of foreign native languages on the internet signifies the need to build a multilingual website.
Here's a graph of the internet users in 2020: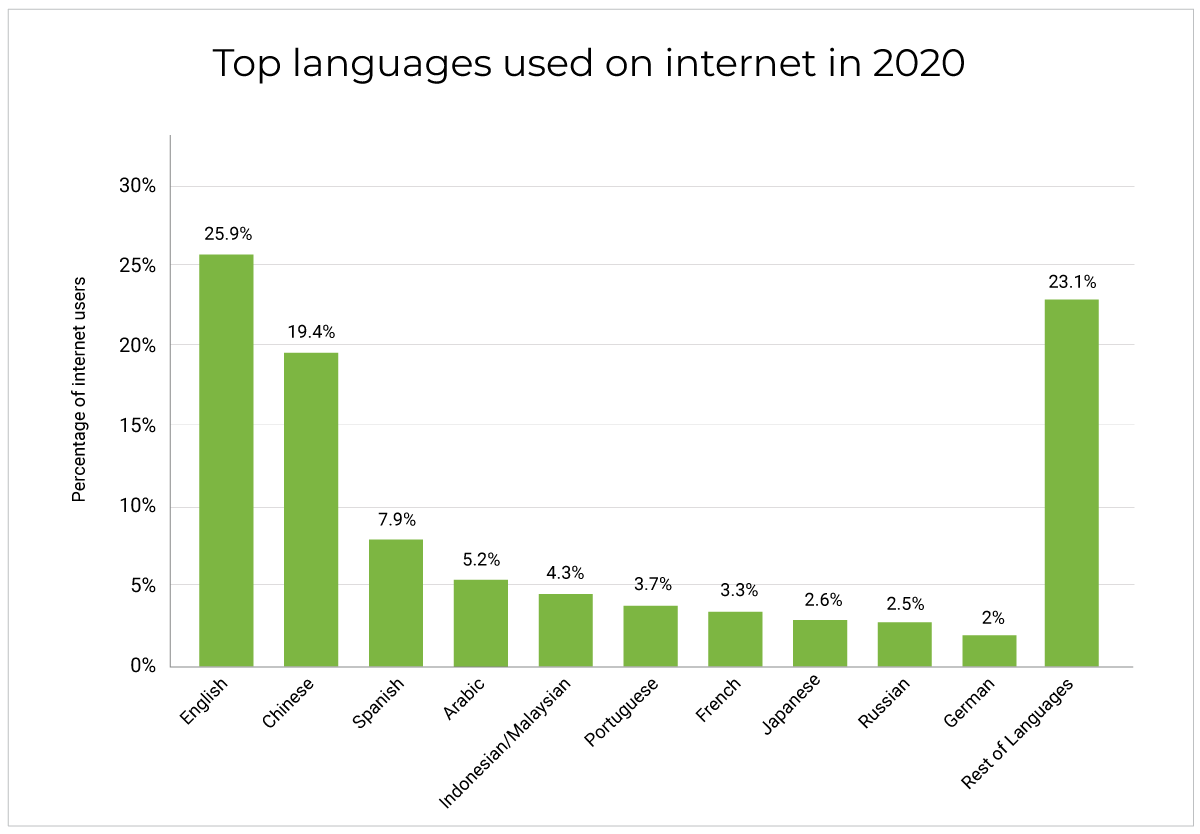 Though many websites have English as their default language, the graph demonstrates that other languages are catching up fast because of massive ecommerce growth and internet penetration globally. With the growing internet consumption population, Japanese, Chinese and Indonesian languages have also recently gained traction.
These statistics show that your website visitors are not just based in India, the USA, or Europe. The fastest-growing ecommerce markets in 2020 have a sizeable non-English speaking population. You should connect, engage and convert these customers by offering them the ease of shopping in their own language.
If you want to reach more potential customers, target more locations and take your business global-a multilingual website is the best option. Creating a multilingual website with the best ecommerce software is a way to future-proof your business and win the ecommerce war on a strong footing.
How StoreHippo can help you create multilingual strategy
StoreHippo helps you build next-generation multilingual stores without any hassle. It offers an inbuilt multilingual feature to convert your online store into the language of choice. In just a few clicks, you can get a comprehensive multilingual solution that takes care of static and dynamic auto-translations. You even get the flexibility to choose between auto and manual translations or selectively override autotranslations with a manual.
With StoreHippo, you can add 100+ languages, including RTL languages like Arabic, Hebrew, etc. In addition, StoreHippo offers Multilingual support in themes and messages. The ecommerce software also allows you to customize your admin panel in multiple languages which in turn makes your business processes more efficient and intelligent.
3. Fast deliveries to win your customers
Let's review these stats here:

49% of shoppers like to have same-day delivery online.

More than 25% of shoppers wouldn't hesitate to abandon their cart online if same-day shipping wasn't available.

61% of consumers are willing to pay more for the same-day delivery
(Source)
These stats here indicate that if an online retailer meets the delivery expectations of its customers, it will certainly lead to more conversions for the store. Fast delivery is certainly one of the e-commerce strategies to future-proof your business.
The first step in optimizing your delivery standards is to plan carefully. Real-time data, automation, and technology play a significant role in ecommerce logistics. A reliable ecommerce software platform can help map your logistics and supply chain network. It can also collect insightful data on order fulfillment, distribution channels, and shipping turnaround time to keep your day moving without any disruption.
How StoreHippo can help you create faster delivery strategy
With over 30+ shipping providers and several aggregators, you can choose the best-fit shipping solution that suits you. You can even select from international logistics partners or integrate your custom global shipping provider easily. You don't have to pay an additional cost as there is no upfront cost for setting up your shipping account with any of our partner logistics providers. With our delivery boy module, you can manage your own fleet of carriers and delivery boys for hyperlocal deliveries. Our ecommerce software platform helps in an end-to-end order management system that saves time and makes your processes faster.
4. Improved customer engagement with personalization
Remember when you saw your name in an email subject line? It was hailed as a revolutionary advancement in digital marketing. Today, omnichannel strategies combined with tailored experiences are essential to remaining competitive in a crowded and increasingly savvy marketplace.
Personalization helps you target specific audiences, form deepening relationships with the customers, and of course, boost sales and conversions.
Personalization as one of the ecommerce strategies means that you should know your customers intimately enough to meet their needs and even predict what they might want at a particular touchpoint going forward.
How StoreHippo can help you create personalized strategy
StoreHippo helps you personalize your ecommerce software so you can deliver personalized, contextual experiences to your customers. There are 120+ built-in integrations on the fully integrated platform that helps create unique experiences for diverse customer segments. You can build innovative solutions with easy integrations.
You can create custom pages that target a customer set with dynamic landing pages showing relevant ads. The ecommerce software offers content personalization through a recommendation widget in all of its themes. You can even offer product recommendations based on customer buying behavior or past purchase history.
You can personalize your marketing message through push notifications, email notifications, SMS notifications. Its extreme and quick customizations in the landing page and checkout flow etc., offer personalized buyer journeys. With StoreHippo, you can offer discounts, coupon codes, and loyalty points based on the past purchase data of your buyers.
5. Building your brand with content
Building a brand with content is one of the great ecommerce strategies that involves creating content directly linked to a brand, letting consumers connect with it.
For example, Apple is regarded as one of the giants in branding and marketing. But in 2019, they took it an extra notch. They launched their new Apple TV+ service, wherein one of the shows featured a wide range of Apple products throughout the series.
We believe that it was just rockstar-level branded content where the products were featured in such a manner that they integrated into everyday life. When companies are able to embed themselves into consumer lifestyles and purchase habits through their content, the payoff can be huge.
How StoreHippo can help you build a brand with content
StoreHippo offers an SEO ready platform for faster SERP ranking. The e-commerce software has inbuilt blog features that allow blogging even before you start selling. You can write now, edit and publish later. You can even categorise your blogs and add multiple images or videos to the blog. You even view user counts, comments and the number of social shares on each blog. StoreHippo's inbuilt social sharing plugins allow easy sharing of your posts that in turn, increase reach to a wider audience base.
With the help of social plugins, social media and email marketing, you can use content marketing to create a brand identity. You can even send personalized content based upon device, location, customer group etc.
Conclusion
In a changing landscape, it's time to think more strategically about the role of your brand and even your business models. As e-commerce has become such an important touchpoint for consumers, businesses must keep up with it.
To future-proof your brand, you must constantly evaluate your environment to quickly adapt to the industry changes and customer needs. The best ecommerce software offers you the best features to stay relevant, proactive, and customer-centric. Its feature-rich, unique, and mobile-ready ecommerce platform provides you with the best strategies to stay ahead of time.
Schedule a 14-day free online trial store to adapt and optimize your business.