Did you know how seamless it is to establish an international online marketplace today?
With the advancements in ecommerce opening up new markets beyond boundaries for enterprise brands, you can also now consider building your own global marketplace.
Wonder what makes a global online marketplace a viable and profitable business option for enterprise brands?
Have a look at the top reasons that make going global at this moment just the right business strategy for your brand's growth.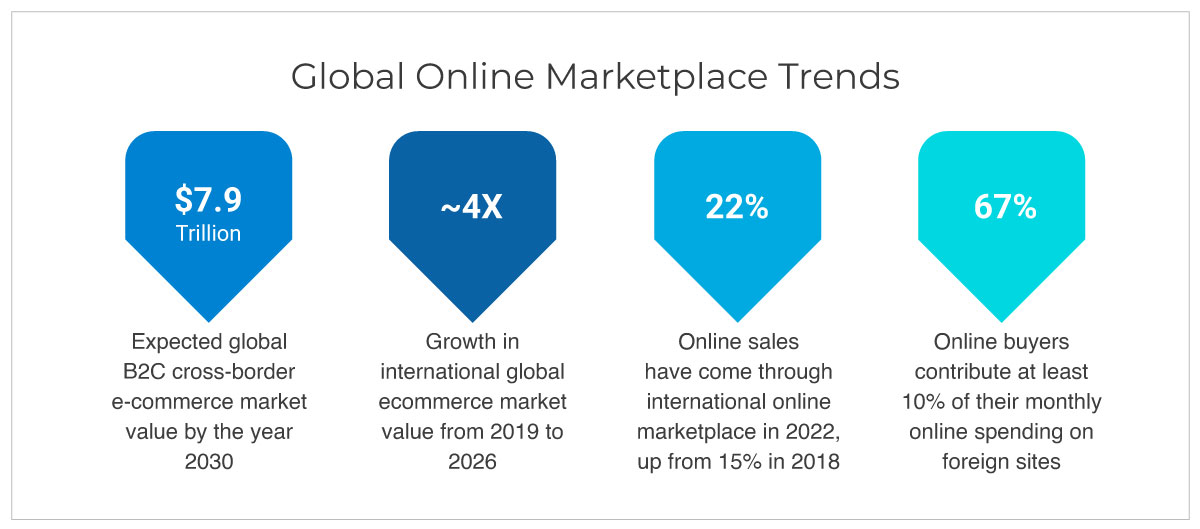 $7.9 trillion is the expected global B2C cross-border e-commerce market value by the year 2030
~4X growth in international global ecommerce market value from 2019 to 2026
22% of online sales have come through international online marketplace in 2022, up from 15% in 2018
67% of online buyers contribute at least 10% of their monthly online spending on foreign sites
Source: Statista
The stupendous growth in the global online marketplace has made enterprise businesses consider doing business cross borders. As you build your international marketplace, you can tap the audience from across borders and boost your brand visibility.
The question here is -
Well, you can take one of the two ways to go around building a multi vendor marketplace for international markets. You can choose from either:
Building your marketplace from the ground up with a team of highly skilled technical professionals
Using a SaaS-based turnkey ecommerce solution provider that helps you go to the market in record time
As you choose to build your marketplace from scratch, you need to invest a lot of time and money into the process, which can be a taxing job. However, building your marketplace using an ecommerce solution provider will help you reach the global markets in just a few easy steps.
StoreHippo is a one-stop marketplace solution that helps enterprises build B2B, B2C, B2B2C, hybrid, or custom marketplaces seamlessly. It offers a comprehensive vendor management solution along with advanced go-global features and a variety of in-built marketing tools.
Building an online marketplace is not a tiresome job if you have the right marketplace software at your disposal. Set your business on an upward growth trajectory by taking over the global market with these simple steps: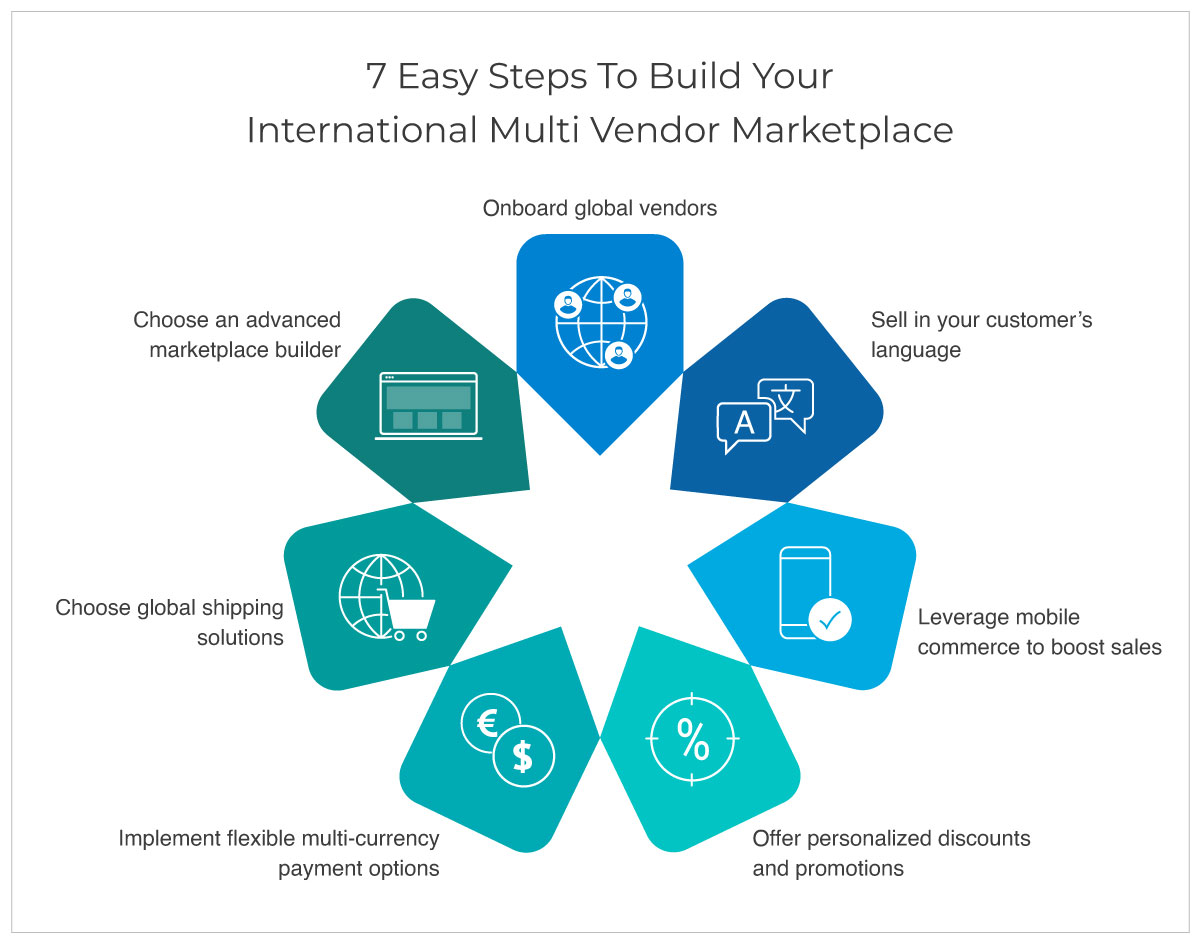 The first and the most important step towards building your international online marketplace is to choose the right ecommerce platform. Once you have the right set of features and tools, you can create a marketplace that offers a smooth buying experience across countries.
StoreHippo is a 360-degree ecommerce solution provider that offers a gamut of features to help you customize your marketplace. With the MACH (Microservices, API-first, Cloud-native, Headless) architecture from StoreHippo, you can offer an extremely personalized user experience to your global customers. StoreHippo's cutting-edge technology helps you build a reliable and user-friendly marketplace platform and go to the market in record time.
Once you have created your online marketplace, you need to attract customers. And the best way to attract more customers to your marketplace is to offer a vast cataloge. Wondering how to do that? Well, it's not a one-time task. All you need to do is onboard multiple global vendors who will bring with themselves their product variants to your marketplace. Keep adding more sellers across diverse geographies and product ranges to build an international marketplace website like none other.
And if you are worried about onboarding and managing the global vendors, StoreHippo got you covered. You can onboard and manage multiple vendors in just a few easy steps with the StoreHippo end-to-end vendor management solutions. It creates a separate user-friendly vendor account for each of the vendors to help them manage their day-to-day business operations seamlessly. The vendors on your multi vendor marketplace do not need to be adept with much technical know-how to start selling on the StoreHippo platform.
Did you know that almost 75% of the international customers make a purchase in their native language? Now this does make heads turn, right? When you create a marketplace platform for international markets, your strategy must include multilingual features to help your buyers make a seamless purchase.
StoreHippo comes with an inbuilt multilingual ecommerce solution that helps you translate into more than 100+ languages, including Right to Left languages like Arabic. The hassle-free automatic translation tool from StoreHippo helps you translate your online marketplace in just a few clicks. You can also choose between manual and automatic mode of translation on your platform.
The m-commerce market size is predicted to hit $510 billion by the end of 2023. It becomes imperative to have a well-defined m-commerce strategy before you take your enterprise brand to international markets. With 33% of the purchase decisions being made on mobile devices, as you build your presence on mobile channels, you set your business for unrestrained growth.
The StoreHippo multi vendor marketplace builder helps you create a strong m-commerce presence for your international brand. With the in-built mobile apps builder, you can build Android and iOS apps directly from your admin dashboard without complex coding requirements. StoreHippo also builds PWA stores that look, feel and work like mobile apps even on entry level devices with poor internet connectivity.
The power of personalized discounts and coupons is known to us all. About 93% of shoppers use a coupon or discount code throughout the year. And when combined with personalizations, your marketing strategy becomes a magic potion to unprecedented growth.
As you build your international online marketplace with StoreHippo, you can utilize its powerful in-built discount and promotion tools to implement multi-level discounts. You can offer your customers personalized product recommendations based on your global customers' order history and demographics. You can also interact with your customers about various offers and coupons via web, push or mobile notifications.
The one thing that makes your global customers drop the purchase is a complex payment process. Customers look for a flexible payment process when making a purchase on the online marketplace. As you fail to provide multiple payment options to your customers, you would see an increase in your cart abandonments.
The best way to minimize abandoned carts and boost conversions is to offer a flexible multi-currency payment option on your international marketplace. StoreHippo comes with 60+ pre-integrated domestic and international payment options including netbanking, credit and debit cards, COD, store wallet etc. You can seamlessly eliminate payment downtime on your international marketplace with the adaptive payment features from StoreHippo. You can offer a variety of overseas transactions and a seamless checkout flow for faster conversions. With StoreHippo's multi-currency payment feature, you can enable customers on your international online marketplace to pay in the currency of their choice.
A lot of the customers fear that global shipping processes might take longer. As you create your international marketplace, you need to align timely deliveries to keep your global customers happy. A reliable fulfillment channel goes a long way in building a marketplace that is loved by all its customers.
StoreHippo ecommerce solution lets you choose from 30+ pre-integrated logistics partners that can seamlessly deliver in global markets. With multiple shipping options, you can optimize your shipping costs and ensure quick deliveries of orders on your online marketplace. You can also manage your own fleet of delivery partners in multiple countries using the advanced inbuilt delivery boy management solutions. It also enables your customers to track their orders in real time.
To build an online marketplace for your global business, you need cutting-edge technology like StoreHippo. Not that you know the basic steps of building an international multi vendor marketplace, you can seamlessly kickstart your global journey.
StoreHippo ecommerce solutions come with robust features to help you retain loyal customers and attract new buyers. The powerful features and tools from StoreHippo make selling in the global markets a smooth sail. Create an amazing international online marketplace with StoreHippo. Explore the enterprise-grade features by starting your 14-day free trial now.