Cash on delivery or online payment method? What would you choose when shopping online? I am sure you would say both ~ COD and online payment gateways , as the situation demands. But do you know, after COVID, ecommerce buyers have largely accepted online payment as a method to buy regular stuff (like groceries, apparels, gadgets, etc)? Yes, this is true. Statista also reported $ 5.2 trillion global ecommerce transaction value of online payments in the year 2020 ( Source ).
The prominent reasons which has stirred buyers to use online payment methods for ecommerce shopping are:
Aggressive discount and cashback offers by ecommerce stores on selected bank credit and debit cards

Ease of Refund within 5 days when using payment wallets, netbanking or cards

Cashback and rewards run by UPI mobile transaction companies and bank credit card companies, which ultimately entice buyers to buy more to claim more rewards, coupons and cashback on their purchase

Last but not the least is ~ health safety concern ~ that emerged during the revolt of COVID, pushing contactless delivery on major ecommerce stores
The crux of this paragraph is to not explain about widespread adoption of online payment methods , but is to make you aware that now customers want flexibility in payment options. However, this is true that online payment wallets and payment gateways are growing, as people are getting more accustomed to it, just like they are now used to with online delivery of clothes, grocery, electronics, food, etc.
Soft warning! Lack of desirable payment methods is among the top 10 reasons for shopping cart abandonment. ( Baymard )
How to overcome the problem? As an ecommerce brand founder or marketer or a developer, you should know what to do next ie integrating multiple payment options on your ecommerce website and mobile apps . And make sure they are 100% secure and PCI-DSS compliant .
Here is some bonus information about the popularity of payment options in various countries / continents, which will help you decide which payment methods are most profitable for your business and your customers.
Worldwide, Digital wallet stands at the first position as the most referred payment methods claiming 44.5 percent of ecommerce transactions, followed by credit cards, claiming 22.8% portion of global ecommerce transactions. ( source )

IF your target location is ~ Asia-pacific ~ then be sure to add digital wallets because 60.2% of transactions are completed using them. ( source )

Mobile payment wallets hold 23.7% of ecommerce transactions in North America, 24.6% in Europe and Africa, and 13.8% in Latin America.

If your target audience is living in either the UK or the USA, then adding mobile wallets and credit cards to your ecommerce store is a must. As 32% of ecommerce payments in the UK is done using wallets in 2020 ( source ), while US buyers prefered credit cards as 34.4% of transactions were done in 2020. ( Source )
I have named only the popular payment methods, however, it is always best practice to include different types of payment options, to minimize the risk of losing customers at the time of checkout.
Now it's time to add multiple payment methods to your online store by following our step-by-step guide to successfully implement them via StoreHippo ecommerce platform . But before that, let's explore the payment gateways offered by StoreHippo that are PCI compliant.
Paytm, PayPal, Amazon Pay, Google pay, PayU money, Mobikwick, Alipay, and even more
Stripe, Authorize.net, CC Avenue, PayU, Razorpay, Securepay, NAB, and 52 other secure payment gateways
You can find the full list of supported payment gateways here .
Visit the StoreHippo admin panel and go to Settings> Payment Methods.

Click on the "Add Payment Method" button and it will direct you to a new window. After that, follow steps below:
Enter name of payment method.

Select the type of payment method ~ Payment Gateways, COD (Cash On Delivery) or offline.

If you select the "payment gateway" as type, then, click on "Add Gateways" button.

Choose the supported payment gateway from the drop-down and enter the gateway settings.
Example: When a user selects Stripe as the payment gateway, the following settings opens up. You can get these details from your merchant account on Stripe.
If you selected "offline" as payment type, then Select "Collect User Input" to collect extra input from the user like collection of transaction number in case of bank transfer or check number in case of check payment.
Step 1: In this field, you can specify a form to gather user input. Only on successful validation of form input, the order will be placed. The user data collected can be displayed on the invoices.
Step 2: You might want to set up OTP verification for offline payment methods. Turn on this option to enable OTP verification. You can enable OTP verification by SMS or Email.
If selected "COD", the same settings of Offline payment method will apply.
Additional Steps:
3. Edit your payment gateway visibility to the user
You can also choose to make the payment method visible when specific conditions are met. If you choose to define conditions, then the payment method will be applied only when a product / order meets all of the specified conditions. Below are the conditions:
Order total

Order weight

Order quantity

Every product price

Any product price

Every product category

Any product category

Every product collection

Any product collection

User group

Country

Zip code

Seller

Language
4. Add image
The image for the payment method that will appear at the time of checkout. If there is a single payment method, then that is automatically selected. Select the checkbox, if you want to make it visible on the storefront.
5. Add additional charges type
Select the type of additional charges that you want to apply to the payment method. There are two options - Flat and Percentage.
6. Add additional charges
In this field, you can enter the value of the additional charge. The same additional charge will be applied for the specified payment method.
7. Add sort order
You can add sort order here for payment methods.
Integration within minutes: Super easy and fast integration of top payment gateways without coding and developers.

Secure & Anti-fraud features: All payment sources are 100% Secure and SSL certified .

Affordable Fees: Get discounted rates for payment gateway processing charges from the partner payment channels

Multi-currency support: Easy conversion into multiple currencies on site to reach global customers.

Miscellaneous Features: Many StoreHippo payment gateways support electronic invoicing, all payments types, text / email notifications to customers, smart chargeback management, etc.
Under the StoreHippo Admin Panel, click on Settings> Payment Methods

Click the "Add New" button and a form will pop out with empty fields

Provide the "name" and "type" of payment method. Select "Externalpaymentgateway" in the next section as the Payment Gateway option

Then, You will see a URL field. Put the URL of your external payment gateway where the customers need to be redirected

Enter the Account ID and Secret Key of your gateway

Click the "Save". and the external payment gateway will be added to your store
StoreHippo allows you to add the order based wallet conditions in your store.
Enter <Store URL> /admin/entity/ms.wallet_conditions on your browser to go to the Wallet conditions section of

StoreHippo Admin Panel

.

Click the "Add New" button

A form will appear on your screen like in the image below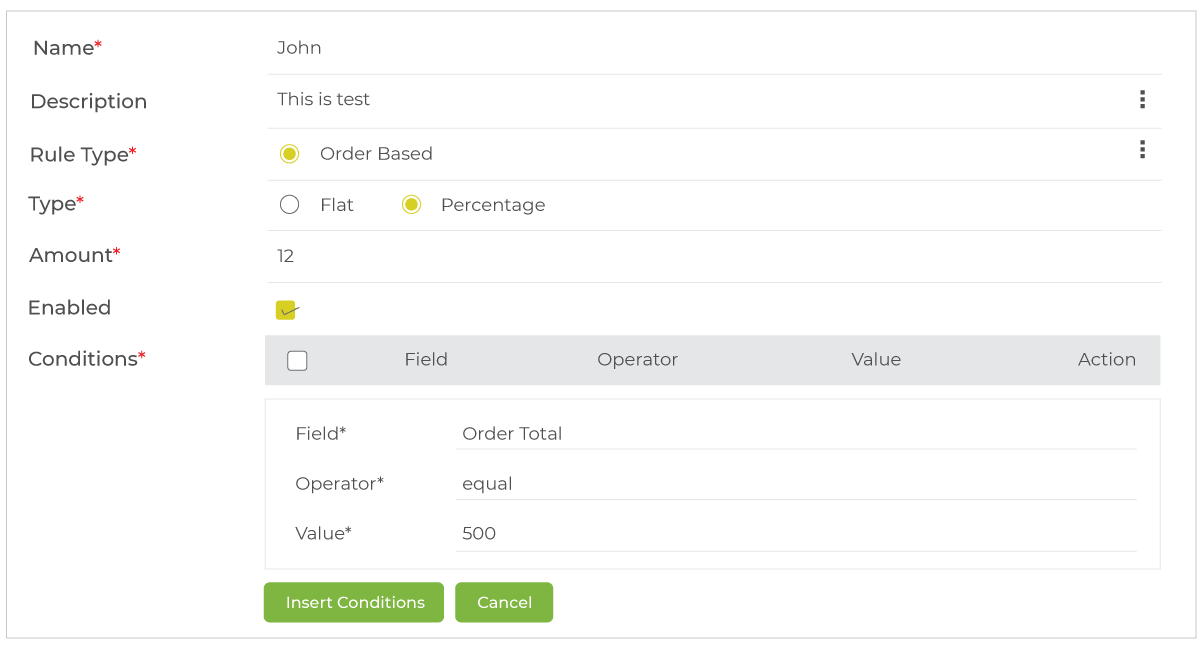 Enter the values ​​in all the mandatory fields

Click the "Save" button and the wallet conditions will be created
Name: Enter the name of the wallet condition.
Description: Enter the description of your wallet condition.
Rule Type: This field has one option Order based which will be auto selected.
Type: Provide the type of credit in this field. Wallet credits can be specified to invoke Flat credit or a% credit.
Amount: Enter the credit amount. The amount is the value of the wallet condition.
Enabled: It shows whether the wallet condition is enabled or not. Enable it by checkbox the box.
Conditions: In the conditions, there are three fields - Field, Operator, and Value to further configure the wallet conditions. Click on the Add Condition button to add further conditions.
Order total

Every product categories

Any product category

Every product collections

Any product collection

Every product brands

Any product brand
Equal

Greater than

Less than
For all other fields:
Having multiple payment methods gives you a lot of advantages that your ecommerce business can reap. It can -
Soar your checkout volume

Increases your Customer's trustworthiness

Spike your annual revenue

Reduce shopping cart abandonment

Simplifies customer shopping journey
It's now the time to make a wake up call to your team and ask them to integrate multiple payment methods to attract more cash and more customers.
Want to explore more amazing benefits and advanced features of StoreHippo ecommerce platform? Sign up for an online free demo to reveal the power of multiple payment gateways integration on your ecommerce store.