Did you know that more than 50% ecommerce sales are made through online marketplaces? With Amazon and eBay being the most visited marketplace in 2022, the marketplace model is here to stay. This tremendous growth in the popularity of online marketplaces has become the primary reason for many retailers to launch their own marketplaces. The multi-vendor marketplaces are incredibly popular selling channels across the globe. Still wondering why?
Let us clarify some of the top reasons:
One-stop platform to reach an extensive customer base
Best platform to promote online sales
Multiple sources of revenues through sales, commissions, fees, etc.
Plenty of sellers with a wide range of products
No hassles of inventory and payment management
So, if you are looking to increase your sales, setting up your online marketplace can be a great option to boost exposure and expand into new territories. Let's take a look at the top 5 most popular multi-vendor marketplaces and get some more inspiration.
Amazon is a global online marketplace giant and surely shows the bright future of ecommerce. And it earns more than 50% of its revenue from third-party sellers.
eBay was one of the first few marketplaces launched in the 90's and it was launched as a peer-to-peer online marketplace for auction-style listings. And it still holds the second leading marketplace position.
Alibaba has been launched to improve the global ecommerce system. The multi vendor marketplace has become profitable in the first three years of launch itself.
Unlike eBay and Amazon, Etsy is a unique site that allows creative sellers to list their vintage, handmade craft items. The platform is accessed by more than 33 million shoppers glo
Catch is the marketplace to a great variety of products and makes sales of more than $1 million dollars every week.
Whether you are looking to sell in a set geography or the whole world, a multi-vendor marketplace has all the potential to help you expand business reach, test new markets, and grow your business globally.
When you decide to The first and foremost thing to consider here is – which ecommerce platform suits your business requirements? This decision becomes extremely important because you have to deal with multiple entities including sellers, buyers, merchants, suppliers, etc. StoreHippo makes it super easy for you by providing 300+ inbuilt features and a future-ready technology.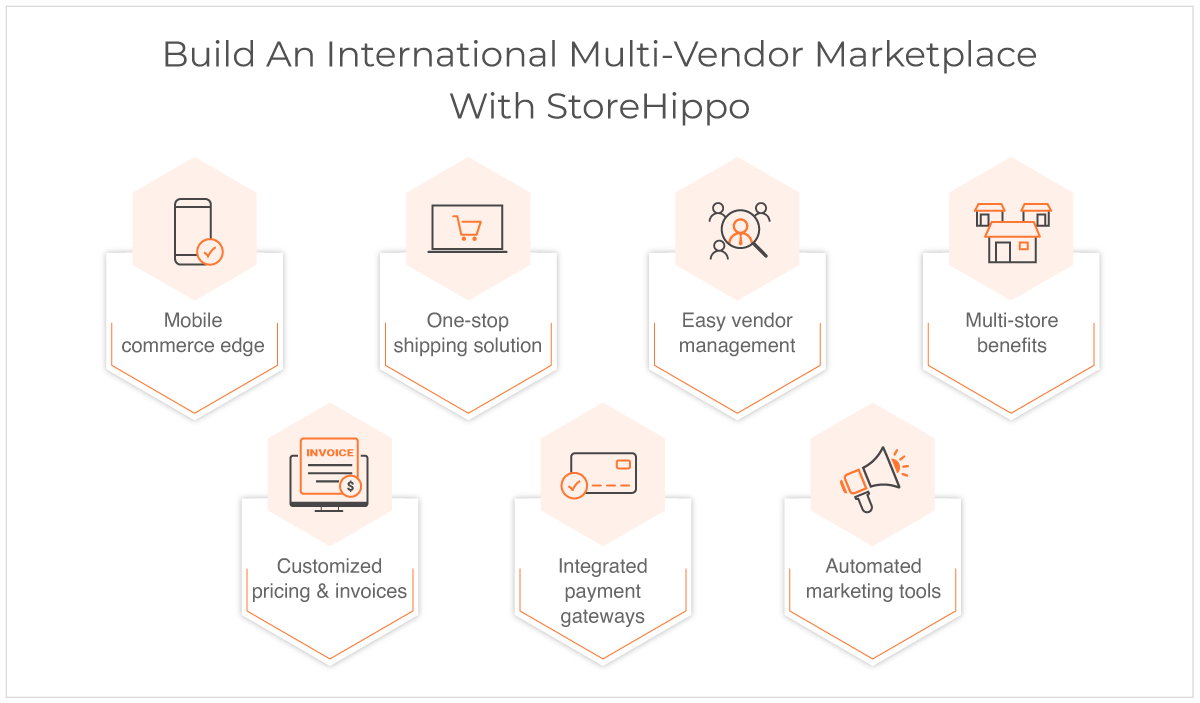 Be it customer or seller, everyone is on mobile. As online shopping is an advancement of buying from physical stores, mobile commerce is the natural progression of ecommerce. It is important to have a competitive mobile edge when you are building an online marketplace. StoreHippo is one of the best marketplace builders that help you build the next-generation marketplace and capture the new-age online shoppers. Along with that, you can also build your mobile app from your dashboard in just a few clicks at no additional cost.
The best part about creating your online store with StoreHippo is its mobile-first technology that supports PWA (Progressive Web App) experience. PWA is the roadmap to modernize your online marketplace and combine the best of mobile and web apps. Think of a website built with web technologies but act and feel like an app. Don't wait to win the mobile commerce world.
Now, who doesn't know about the shipping hassles in an online business. And you are not alone when it is about shipping hassles in a multi vendor marketplace. But fortunately, you have got the back of the one-stop shipping solution of StoreHippo. You can easily sell products without worrying about any shipping hassles. We offer integrated shipping within the e commerce platform to expand your business reach. Some of the top features of our shipping solution include discounted shipping, automated processes, ship globally, add multiple logistics partners of your choice, and much more.
Like, StoreHippo ensures you an easy integration with shipping partners, availability of discounted shipping rates and automated shipping management process. Additionally, there is no additional cost and effort in adding your choice of shipping partners/channels. Safeguard yourself from the nightmares of supply chain issues with StoreHippo.
Vendors are the lifeline of your business and so is their management. If the vendors are satisfied with your website, they keep selling and earning from the marketplace, ultimately, that makes your multi-vendor marketplace successful. Agree?
StoreHippo understands it very well. We allow quick onboarding and registration for vendors. The hassle-free vendor onboarding makes it easier to register more sellers and earn more commission. And we do not just stop at the vendor registration part but go much beyond. The vendor management features like seamless payments, customized commission rules, multi-tier tax engine list StoreHippo among the list of top best marketplace builders.
While it seems tempting to focus on dealing with multiple product lines, it creates a lot of difficulties when you start managing them in the store. Don't worry, StoreHippo has you covered. It allows you to build micro-sites for multiple product lines and comprehensive features to manage online stores separately.
What's more? You need not juggle between different logins to enter into different micro-sites. Just enter into your central admin dashboard using the multi-store solution and handle everything right there.
The foremost thing required by a multi-vendor marketplace is the flexibility to run an online business. Different businesses have different contracts and deals with different clients and differential prices offered to them accordingly. Similarly, businesses require flexible invoice templates that can be adjusted according to dynamic needs.
Keeping this in mind, StoreHippo allows you to handle pricing based on different factors like location, login, IP address, retail or wholesale deals, and other relevant factors.
Online payment is a fundamental feature of online business because it is directly connected to the shopping experience, customer satisfaction, and sales. Don't you want more sales and satisfied customers in your multi-vendor marketplace?
StoreHippo offers multiple payment methods to customers with 50+ pre-integrated payment gateways. It allows you to create a state-of-the-art marketplace website with advanced payment options like internet banking, cash on delivery, wallets etc. Start your swift and convenient payment experience with us.
There is no substitute for intelligent marketing tools if you want to make your online marketplace successful. Without the right marketing tools in place, there is no point of building an amazing website.
StoreHippo offers a huge variety of automated marketing tools and powerful discount engine to boost customers conversions and sales. You can offer customized discounts for products, collections, categories, user groups, device-specific audiences, build dynamic marketing pages, run customized email campaigns, recover your abandoned cart orders, offer live chat support, and much more. With the best marketplace builder, you have everything your ecommerce business needs to be successful.
Now, when you have understood the boom of online marketplaces and top marketplaces that are ruling the ecommerce world, it is the right time to understand how to replicate their success.
Your answer is a 360-degree solution provider like StoreHippo, that helps you to become the next in the list of top marketplaces across the globe. With the best marketplace builder at your disposal, don't wait further to build an out-of-the-box multi-vendor marketplace for your business.
StoreHippo offers the best-in-class ecommerce solutions for your business, that you can also try for free to explore the features and ease of use. Schedule your 14-day free trial to see all these features in action.
1. How can I build a chain of stores with StoreHippo?
You can build a chain of stores with StoreHippo's multi store ecommerce solutions. You can create multiple subdomains for your storefronts to ensure better marketing. You can also showcase store specific catalogue to your target customer segments with StoreHippo.
2. How can I offer an enhanced buying experience on my online marketplace with StoreHippo?
To offer an enhanced buying experience on your online marketplace, choose StoreHippo headless commerce platform. It helps you offer a seamless, personalized and uniform buying experience to your customers with easy storefront customizations across all channels. The headless architecture gives brands better creative control and flexibility to build nimble and agile solutions.
3. Will StoreHippo support in diversifying to different or hybrid business models as my business grows?
Yes, StoreHippo supports you in diversifying to different or hybrid business models as your business grows. StoreHippo is a fully hosted and managed enterprise ecommerce platform helping enterprise brands go to the market in record time. With StoreHippo's inherent flexibility and inbuilt support for variety of business models, you can easily pivot to new business models or combine two or more models to create a hybrid business model.
4. How can I handle the complex multi vendor ecommerce business ecosystem with StoreHippo?
StoreHippo offers seamless integrations with your choice of software to build innovative solutions using headless APIs. You can manage the complex requirements of your business with hassle free and quick integrations of softwares like CRM, ERP, accounting, delivery partners, payment channels, chatbots, live chat etc.
5. What are the go-global features offered by StoreHippo for international business?
StoreHippo offers a gamut of go-global features to help you take your business to international markets. Here are some of them:
Multiple domestic and international payment gateways
Multiple currencies to offer frictionless checkouts
Multi lingual feature helping you connect better
Powerful location-based taxes engine to generate multi-currency invoices
Take your multi-vendor marketplace across the globe with StoreHippo.
6. How can I ensure quick conversions on my online marketplace?
You can work towards generating quick conversions on your online marketplace with the features of StoreHippo. When you offer ease of buying to your customers with informative product pages and make buying easy, they convert faster. Also with features like faceted search, multiple payment options, unified notifications etc, you can engage and convert customers better.
7. Does StoreHippo help in recovering abandoned carts?
Yes, StoreHippo offers powerful tools to bring back lost customers through automatic abandoned cart follow ups. You get a complete order and customer details for all your abandoned cart orders with StoreHippo. You can then follow up with personalized emails and convert the customers.
8. Can I create personalized buyer journeys with StoreHippo?
Yes, you can create personalized buyer journeys with StoreHippo. With the decoupled headless commerce solutions from StoreHippo, brands can easily create highly personalized buyer journeys and go for targeted marketing for faster growth.
9. Users today prefer buying on mobile devices. How can I leverage m commerce?
You can seamlessly leverage m commerce with StoreHippo. Built on mobile-first technology, brands can create their Android and iOS mobile apps right from the admin dashboard. Also, the stores powerd by StoreHippo are Progressive Web Apps (PWA), that look, feel and work like mobile apps even on entry level devices.
10. What will be the cost and time taken to add new customer touchpoints?
You can quickly launch multiple new customer touchpoints to attract more customers. Please drop us your exact requirements and our team of experts will evaluate them and get back to you.