Taking your business global, sounds lucrative, appealing to many business people. Not only seasoned business people, but entrepreneurs too plan on taking their business out to the worldwide audience to reap more significant profits and make a more prominent name. After all, the journey of international expansion can be exciting.
And ecommerce can make that journey very smooth with the right tools.
Ecommerce can help any business to scale globally, and yet the market is ripe for taking. Global ecommerce market still holds a ton of opportunities for players - old and new.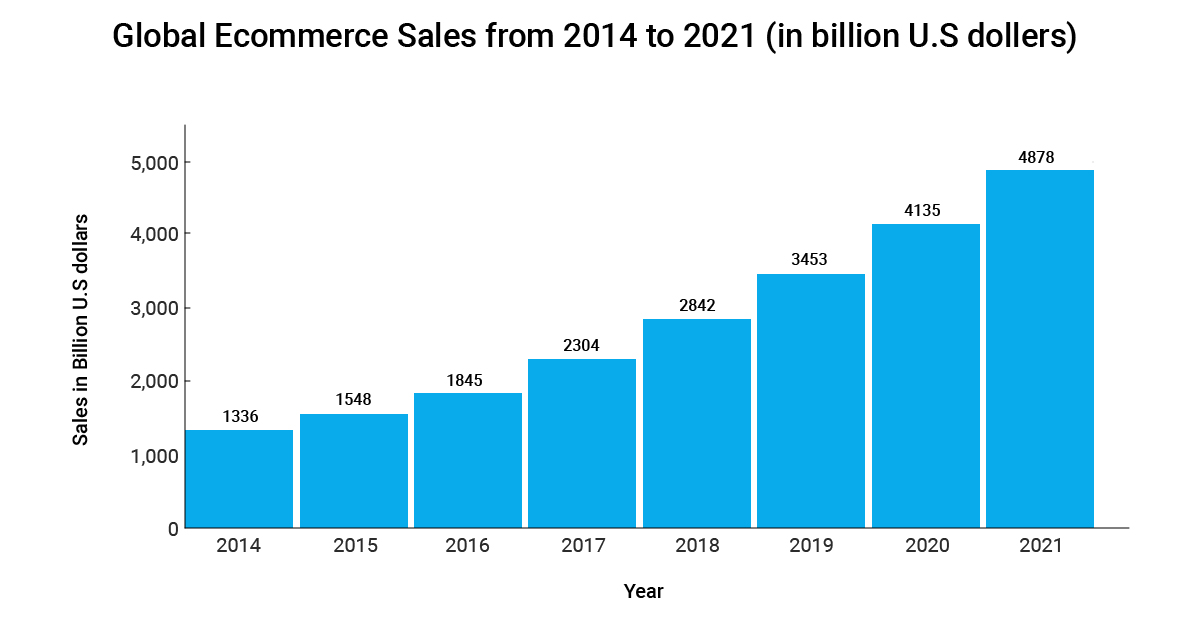 Revenue from cross-border ecommerce sales is going to rise up to $4.9 billion by 2021 showing a steady ascent over the past few years. This means that from the year 2014, it is projected to show a colossal rise of 388% by 2021(Source). Isn't that mind-boggling?
Ecommerce can make the journey of cross-border expansion less daunting and more easily manageable. It can provide you with several tools and strategies that you might help you think outside the box and help your business stand out.

The business atmosphere today massively favours digital intercommunications and transactions. It means that even if you weren't planning on going global, the current business world might force you to do so to stay afloat in the market and stay competitive. Going international might be a huge undertaking but when executed perfectly, it's worth the effort. There are a lot of benefits of selling internationally.
The fundamental objective behind taking your business to an international audience is expansion and growth. Expanding to a new audience means a new market, and a new market means more customers. You might even tap into a previously untapped niche and make a ton of profit. Furthermore, with the current progress in technology, a responsible business owner can't ignore the global phenomenon, that is globalization.

Some very business-friendly benefits of taking your brand to international markets are as follows:
You can easily find a new market for your current product lines which might be new to another segment in some other countries.

You are not dependent on your existing market as much as you used to be, giving you the liberty to think of improving your business.

If you face any unpredictable variation (seasonal changes, demand cycles) in your market, and it affects your sales, you can make up for those lost sales by tapping into markets doing better sales-wise.

By joining the global market, you'll slowly start growing and will have a decent shot at competing against foreign companies on their own turf.

Expanding internationally can also help in enhancing the internal production environment of a company by motivating employees to give a better representation of themselves.

The international expansion also gives enterprises a crucial competitive advantage over their competitors. Brands with an international presence are usually better renowned, more famous with increased reputation.
Your business can reap these benefits easily with our ecommerce solution, StoreHippo.
StoreHippo is a feature-rich, yet easy to use enterprise ecommerce platform which is capable of serving both Business to consumer and B2B enterprises. It is a robust ecommerce solution that single-handedly deals with all the differences they present while catering to all the similarities they possess. StoreHippo understands all your online selling needs irrespective of the business model you choose needs. You can easily incorporate custom marketing tacts with the help of StoreHippo's inbuilt tools and solutions. It also offers astounding features that not only enhance your user experience but also make a huge difference to the new market where you are trying to expand.
StoreHippo is loaded with beneficial features like:
Multi-Seller
Multilingual
Multi-Currency
Multi-Store

Mobile-Responsive PWAs for your store

Integrated Logistics

Integrated Payment gateways

Free SSL Security

Easy to use, Extensible Backend

And many more…....
Our enterprise ecommerce platform has helped numerous businesses to set their footing in the domain of ecommerce and expand globally later on using our tools. You will surely get a feel of how our platform has been instrumental in their success by going through their success stories.
Dil-O-Cious is a niche vertical marketplace powered by StoreHippo, helping them providing delicious regional flavours to their buyers on a single platform. What started as a simple online store, very soon turned into a prominent marketplace of flavours. Within a short span of time, their online store took the form of a multi-seller B2C ecommerce marketplace onboarding vendors from far off tier 2 and tier 3 cities known for their regional delicacies. Powering their online business with StoreHippo made it possible for the Dil-O-Cious team to:
Easily migrate to our platform from their older one, without jeopardizing their data.

The quick rollout of the store and seamless upgrade to the multi-vendor marketplace in due course of time.

Feature-rich niche vertical marketplace for food delicacies delivering across the country.

Simple process to set up the multi-vendor marketplace by onboarding technically novice vendors.

A flexible and scalable enterprise ecommerce platform that accommodates business growth.
Ober Sports is a multilingual, multi-currency online clothing and sports gear store serving clients in China and Singapore. Their brand is built with a target to make affordable sportswear available for all segments. The main aim of Ober Sports was to reach out to customers who didn't have access to quality sportswear but wanted to push their limits and explore their inner strength.

To realize their goals, they powered their unique portal with StoreHippo and got the following benefits:
Ability to handle the high volume transactions on their scalable website, by processing thousands of buyer's requests at the same time.

A multilingual website to appeal to the global audience.

Ease of payments with multi-currency payment options

Detailed customizations provided for their product pages to make them look more appealing.

StoreHippo provided them with a feature-rich yet high-performance website, boosting their conversions.
We hope these success stories might have helped you get a picture of how we can help small business and put it on the map with our enterprise ecommerce platform.
As earlier mentioned, the journey of doing all that's necessary to accomplish all this wasn't an easy one. A business always faces hurdles while trying to make itself pop off. Our ecommerce platform helped these businesses tackle all such challenges easily by providing them with the right tools.
Expanding on a global scale can take a business into the international consumer market, which can be quite unpredictable. And as a result, business owners face a lot of challenges, which our ecommerce solution helped them address.
Here are a few challenges our customers faced while expanding and how we took care of their issues:
Selling goods via ecommerce has almost solved the difficulty of paying for products or services. Nevertheless, there are still issues like time delays, somewhat high-interest rates, etc. For some time, there weren't a lot of options to address such problems until Amazon and Walmart apps made payment gateways mainstream. In particular, some large-scale trading platforms, such as Amazon, App Store or Walmart, are gradually introducing a payment option with the involvement of bitcoins and blockchain ecosystem. Unlike the traditional centralized banking system, payment gateways don't charge extra fees over global transactions. StoreHippo provides you with multiple payment gateways and methods, helping you offer convenient means to your customers and unknown audience.
Delivering products globally to an international segment comprising of buyers from multiple locations can be challenging. The process used to be messy entangling a lot of intermediaries along with the flow. A lot of risks like a violation of storage, transportation errors, etc.StoreHippo has provided its customers with the ability to integrate any shipping partner to handle their deliveries without any mess.
The global market continuously evolves and changes itself change continually. It is very dynamic, and hence a business should always be prepared to handle any new change that comes in. Else you might run the risk of making significant decisions based on obsolete tech. It may lead to loss of business and customers; even new customers might not find it appealing. StoreHippo believes in doing its due diligence and arming its clients with the right tools to help them succeed on unchartered territories.
Without the help of ecommerce, sales and marketing can get very expensive. Retaining existing customers can become painful as increasing expenditure can lead to declining quality, higher prices, and some other competitor might rise in the market to capitalise on your weak position.Our enterprise ecommerce platform's primary focus is retaining customers by providing them with superior service and features to help them get an excellent UX.
Finding new openings in sales opportunities from the customers you have satisfied overseas is a common problem for many businesses. Companies usually don't have any means to generate leads or showcase their products in industrial conventions.
StoreHippo tackles this issue with an easy to use CMS with which you can reinforce your brand's identity by posting case studies, video reviews, testimonials, reviews, etc. developing the trustworthiness of your global brand. About 92% of consumers prefer word of mouth over any other form of advertisement.
With the right tools and platform at your disposal, such massive challenges don't look that big. Rewards for taking your business out to new markets are worth the effort. Globally targeting new markets can provide you with compelling possibilities to take your business to new heights.
StoreHippo provides robust B2C features to help you convert maximum customers for your business. It's a vast array of features, empowers you to utilise functions like a multi-seller marketplace, multi-store, multilingual, multi-currency, etc. to attract a wide range of audience from any corner of the world.
But don't take our word for it, sign up for our trial version and check out our features yourself.