Ober Sports is a multilingual, multi-currency online store for men's and women's clothing and sports gear. Catering to clients in China and Singapore this unique online store understands the human urge for exploration. Ober Sports offers best deals on hundreds of top sports and outdoor brands to bring affordable sports gear within the reach of millions of users.
The unique business model of Ober Sports helps them maintain a rich catalogue of latest and trending sports gear for users from all walks of life. Ober Sports offers the best gear that not only promotes the spirit of adventure and pushing limits but it also inspires to do more, explore more, and see more.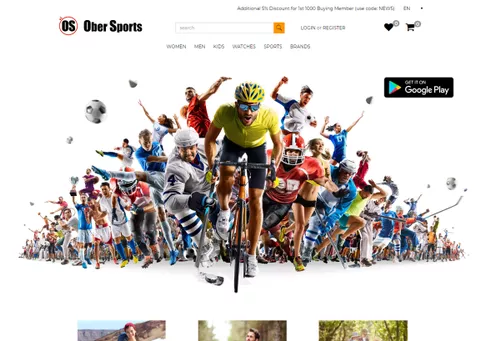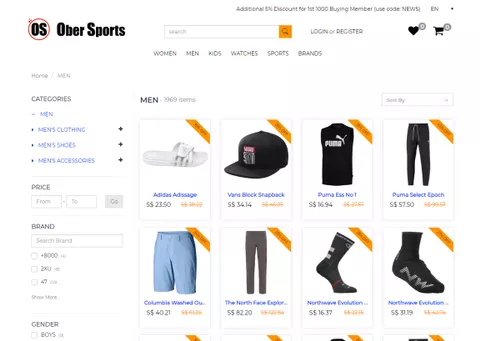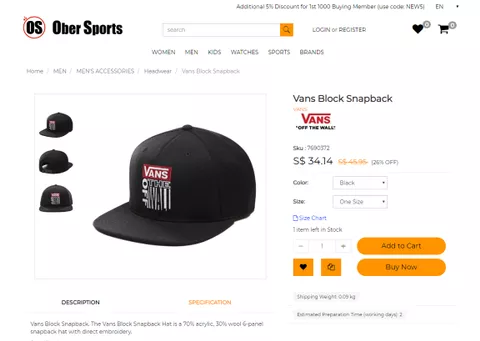 The Requirements
Ober Sports is about burning a new trail of adventure and pushing limits with the help of smart and affordable sports wear. Aimed at delivering affordable sportswear to everyone, Ober Sports wanted to establish itself as the one-stop sportswear hub. To make this happen they needed the following;
A comprehensive ecommerce solution that could handle their customized requirements

A website that could handle hundreds of brands and millions of products

A multilingual website to cater to customers in China and Singapore

Multi-Currency payment options to cater to global clientele

Customizations to product pages to suit their business objectives
StoreHippo Powering Ober Sports- Helping To Create A Fitter, Stronger You
StoreHippo, has been powering a variety of ecommerce portals with niche products and special requirements. With its inbuilt multilingual and multi-currency features, StoreHippo was able to deliver the exact requirements of Ober Sports. With the simple yet extensive set of features, StoreHippo with its inherent has been able to accommodate the custom requirements of Ober Sports.
The comprehensive ecommerce platform StoreHippo made it possible for Ober Sports to start their business on a strong footing and reach out to its customers. The simple learning curve and intuitive admin features made it possible for Ober Sports to manage the business without any complexity.
The Benefits
Ober Sports chose StoreHippo to launch their unique portal for selling a variety of sportswear from the best brands.StoreHippo's well rounded and features rich ecommerce platform could fulfil all the requirements of Ober Sports seamlessly. With StoreHippo ecommerce platform they were able to achieve the following:
A scalable portal that could handle a huge number of products and customers

A multilingual website in English and Chinese languages

Multi-currency payment options in the following currencies; EUR, SGD, CNY, AUD, USD

Customized product pages that could uniquely display product variants

A high-performance website that engages customers