Dil-O-Ciousis niche vertical marketplace making available delicious regional and unique comfort food items to customers across India. A team of two young entrepreneurs started their journey of Dil-O-Cious, food that is close to heart. The aim was to pamper the taste buds by delivering the joy of happy eating to customers who craved for regional delicacies. They sold regional sweets, snacks and other comfort food through their online store to realise their mission of "Flavours Beyond Boundaries".
With a passion for food and zeal to succeed, they worked relentlessly and very soon the project scaled new heights with a much larger team handling their multi-vendor marketplace with sellers from all over the country.Dil-O-Ciousis truly turning every day into a festival for its customers by delivering exotic foodstuff at their doorsteps.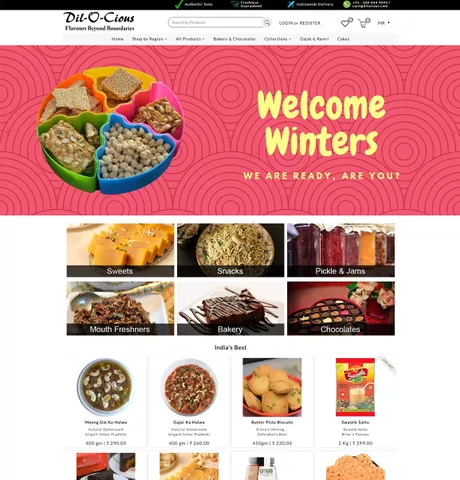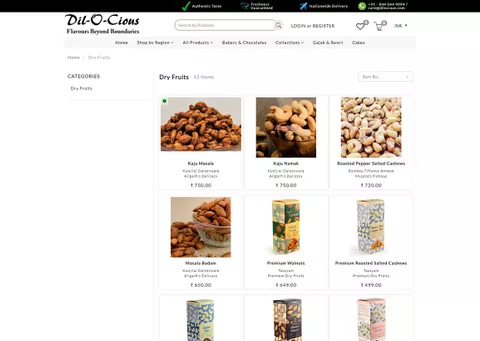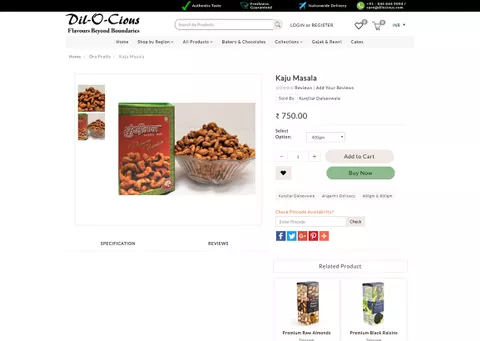 The Requirements
A StoreHippo solution for the never-ending food-festival called Dil-O-Cious team was started by two young entrepreneurs who dreamed of bringing the joy of good food to every doorstep. They aimed to bring authentic comfort food and regional delicacies within the reach of people who were living in far-off locations. For their dream project they wanted to achieve the following:
Easy migration from their existing e-commerce platform to StoreHippo

Flexible platform and affordable pricing that accommodated business growth from a simple store to a marketplace

High-performance website to engage and retain customers

Simple vendor onboarding process to add vendors from tier 2 and tier 3 cities

Easy multi-vendor e-commerce marketplace setup and simplified flow for managing the complex environment

Scalable portal that allows to diversify and add new products ranges
A StoreHippo solution for the never ending food-festival called Dil-O-Cious
StoreHippo flexible e-commerce platform easily accommodated the requirements of Dil-O-Ciousand helped them gradually scale up from a simple online store to a full-fledged multi-vendor marketplace sourcing regional food delicacies from all over India for their customers. With more sellers and more items in their product catalogue, Dil-O-Cioushas been able to reach out to more customers. StoreHippo offered them a comprehensive and affordable platform that was aligned with their business milestones and goals.
StoreHippo e-commerce platform helped Dil-O-Ciousto create a rich product range usingitscomprehensive yet easy to implement and use multi-vendor marketplace functionality. The flexible platform took care of rest of their other requirements with inbuilt tools and functionalities.
The Benefits
Dil-O-Ciouschose Storehippo to launch their online store as they found the platform to be feature-rich and flexible which suited their long-term goals and plans to upscale the business. Within a year they converted their store into a full-fledged marketplace offering regional food delicacies to customers across India. The uniqueness of StoreHippo e-commerce platform allowed them to achieve the following:
Easy migration from Zepo to StoreHippo platform

Quick store setup and upgrade to a marketplace as the business scaled up

Feature-rich niche vertical marketplace for food delicacies

Seamless multi-vendor setup to handle that makes it easy to onboard technically novice vendors

Repeat customers, a proof of the popularity of their idea and the ease of shopping in their marketplace

Scalableplatform that accommodates business growth

Flexible platform that can be tweaked easily to accommodates new requirements