Did you know that by 2027, 62% of global online shopping is predicted to be done on online marketplace websites? What's even more interesting is that 48% of ecommerce customers go directly to a multi vendor portal when shopping online.

62%- Online shopping to be done on multi vendor sites by 2027
48%- Buyers go straight to a marketplace website when shopping online
Source: Statista
Interesting figures indeed! And a clear indicator of what the customers want.
Well, lots of products, ease of buying and the trust associated with a brand. Give it to your buyers and you have loyal customers for a lifetime.
No wonder why the likes of Amazon, Alibaba, and eBay have a complete hold over buyers across the globe.
Hearing of some multi vendor brand or the other breaking all sales records every few months has been a trend in the ecommerce industry for quite some time now. Enterprise ecommerce giants across the globe inadvertently are using the multi vendor ecommerce model in some way or the other.
Here is what industry insights tell us about the omnipresent online marketplace model:

40% of top 100 online marketplaces started in the last 10 years
2X increase in the sales of top 5 global marketplaces by 2027
7.2X faster growth of B2B marketplaces as compared to overall B2B eCommerce
$8.7 trillion is the projected sales on multi vendor sites by 2025
300+ multi vendor sites started in India in the past decade
Source: Statista, Digital Commerce 360
Well, it's more than evident why enterprise ecommerce players are so keen to build a marketplace website. The multi-vendor model has been paying rich dividends to brands of every size and industry. With the immense scope of growth offered by the multi vendor ecommerce model, it is natural for businesses to leverage the model.
Surely, building another Amazon is an uphill task. From deciding the business model to choosing the right marketplace software and onboarding the vendors can be a long winding road ahead.
The toughest part for most businesses is to find the right multi vendor ecommerce solution for their brand. With a host of solution providers in the market, each claiming to be better than the other, it becomes challenging to choose the best marketplace software to build your online marketplace.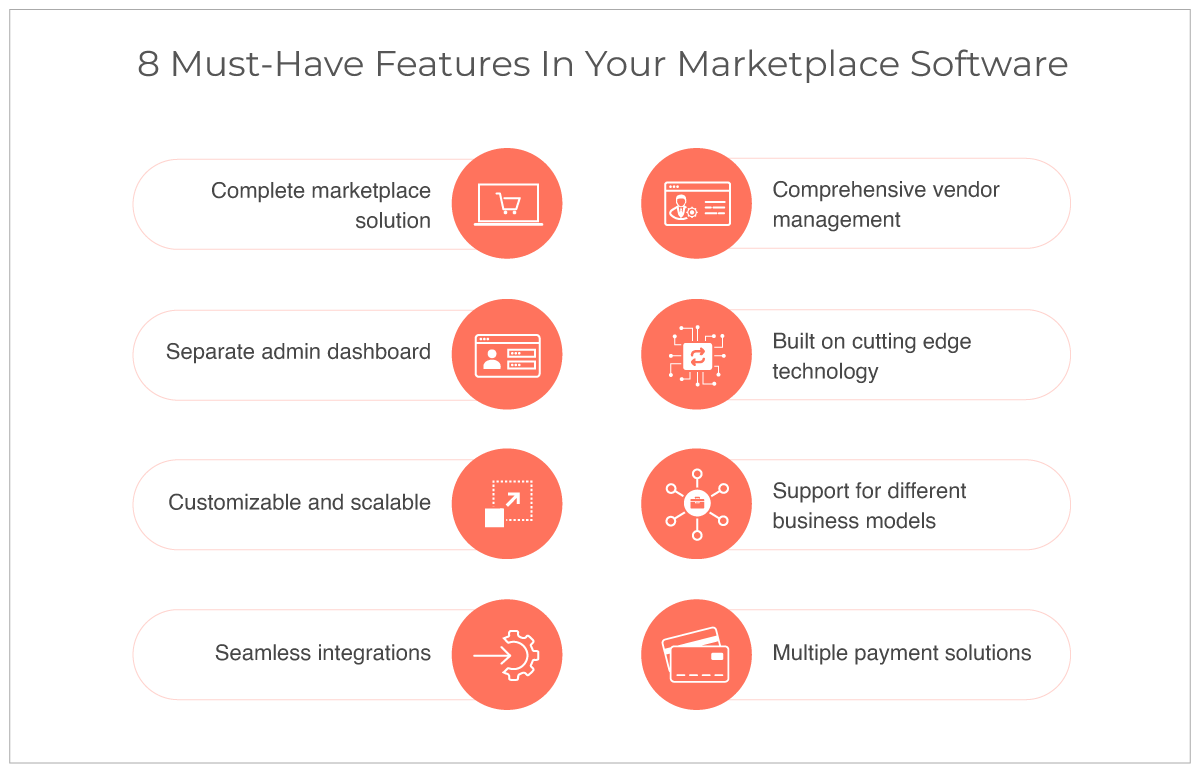 Finding the right marketplace solution is the first step towards ensuring the success of your brand. Here are the top 8 things your marketplace software should have:
A complete marketplace solution that takes care of every aspect of the business
Comprehensive vendor management solutions that automate vendor onboarding, commissions, payouts, order management etc.
Offers a separate admin dashboard to the vendors so they can run and grow their business freely
Built on cutting edge technology to future-proof your business
Customizable and scalable multi vendor ecommerce website builder that can accommodate market changes and your growing business
Support for different business models like B2B, D2C, multi store, hyperlocal ecommerce so you have the freedom to experiment with and pivot to any new business model
Seamless integrations to help you build your own unique ecommerce environment by adding the best ecommerce software for your business
Offers multiple payment solutions to make it easy for your customers to buy on your multi vendor ecommerce website
Along with these you marketplace software should also be easy to use for all parties involved and offer transparent pricing so you are clear about the costs involved. Also, check if you are getting post-sales support to handle your queries.
StoreHippo's multi-vendor ecommerce platform offers all the above features in its fully hosted and managed marketplace solutions. With the experience of building multi vendor marketplaces for domestic and international enterprise brands, StoreHippo makes it easy for you to go to market in record time.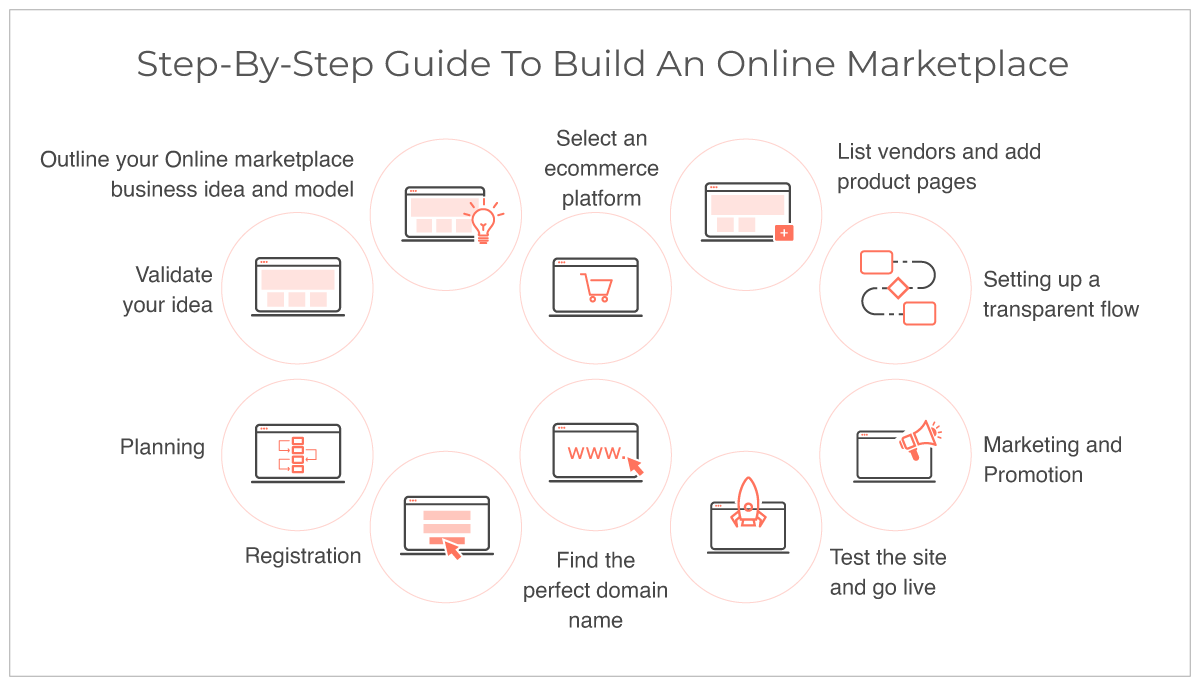 To help you build your dream marketplace, we bring you a step-by-step guide that takes care of everything you need to know - from ideating and creating your multi-seller business to launching and growing it.
Step-by-step guide to build an online marketplace
Here we go:
From selling gadgets and jewelry to offering cab and salon services, the market is filled with online marketplaces. Broadly, all lucrative niches may be already covered. So you might need to narrow down your focus in a potential segment.
Amazon was a vertical multi-seller model that began by selling books only. Today, it is one of the most successful examples of a horizontal multi vendor model that sells almost everything.
Thus, you will have to build a marketplace website depending upon what you want to sell and what the market needs. You can also take inspiration from other business models like Swiggy and come up with services determined to resolve customer pain points.
Pro Tip: Research your TAM ( Total Addressable Market) and SAM ( Serviceable Available Market) to make informed decisions and plan strategic growth.
In the initial stages of business development, finding the product/ market fit greatly matters. This means being present in a promising market with a product that matches the present demand.
Since every online marketplace idea begins with a hypothesis, it's probably best to write down your assumptions. Conducting a consumer dip-stick survey to achieve problem/ solution fit is even a better idea!
Make a list of suitable questions that can help you validate your business idea such as;
Who are your primary, secondary and tertiary customers
What is the feedback on your product/ service
What are other similar options in the market
What will be the future of the products/ services that you are going to host on your portal
Pro tip: Research your primary competitors and see how their business has in the past few years. If you do not have any competitors conduct customer surveys to understand how big the problem is for the customers you are planning to target.
Planning makes an important stage when you build a marketplace website. It is at this point that you will define the value proposition for your potential users.
Take Airbnb for example, it solves customers' problems by helping them save money on expensive hotel rooms. Similarly, with Amazon it is more about getting quick delivery, reasonable pricing and availability of a variety of products.
What is your promise to your customers and how are you going to satisfy them?
Depending upon the answer you get and the type of online marketplace model you select, you will need to have a distribution channel in place. This will help you take into account different aspects like how your online marketplace brand will be dealing with inventories, vendor listings along with the establishment of the revenue streams.
Pro tip: Research your competitors bestselling products and vendors, you will get a blueprint to plan your business.
From registering a domain name for your multi vendor ecommerce website to start accepting customer payments - there are various points where authentic registration is required.
The most important amongst these is the registration to ensure a secured site. Also, SSL certification is something that most vendors will look into when you build a marketplace website.
To attract good vendors and a steady flow of customers, it's important to have minimum standards of desired certifications including PCI DSS certification for secure customer payments.
Also, if you are selling some delicate products such as fine jewellery then customers would want to validate your certification from an authorised body. In this case, registration plays an even more significant role to build credibility.
Pro tip: StoreHippo has you covered here. The PCI-DSS-compliant StoreHippo ecommerce platform offers free SSL along with its enterprise ecommerce solutions.
Frankly, in the ecommerce world, a lot depends on the type of domain name you select for your business. This is also one of the major milestones when it comes to launching an online marketplace.
Years back, Amazon was named – Cadabra, Inc. But Bezos later realised how difficult it was for people to remember. Also, he wanted something that would justify what the website was selling – like the river Amazon, a broad expanse of almost everything.
Hence, the trick is to try and select a domain name that is short, simple and easy to remember. Also, it's probably wise to pay a little extra and go for '.com' rather than '.in'. This will help the online marketplace to expand at later stages when you want to ship or sell internationally.
Pro Tip: Check out domain name generator tools, you might come up with something good or refine one of the suggestions for your unique domain name.
The success of your multi vendor ecommerce website is quite dependent on the type of platform you choose to create it. Fortunately, ready-made solutions rule out the need to hire a web developer and build it from scratch.
Nowadays, the best software options such as StoreHippo can help you create your desired business model in half the cost and time that would otherwise go if you opt for traditional approaches.
StoreHippo is a well-recognized solution in the ecommerce industry to build a marketplace website. It is not only the most reliable, user-friendly and cost-effective way for entrepreneurs and enterprises to build their enterprise solutions but also offers several options to customise the website and scale it for growth.
Support of a trusted industry player
360-degree support to design, launch, run and grow your business
Easy-to-use features to manage the business flow
Awesome marketing tools to drive traffic
Secured website with necessary certifications
24/7 multi-channel support
Pro Tip: StoreHippo's decoupled headless architecture gives you enterprise brand greater creative control and freedom to experiment with you store look and feel, implement multi level personalizations and experiment with a variety of marketing strategies to grow your business.
Once you are done with the initial formalities of registration and website designing, it is time to list vendors, distributions and the products on your online marketplace.
Most of the ready-made solutions with plugins or extensions to manage your vendors and help them with running their day-to-day business on your online marketplace. StoreHippo on the other hand comes with a built-in vendor management module that makes it easy for your teams to manage the huge vendor listings or products on your marketplace website. The easy multi seller solutions from StoreHippo allows you to have;
Individual vendor accounts and a simple registration process
Any number of vendor and product listings for a greater variety of choices
User-friendly dashboards for sellers to help them manage products, inventory, sales and more.
Approve/reject the vendor products to help admin keep control of the store
Easy product management on the online marketplace to upload bulk products using CSV
Pro Tip: Make your approval process easy and fast and set up dedicated support team to help your vendors. If you keep your vendors happy and informed they will be inclined to stay on your multi vendor ecommerce website and help you grow your business.
Considering the complexity of a multi vendor business, more often it is difficult to satisfy customers and vendors at the same time. However, ethical and transparent business processes can easily help you achieve this.
You will need a platform that is integrated with a good shipping aggregator for easy and automated shipments. Along with this, you will also need to ensure that taxes, commissions and customer and vendor payments are in an organised flow.
When you build a marketplace website, ensure that your software allows;
Flexible commission flow for vendors depending on their performance or product categories
Vendor-specific shipping charges and discounts to promote best sellers
Management of orders and shipments by vendors without any intervention
Comprehensive vendor ledger for managing the payments/receivables for vendors
Adaptive payment to auto-split of customers' payments between admin and vendor(s)
Tax settings provision to implement different levels of taxes
StoreHippo provides you with the above-mentioned features for your online marketplace. Along with this, it also lets shoppers compare different vendors and products and help them analyse, rate and review different sellers to make a good choice.
Pro Tip: Reward your bestselling vendors with prominent positioning on your marketplace storefront. You can also offer paid positioning to your vendors as an additional revenue source on your multi seller portal.
As an owner, it is your responsibility to attract high-quality distributors as well as good traffic. The cut-throat competition might compel you to design and implement a marketing plan even before you build a marketplace website and start selling.
While you can socialise online and connect with groups of vendors or run ads to attract customers, the support of a good ecommerce platform goes a long way. With a top marketplace ecommerce software like StoreHippo you can avail of several tools that help you;
Create customer-winning product pages for individual seller
Implement multi level discounts and coupons
Apply marketing strategies like product bundling or upselling and cross-selling
Generate product and vendor reviews to create long-tail keywords
Have a powerful blog engine to optimise content and drive organic traffic
SEO tools to support your content marketing strategy for your online marketplace
Unified notifications to update customers and vendors via email, browser and push notifications
Pro Tip: Personalize the deals and discounts on your multi vendor ecommerce website. Compare the marketing results periodically using StoreHippo's built-in reporting engine as well as integrated marketing tools like Google Analytics etc. to find the best-performing strategies that maximize your marketing ROI.
During the launch of your online marketplace business, every detail counts! Ignoring the need to check and test your site before it is live for customers can throw you in dark.
It's always better to not rush the launch to avoid time wastage, cost and regrets in the process. Instead, why not allow for contingency time and sign everything off so that you can have a smooth launch?
The best thing to do is opt for a soft go-live of your online marketplace two weeks before the actual go-live. This will allow you to thoroughly check for any glitches or disjointed user experiences.
For instances such as these during the test time and even after you are live, StoreHippo stands by your side to provide multi-channel support. You can reach out to us via emails, calls, chats, etc. and trust that any technical errors will be resolved quickly.
Pro Tip: Use StoreHippo's integrated logistics solutions to streamline your deliveries. Add multiple payment channels along with store wallets to make it easier for your buyers to place orders. Also, test with live orders from different locations to test your end-to-end supply chain.
A multi vendor business has a lot to offer to your enterprise brand in terms of scalability and growth.
The only real challenge lies in building your brand's multi vendor ecommerce website in the right way. That's where StoreHippo comes into the picture. We have designed tailor-made online marketplace websites for brands of every scale and size. With built-in support for a variety of business models we have also helped brands build disruptive hybrid or custom marketplaces that combine two or more business models like B2B, B2C, D2C, hyperlocal ecommerce etc.
Ready to take the leap of faith? Our 14-day trial store seems a perfect idea to take the hands-on experience of building your multi vendor store step by step. Get started right away!