When you are planning to scale your enterprise brand to a wider audience, the one business model that just fits right is the multi vendor marketplace.
With the growing popularity of online marketplaces and one success story after the other, it is natural for enterprise brands to go for this ZERO inventory business model. The versatility of the multi-seller model makes it easily adaptable for different scenarios, be it B2B, D2C, B2C or any hybrid business model.
To understand how the model works, let us explore the marketplace set-up in and out!
A multi vendor marketplace is a zero inventory model, in which the brand owner does not need to maintain an inventory. Instead, multiple vendors are onboarded on the marketplace website to sell different or similar products to their customers.
The admin or the marketplace owner onboards vendors who bring in their own inventory and manage their products, orders and the shipment of the orders they receive. On the other hand, the admin(s), manages the marketplace and looks after the marketing and brand building aspect of the business.
The end customers get a rich catalogue to choose from along with competitive pricing. Reason enough for buyers to choose an online marketplace, isn't it?
Let us look at some online trends for marketplaces to better understand the increasing inclination toward a multi vendor marketplace

95% of the online shoppers have purchased from one or the other marketplaces

54% of the online buyers feel that marketplaces have changed their way of shopping

48% of the online buyers prefer going straight to the multi vendor marketplace website

3.23 T $ was spent on multi vendor marketplaces in 2021

150+ million online buyers shop from Amazon - the multi vendor marketplace
Source: Statista, EcommerceDB
Now the figures loudly speak of the charm a multi vendor marketplace holds. To dig deeper into this, let us also understand 'WHY' behind this whole scenario.
Let us dive into reasons why the marketplace model is so liked by all concerned parties, i.e; the sellers, customers and the business owners:
With the huge changes that the pandemic brought into each of our lives, the buying habits have evolved big time. Today, the online buyers are on the lookout for a platform that makes shopping easy for them, one that offers everything they need at one place.
Wonder what exactly do your customers want?
A wide variety of products to choose from at competitive pricing

A trustworthy brand name with timely order delivery, and transparent returns and refunds

A touch of personalised experience for a seamless shopping journey

Personalised relevant pricing and loyalty rewards

Regular offers and discounts to keep the buyers engaged and hooked to the brand

Multi channel quick support services
Vendors find the marketplace model suitable for their business for the following reasons:
The marketplace brand value benefits their business with a higher traffic and order number

They do not have to bear any cost of IT development

Minimal to basic computer knowledge can suffice the requirement of selling online

They get to leverage a host of inbuilt features like analytics, reports, order management, automated shipping, multi level discounts etc.

Learn more about their industry's latest trends and ways to expand by observing other sellers on the marketplace platform
The online marketplace model is loved by big brands for a host of benefits it offers to the business. Here are some of them:
No responsibility of sourcing and stocking the various products in the catalog

A fixed commission on each sale by multiple vendors

Freedom from managing orders and fulfilment

Multiple ways to add new revenue streams to the marketplace

Burden sharing with vendors in managing end-to-end operations

Ample time to strategize business expansion and growth plans
The versatile marketplace business model can be used in a number of use-cases. Some of the most popular marketplaces types are:
A niche marketplace is one that caters to a particular industry and has a defined set of audience. Say for example you are selling furniture, you are catering to a special audience segment looking for furniture.
Nykaa : Nykaa is a niche online marketplace dedicated to skincare, cosmetic, and beauty products. It has a rich product catalog with millions of products and thousands of brands

First Cry : Dealing with the complete range of baby products, First Cry is another niche marketplace that has a defined set of audience
A horizontal marketplace sells a variety of products and services to reach a broad spectrum of audience. With a horizontal marketplace, it is not only easy for the customers to find a variety of essential and unique products on a single platform but enterprise brands can also penetrate the broader market with this set up.
Amazon : Amazon is one such horizontal multi vendor giant that has grown to be a home brand. However it started as an online book store, it soon gained momentum and covered all the major industries. You name it, Amazon has it!

Flipkart : Flipkart is another horizontal multi vendor marketplace with an extensive customer base
A service aggregator marketplace is one that brings together multiple service providers on a single platform to do business either with individual customers or with companies as their customers. They could provide a variety of services ranging from personal care, home maintenance services, food delivery, cab hailing or any other.
Urban Company : Urban Company came into the industry with a host of services like cleaning, plumbing, any kind of repairing job needed by households and carved its own niche quickly

Practo : Healthcare services at home is one thing that caught people's attention in no time, and so Practo became a go to solution for all of us
A rental online marketplace is where vendors come together not to sell a certain item but to put it out on rent. The products could be cars, clothes, furniture, electronics etc.
Rentomojo : Present in almost all Indian cities today, Rentomojo lends out products ranging from furniture to electronics

Turo : Turo is a famous marketplace that provides cars on rent to travellers across the country. People from the US, UK, Canada etc. have listed their cars here
Hybrid multi vendor marketplace targets not only B2B but also B2C market from a single platform. It increases the profitability of the vendor as the customer base is much wider.
Amazon : While Amazon is a horizontal marketplace, it is also a hybrid marketplace. Apart from individual customers, sellers can also give and take orders in bulk at wholesale prices from the same platform
A hyperlocal marketplace works in a limited geographical area and with a time constraint. The sole purpose of this type of marketplace is a shorter delivery time. The products could range from grocery items to flowers to fast food to medicines.
Zomato :

Zomato

is one most famous hyperlocal

marketplace website

, delivering food to its customers in different cities using local food joints and restaurants

Ferns N Petals : They sell flowers, handmade chocolates, cakes, decorative plants and other gift items to a localised audience across cities
Custom marketplaces are those that have a unique business model and combine some popular business models along with the multi seller model at its core. Usually such marketplaces are built by large enterprise brands that are planning rapid growth and digitising their sales channels.
The resounding success of the brands mentioned above has been made possible thanks to their strategic planning and cutting edge multi vendor marketplace solutions. Without the right technical support, it becomes challenging to create the user experience that is helpful in taking business forward and carving a niche in the market.
StoreHippo multi vendor marketplace platform comes with built-in marketplace solutions that can build any of the above mentioned marketplace websites. With 300+ built in features, easy scalability and flexibility to customise the platform inside out StoreHippo has helped many enterprise brands build their successful marketplaces.
The marketplace model is called a virtual goldmine. However, to get the best out of the marketplace scenario the admin(s), vendors as well as the customers need a host of features. These features should be aimed at making their respective journeys faster, smoother and efficient. Here is a list of top 15 features for the respective parties, i.e, the sellers, customers and the admin(s):
Here is a list of features that make it easy for the marketplace admins to run, manage and grow their marketplace website: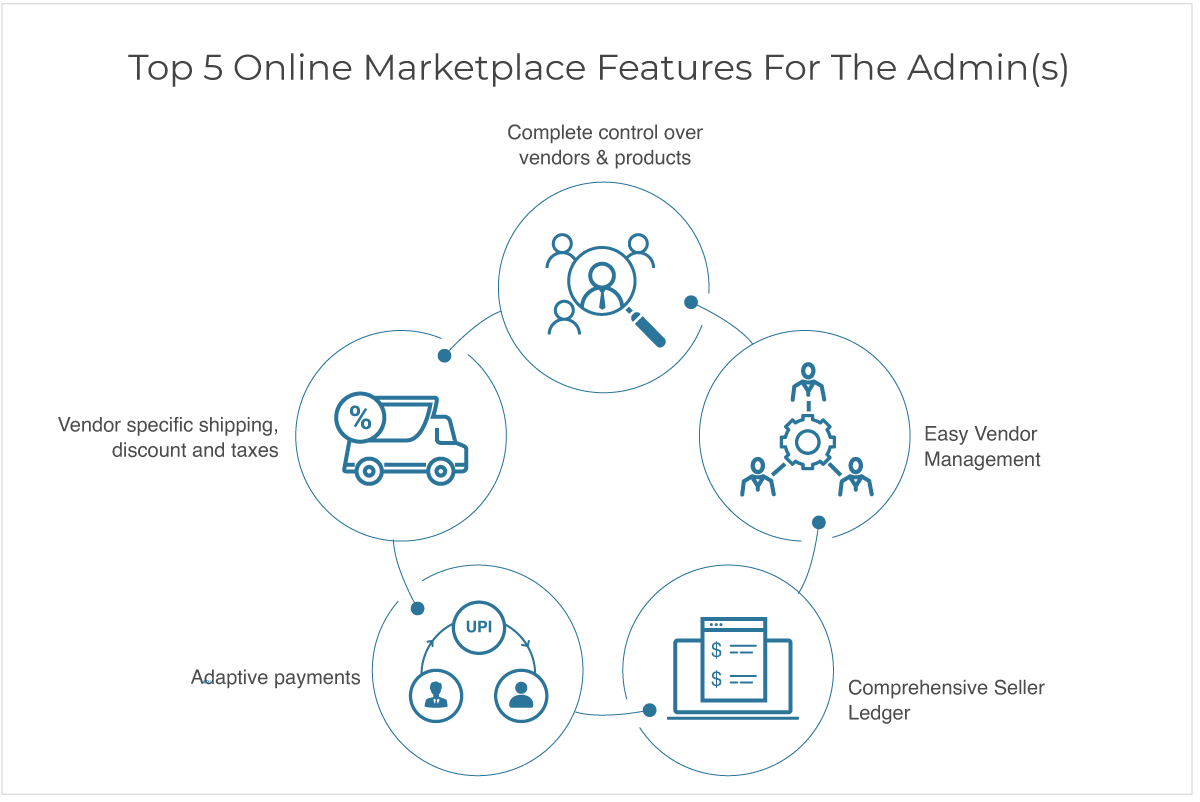 While a turnkey multi vendor marketplace solution makes it easy for brands to launch their marketplaces, exercising control over the vendors still poses a challenge. The best ecommerce solution provider is the one that not only helps you build a marketplace, but also helps you manage it efficiently.
With StoreHippo, admins get full control over the vendors, products, orders, commissions and a lot more. The admin(s) also has the power to approve or reject the products uploaded by the vendors before they are displayed on the marketplace. This helps the admin to keep a check on any unwanted or illicit products being displayed on their marketplace.
With multiple vendors coming together on your marketplace website, it can be a daunting task to manage them all and ensure smooth day to day activities. For easy vendor management, you need a marketplace that offers a transparent management process like StoreHippo.
The marketplaces powered by StoreHippo offer a comprehensive admin dashboard which reflects the overview of everyday business. The very fine details of the business like vendor specific sales, revenue, best selling products, vendor performance etc. can be viewed and managed from this very dashboard.
To keep track of the payments and transactions is one important aspect of running a successful business on a marketplace website. And with multiple vendors in question, it is not only important, but also becomes challenging to stay organised.
StoreHippo's comprehensive vendor ledger helps you calculate and track the payments and receivables effortlessly. It helps the admin to set up various rules regarding managing vendors commissions, payouts etc and get complete history and records of each vendor in a few clicks.
With multiple vendors on an online marketplace, there arise cases where a single order has multiple products sold by different sellers. Handling payment distribution for such cases can become extremely complex if the payment division among vendors is not automated.
The adaptive payment feature by StoreHippo easily divides the order amount and sends payments to different sellers of a multi-product order. Along with the seller amount, the admin commission also gets paid in the respective account automatically. This provision also gives GST and tax benefits to small vendors.
When there are multiple vendors on your marketplace website, you need to manage their discounts, taxes, shipping, etc., based on several factors. You might decide to offer some special discounts to your premium vendors or relax shipping charges to promote them. Implementing these changes requires built-in support at the platform level.
StoreHippo enables you to set up vendor specific discounts and shipping charges that promote the bestselling products or vendors. Also StoreHippo's powerful tax engine gives you the features to add multi level taxes for your sellers.
Here is a list of features that make it easy for the marketplace sellers to sell their products and manage their customers: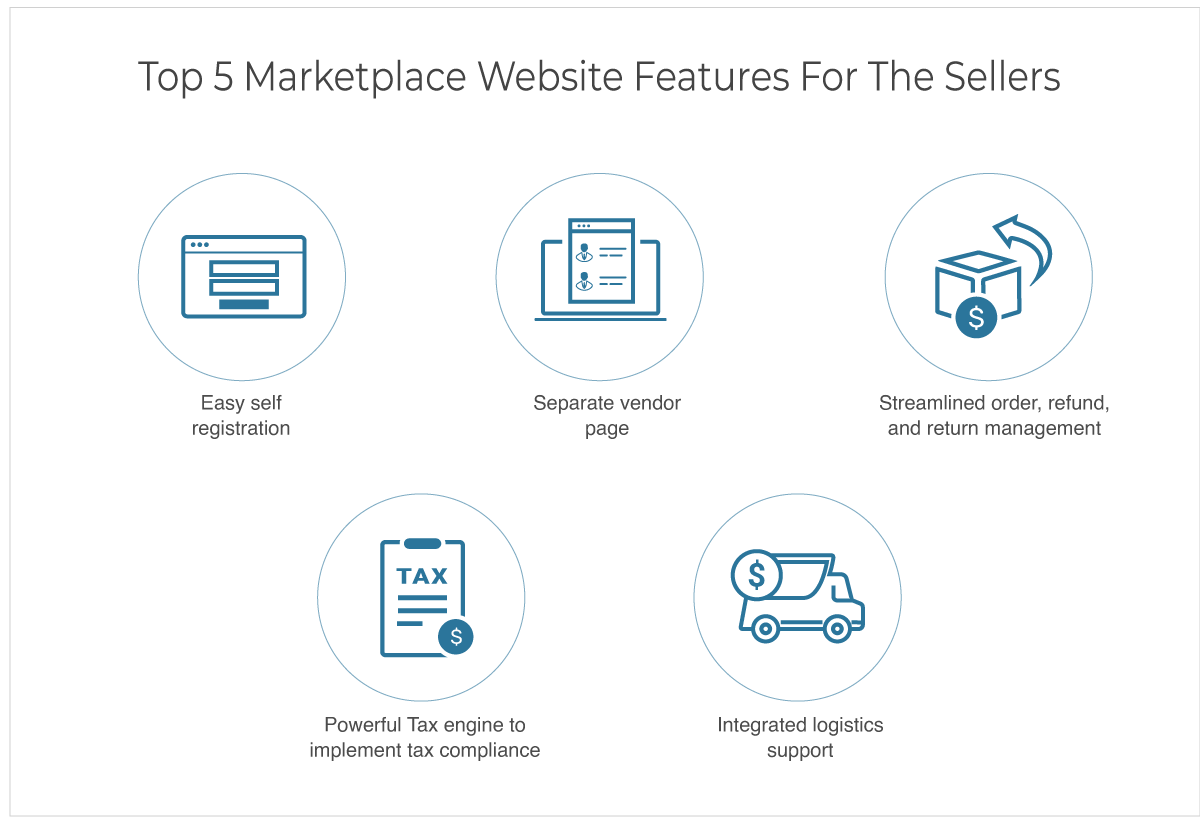 When you provide a vendor friendly online marketplace to your vendors, you not only save them from all the technical details but also create a safe place for them to do business. For your marketplace to be easy-to-use, you have to ensure a smooth start to your vendor's journey.
StoreHippo solutions provide you with an easy to register feature through which all your vendors can register quickly and start their business in just a moment's time. When your vendor registers and fills in their details, a unique vendor account gets created, helping the vendors manage their businesses more efficiently.
With a defined and separate dashboard, vendors feel a sense of empowerment in managing their orders and products. A personal dashboard is helpful to them in many ways, with the reports and insights available to them, they can work towards improving their services and analyse their orders, profits etc.
Multi vendor marketplace powered by StoreHippo offers a unique seller page to the vendors that help them get undivided customer attention. The seller page contains a complete seller profile and all the products listed by him on your marketplace.
Each vendor on your platform looks forward to receiving multiple orders and dispatching them at the earliest. And to receive such bulk orders vendors need to gain his customer's confidence, which can be accomplished by offering simplified return and refund policies.
A marketplace platform that provides a seamless order, return, and refund management is loved by the vendors. Marketplace websites powered by StoreHippo offer easy management of the vendors' orders and shipping with less intervention. An easy and detailed view of orders with complete details of open, closed, and cancelled orders goes a long way in managing and running the business.
Taxes make an important difference to your business and so it needs to be managed well. A powerful tax engine can help your vendors simplify their tax calculations and compliances.
StoreHippo's built-in tax engine gives your vendors complete GST support and also applies different tax rules for different products, locations, and vendors while selling their products on your multi vendor marketplace.
To run a successful ecommerce business, an integrated logistics support works wonders. With the support of integrated domestic and global logistics support, your vendors can grow their business manifold.
StoreHippo offers pre-integrated logistics solutions to help vendors deliver their orders seamlessly across 27000+ PIN codes. Also, with the inbuilt delivery boy management module, your vendors can manage their own fleet of delivery boys for faster deliveries.
Here is a list of features that make that make a marketplace favourite shopping hub of the buyers: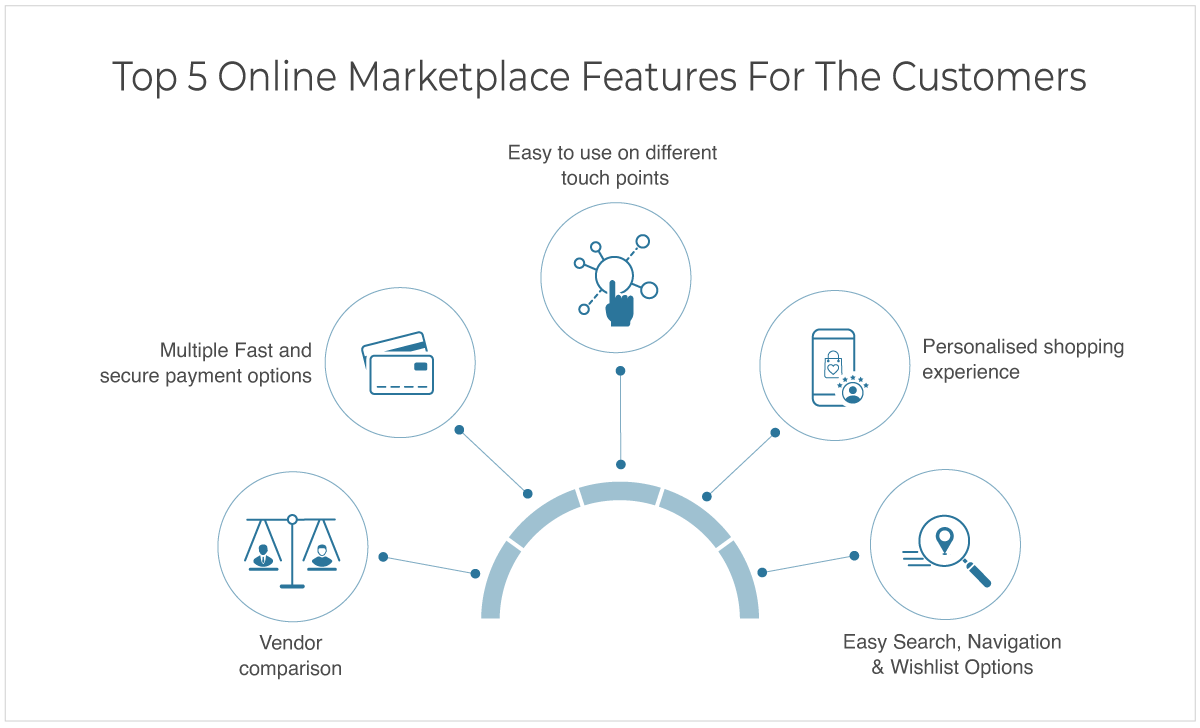 A marketplace website that is easy to shop quickly becomes the favourite choice of its customers. Modern customers like to shop on the go and connect with their favourites sites on multiple touchpoints.
StoreHippo offers complete omnichannel solutions to build a marketplace website that can be accessed by the buyers on multiple channels like multi seller portal, marketplace apps, PWA stores and any other channel where customers love to shop.
63% of marketers have observed that personalization increases customer interactions and ultimately, better conversion rates. Today the customers are ready to pay extra for personalised experiences, also they order more when given relevant offers..
StoreHippo's built-in discount engine and other tools let you set up differential pricing and offer discounted prices based on the order quantity and customer locations. By creating multiple discounts and promotions, you allow your vendors to gauge and convert their customers better on your marketplace website.
When customers come to an online marketplace, they don't want to be lost in the huge product catalog. Searching desired products, navigating through the site and wishlisting their products is essential for quick checkouts and future purchases.
StoreHippo comes with built-in advanced search, well designed site navigation, multi level categories, wishlist feature, product review feature and a 360-degree product view to help your buyers make a purchase on your multi vendor website.
Today everything is about options and choosing the one that best fits our needs. The same goes with the customers who are out there in the market looking for the seller that offers them the best price, multiple choice of products, complete product information, faster after sales service etc.
With StoreHippo's multi seller solutions, you allow your customers to make an informed decision by comparing different vendors selling the same products on the basis of pricing, user satisfaction, product reviews etc.
Customers always want to feel secure while making a purchase. Also, every customer wants to enjoy his choice of payment option while making a purchase. Offering multiple secure payment options to customers helps enterprise brands sell faster and better.
Having multiple payment options on your marketplace website is one way to convey to your customers that you value their money and their choice of payment. With StoreHippo's 60+ pre-integrated payment gateways and an array of other payment solutions, you can give your customers the most smooth and secure payment experience for improved conversions.
All these features combined together make a power packed marketplace that can be positioned to become a success story. StoreHippo marketplace solutions built on cutting-edge technology make it easy for enterprise brands to go to market in record time. The plug-and-play StoreHippo marketplace solutions can be used across industry verticals and customised easily for unique brand requirements.
With MACH architecture at the core, StoreHippo offers the best future-ready multi vendor marketplace solution for brands of every scale and size.
Ready to build a unique marketplace website for your enterprise brand?? Start your 14 day free trial with StoreHippo to explore the amazing features right away!