If you search over Google about the highest revenue-generating ecommerce stores? You will see the names like Amazon, Flipkart, eBay, and alike. All these online stores have different business models but the catch here is – They are all multi-vendor marketplace.
Did you know?
Over 65% of the online sellers will list their products on online marketplaces by 2021

Over 50% of the global online sales are happening on the online marketplaces

Over 90% of the marketplace sales happen on the top 100 online marketplaces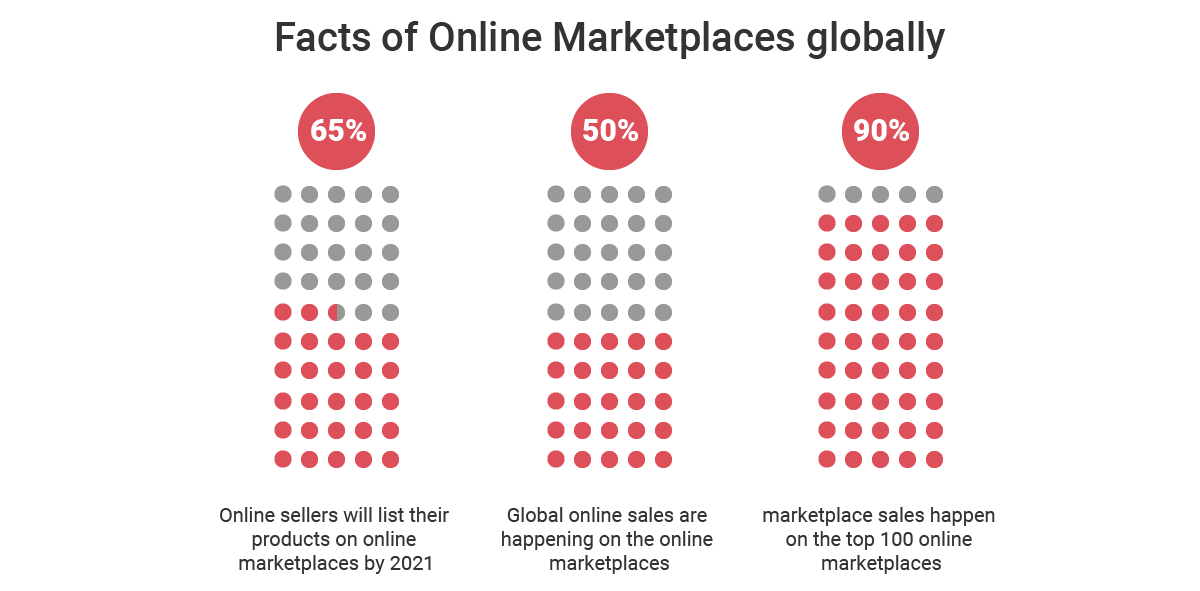 Aren't these facts seeming to be promising to develop your marketplace website, start selling online, and earning more? Most of the ambitious entrepreneurs wish to create a multi-vendor website considering its benefits.
But how?
The statistics clearly underline how this new ecommerce business model is being used by maximum manufacturers, distributors, retailers, brand owners, and customers.
Getting into a multi-vendor online business is just the need of the hour, whether it is a B2B or B2C marketplace. In a B2B setup, the companies deal with businesses for products and services rather than individual buyers like product sourcing, operational assistance, and alike. Whereas the B2C companies witness direct transactions between a business and the end consumers like restaurants, hotel chains, housekeeping services.
StoreHippo provides an easy-to-use solution to create multi-vendor websites (B2B+ B2C). It provides a highly customizable platform to create Business-to-Business (B2B) or Business-to-Consumer (B2C) marketplaces.
Just like multiple vendors sell their products and services offline, similarly the merchants sell their products to other businesses on B2B online marketplace. It is a business-to-business online platform operated by a third-party marketplace owner. Indiamart and Udaan are some of the well-known examples of B2B online marketplace websites. It allows manufacturers and wholesalers to buy and sell on the common online platform.
It is a platform where multiple vendors from different geographies come together on a single platform and offer their products for sale to consumers. In the digitization era, people search for everything online making marketplace model a success.
You can manage the vendor marketplace with ready-to-use features and inbuilt tools of StoreHippo. The extensive features help to reach global customers and take your business to the next level.
Let's explore the functionalities of this feature-rich solution that helps your business grow online.
StoreHippo is built on the most advanced MEAN stack technology and offers a turnkey solution for B2B as well as B2C businesses. The inherent infrastructure of the platform helps your business become scalable, reliable, and secure.
The mobile-first approach of StoreHippo gives a competitive edge to your business. Also, the PWA (progressive web apps) help you to make your marketplace website look and work like native apps on all devices. Cherry on the cake is that you can get it all at no additional cost.
The inherent features of StoreHippo provide the much-needed flexibility to handle personalizing pricing for customers. You can offer pricing on the basis of location, IP address, wholesale or retail-based pricing, and much more.
Multiple sellers do not mean multiple hassles, if you are with StoreHippo. The feature-rich ecommerce platform helps you manage a plethora of products, multiple orders, split orders among vendors on your marketplace store.
The vendor registration is quick and easy with StoreHippo. Create a multi-vendor website and encourage maximum manufacturers and sellers to start their online business.
Are you dealing with multiple product lines and not sure how it will be managed online? No problem, we have you covered too. StoreHippo allows you to create micro-sites for each product. And you need not have separate logins to all these products, it can be easily managed with a central admin dashboard using the multi-store solution.
The one-stop logistic solution offered by StoreHippo takes care of all the automation required for ecommerce logistics. Give a boost to your marketplace website by reaching to the new markets globally.
Engage with your customers for regular updates on your order, payment, product availability, shipping, special discounts, customized deals and offers. You can also re-engage with the lost buyers with unified push notifications to increase customer conversions.
Offer multiple payment methods to your customers and make their buying experience even better. Create a multi-vendor website with advanced payment options like COD, internet banking, wallets etc. to avoid loss of sales.
Using the automating marketing tools, features along with powerful discount engines help you to boost sales big time. Start dealing with customers in just the way they want by providing personalized coupons, seasonal promotional offers, multi-level discounts, and much more.
Make it super easy for your customers to log on to your online store easily. You can also engage customers and get better customer insights by analysing their social network details.
StoreHippo offers a comprehensive solution for B2B with extensive enterprise-grade features while providing extensive features to handle the requirements of B2C businesses. The ecommerce platform has all the experience, expertise, and flexibility to help your business implement out-of-box models with customized solutions and unique business workflows.
Schedule a DEMO to explore how you can build a perfect marketplace website for your business.