When you search online for the highest revenue-grossing ecommerce stores, the top 5 results are the names of one of popular marketplace websites like Amazon, Walmart, Alibaba, eBay etc.
It won't be an exaggeration to say that when you create a multi-vendor website you set up your business for growth and success. After all, online marketplaces are the most visited eCommerce stores by customers looking for any kind of products or services.
Need proof to validate the claim?
Here we go;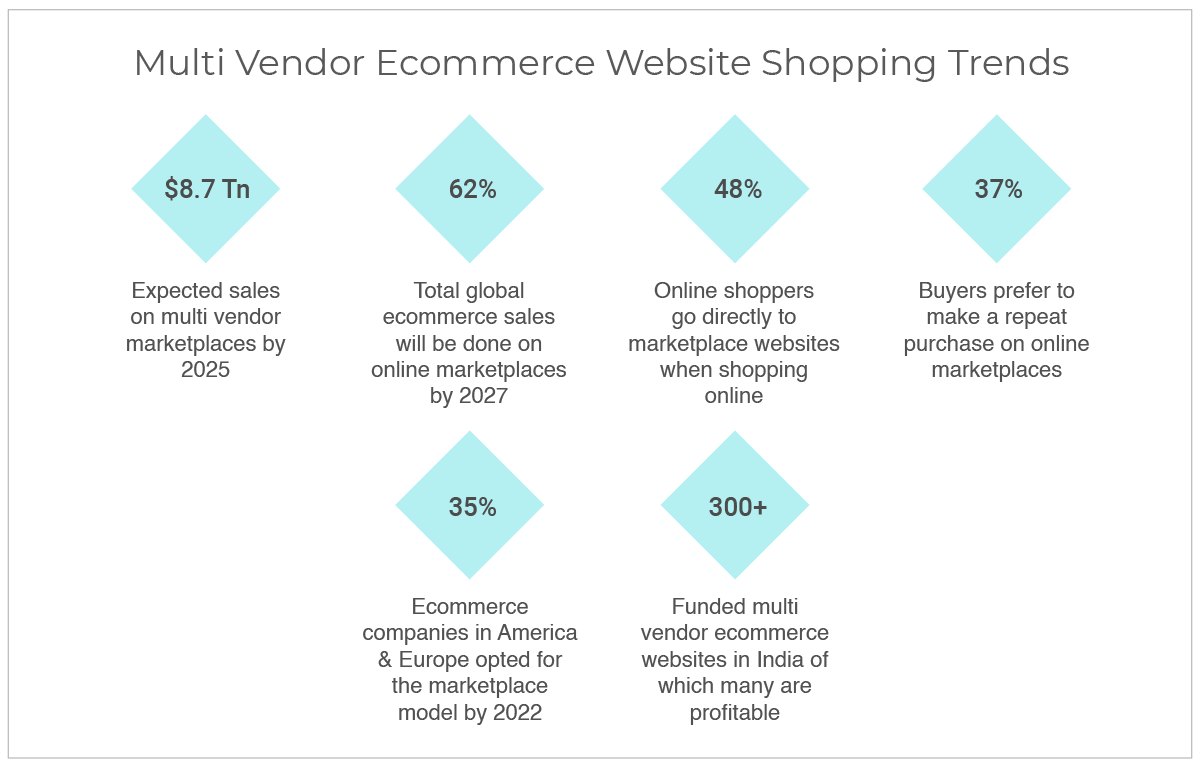 $8.7 trillion is the expected sales on multivendor marketplaces by 2025
62% of total global ecommerce sales will be done on online marketplaces by 2027
48% of online shoppers go directly to marketplace websites when shopping online
37% of buyers prefer to make a repeat purchase on online marketplaces
35% of ecommerce companies in America and Europe opted for the marketplace model by 2022
300+ funded multi vendor ecommerce websites in India of which many are profitable
Source: Statista, Fortune India, Bain & Company and Accel report
Well the data clearly highlights the fact that starting a multi vendor ecommerce website is a win-win situation for enterprise brands looking to take their business to a new level of success. Building a multi seller portal not only helps in business expansion but also enables the marketplace brand to implement multiple revenue sources like commissions from each order, product placement fees, membership fees from customers and vendors, in marketplace ads etc.
With customers clearly showing a preference for shopping on online marketplaces, building their own multivendor portal is a good idea for brands looking for unrestricted growth.
Despite the benefits and the buyer preference for shopping on marketplaces, building a marketplace from scratch can be quite a challenge. Finding the right technical team, setting up the server and other requirements, multiple development and bug-fixing cycles etc. make the whole process painstakingly long.
In the fast-changing ecommerce environment using a turnkey multi vendor website builder like StoreHippo can be a blessing for enterprise brands for the following reasons:
It offers battle-tested solutions and makes go-to-market fast and easy
Cost-effective as brands get hosted and managed solutions
Easy to tweak the marketplace website or pivot to new hybrid model as per changing market dynamics
Different subscription plans suited for different stages of a business
Tech support helps in resolving issues faster and also saves cost of setting up a detailed IT infrastructure
With a clear advantage over legacy marketplace software which is built from scratch, turnkey marketplace builders like StoreHippo enable enterprise brands to stay ahead of the market and create a niche for their brand
The biggest advantage of StoreHippo's multivendor website builder over other similar turnkey solutions is that it offers a native multi-seller solution. This means brands planning to build a multi-vendor marketplace website get a host of built-in features and do not need to buy expensive add-ons or extensions to build, run and grow their marketplace.
Let's explore the best features of this next-gen marketplace builder:
StoreHippo is built on the most advanced MEAN stack technology and offers a turnkey solution for B2B,B2C, B2B2C and a variety of business models. Built on MACH (Microservices, API-first, Cloud-native, Headless) architecture, StoreHippo enables brands to build tailor-made, scalable, customizable and secure marketplace websites for their business.
When you create a multi-vendor website with StoreHippo you get a well-rounded vendor management solution. You do not need any extensions to onboard and manage your vendors. StoreHippo's vendor management includes automated vendor onboarding, a separate vendor dashboard for each vendor, comprehensive vendor ledger to manage vendor payouts and commissions, adaptable payment to split payment between multiple vendors, vendor-based discount and shipping settings and many more features
The mobile-first approach of StoreHippo gives a competitive edge to your marketplace website. With up to 80% of orders on online marketplaces coming through the mobile channel, having a mobile website along with marketplace apps is a sure-shot way to get more orders. StoreHippo comes with a built-in mobile apps builder that creates Android and iOS apps at no additional cost.
Also, Storehippo enables you to turn your multi-seller portal into PWA (progressive web apps) which in turn, makes your marketplace website look and work like native apps on all devices. The cherry on the cake is that you can get it all at no additional cost.
The inherent features of StoreHippo provide the much-needed flexibility to handle personalised pricing for customers. You can offer pricing on the basis of location, IP address, wholesale or retail-based pricing, and much more.
The built-in ecommerce billing and invoicing solutions make it easy to manage a variety of customer, vendor and other suppliers' invoices on your multi vendor ecommerce website. With features like GST-complaint invoices, built-in and custom invoices, multi-currency invoices, bulk invoices etc. StoreHippo makes it easy for enterprise brands to simplify their billing and accounting processes.
Multiple sellers do not mean multiple hassles if you are with StoreHippo. The feature-rich ecommerce platform helps you create a multi-vendor website and manage all your sellers, their orders and inventories seamlessly.
With well-rounded order and inventory management solutions, each seller can manage their own orders, shipments, inventories etc. while the super admin(s) has complete control over all the activities of the vendors. You can easily split a multi-product order among multiple vendors and manage multiple orders on your marketplace store easily.
Are you dealing with multiple product lines on your marketplace website and not sure how they will be managed online? No problem, we have you covered. StoreHippo allows you to create micro-sites for each product line and manage them from a common central admin.
By using StoreHippo's multi-store solution you can create a network of multiple storefronts for your marketplace based on different product lines, customer segments, geographies, languages and any other criteria. When you create a multi-vendor website with a network of targeted storefronts you set up your business for undistracted customer engagement and conversions.
When enterprise brands create a multi-vendor website, they are looking for a solution that not only caters to their current requirements but also offers scope to diversify and implement out-of-box solutions in future.
StoreHippo with its inbuilt support for a variety of business models like B2B, B2B2C, D2C, hyperlocal, omnichannel, international ecommerce, multilingual solutions etc. enables businesses to explore and disrupt market with their innovative solutions.
Enterprise marketplaces have their own ecommerce environment. To run their business efficiently such large-scale brands use their preferred service providers and best-in-breed third-party apps or tools.
StoreHippo offers seamless integrations to build a multi-vendor marketplace website that can integrate with all the existing apps and services used by enterprise businesses. StoreHippo comes with 120+ integrations and also offers seamless API-based integrations with the preferred solutions of a marketplace brand.
Launching a multi vendor ecommerce website is just half the task done. The real deal is growing it well with strategic marketing. For this brands need a host of tools that help them implement different marketing strategies and also enable them to strategise based on the results of their marketing initiatives.
StoreHippo's SEO-friendly marketplace builder comes with a gamut of built-in marketing tools like a discount engine, abandoned cart follow-up tool, unified notifications ( email, SMS, push) etc. and also integrates with the best-in-breed marketing tools. Using these tools you can implement multi-level discounts and promotions to engage and convert your buyers. You can also integrate with different social media platforms seamlessly and leverage the power of social channels to grow your multi vendor portal.
To run a marketplace website smoothly and successfully brands need to facilitate their customers by offering frictionless checkouts and seamless deliveries. This can be done only when there are multiple payment options available on the marketplace so customers can choose their preferred payment mode for fast checkouts. Similarly, quick deliveries go a long way in keeping customers happy and loyal and this can be achieved only when you have different shipping options on your marketplace website.
StoreHippo comes with 60+ pre-integrated payment solutions which include options like COD, netbanking, mobile wallets, store wallets, domestic and international payment gateways etc. For shipping, storeHippo offers complete shipping automation solutions along with 30+ integrated logistics partners.
StoreHippo has powered a variety of marketplace portals for its clients across industry verticals. From B2C to enterprise B2B to custom marketplaces, StoreHippo has built every type and scale of marketplace websites for enterprise brands across the globe.
Here is how we can classify marketplaces based on the operations and type:
A horizontal marketplace website is where vendors and sellers from different industry verticals come together on a single platform to sell their physical or digital goods.
Examples: Amazon, Alibaba, Flipkart
A B2B marketplace is a multi-seller site where other business owners, vendors, manufacturers, sellers, distributors etc. come together on a common platform to sell their products or services to other businesses. B2B marketplaces have paid a significant role in digitising and modernizing B2B and enterprise businesses.
Examples of successful B2B multi-seller portals are Alibaba, Amazon Business, IndiaMART, Udaan etc.
This marketplace model is becoming very popular in recent times. As the name suggests a niche or vertical marketplace brings together sellers selling products related to a particular industry focussing on a targetted audience segment that is more likely to buy the products.
Examples: Nykaa, Myntra, Caratlane, Pepperfry etc.
A service aggregator marketplace website brings together different or similar types of service providers on a common platform. These service providers operate under the name of the umbrella brand despite each having its own unique services or stores. Services can range from home repair and plumbing to personal care, household chores, medical and diagnostic services, and more.
Successful examples of service aggregator marketplaces are, Zomato, Swiggy, Urban Company etc.
To create a multi-vendor website for offering goods and services on rent enterprise brands can launch their rental marketplace. In our fast-moving world rental marketplaces have made life easier by offering a variety of everyday essential products and services ( like cabs on rent, furniture on rent, home appliances on rent, clothes on rent, elderly or child care services on daily/weekly/monthly basis etc. ) on rent.
Successful examples of rental marketplace websites are Rentomojo, Mahindra construction equipment, Ola, Uber and more.
A hybrid multi-vendor marketplace combines two or more business models, for example, it can serve both B2C and B2B markets from a single multi vendor ecommerce website. It can also target the B2B2C model wherein the main marketplace brand serves other businesses and these businesses serve the end customers. Here the final target audience is the same but the approach to targeting customers is different. .
Examples of successful hybrid marketplaces are Amazon ( runs both retail and wholesale business), Nykaa ( offers a retail marketplace website and also wholesale marketplace app for professionals and businesses that need products in large volume).
When enterprise brands create a multi-vendor website to deliver goods or services to a targeted local audience with a fast delivery time, it's called a hyperlocal marketplace. Such marketplaces usually have location-based substores where sellers from a given location offer their unique products and services to customers in a given city or locality.
Successful hyperlocal marketplace websites Blinkit, Ferns N Petals, Thyrocare etc.
As the name suggests, a custom marketplace is a multi vendor ecommerce website built on custom or specific requirements and business model of a brand. Many times large brands need unique flows and ecommerce environments to run their business efficiently. For this brands need multi-seller portals that have a combination of business models for different handling partners/sellers/affiliates/ distributors etc.
Also, the enterprise brand might have a different modus operandi for serving different groups of end customers. In such a case, the best way to go for the multi-seller solution is to build a multi-vendor marketplace website customised at multiple levels.
With StoreHippo multi-seller solutions, enterprise brands can build any of the above-listed marketplace solutions and grow their business to new markets and audience segments.
Building a multi vendor store with StoreHippo is very easy.
Here is the step by step guide to build and launch your multi-vendor marketplace website with StoreHippo:
Step 1: Decide your business model and accordingly choose the StoreHippo subscription plan best suited for your business.
Step 2: Register a domain name for your website and let the StoreHippo team know its details.
Step 3: Choose from StoreHippo's 100+ themes and design an attractive website to engage and convert your buyers.
Step 4: Build your vendor registration page and invite your vendors to register on your marketplace.
Step 5: Approve or reject vendors from the admin panel. Give a separate vendor dashboard to approved vendors to upload their products and showcase them on your marketplace website.
Step 6: Add payment gateways and shipping solutions to your multi-seller portal.
Step 7: Integrate your desired software for marketing, CRM, chat support, accounting etc.
Step 8: Build your marketplace app using the built in marketplace apps builder and leverage m-commerce for better sales
Step 9: Integrate with social media and start promoting your business to customers as well as potential vendors.
Step 10: Test your multi vendor ecommerce website and go live.
That is it! You have your multivendor portal up and running. Start planning marketing strategies to build a niche for your brand.
StoreHippo offers a comprehensive solution to create a multi-vendor website. With 300+ enterprise-grade features, we have all the experience, expertise, and flexibility to help your business implement out-of-box models. With our decoupled headless platform and MACH architecture, we make it possible for brands to build customized solutions and unique business workflows.
We also offer complete go-global solutions for brands planning to grow in international markets. With our internationalization and localization features enterprise brands have been able to build successful marketplace websites across industry verticals.
Ready to build your own multivendor store? Schedule a DEMO to explore how you can build a perfect marketplace website for your business.