On A Healthy Note is a unique online portal that believes in going back to the bounties of nature to heal the body, mind, spirit and the world one step at a time. The portal showcases and sells an assortment of beauty products, supplements, superfoods, health drinks, household supplies and many more products that are essentially natural and organic.
On A Healthy Note took shape out of the real-life experiences of its owner. It is an earnest effort towards giving everyone a choice and a chance to substitute unhealthy in their lives with things that are natural, healthy and have healing properties. The aim of the portal is to create a healthy balance and make "truly authentically natural" healthy products accessible to all at a single portal.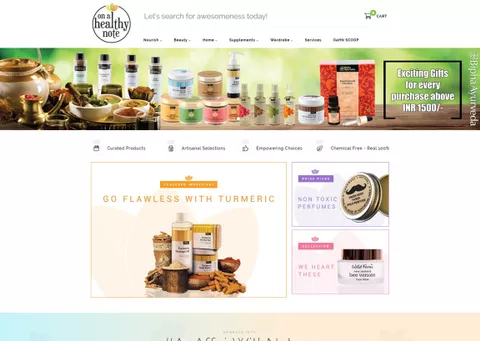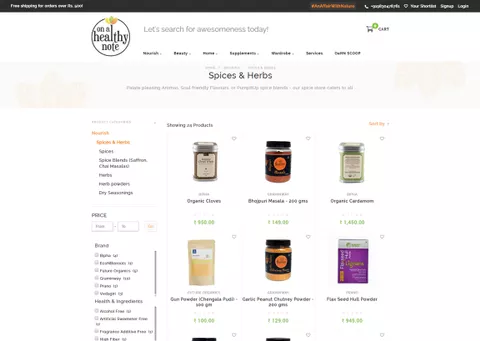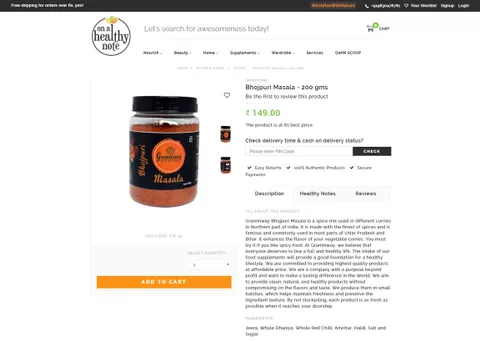 The Requirements
On A Healthy Note is a tireless journey to go back to nature. The objective is to find a balanced, healthy alternative to everyday essentials and bring it within the reach of the masses. The project aimed to bring non-toxic and purely natural products with all their goodness intact to the doorsteps of its users. To make this happen they needed the following;
A comprehensive ecommerce solution that could support and showcase the novel concept

Extensive customizations to make the storefront stand out

Conversion oriented features that make the project profitable

High-performance site which was engaging for customers

A flexible and scalable portal that can grow with the business
StoreHippo Powering On A Healthy Note- Bringing The Goodness Of Nature In the Lives Of Millions
StoreHippo, has powered a niche products portals for its clients and understands the special requirements that are needed to make such websites a success. With a feature-rich set of inbuilt tools and functions, it has helped its clients reach out to markets where there is a demand for their products.
The well comprehensive ecommerce platform StoreHippo made it possible for On A Healthy Note to start their labor of love in the form of a beautiful website that was crafted for natural products. The easy to use admin along with consolidated features made it possible for the owners to manage the business without any complexity.
The Benefits
On A Healthy Note chose StoreHippo to build their unique portal for selling an assortment of natural products that promise to improve lives by improving the lifestyle of its users. StoreHippo's well rounded and feature-rich ecommerce platform could fulfil all the requirements of On A Healthy Note seamlessly. With StoreHippo ecommerce platform they were able to achieve the following;
A simple, clean and attractive store design with focus on conversions

Detailed customizations that added special features and options on product pages

Smooth navigation and engaging UI/UX

High-performance site with multi-tier product listings for quick search

A flexible and scalable portal that accommodated their growth