Dow is the world's 2nd largest chemical producer with manufacturing units at 113 sites across 31 nations including India. Dow offers a wide range of environment-friendly products. With its rich portfolio of performance materials, industrial intermediates, and plastics businesses Dow is offering a range of building, construction, and infrastructure-related products that enable durable and high-performing designs.
By building a fully digitised online solution for its brand Dow is making it easier for its various stakeholders to bring more efficiency and transparency in carrying out everyday business. Dow has been able to connect its distributors, affiliates, dealers and salespeople through its multi vendor marketplace in a way that eventually creates a growth-oriented ecosystem. By unifying its online and offline buyer journeys Dow has been able to reach more customers across the nation.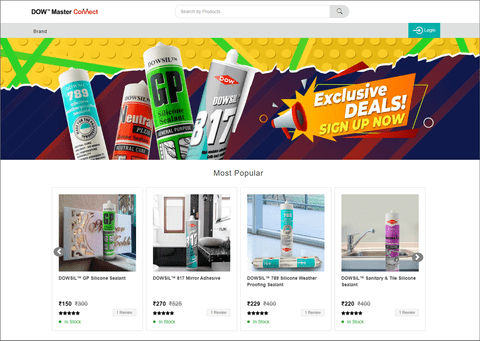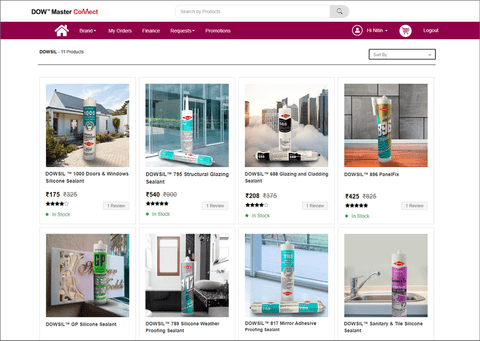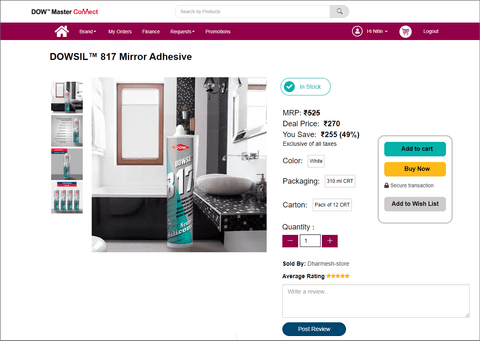 The Requirements
Dow wanted to build a strong online presence by going digital. The aim was to make it easier for its large network of customers, dealers, distributors, affiliates, on-ground sales staff and other user-groups to easily connect with the brand and benefit from its large set of offerings. Dow also wanted to unify its offline and online set in a single place. To make this happen they needed the following;
A multi vendor marketplace solution that could handle diverse user groups as vendors

Digital solution to manage their offline and digital presence

Mobile apps for the brand

Variety of customizations at multiple levels to build a marketplace website for their unique requirements

Multiple frontends for different user groups

Custom reports for different user groups

Feature-rich ecommerce platform to handle their diverse requirements
StoreHippo Powering Dow - A Unique Multi Vendor Marketplace For Chemical Products
StoreHippo's turnkey enterprise ecommerce platform has been successfully building innovative and easy-to-use solutions for the complex requirements of large enterprise brands. Dow needed a unique multi vendor set-up with multiple levels of users and streamlined interactions between them. StoreHippo's extensively customizable platform with its inherent flexibility could easily build a tailor-made solution for Dow's requirements. The decoupled headless architecture of StoreHippo made it easy to implement personalized user experiences for each user group on the Dow marketplace website.
StoreHippo platform could be easily tweaked inside out (frontend changes along with backend changes) to accommodate the multi-level customizations needed for brand Dow. StoreHippo's customized flows made it easy for various user groups at Dow to create unique flows for enquiry and request submission. With its digital setup, Dow could easily reach the small shop owners and help them directly connect with DOW. StoreHippo turnkey ecommerce platform could easily build a multi vendor website for Dow which is a bespoke ecommerce solution in every sense of the word.
The Benefits
The unique and layered multi vendor marketplace setup of Dow needed a comprehensive solution that could handle its multiple user groups in an efficient and streamlined manner. StoreHippo's time-tested multi seller ecommerce solution built on MACH(Microservices, API-first, Cloud-native, Headless) architecture could easily take care of all the requirements of Dow. The inherent flexibility and scalability of StoreHippo enterprise ecommerce platform made it easy for Dow to implement its custom requirements quickly and easily.
With StoreHippo ecommerce platform they were able to achieve the following;
A multi vendor marketplace solution to onboard and manage a variety of user groups (Distributor, Contractor, FOS (sales guy working in the field to get direct customer orders), Retailers, Affiliates, Dealers and DOW Employee) as vendors

A unified solution to manage their offline and digital presence from a single dashboard

Android and iOS mobile apps for the brand are built using an inbuilt mobile apps builder

Extensive customizations to the backend as well as the frontend to build tailor-made solutions for the brand

Separate frontend for 7 different user groups namely, Distributor, FOS, Retailer, Dealer, Affiliate, Dow employee)

Customized reports visibility to distributors of field sales person, retailers, affiliates and dealers

Custom flow to review, validate, store and share customer enquiries with distributors

The feature-rich ecommerce platform to handle their diverse requirements and manage multi-level user-roles