Uniform Junction, backed by the reputed brand Arvind Mafatlal Group, is a unique solution for school going children, their parents and also the schools. The objective of the novel business is to build a one-stop hub for school supplies, uniforms as well as e-learning courses for different schools across India. Uniform Junction makes it easier for parents to source the products needed for everyday use of their kids in just a few clicks. By offering e-learning support, Uniform Junction is also helping kids and parents choose a variety of courses to enhance their learning.
Uniform Junction's multi vendor marketplace portal is an attempt to make it easier for students and parents to source the right products that aids their learning and growth. Uniform Junction is a novel initiative that has made the lives of students and their parents easier by offering them an easy browse and buy option for all their school related requirements.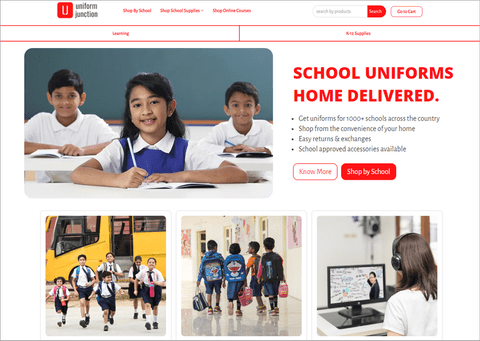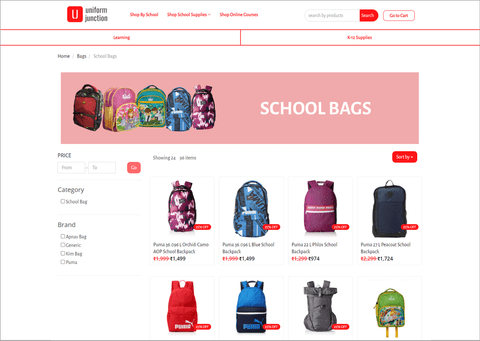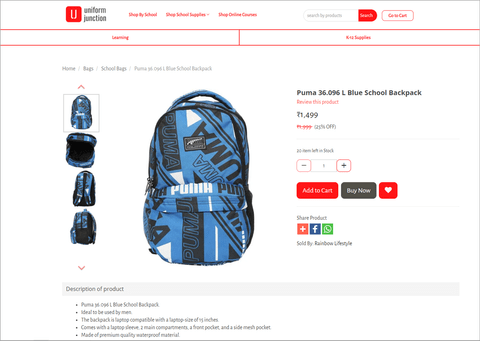 The Requirements
Uniform Junction wanted to offer a one-stop solution for all the needs of school going kids, right from their uniforms to a variety of study material and online courses. Uniform Junction is an effort by the trusted Mafatlal brand to cater to the needs of schools, children and parents by bringing together an assortment of products on their online portal. To make this happen they needed the following;
A comprehensive ecommerce solution for starting their online business

A multi vendor marketplace solution for selling school supplies

Extensive frontend and backend customizations for the brand's unique requirements

A scalable ecommerce solution can accommodate their vast product range

Easy integration with software of their choice
StoreHippo Powering Uniform Junction- Dressing Up The Future
StoreHippo has been offering unique and customized solutions for reputed brands across industry verticals. Designed for developing agile solutions, StoreHippo could easily build out of the box solutions for large businesses like Uniform Junction. StoreHippo's extensive inbuilt features, along with the inherent flexibility, helped in building a future-ready ecommerce solution for Mafatlal's Uniform Junction. StoreHippo platform could easily handle all the unique requirements and customizations needed for the unique business model of Uniform Junction. The well rounded StoreHippo platform seamlessly managed all the integrations and regular ecommerce requirements of Uniform Junction.
StoreHippo helped Uniform Junction create their out-of-the-box multi seller online marketplace to help students order a variety of school supplies, uniforms as well as study courses. With 300+ inbuilt features and 100+ built-in integrations StoreHippo ecommerce platform offered an easy to use and manage multi vendor solution to Uniform Junction.
The Benefits
Mafatlal decided to dress up school students and also offer all they needed to grow their horizons by building their novel online marketplace Uniform Junction. With the API based headless architecture, StoreHippo made it easy for Uniform Junction to implement a host of custom changes on the backend as well as the frontend. StoreHippo simplified logging to various systems for Uniform Junction teams by offering SSO feature. The inbuilt multi vendor marketplace solution with its separate vendor logins, detailed vendor ledger and other exhaustive modules made it easy for Uniform Junction team to onboard and manage their vendors. With StoreHippo ecommerce platform they were able to achieve the following;
A well-rounded ecommerce solution to build their brand presence online

A feature-rich native multi vendor marketplace solution for selling school supplies

Extensive frontend customizations for new pages, custom search and adding single Sign On(SSO) along with backend panel personalization

Seamless integration of LMS(Learning management system ) and adding direct buying options from LMS

Unmatched scalability to accommodate their current range of products and offer a solution for future growth