SG Cricket is the world's largest and most trusted cricket gear manufacturer. Their niche portal serves cricket stars as well as cricket enthusiasts. Along with a strong offline presence, their online foray ensured easy availability of a wide variety of best quality cricketing gear, customized cricket specific infrastructure, clothes, shoes, active wear etc. for anybody who is passionate about cricket.
Brand SG has a legacy that dates back nine decades and three generations of dedicated entrepreneurs. True to their core idea "Believe. Become" , their cricketing products have helped many to ignite the spark within and scale the heights of success.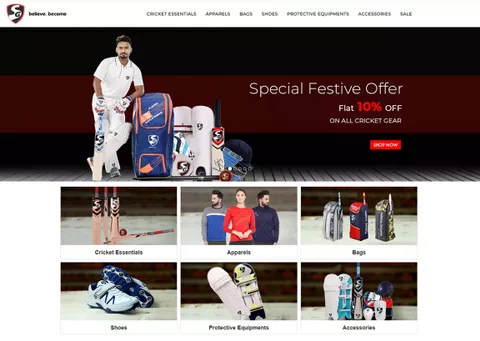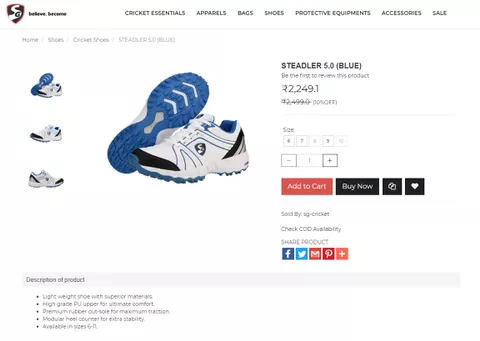 The Requirements
SG Cricket is about believing in your dreams and then making every effort to make them come true. Renowned for its top quality products, SG Cricket wanted to offer its genuine products to cricketing fans and champs alike. To make this happen they needed the following;
An ecommerce solution that could handle a variety of customized requirements

A user-friendly website that helps them take the brand to new markets

A multi-vendor solution with unique flow and management

Native Apps for their website

Integration with local shipping partners of their choice
StoreHippo Powering SG Cricket- Built For Champions Chasing Their Dreams
StoreHippo has the expertise and experience of handling niche websites with special requirements. With its inherent flexibility and ease of customization it was able to deliver the exact requirements of SG Cricket. StoreHippo's extensive feature made it possible to accommodate the custom requirements of SG in record time.
The comprehensive ecommerce solutions from StoreHippo made it possible for SG Cricket to take their business to a wider customer base. The user-friendly admin and frontend made it very easy to manage the diverse needs of SG business without any complexity.
The Benefits
SG Cricket chose StoreHippo to launch their unique portal for selling the whole range of of cricketing products.StoreHippo's well rounded and feature rich ecommerce platform could fulfill all the requirements of SG Cricket seamlessly. With StoreHippo ecommerce platform they were able to achieve the following;
A comprehensive ecommerce solution that could easily customize social media widgets, add store-locator and make other customizations a breeze

Customized multi-vendor flow for onboarding and managing vendors/suppliers

Android and iOS Apps for their website

Smooth and seamless integration with local shipping partners of their choice

A niche online store that merged the offline business with online experience for the new age customers