MedFind is a large global enterprise business dealing in medical and healthcare supplies for the last 30+ years. The brand had expertise in handling medical operations, healthcare IT and high-level sales, marketing and a business expanding across continents. MedFind made it their goal to improve efficiencies by helping manufacturers and sellers expand into new geographical markets for better business growth.
MedFind B2B ecommerce marketplace was conceptualized with the aim to disrupt the traditional way in which medical supplies and product distribution is handled globally. By launching their online multi vendor marketplace MedFind wants to make it easy for sellers and buyers of medical supplies to connect with each other.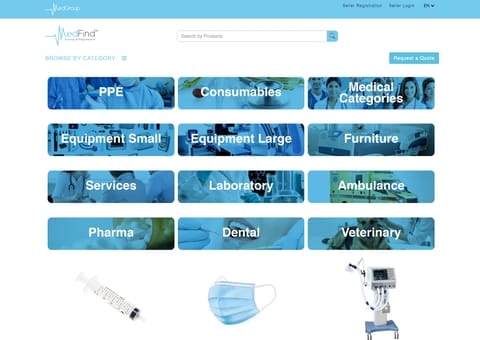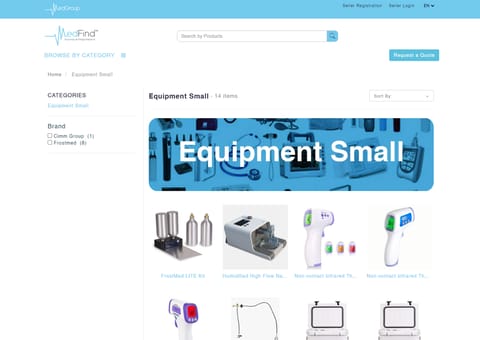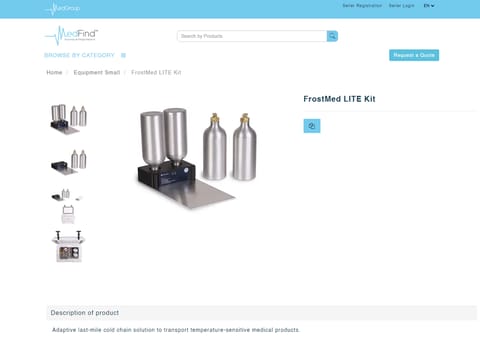 The Requirements
MedFind wanted to build a multi vendor marketplace platform that could change the way medical and healthcare supplies were procured and distributed around the world. They wanted to bring medical products manufacturers and customers on a common platform so that both parties could benefit mutually. To make this happen they needed the following;
A solution to manage their B2B ecommerce business

A feature rich multi vendor marketplace to procure and distribute medical supplies

Build a multilingual site to connect better with global clients and vendors

Customized design flow to suit the business needs

Custom forms and other flows throughout the site

An easy to use ecommerce solution to cater to global ecommerce requirements
StoreHippo Powering MedFind- Changing Healthcare Products Procurement & Distribution
StoreHippo, has a long experience of offering turnkey enterprise ecommerce solutions for global brands looking for a one-stop solution for their diverse needs. We have been building custom enterprise solutions for large businesses in record time. StoreHippo could effortlessly cater to all the requirements of MedFind and build their B2B multi vendor marketplace with a host of enterprise-grade features. StoreHippo's 300+ inbuilt features and a host of seamless integrations took care of all the ecommerce requirements of MedFind.
StoreHippo helped MedFind create their niche in the global healthcare ecosystem by offering them scalable and flexible solutions to help them reach new markets and onboard more sellers. The easy to use StoreHippo ecommerce platform helped MedFind improve efficiency of their processes.
The Benefits
MedFind decided to disrupt the medical and healthcare supplies business globally by using the one-stop enterprise ecommerce solutions from StoreHippo. With its advanced technology solutions and inbuilt features, StoreHippo could offer a solution for all their requirements. StoreHippo's inbuilt B2B ecommerce solutions combined with multilingual, multi vendor marketplace and extensive customizations was able to support their unique business model. MedFind could easily tweak the StoreHippo ecommerce platform to implement their unique flows. With StoreHippo ecommerce platform they were able to achieve the following;
A comprehensive B2B ecommerce solution with enterprise grade features

A feature rich multi vendor marketplace solution to manage global medical supplies procurement and distribution

A multilingual site in English, Arabic, German, French and Italian to connect better with global clients and vendors

Extensive custom design flow to suit the brand requirements

Customizations in forms, facet flow etc. throughout the site

An end to end, easy to use, scalable, global ecommerce solution for their business needs