B2B E-commerce is an unstoppable juggernaut.
Research suggests that 80% of B2B sales will be done online by 2025. A figure worth taking note of!
Add to this the fact that B2B ecommerce sales are set to register a 71% growth from 2019 to 2027.
That's what we call MASSIVE!
Exciting times are ahead for enterprise B2B brands!
In the past few years, businesses witnessed and handled crisis scenarios that were unheard of. From global lockdowns to the breakdown of supply chains, we eventually overcame all. The final outcome of these tough times was - a complete overhauling of the way we did business.
Business owners, as well as B2B clients, realised the potential and significance of taking the online route.
In a short span of time, the business-to-business segment witnessed tectonic shifts. Here is how enterprise brands surged ahead;
Shift 1.0: From heavy dependence on traditional business methods enterprise brands moved online
Shift 2.0: M-commerce became the key channel for doing business
Shift 3.0: Buyer journeys became multi-channel, with buyers connecting with brands on at least 4-6 channels before converting
Shift 4.0: The road ahead is through disruption i.e, adopting hybrid business models
Improved internet and smartphone penetration, agile B2B ecommerce solutions and growing global connectivity of markets made these changes possible.
And the trends in the online B2B landscape clearly indicate how enterprise brands should chart their future roadmap. Here are some key insights to strategise the growth plans of a modern B2B company;

$20.9 trillion is the projected value of the B2B market globally by 2027
20.2% is the CAGR of B2B ecommerce for the period 2023-2030
65% of B2B companies are exclusively selling online in 2022
5X+ growth in global B2B e-commerce sales on marketplaces from 2020 to 2022
$31.19 billion is the estimated GMV of B2B online marketplace worldwide
Source: Statista, McKinsey & Company, DHL Express
It's out there in plain sight.
Business-to-business brands that incorporate these trends can set up their business for growth like never before!
B2B E-commerce made great strides throughout 2022 and is all set to keep climbing to new heights in 2023 and beyond. Rapidly changing market dynamics, customer expectations and next-gen technology will be the key drivers of change in the business-to-business landscape.
In this blog, we present the top B2B ecommerce trends and examine how businesses can take advantage of these opportunities to gain a competitive edge. We will also explore the challenges faced in implementing these trends and the solutions and strategies that would help in overcoming them.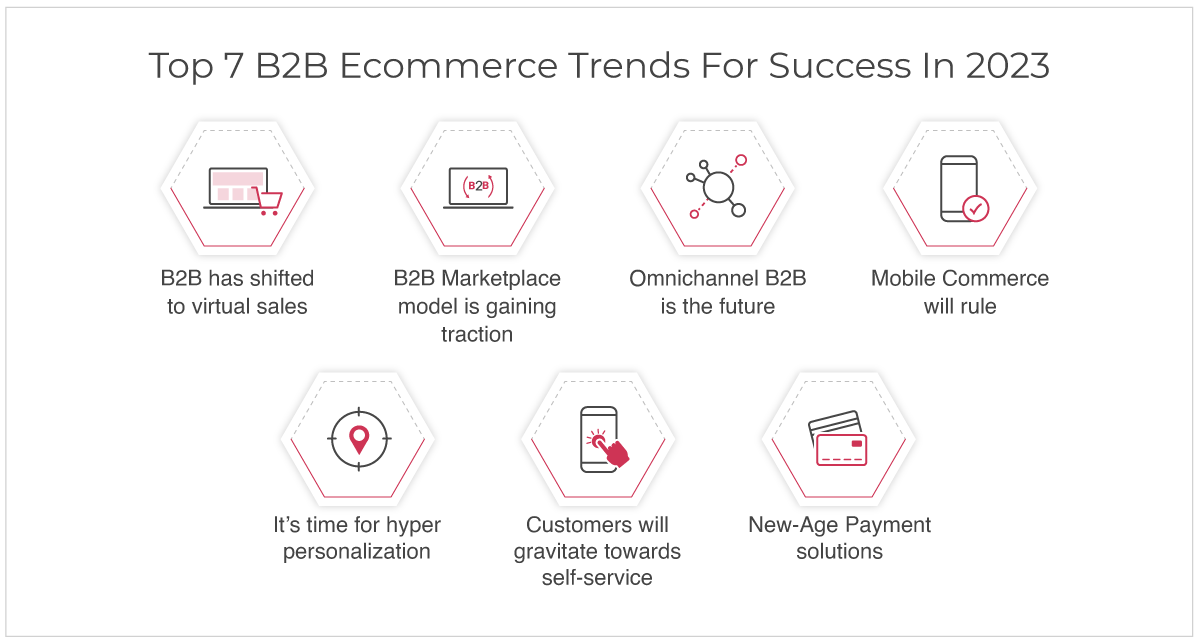 Without further ado, let's check out the B2B ecommerce trends for 2023 and beyond:
Ecommerce is the future of B2B commerce. Here is how enterprise brands and buyers feel about doing business online;

90% + of B2B organizations have moved to sell through digital channels
90% savings in sales and operating businesses having a B2B ecommerce website
70% of B2B customers prefer doing business remotely
74% of B2B buyers feel buying from a B2B website is easier than buying offline
Source: McKinsey & Company, Statista
While business owners have found selling online to be cost and time-efficient, B2B customers have also given an overwhelming response to doing business online. Setting up an online store enables brands to be available to their customers 24X7. Also, targeting customers in new untapped markets becomes easier as you can connect with buyers from new geographies using digital channels and tools.
While setting up your business-to-business online store is a lucrative idea, finding the right B2B ecommerce solutions can be challenging. The complex B2B set-up needs an advanced ecommerce platform that comes with a host of B2B features to handle diverse B2B processes. StoreHippo's B2B ecommerce platform has 300+ built-in enterprise-grade business-to-business features like RFQ, MOQ, custom forms, customized invoices, multi-pricing, custom entities etc. to make B2B online selling a breeze. The scalable and flexible StoreHippo platform is ideal for businesses planning to leverage the latest B2B ecommerce trends and go to market in record time.
We all are witnesses to the stupendous growth and popularity of the marketplace model in the B2C segment. Well, 2023 is going to be the year of the dominance of B2B marketplaces.
Check out some of the trends;

4X growth in the number of B2B marketplaces in the last 3 years
5.3 X growth in sales on B2B marketplaces from 2020 to 2022
7.2X faster growth of B2B marketplaces as compared to overall B2B eCommerce
6.9% of B2B online sales come through marketplaces
75% of B2B procurement spending in the coming 5 years is expected to take place on online marketplaces
Source: 360 Digital Commerce
Setting up an online marketplace is the way to win the B2B battle!
While selling on popular marketplace platforms offers a shortcut to SMBs in the business-to-business segment, enterprise B2B brands can leverage the multi seller model to accelerate their growth. Building a multi seller B2B ecommerce portal makes it easy for brands to onboard, manage and grow their vendor network. This eventually helps in building a stronger brand presence and visibility which accelerates growth.
Building an online marketplace of their own from scratch can be very challenging for brands. To make the process faster and smarter brands should go with a future-ready marketplace builder like StoreHippo. With its comprehensive multi vendor solutions StoreHippo helps build a variety of B2B marketplaces for wholesale, manufacturing, distribution, a chain of multiple dealer-based stores, hybrid marketplaces, B2B2C marketplaces or any other type of B2B use cases.
B2B ecommerce trends are heavily influenced by the experience of business-to-business decision makers on B2C sites. With more and more B2C brands offering omnichannel experiences to their buyers, wholesale enterprise buyers are also experiencing the same from the brands they are interacting with.
Have a look at some of the stats;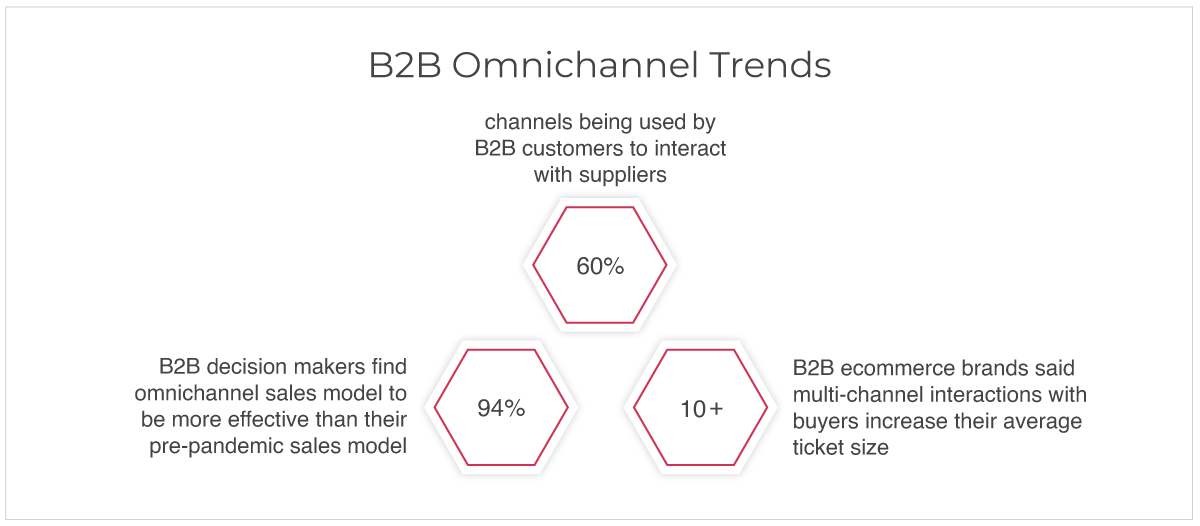 94% of B2B decision makers find omnichannel sales model to be more effective than their pre-pandemic sales model
60% of B2B ecommerce brands said multi-channel interactions with buyers increase their average ticket size
10+ channels being used by B2B customers to interact with suppliers
Source: McKinsey
Omnichannel selling certainly opens up new opportunities for enterprise brands and offers them a broader horizon to explore, experiment and connect with their customers. However, given the complexity of the B2B flows, offering a streamlined buying experience across channels can be challenging for brands.
To ensure the best omnichannel B2B experience for their customers, brands need cutting-edge solutions that keep them ahead of the curve. StoreHippo's flexible ecommerce platform is built on the decoupled headless architecture which enables brands to rapidly add new customer touchpoints. Using the same backend logic and APIs used for building the B2B marketplace, enterprise brands can also build their marketplace apps, or create multiple other frontends to engage and convert their buyers.
This is no longer news. Mobile is where the customers are, irrespective of the business model or the industry segment. For the business-to-business segment also, mobile is the key channel that engages and converts customers. Brands that ace the mobile game can go miles ahead of all the B2B ecommerce trends in 2023 and years to come.
Need proof? Here we have it in figures;

70% of B2B buyers are using mobile channels more than they did in the past 2-3 years
80% of B2B buyers use smartphones at various points of the buying process
40% of revenue is driven by mobile channels in leading B2B organizations
65% of B2B brands already have their B2B ecommerce mobile app
20% faster purchases through B2B mobile apps marketing channel
Source: Bugsnag, Boston Consulting Group, Digital Examiner
To make the most of the mobile commerce boom brands need B2B ecommerce solutions that help in enabling mobile commerce for all the parties involved, i.e; the sellers/distributors, buyers as well as the admin(s). Building an extensive m-commerce solution can be time and resource intensive if brands do not have access to next-gen solutions built on mobile-first principles.
StoreHippo offers comprehensive m-commerce solutions for B2B brands of every scale and size. Right from building a marketplace app directly from the admin dashboard to offering mobile admin dashboard for vendors, delivery boys and admins, StoreHippo has factored in every aspect to give the mobile edge to B2B E-commerce brands. StoreHippo also makes it possible for enterprise brands to convert their B2B marketplace into PWA stores which work even on entry level devices.
Personalization is the key to building a longstanding relationship with modern B2B E-commerce buyers. From UI/UX, to prices, customized catalogues, to discounts and deals, customers need everything tailor-made to their unique needs. What's more, buyers are even looking for a quick and personalized reordering process to save time.
Reining in personalization for different buyer segments is one of the B2B ecommerce trends that can become the differentiator for your enterprise brand.
Have a look at some of the buyer expectations from brands;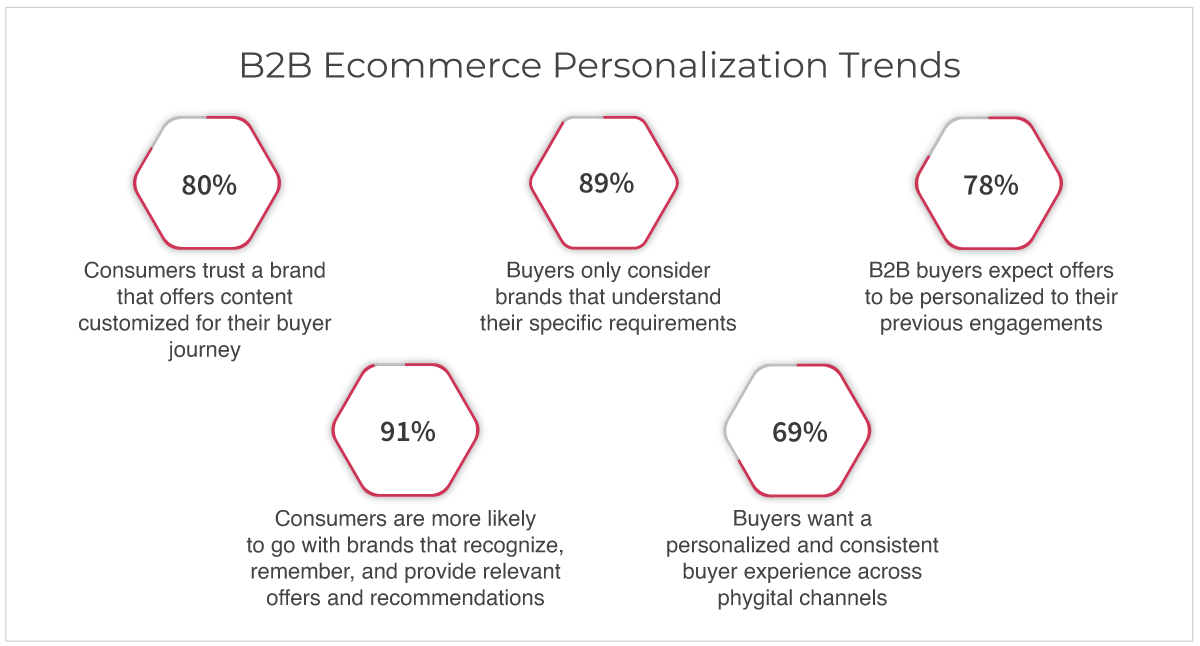 80% of consumers trust a brand that offers content customized for their buyer journey
89% of buyers only consider brands that understand their specific requirements
78% of B2B buyers expect offers to be personalized to their previous engagements
91% of consumers are more likely to go with brands that recognize, remember, and provide relevant offers and recommendations
69% of buyers want a personalized and consistent buyer experience across phygital channels
Source: Accenture
Personalization makes buying journeys fast and efficient and helps B2B E-commerce brands scale new heights of success. However, implementing personalization across channels and for a vast customer base is quite an arduous task. For this brands not only need cutting-edge solutions but also a future-ready B2B ecommerce solution which supports agile changes.
StoreHippo enterprise ecommerce platform is built on MACH (Microservices, API-first, Cloud-native, Headless) architecture which gives better creative control and agility to brands to implement multi level personalizations. With its built-in features like drag-and-drop design tools, pricing overrides, discount engine, multi-store solution for building customer or location-specific stores, multilingual, multi-currency etc. StoreHippo enables B2B brands to implement multi-level personalisations and stay ahead of the B2B ecommerce trends.
2020 was the watershed year for businesses and started many new B2B ecommerce trends. How prospects interact with brands and make their purchase decisions was one of them. Throughout 2021 and 2022 we saw how B2B buying journeys moved more and more towards automation and self-service. What started as a survival strategy during the pandemic has gradually become the new modus operandi for brands.
Some interesting facts highlight the preference for digital self-serve models further;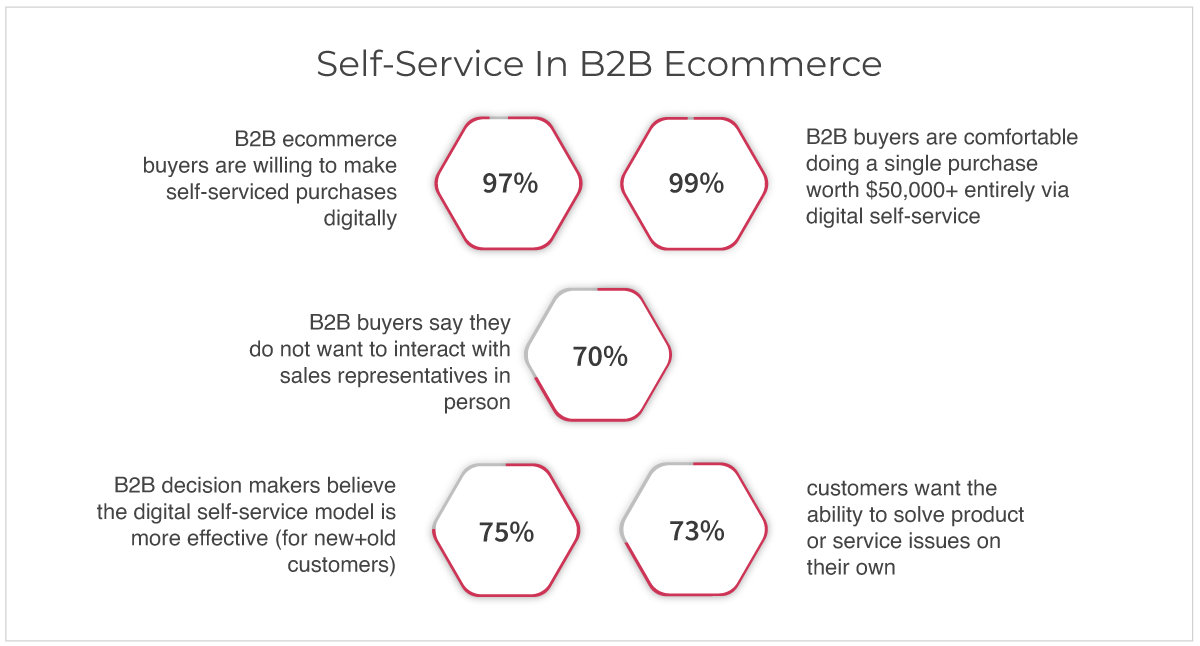 97% of B2B ecommerce buyers are willing to make self-serviced purchases digitally
99% of B2B buyers are comfortable doing a single purchase worth $50,000+ entirely via digital self-service
70%-80% of B2B buyers say they do not want to interact with sales representatives in person
75% of B2B decision makers believe the digital self-service model is more effective (for new+old customers)
73% of customers want the ability to solve product or service issues on their own
Source: McKinsey, Hubspot
Well, B2B buyers have embraced self-service and now is the time for enterprise business-to-business brands to align their digital channels for this B2B ecommerce trend. From offering a digitally available knowledge base to offering automated features, forms, online chat channels etc. brands need to design their presence in a way that incorporates a self-serve model.
StoreHippo B2B E-commerce platform comes with a host of enterprise-grade features designed to help with self-service. With B2B features like built-in forms along with the ability to add various forms at different stages of a purchase cycle, RFQ, MOQ, inbuilt 3-party buyer-seller-admin chat to facilitate faster negotiations, pricing comparison, tiered pricing etc. StoreHippo enables brands to make self-service possible. StoreHippo also comes with a built-in blog engine which can be used to create user-friendly content which helps in making purchase decisions. Also, B2B marketplace brands can integrate with different chatbots and live-chat software to help clients connect with support teams or sellers in real-time.
B2B payments are based on buyer-seller relationships and involve pre-negotiated terms and contracts. Unlike B2C payments which are done in full and final amounts, B2B payments can be done in parts, say 50% of payment in advance, and 50% of payment within 30 or 60 days from the order delivery date. For this reason, there was a prevalence of cash and cheques in B2B transactions.
However, with COVID-19-induced disruptions, things changed in the B2B payment domain with a preference for cashless digital payments.
Here is how the B2B payment domain is shaping up,

82% of B2B brands changed the way they send and receive payments
58% of businesses are likely to make the majority of their B2B payments in electronic format
68% of B2B E-commerce businesses have decreased their use of cash and paper cheques
Source: Versapay, Mastercard
The stats highlight the changing B2B ecommerce trends with a preference for digital payment options. With business-to-business brands adopting mobile commerce and omnichannel sales, the payment solutions had to eventually gravitate towards digital-first channels.
To offer their vendors and clients multiple digital payment options B2B brands need a future-ready ecommerce platform like StoreHippo that offers a wide spectrum of payment channels. With 60+ pre-integrated payment gateways, mobile wallets, built-in B2B wallet or credit management features, vendor ledger etc. StoreHippo helps enterprise brands to adopt the latest B2B ecommerce trends for digital payments.
2023 is a year of promises for B2B E-commerce brands. While 2020 disrupted the markets, 2021 and 2022 solidified new B2B E-commerce trends as normal business methods. With a focus on personalization, digitization and adopting a more user-friendly B2C-like approach business-to-business enterprises are headed towards charting new growth graphs.
To make the most of the global boom in the B2B landscape enterprise brands need comprehensive B2B ecommerce solutions that can set their brand for success. StoreHippo comes with 300+ enterprise-grade features, flexibility and scalability to build tailor-made solutions for B2B brands.
Gear up your business to unleash growth in 2023 and beyond. Implement the latest B2B ecommerce trends to hack growth for your brand. Explore StoreHippo features right away by starting your 14-day free trial.