Wound Professional is a unique platform of Smith & Nephew aiming to provide easy access to the brand's advanced wound care solutions at the doorsteps of physicians and surgeons across India. Along with this, it also provides e-learning opportunities and guidance through its certification courses and reading material. The platform achieves this through 3 segments namely,
E-Store: For purchase of products.
E-Guru: For learning and certification courses.
E-Reckoner: For in clinic references on different wound types.
Smith & Nephew is the world leader in joint replacement systems for knees, hips and shoulders. It enables healthcare professionals in more than 100 countries to provide improved lives to their patients. Its comprehensive solutions range from better implants, improved operating room efficiency and faster healing. The aim is to enhance the quality of life of the patients and provide better economic value to them.
Smith & Nephew also provides trauma products, internal and external fixation devices, sports injury related minimally invasive surgery techniques, wound care products for acute and chronic wounds and ENT(Ear, Nose, Throat) related surgery and other products
Wound Professional is Smith & Nephew's new platform that offers easy e-learning and access to the brand's advanced wound care solutions to doctors and physicians across India. There portal has 3 major segments namely,
E-Store for online purchase

E-Guru for certification courses.

E-Reckoner for case studies and solutions for wounds.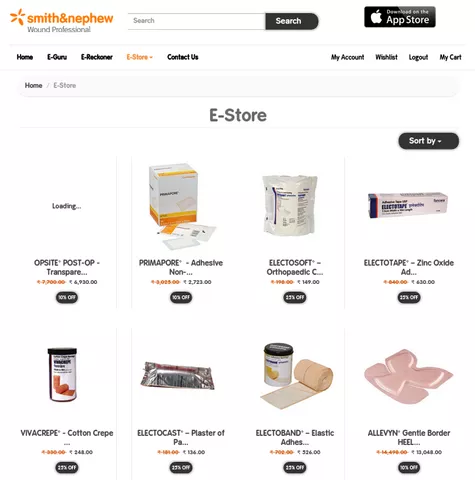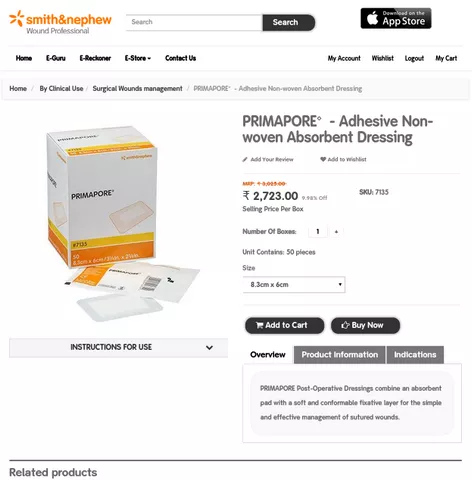 The Requirements
The Wound Professional portal is powered by StoreHippo ecommerce platform. To develop their web store Smith & Nephew team had certain unique requirements as following;
The e-learning system required lots of functionality

The whole module needed custom workflow specific to the e -learning system.

Addition of multimedia resources along with text for e-learning purpose.

Quizzes had to be incorporated to measure student success at various levels.

Complex custom security requirements for user registration.

Scalable platform to sustain the growing number of users and e-learning modules.
How StoreHippo met the Challenges and Built the Wound Professional Platform
StoreHippo, the top ecommerce platform, used its inbuilt flexibility and scalability to meet all the challenges of the Wound Professional portal. We were able to implement the custom requirements of the e-learning module and still were able to maintain the DIY(Do-It-Yourself) nature of the StoreHippo platform.
We also managed to integrate with their custom order inventory system which needed a unique implementation. Other requirements of the portal were easily handled by the feature rich StoreHippo platform which has inbuilt functionalities to handle end to end online selling and B2B, B2C or any other ecommerce model.
The Benefits
Built on SaaS based StoreHippo, Wound Professional has been able to achieve the following;
A feature rich platform that with unique workflows.

Scalable nature of the platform allows any number of doctors to register and access e-learning material.

DIY format of the platform makes it easy to add features and manage the store.

Flexible platform that can accommodate any future changes/ custom requirements.