Vana Sutras is a D2C multi vendor marketplace for homegrown sellers and businesses selling clean beauty and personal care products. Designed with the dual aim of offering quality beauty products made of authentic ingredients and facilitating home grown brands, Vana Sutras is a one-stop online marketplace for consumers looking for indegenous personal care products.
Vana Sutras took the initiative to build a cutting edge niche online marketplace that could help homegrown brands grow their reach to new markets and customer segments. With focus on offering a one stop hub for sustainable beauty products to its customers, Vana Sutras is using the power of digitization to make its own mark and bring a change in the niche industry vertical of clean beauty products.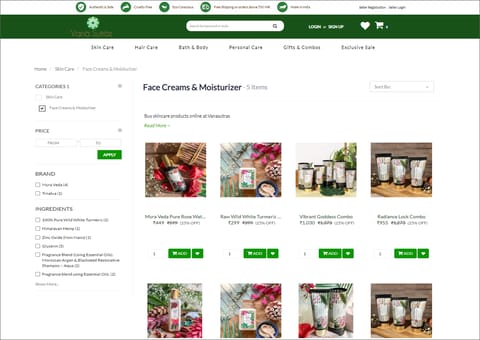 The Requirements
Vana Sutras, the indigenous personal care products marketplace, wanted to build a an exclusive platform for "Made In India" personal care and beauty brands. By building a strong digital presence on multiple channels it wanted to offer a complete solution to its buyers looking for quality and clean personal care products. Also, Vana Sutras wanted to bring diverse indigenous beauty brands on a common marketplace website. To make this happen they needed the following;
A multi vendor marketplace solution for their niche marketplace

Unique theme layout to suit their brand aesthetics

Customized vendor commission flow and settings

Mobile apps to engage customers on their smartphones

Smooth migration from their custom marketplace website

A scalable ecommerce solution that can support their growth
StoreHippo Powering Vana Sutras - The Niche Marketplace For Clean Beauty Products
StoreHippomulti vendor ecommerce platform has a long history of building customized niche vertical marketplaces for brands across diverse industry verticals. Vana sutras needed custom vendor commission settings for their unique business model. Also, they wanted to offer a seamless buyer journey on their marketplace website and mobile apps. StoreHippo's future-ready ecommerce solutions built on Headless architecture made it easy for Vana Sutras to build an engaging, beautiful and easy to use online marketplace for their buyers and sellers.
StoreHippo, the most flexible ecommerce platform could be easily customized at the frontend as well as the backend to build Vana Sutras' unique marketplace. With StoreHippo's 300+ inbuilt features, pre-integrated payment solutions, an intuitive admin and seller dashboard and automated logistics solutions, Vana Sutras and its sellers could easily run the business and reach new markets.
The Benefits
The unique Vana Sutras brand required a 360-degree multi vendor marketplace solution to bring together clean beauty product brands from India on a digital platform. Vana Sutras needed a comprehensive vendor management solution to create a unique marketplace commission model for their sellers. Also, it needed a beautiful marketplace storefront that engaged, converted and retained its customers. StoreHippo's MACH architecture and experience in building successful niche online marketplaces could easily fulfil the customized requirements of Vana Sutras. StoreHippo's inbuilt enterprise features along with its inherent agility helped Vana Sutras build its tailor-made marketplace in no time.
With StoreHippo ecommerce platform they were able to achieve the following;
A feature-rich niche multi vendor marketplace solution that helped them build their unique "Made-in-India" beauty brands' online marketplace

Customizable device-responsive themes to build a conversion oriented online marketplace

Customized vendor commission with different subscription plans, commission threshold amount settings

Mobile apps to engage customers on multiple touchpoints

Hassle-free migration from their custom website to the next-gen marketplace platform

An inherently scalable ecommerce marketplace solution to accomodate their business growth