Sport Sun is a leading Indian sportswear brand dealing in sports clothing and accessories. Since 1988, the brand has been engaged in design, development, marketing and selling of sports apparel and accessories. Designed specifically for athletic use, the apparel from Sports Sun also make for athleisure wear. Sports Sun launched their online portal to offer its customers brand's best products at discounted rates, right at their doorsteps.
For years, Sports Sun has also been making custom sports apparel and accessories with licensed college and professional teams and logos. By going online they have widened their customer base pan-India and made it easier for its customers to buy their products in a few clicks.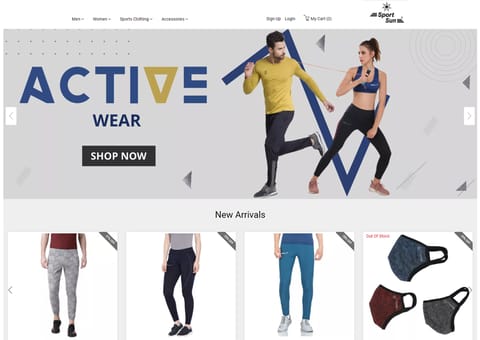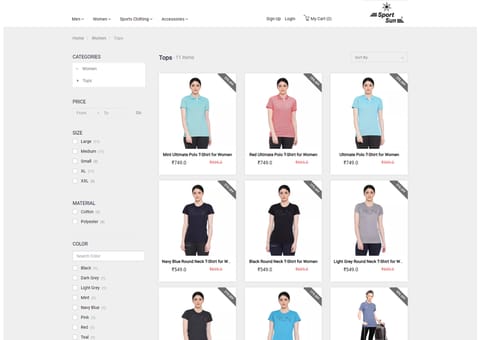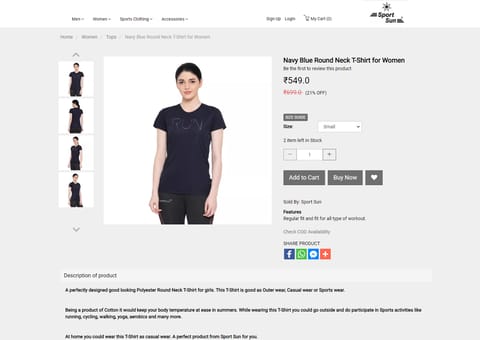 The Requirements
Sports Sun has 30+ years of experience in designing and marketing the best sportswear that doubles up as athleisure wear. With the increasing demand for their products they decided to go online. Their focus was to offer an easy and quick buying experience to their customers along with fast delivery. To make this happen they needed the following;
An easy to use and manage ecommerce software solution

Customizations for the unique requirements of the brand

Marketing solution for running promotions

Streamlined and automated delivery solution

Scalable platform that can support the fast-growing brand
StoreHippo Powering Sport Sun - Helping Champs Win
StoreHippo, has been helping a variety of domestic and global brands to go online and reach new markets. With its comprehensive ecommerce solutions and extensive customizations StoreHippo offers the best-fit ecommerce software solution for reputed brands like Sports Sun. StoreHippo's mobile-ready ecommerce platform offered a host of inbuilt features to accommodate the requirements of Sport Sun. Their ecommerce website powered by StoreHippo has helped Sport Sun cater to a wider audience-base across India.
StoreHippo's easy to use and intuitive admin dashboard along with inbuilt marketing solutions helped brand Sport Sun manage their online business and marketing easily. Their teams could leverage the marketing tools to plan a variety of promotions for better brand reach.
The Benefits
Sport Sun opted for StoreHippo to foray into the ecommerce domain as StoreHippo offered a wide range of inbuilt features and tools to cater to all the requirements of the brand. StoreHippo's comprehensive and feature-rich platform could handle with equal ease their custom requirements along with their regular online selling requirements. With StoreHippo ecommerce platform they were able to achieve the following;
A user-friendly ecommerce software solution for the brand owners/teams as well as their customers

Extensive customization in themes to align with the brand's look and feel

Inbuilt marketing tools and discount engine to implement multi-level discounts

Inbuilt and automated delivery solution for streamlined delivery

An auto-scalable ecommerce platform that accommodated the needs of the fast-growing brand