Quantum Hi Tech is the No.1 IT peripherals brand with 25+ years in the business of Computer & Gaming Peripherals, Sound systems and Surveillance Solutions. Their unique portal specializes in offering products that are pocket-friendly despite being top-notch in design and performance. By going online Quantum Hi Tech envisions to reach a wider audience and offer them easy access to smart products made with the latest technology.
Quantum Hi Tech has an extensive network of offline stores, dealers, resellers, service centres and over 150 million users pan-India. By going online they are making it easier for millions to access excellent quality, reliable IT peripherals that are always ahead of their times.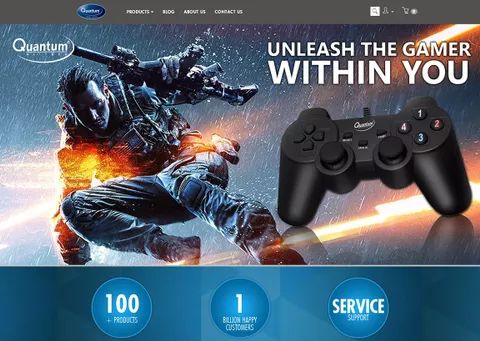 The Requirements
Quantum Hi Tech is about enriching lives with the best quality, reliable and affordable computer peripherals for a variety of uses. Well known for its innovative products, brand Quantum Hi Tech wanted to reach customers that could not access its physical stores. To make this happen they needed the following;
A flexible ecommerce solution that could manage their customized requirements

A unique UI that increases user engagement

Multi-vendor solution to onboard and manage their vendors

An online solution to extend their offline reach to online buyers

Easily scalable ecommerce portal that can grow with the business
StoreHippo Powering Quantum Hi Tech- Staying Ahead With Excellence
StoreHippo, has been offering online solutions to many reputed brands that foray into the ecommerce domain. With its experience in handling the specialized requirements of established offline brands, StoreHippo could easily deliver a solution for the customized requirements of Quantum Hi-Tech. With its inherent flexibility StoreHippo was able to customize Quantum Hi-Tech portal as required.
The extensive feature set and comprehensive online solutions from StoreHippo made it possible for Quantum Hi Tech to reach a wider customer base. The intuitive admin and simplified multi-vendor solutions made it very easy to manage the complex needs of Quantum Hi Tech.
The Benefits
Quantum Hi-Tech chose StoreHippo to launch their advanced portal that was a true solution to their mantra of "Always Ahead". StoreHippo's mobile-ready, advanced and feature-rich ecommerce platform could fulfil all the requirements of Quantum Hi Tech seamlessly. With StoreHippo ecommerce platform they were able to achieve the following;
A customized front end to suit their brand's unique requirements

A visually attractive and engaging UI that made their site stickier

Comprehensive and easy to manage multi-vendor ecommerce solution

A unique online store that extended their offline reach to newer customers and geolocations

Comprehensive ecommerce solution for all their online selling needs