Preggerz is a unique multi vendor marketplace offering one-stop solution for all the needs of expectant and future mothers. Preggerz is designed to offer an ecosystem to help women go through a wonderful maternity and birthing experience. Preggerz focuses on the needs of expectant mothers by bringing together a complete package of maternity products along with medical consultations and diagnostics services on its online marketplace.
Brand Preggerz took the initiative to build a mother-focussed platform that offered quality product and services for all the pre-conception, pregnancy and post-natal requirements. By making all the medical consultation, financial planning, maternity and baby care products, maternity photoshoot and vacation planning available on one-single multi vendor website Preggerz is making the maternity journey of would-be and new mothers across India a journey worth remembering.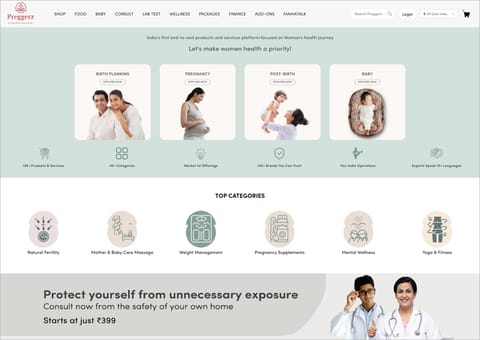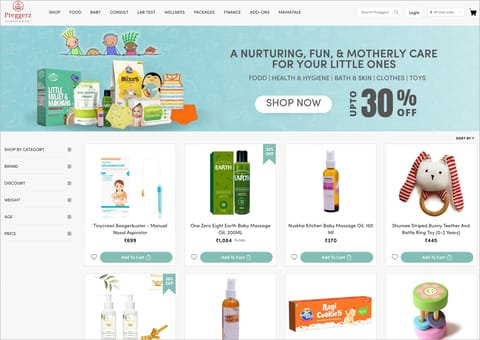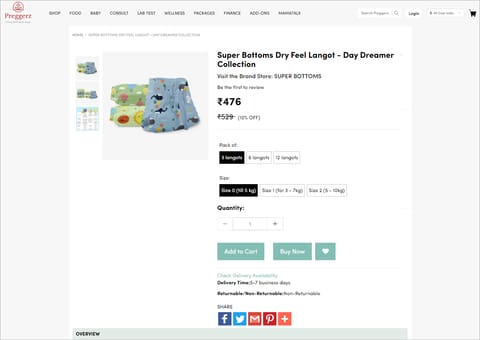 The Requirements
Pregerrz, the first of its type maternity marketplace, wanted to make the maternity experience easier, seamless and unfragmented by offering integrated products and services to modern parents-to-be. Brand Preggerz wanted to build an ecosystem that improved pre and postnatal care, reduced stress and made the whole journey fun for expectant mothers. To make this happen they needed the following;
A multi vendor marketplace website to onboard different product and service providers

A multi store solution to showcase city-based products and services

Mobile apps to create multi-channel buyer journeys

Custom features for their unique business model

Custom design to display and book their different services

A scalable ecommerce solution for their diverse requirements
StoreHippo Powering Preggerz - The One-of-its-type Maternity Online Marketplace
StoreHippo enterprise ecommerce platform has powered many disruptive hybrid business models. With its long experience of offering custom marketplace solutions for brands StoreHippo could easily fulfill the requirements of a product and services multi vendor marketplace from Preggerz. With Storehippo MACH (Microservices, API-first, Cloud-native, Headless ) architecture, Preggerz team had the creative control they needed to build their unique marketplace platform.
Team Preggerz could extensively tweak the StoreHippo platform at the frontend as well as the backend for their unique flows and adding custom forms. Also, the easy to use admin offered a smooth learning curve for vendors across a broad spectrum. Preggerz team used 300+ inbuilt features, pre-integrated solutions for easy payments and 120+ API endpoints to integrate with custom solutions and service providers of their choice. With StoreHippo's web and mobile solutions, Preggerz could easily add multiple touchpoints to connect with, engage and convert their customers.
The Benefits
Preggerz, the maternity marketplace portal required a comprehensive solution to support its hybrid business model using both multi vendor and multi store features. While the vendors ranged from doctors to lab test providers, photographers, maternity products sellers etc. the admin and features needed to be extremely user friendly for different categories of users as well as the customers. StoreHippo's headless architecture and expertise in launching hybrid online marketplaces made it possible to easily cater to all the requirements of Preggerz. With StoreHippo's extensive enterprise ecommerce features along with its flexible ecommerce platform Pregerrz could effortlessly build its customized marketplace in record time.
With StoreHippo ecommerce platform they were able to achieve the following;
A feature-rich multi vendor marketplace website to onboard different vendors for products and services like doctors for medical consultation, diagnostics labs for tests, photographers for photoshoot, travel partners for vacation etc.

A comprehensive multi store solution to showcase doctors, labs and other service providers based on the cities

Android and iOS mobile apps to help customers place orders or book services on the go

Custom features like calendar slot booking feature for doctors' appointment, unique forms, feature to book online or offline consultations

Custom design for their homepage and other pages to display and book their different services

A scalable ecommerce solution which can scale to any number of products, services, users or customers easily