Plantix is a revolutionary agri-tech startup that connects millions of farmers with tens and thousands of agriculture retailers on its multi vendor marketplace. The Plantix business comprises a large network of agri-based retailers (with over 10% of total Indian agr-retailers) onboard. With the aim to quickly scale up their business and offer digital selling opportunities to their retailers they decided to build Plantix-branded e-commerce stores for their partner retailers.
The Plantix multi-store, multi vendor marketplace is an attempt to build a robust agriculture based, tech powered commerce-enabled ecosystem where the partner retailers can easily offer their products and services to a wider customer base of farmers. Plantix is empowering both its partner retailers and farmers in finding better solutions to grow their respective businesses.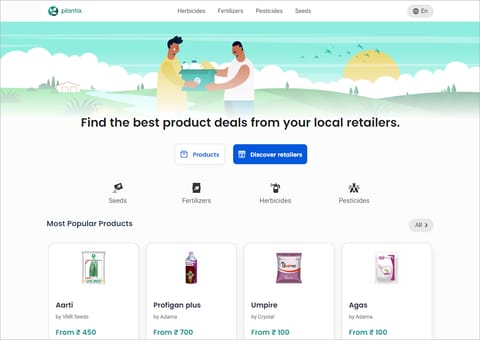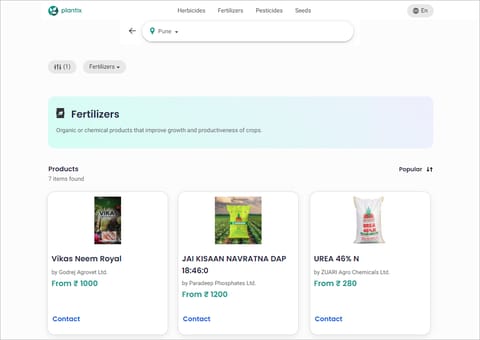 The Requirements
Plantix wanted to build a large network of online stores so their partner retailers could help further the brand's mission of offering tech-based agri-solutions to the farmers. Plantix brand aimed to offer digital solutions to handle the demand and supply side of agricultural services with the help of a wide network of partner retailers. To make this happen they needed the following;
A multi vendor marketplace solution to onboard and manage agri-based retailers

A huge network of branded e-commerce stores for their partner retailers

An easy to use ecommerce solution for the partners as well as the admin(s)

Multilingual solutions with support for regional and international languages

Multi-level customizations to suit the unique brand requirements

Immense scalability to rapidly grow the network of retailer stores
StoreHippo Powering Plantix- Next-Generation Agri-tech Solutions
StoreHippo has been building out-of-box solutions for industry leaders that need flexible and agile solutions for their brand. With the experience and expertise in handling custom solutions for big enterprise brands, StoreHippo could easily build a comprehensive solution to handle the end-to-end requirements of Plantix's unique business model. StoreHippo's MACH architecture enabled Plantix to build tailor-made solutions that helped them achieve their target of rapidly adding over 4500 customized substores for their retailer partners. StoreHippo could also make it possible for Plantix to easily integrate with their existing third party software they were using.
StoreHippo helped Plantix go for extensive customizations easily and gave them the confidence to migrate from their custom software To StoreHippo's scalable ecommerce platform. StoreHippo offered unparalleled scalability which was needed for fulfilling Plantix's vision of adding over 40,000 unique sub stores going forward. StoreHippo's battle tested solutions for building and managing the multi-location multi seller marketplace helped Plantix onboard, streamline and grow their operations to new regions easily.
The Benefits
Plantix's unique business model needed agility, flexibility and rapid scalability which were all supported by StoreHippo top ecommerce platform. Built on the headless architecture and with 300+ native features, StoreHippo enabled Plantix to quickly scale up their network of vendor substores. Plantix could easily tweak the frontend as well as the backend of StoreHippo platform to build easy to use solutions for their vendors, customers and admin teams.
With StoreHippo ecommerce platform they were able to achieve the following;
A comprehensive multi vendor marketplace solution that helped in onboarding and managing thousands of agri-based retailers as their vendors

Easily build 4500+ unique Plantix branded sub-stores with unique sub-domains, custom design etc. for their partner retailers

Easy to use and manage solutions that gave a separate dashboard to each of their vendor retailers with a centralised control to the admin(s)

Multilingual ecommerce store with support for 15+ regional languages like Hindi, Telugu, Marathi etc. along with RTL language Urdu and international languages like English, Spanish, Portuguese etc. They could easily make multilingual enhancements in their backend to support their retailers to do business in their preferred language.

Extensive customizations for substore selection, simplified checkout flow, enabling linked products listing on seller sub-stores, design layout changes etc.

Unparalleled scalability to quickly grow their network of retailer substores to over 40,000 stores within a year