PetsStation is Saudi Arabia's unique multi vendor marketplace that offers a one-stop solution for the needs of pet owners. PetsStation brings together pet owners and pet business owners on a common platform. By connecting the pet products and service providers with the pet owners PetsStation is benefitting both these parties. While the customers can source the best products and service for their pet babies in a few clicks the pet business owners can easily grow their business by reaching a wider audience base.
Going beyond being a pet marketplace, PetsStation is also facilitating easy pet relocation from one place to the other by partnering with the best service providers. PetsStation has taken pet care a few notches higher by helping pet owners with their unique app Petco which helps pet owners manage their pets' wellness and healthcare needs in one place. The unique business model of PetsStation is all about making life easier for pet lovers.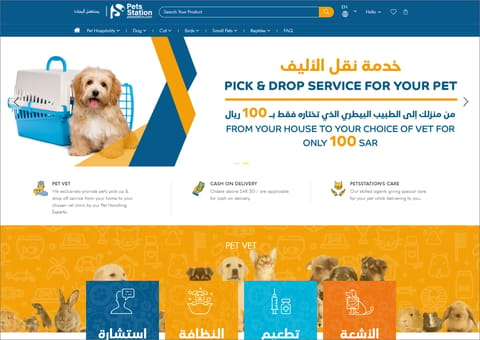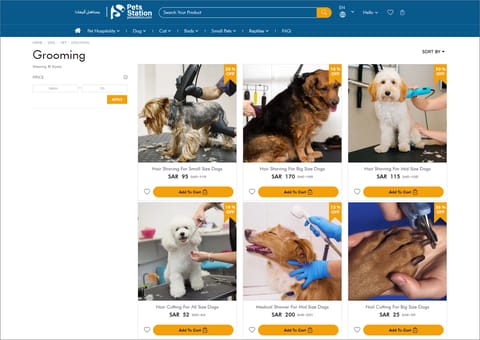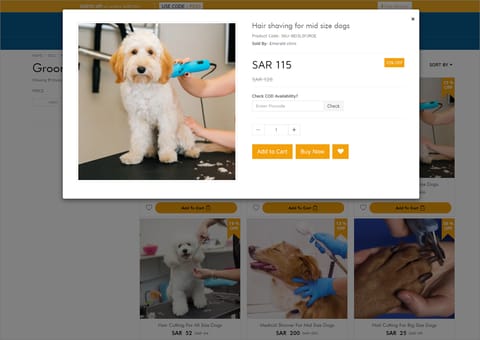 The Requirements
PetsStation wanted to build a unique solution that could offer everything that a pet lover needed. Right from buying pets and their products to offering various pet related service, pet care management and pet relocation, PetStation planned to bring everything on the on the fingertips of pet lovers of Saudi Arabia. To make this happen they needed the following;
A multi vendor marketplace solution to onboard multiple brands

Multi-store ecommerce set up for their different lines of products and services

A multilingual website to connect with customers

Unique store design to make their brand stand out and engage target customers

Multi-level customizations for the unique needs of the brand

Mobile apps to connect with customers on multiple channels

Integrations with different service providers of their choice
StoreHippo Powering PetsStation- The One-Stop Online Marketplace for Pet Lovers
StoreHippo's extremely flexible enterprise ecommerce platform has been powering out-of-box digital solutions for brands across 35+ business verticals. StoreHippo makes customizations a breeze and the platform can be tweaked at the backend as well as the frontend to build the unique multi-store online marketplace for PetsStation. Using its headless architecture, StoreHippo easily designed different frontends for PetsStation product and services categories and also helped them build their mobile app to offer unified multichannel experiences to their buyers. Different customizations to align the site design and other aspects with the brand requirement were also easily handled by StoreHippo's agile framework. StoreHippo enabled PetsStation to reduce their time-to-revenue greatly.
StoreHippo's inbuilt features made it easy for the PetsStation brand to build their multilingual marketplace website easily. They could set up special enquiry forms, pet services notifications, customized pages for apps download and more to make their buyers engagement with their brand more meaningful. With StoreHippo's well rounded ecommerce solutions, PetsStation could easily implement its hybrid marketplace and offer multi brand products and a variety of pet related services to its customers.
The Benefits
The unique online pets marketplace model of PetsStation needed a flexible multi vendor solution along with multi store feature to manage and fulfil their divers requirements. StoreHippo's easily to use platform, quick design customizations along with native multi vendor, multi store, multilingual solutions and powered by the agility of MACH(Microservices, API-first, Cloud-native, Headless) architecture handled the requirements of PetsStation easily.
With StoreHippo ecommerce platform they were able to achieve the following;
A comprehensive multi vendor marketplace solution to onboard multiple pet products brands and pet service providers as sellers

Multi-store ecommerce set up with different stores for pet products and pet services

A multilingual website in English and Arabic (RTL language) to connect with customers in their native language

A beautiful store design achieved with customizations using inbuilt design tools

Multi-level customizations for substore selection pop-up, custom pages for app download and sub-store specific notification services

Android mobile apps to connect with customers on multiple channels

Integrations with logistics providers Shipox to ensure seamless deliveries