Hamples is a modern-era Digital Sampling Platform in the UAE, that connects brands to the right target audience for their sampling process. With its novel business model and high-end technology solutions, Hamples aims to make the product discovery process for customers smarter, informative and simpler. At the same time, Hamples also facilitates brands to go for targeted sampling where they get the exact match customers needed for their kind of products and services.
With a first of its kind AI-enabled sampling tool and a unique platform to connect customers and brands, Hamples is redefining the whole sampling journey for brands and their customers. While Hamples presents an opportunity to the customers to experience and engage with a wide range of new products, services and brands, it is also enabling brands to employ a more effective sampling process. Hamples ecommerce store makes it easy for customers to engage with products or services in a few clicks and get it delivered to their doorstep in no time.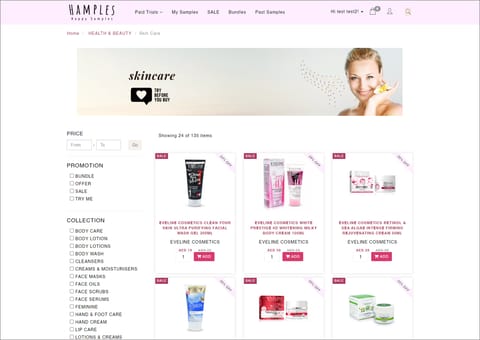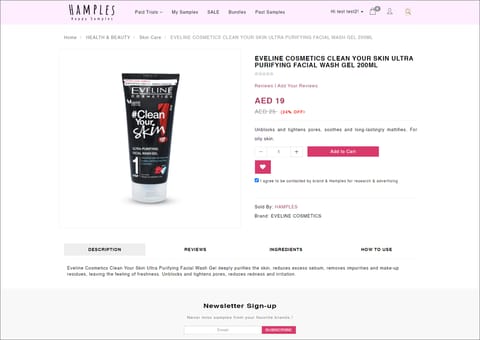 The Requirements
Hamples wanted to create a unique, modern era sampling solution for brands which also helped the customers in discovering amazing products. For this, Hamples wanted a unique digital commerce solution for UAE with plans to expand to new markets in the Middle East. To establish the brand beyond geographical boundaries and create its niche Hamples needed the following;
A modern ecommerce website for their unique business requirements

Mobile apps for their brand

Extensive customizations for backend, frontend and product recommendations

Multi-currency payment options

Integration with custom pick up location network

A scalable solution to support their high-volume business and accommodate growth
StoreHippo Powering Hamples- Redefining Customer Experience With Happy Samples
StoreHippo has a history of building innovative solutions for brands with out-of-box requirements. The flexible enterprise ecommerce platform is designed on headless architecture which makes it easy and fast to build personalised digital solutions for brands in record time. StoreHippo made it easy for Hamples to implement a variety of customizations right from the design layout, look and feel of the frontend to making custom changes in backend flow for Hamples' unique order flow and pricing.
StoreHippo's 300+ inbuilt features and tools streamlined the overall product, order and customer management processes for Hamples. With the comprehensive solutions from StoreHippobrand Hamples could easily handle all the challenges related to their loyalty workflow, additional charges and design requirements. StoreHippo best ecommerce platform's ease of integrating the preferred software and services for Hamples made the brand's overall ordering, customer engagement( through notifications) and order fulfilment, streamlined and easy.
The Benefits
The out-of-box business model of Hamples needed a feature-rich and easily customizable ecommerce software to support the brand's unique requirements. StoreHippo fully hosted and managed ecommerce platform with headless architecture at its core could easily build personalised buyer journeys which had a unique loyalty workflow, scope for adding additional charges and displaying different products to different audience segments.
StoreHippo's rich set of 300+ native features could easily offer a well rounded solution for all the other requirements of Hamples.
With StoreHippo ecommerce platform they were able to achieve the following;
Cutting-edge ecommerce solutions for their unique requirements designed on MACH architecture for ecommerce

Inbuilt mobile apps builder to create Android and iOS apps for Hamples

Detailed customizations for home page design, user profiling, user-based product display, zero product pricing and more

Seamless checkouts with multi-currency payment in USD and AED

Custom integration with Amazon SNS( SMS service) and Fodel, a local custom pick-up location network where customers can pick up their orders from offline stores

An auto-scalable top ecommerce platform that could accommodate their large-scale business and the expansion plans