Donetella is a reputed enterprise business of Saudi Arabia dealing in the most luxurious, comfortable and elegant bedding materials. The brand offers a rich catalogue of premium quality bedding materials to help its customers end their day in supreme comfort and then start it with a new zeal, energised with a good night's sleep. Donetella made it their goal to be a partner in their customer's everyday life and help time find a serene surrounding after a day's hard work.
Donetella's ecommerce portal came into being as a solution to make it possible for its customers to order quality bedding material at affordable rates. The aim of Donetella brand is to add a new meaning to dreams and relaxation that motivates us towards achieving the dreams we have in our real life.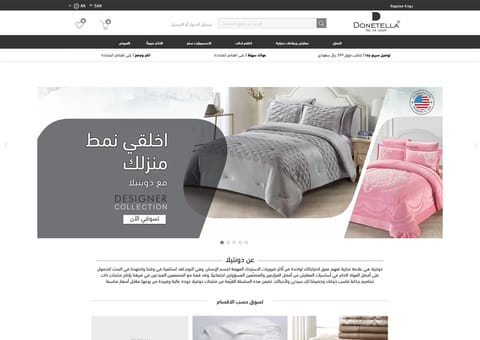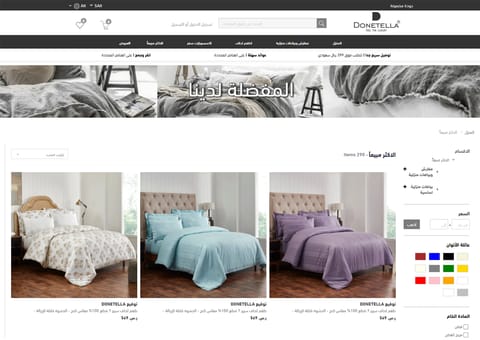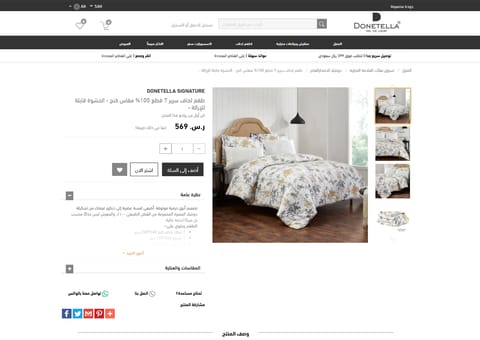 The Requirements
Donetella wanted to create an online store that could make it possible for its customers to indulge in luxurious comfort while relaxing. They wanted to bring the top notch bedding material and travel accessories within the reach of its customers without the hidden cost of middleman's profit. To make this happen they needed the following;
An online solution to manage their unique business requirements

Customized design to suit the needs of their brand

Various customizations for their brand's requirements

Build a multilingual site to engage customers in their preferred language

Multi currency payments

An easy to use and manage ecommerce solution
StoreHippo Powering Donetella- Making The Pleasure Of Sleeping Luxurious
StoreHippo, has been offering the dual benefits of quick go to market time with its turnkey ecommerce solutions along with extensive customizations needed by brands like Donetella. With its comprehensive one-stop ecommerce solutions StoreHippo has been able to offer end-to-end solutions for businesses with a global audience base. StoreHippo could easily fulfill all the requirements of Donetella. StoreHippo built Donetella's customized online store with complex customizations using its B2C ecommerce solutions and a host of enterprise grade features. The 300+ native features and tools of StoreHippo took care of all the ecommerce requirements of Donetella.
StoreHippo helped Donetella build their unique portal to reach a wider audience base looking for affordable yet elegant, stylish and comfortable bedding material. The flexible and scalable StoreHippo ecommerce platform along with its easy to use and feature-rich admin made it easy for brand Donetella to manage their day to day business.
The Benefits
Brand Donetella decided to create a strong online presence with future-ready solutions from StoreHippo. The comprehensive ecommerce solutions along with the advanced technology stack of StoreHippo took care of all the requirements of the brand. StoreHippo's native B2C ecommerce solutions along with multilingual, multi-currency, RTL complaint features and inherent flexibility could take care of all the unique changes needed for the brand's ecommerce presence. Donetella could easily make changes to the frontend as well as the backend of their online store built on StoreHippo ecommerce platform. With StoreHippo ecommerce platform they were able to achieve the following;
A comprehensive ecommerce solution to manage their unique business requirements

Customized RTL complaint theme design

Extensive customizations for geolocation map, delivery slots availability customizations for their brand's requirements

A multilingual site in Arabic and English to connect better with their customers in their preferred language

Multi currency payments in SAR and INR

A user-friendly ecommerce platform which made it easy to manage their business