Designer Sarees by Meena Bazaar is India's leading ethnic wear brand for women. Known globally for its finely crafted range of ethnic wear at best prices the brand sells sarees, suits, lehengas, Kurtis, anarkalis and gowns. Their user-friendly and unique portal aims to offer their ethnic wear to a global clientele. With their online portal Designer Sarees by Meena Bazaar is delivering exquisite Indian ethneic wear at the doorsteps of its clients.
Designer Sarees by Meena Bazaar has has been selling elegant ethnic wear since 1970. By foraying in the online market they are making Indian ethnic wear accessible to NRIs as well as ethnic wear lovers across the globe.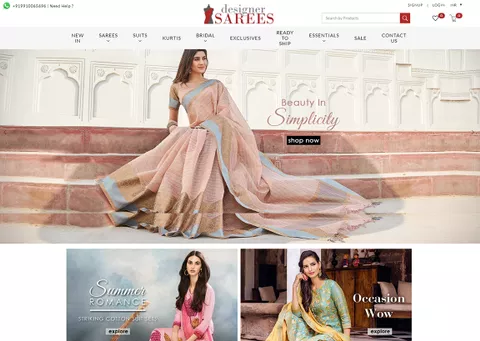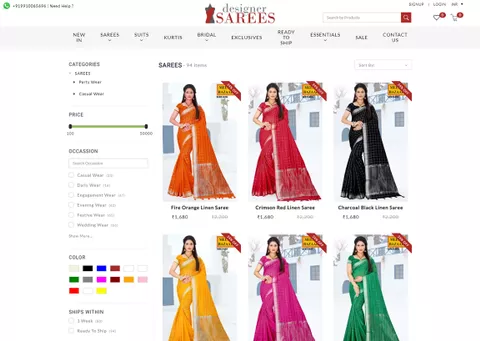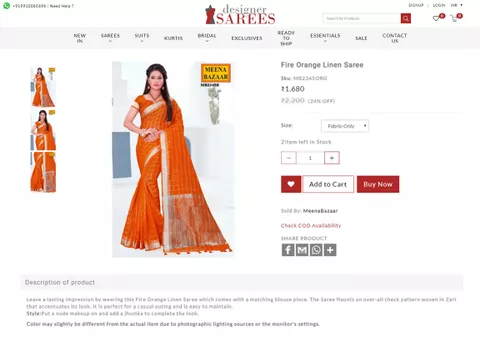 The Requirements
Designer Sarees by Meena Bazaar is adding to the allure of ethnic dressing by offering the most exquisite range of Indian ethnic wear for women. Renowned for its select range of ethnic dresses and sarees, Designer Sarees by Meena Bazaar wanted to eliminate geographical restrictions and reach customers who lived in distant locations. To make this happen they needed the following;
A flexible ecommerce solution that could manage their customized requirements

Theme customization to suit their brand's requirements

Unique multi-seller ecommerce solution with custom flow

Multi-currency payments to facilitate global orders

A stay-on ecommerce platform portal that can accommodate their business growth
StoreHippo Powering Designer Sarees By Meena Bazaar- Going Ethnic The Modern Way
StoreHippo, has the experience and expertise of helping well-established offline brands to start their online journey. The feature-rich and well rounded StoreHippo Ecommerce platform is designed to deliver customized solutions for specific and out-of-box requirements of enterprise ecommerce clients. With its inherent flexibility StoreHippo was able to craft a customized online portal for Designer Sarees by Meena Bazaar.
The extensive feature set and advanced yet easy to use online solutions from StoreHippo made it possible for Designer Sarees by Meena Bazaar to connect with its global customers. The easy to use backend, centralised admin and comprehensive multi-vendor solutions helped them in managing their online portal easily.
The Benefits
Designer Sarees by Meena Bazaar chose StoreHippo to launch their custom portal that offered a reliable solution to their journey in the ecommerce sphere . StoreHippo's feature rich, advanced solutions not only fulfilled their requirements but also gave them an edge in the m-commerce area. With StoreHippo ecommerce platform they were able to achieve the following;
Customized front end UI, theme and notifications to suit their brand's unique requirements

A comprehensive multi-seller solution with unique flow

Multi-currency payments in GBP, CAD, USD, AUD, AED EUR

A unique online portal that helped them merge their offline and online presence

A scalable ecommerce platform that was designed to accommodate their business growth