CredrShop was created to add an extravroomto the riding experience of the bikers across India. The passionate team ofCredrtook their mission forward and decided to jazz up the lives of bikers and biking enthusiasts.Credrshop thus became a reality offering biker apparel, accessoriesandmerchandise that not only ensure the safety of the bikers but also adds a glam quotient to their riding experience.
TheCredrteam has transformed the used bike market by bringing together bike buying, selling and exchange experience on theCredRportal. A team of three passionate bikers Nikhil,NittinandSumit have been enriching the experience of bike lovers by providing aone stopsolution for buying quality bikes in ahassle freemanner. Their amazing ride in the niche market has helped many bike enthusiasts go full throttle with the machine of their choice.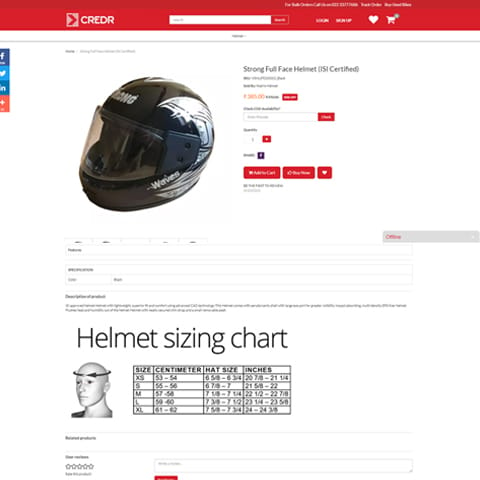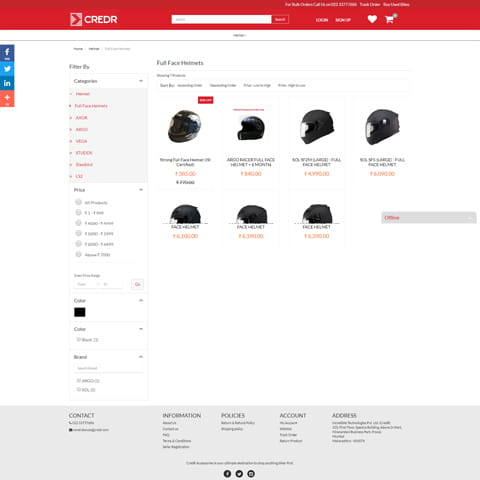 The Requirements
TheCredrteam wanted to set up a separate portal for selling their biker merchandise, without losing the connect with their main site. To achieve this they needed the following;


A site designed in tune with their main site theme

A website that could attract and engage their target audience

Simplifiedecommercesolution to reach the niche market

A flexible platform that can accommodate any changes

Scalable platform that could sustain their business growth
StoreHippo helping bikers live, breathe and dream BIKING with Credr Shop!
StoreHippo, ecommerce platform India delivered the Credr Shop for bike lovers that were totally aligned with the team's philosophy of "Think Bikes.Think Credr." The Credr shop was integrated with the main Credr site to provide a comprehensive one stop solution to the bike lovers and enthusiasts.
The portal was developed using the comprehensive features of StoreHippo ecommerce platform India. The various requirements were easily handled by the flexible and DIY StoreHippo platform. Changes in the theme were also incorporated into the project plan to create a recall effect for the original store.
The Benefits
Built onSaaS basedmobile ready StoreHippoecommerceplatform,CredrShop has been able to achieve the following;
Build a website that enhanced their outreach in the niche market

Beautiful store design aligned with their brand philosophy

End-to-end solutions for their online selling needs

A

n inherently flexible platform that allowed tweaking where needed

Scalable solution that gives them the freedom to scale up to any level