CaringMomsis a unique initiative that brings together moms and women in Malaysia, on a common B2B platform. It helps them in their entrepreneurial journey by offering a host of opportunities and services. Built grounds up with the objective to empower women, Caring Moms helps women's business by allowing them to learn, interact, gain support for start-ups, transact and grow their businesses to a mature level.
Caring Moms offers a safe platform to women in Malaysia where they can register as sellers, source new resources, get specialized training, post business offerings, get training and certification for specialised skills and attend events to get better business insights from peers and support groups.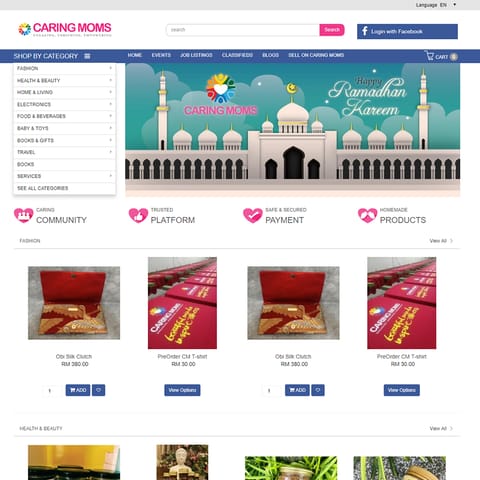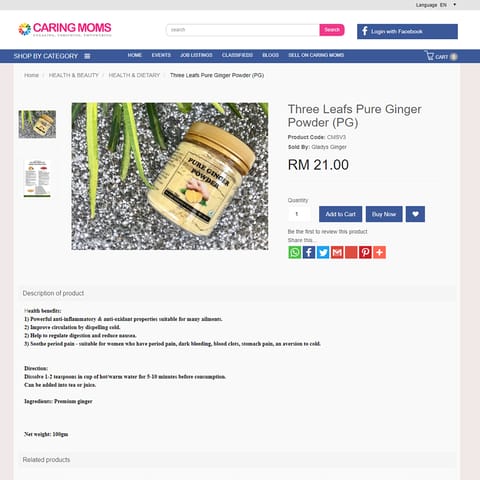 The Requirements
Caring Moms wanted to create an out-of-the-box B2B multi-vendor e-commerce solution withcustomflow and unique layout and functionalities. They wanted their site to be extremely simple and user-friendly despite having a complex flow which amalgamated many unique concepts of e-commerce and took them a notch higher.
To achieve this they needed the following;
A B2B platform with multi-vendor marketplace capabilities

Easy login and registration with Facebook or phone number

Integration withpaymentgateway of their choice
Customforms to collect unique requirements and data

Extensive customizations to create the custom flow
An out-of the-box ecommerce solution by StoreHippo for Caring Moms
StoreHippo, the leading e-commerce solution provider, used its comprehensive B2B and multi-vendor marketplace functionalities to create the most empowering entrepreneurial platform for Malaysian women. The challenging task of bringing together many e-commerce models on a single portal yet keeping the flow smooth and simple was accomplished easily by the well rounded StoreHippo e-commerce platform.
The inherent flexibility of the StoreHippo e-commerce solution took care of thecustomrequirements of Caring Moms portal. Using its experience in designing and developing out-of-the-box solutions for a variety of industry verticals, StoreHippo was able to offer a solution that easily handled all the requirements of this unique venture.
The Benefits
Caring Moms chose Storehippo e-commerce platform to get a unique solution for all their requirements that needed a careful implementation of a variety of e-commerce concepts. Creating a single portal allowed them to empower and enrich women entrepreneurs by bringing them on one platform. StoreHippo's inherent flexibility along with the feature-rich capabilities made it easy to handle all the requirements of Caring Moms.
By powering their online store with StoreHippo they were able to achieve the following;
A combination of B2B and multi-vendor marketplace capabilities on a single platform

User-friendlysite with faceted search and simplified login/registration with Facebook or phone number

Integration with eGHL payment gateway for safe and secure online transactions

Customforms that allowed them to gather unique requirements of women entrepreneurs
Extensive customizations that createdcustomflow for buying, selling, interacting, learning, event organization, advertising and many other functions on a single platform