Career Point is India's premier distance and e-learning portal offering distance learning course material, video classes and other related services. Their advanced portal offers education-related services from pre-school to PhD level. They have embarked on a mission to make quality career coaching available to students at their home in the form of test series, study material package, books, video lectures and rankers package.
Career Point, is revolutionising the e-learning domain with its exhaustive offerings and best faculty. Their e-learning portal is an extension of their residential coaching and school campus which has made it easier for students to avail the best career-coaching from anywhere.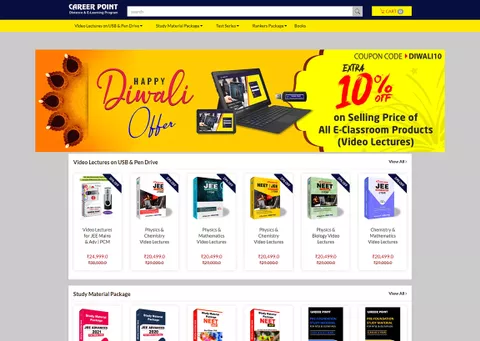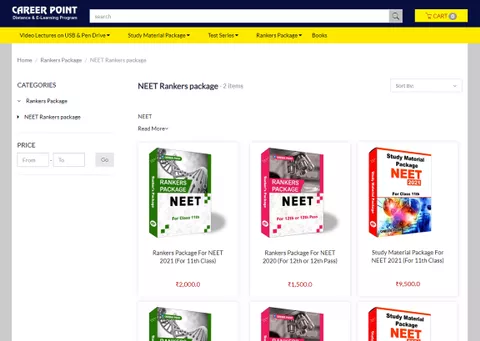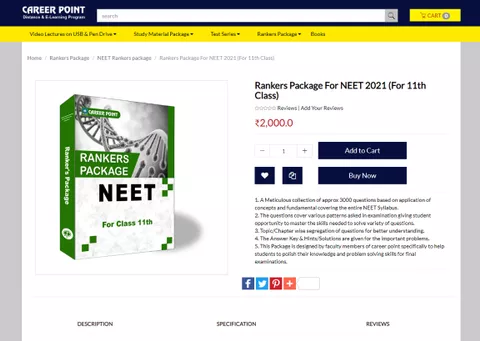 The Requirements
Career Point is shaping the career of millions of students by offering them well researched, complete and relevant study material. With an established success rate in various competitive exams, they wanted to benefit more students who could not attend their offline courses and classes.To make this happen they needed the following;
A comprehensive ecommerce solution for the e-learning portal

High-performance site with easy and simple UI

Mobile -ready site that can be easily accessible on multiple devices used by students and parents

Conversion oriented features that made the venture profitable

Scalable platform that can support their fast-growing business
StoreHippo Powering Career Point- The Place Where Journey To Success Begins
StoreHippo, has been offering online solution for e-learning portals that have unique flow requirements. With its experience in handling such projects, StoreHippo could easily offer a comprehensive solution for Career Point in record time. The feature-rich flexible ecommerce platform StoreHippo could easily meet all the requirements of Career Point.
The rich features incorporated within the StoreHippo platform made it possible for Career Point to target students and parents who were not able to attend their regular classes. The easy to use backend helped Career Point to manage and grow their business without any hassle.
The Benefits
Career Point chose StoreHippo to launch their e-learning portal as it offered a comprehensive solution for their online venture. Along with fulfilling their requirements, StoreHippo's feature-rich, advanced solutions also helped them maintain an advanced portal with ease. With StoreHippo ecommerce platform they were able to achieve the following;
A well-rounded ecommerce solution that could handle all the requirements of their e-learning portal

Fast site with advanced search and user-friendly UI

Device optimized mobile site without additional coding

An engaging site with which readily adapts to new requirements

Stay-on scalable platform that can that can support any number of products and traffic