BasharaShop is an endeavour by a group of pharmacists and skin experts to offer comprehensive skin care solutions to customers across UAE. They not only offer a wide spectrum of highly effective skin care and hair care products but also offer skin care consultation for free. The brand makes it easy for its customers to source premium quality skin solutions adapted to their specific concerns and requirements.
Medically tested BasharaShop products have a niche clientele and the brand extends its services beyond UAE with international delivery options. Bashara shop has been helping the customers across UAE and beyond to add a new glow to their beauty.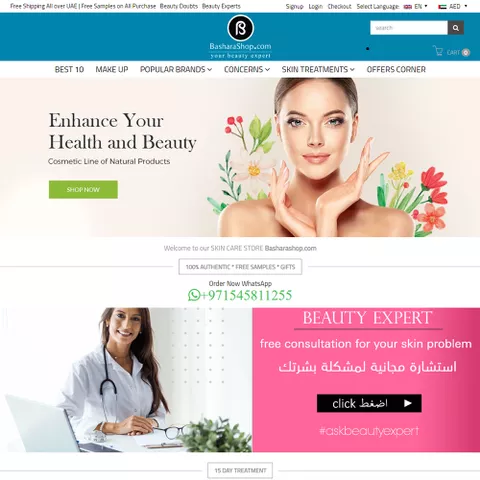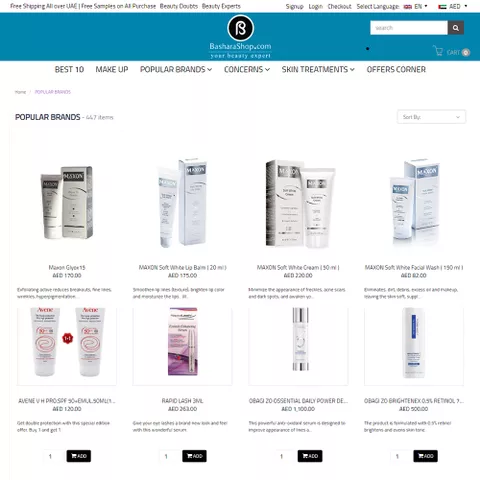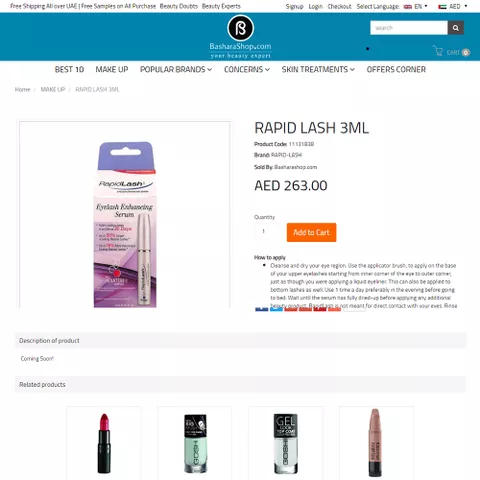 The Requirements
BasharaShop wanted to create a comprehensive ecommerce solution with custom site design and functionalities. They wanted to make their site aesthetically pleasing and needed features that made the online shopping experience seamless and engaging for their customers.
To achieve this they needed the following;
A multilingual site with different logos for different languages

One page checkout and custom design feature for the cart

Extensive customizations to product display on the category page

Integration with a chosen logistics partner delivering to their customers in UAE

Custom form to collect data and keep the admin informed
An ecommerce solution by StoreHippo for BasharaShop
StoreHippo, the best ecommerce platform , used its inbuilt multilingual feature to create a multilingual site in Arabic and English for the native UAE buyers. The challenging task of adapting the themes to the right to left Arabic script was accomplished easily by adaptable and flexible theme design. The end-to end ecommerce requirements of BasharaShop were also accommodated easily by the well-rounded StoreHippo ecommerce solutions.
All the other unique requirements of the portal were taken care of by the extremely flexible architecture of the StoreHippo platform. The platform was able to meet all the custom requirements using its extensive experience and expertise in offering out-of-the-box ecommerce solutions.The flexibility and scalability of the platform also ensured that the site can be upgraded easily as the business grows in the future.
The Benefits
BasharaShop chose Storehippo ecommerce platform to find a comprehensive solution for their unique ecommerce requirements. Creating a multilingual site helped the brand in connecting better with their domestic clients. StoreHippo's inherent flexibility along with the multilingual capabilities made it easy to handle all the requirements of BasharaShop.By powering their online store with StoreHippo they were able to achieve the following;
A multilingual site with support for right to left Arabic script and multiple logos for the language switch

One page checkout and AJAX cart with flying cart
Extensive customizations that showed product name, short description and price on the category page

Integration with their chosen logistics partner Wing

Custom form on the site which stores data and sends email notification to the store admin