Arya is a novel agritech business providing post-harvest services like warehousing, warehouse receipt financing, rural storage discovery, collateral management and market linkages. Arya is an initiative to connect farmers, farmer producer organisations (FPOs), financial institutions, SME agri processors, commodity traders and corporate agribusinesses through an agritech multi vendor marketplace. Through Aryadhan (a wholly owned NBFC subsidiary) Arya also offers warehouse receipt financing. Aryadhan enables farmers, FPOs and SME aggregators (processors/traders) who have stored agri produces/commodities in Arya warehouse network to avail credit facility.
The Arya multi vendor marketplace is an attempt to bring farmers and other agro businesses on a common platform. Managing its 2.5 million MT of agri commodities and 1400 warehouses through its B2B marketplace, Arya is all set to disrupt the agritech startups ecosystem with its agro products and warehousing marketplace.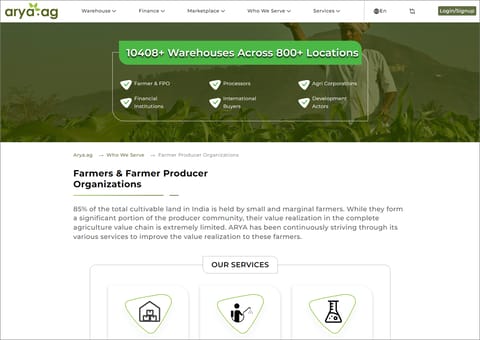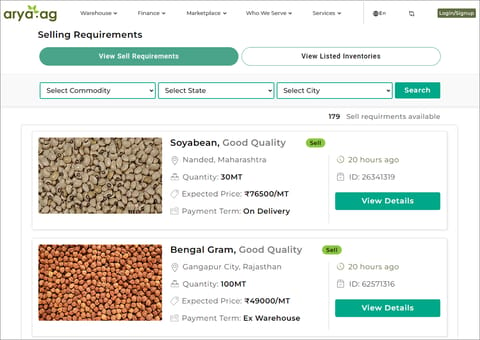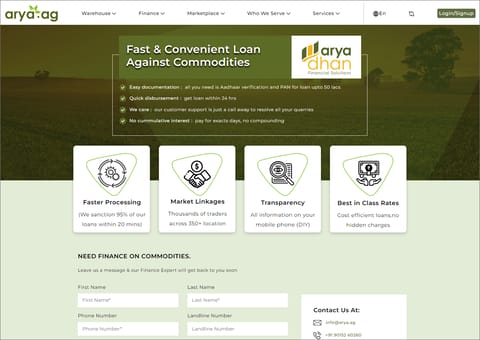 The Requirements
Arya wanted to build a unique online marketplace that supported wholesale selling and buying of agro-based products using its strong warehousing network. Brand Arya also had a diversified product roadmap wherein they wanted to extend the B2B marketplace to B2B2P. The aim was to build a unique ago-based B2B marketplace and integrate it with their warehouse network to facilitate seamless bulk ordering and fulfillment. To make this happen they needed the following;
A multi vendor marketplace solution to onboard a variety of agri-based sellers

Engaging and unique agri-based website design

Extensive customizations for their enquiry, quality request and order flows

Quick and easy migration from custom solutions

Customizations for simplified login and branded notifications

Scalability and agility that can accommodate their growth plans
StoreHippo Powering Arya- The New-Age Agritech Online Marketplace
StoreHippo has been powering cutting-edge solutions for the modern industry verticals disrupting the digital market system. With a diverse experience in handling extensively customized and agile solutions for enterprise brands, StoreHippo could easily build a well rounded solution to handle the end-to-end requirements of Arya's unique business model. StoreHippo's decoupled headless architecture made it easy for brand Arya to make changes to their frontend quickly without the need to make simultaneous backend changes. Also, tweaking the backend was a breeze due to the microservices based highly composable architecture.
StoreHippo's agile and battle tested multi vendor marketplace solutions combined with extensive inbuilt B2B features made it possible for Arya to quickly launch their unique B2B marketplace website. The migration from their custom ecommerce software was pain-free and smooth. With StoreHippo's 300+ inbuilt features and fully integrated enterprise ecommerce platform Arya could easily roll out a bespoke portal that handled its diverse requirements.
The Benefits
Arya's innovative and new-age agri-business model needed out-of-box solutions. StoreHippo's enterprise ecommerce platform built on the MACH architecture could easily handle all the custom requirements of Arya Ag. With the inherent flexibility and rich set of native features of StoreHippo Arya could easily build a tailor made B2B marketplace for their brand.
With StoreHippo ecommerce platform they were able to achieve the following;
A unique multi vendor marketplace website to onboard and manage farmers and agri-based sellers

Extensive design theme customizations to make the storefront engaging and aligned with agri-based requirements

Detailed customizations for purchase order flow, quality requests flow, commodity state and location filters and more

Hassle-free and fast migration from their custom solutions to fully hosted and managed enterprise ecommerce platform

Single Sign-on for simplified login and custom notifications for keeping customers and sellers informed

Unparalleled scalability and inherent agility that take care of their diversified goals and growth plans