How many digital wallets do you have on your phone? Two or three? Well, according to some studies, users have at least "two" e-wallet apps installed on their phone. Here is another question: where do you use digital wallets and how often? I bet you must be using mobile wallets once/twice in a week, primarily for shopping, bills payment or transferring money.
The point is when you have wholeheartedly embraced this trend, the same is also valid for your modern customers. Right? They must also be using mobile wallets for day-to-day payments. So why not take full advantage and use them on your online marketplace to level-up your sales?
Still pondering whether you need digital wallets on your online store?
Check this out:
Why Use Digital Wallets On Your Online Marketplace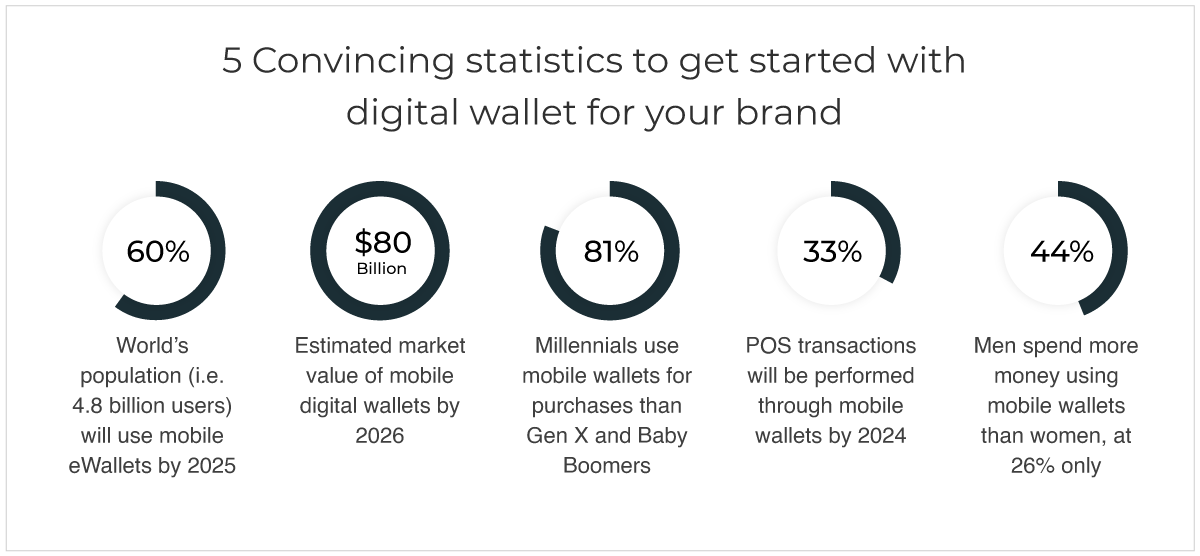 60% of the world's population (i.e. 4.8 billion users) will use mobile eWallets by 2025

$80 billion is the estimated market value of mobile digital wallets by 2026

81% of millennials use mobile wallets for purchases than Gen X and Baby Boomers

33% of POS transactions will be performed through mobile wallets by 2024

44% of men spend more money using mobile wallets than women, at 26% only
Sources: BOKU, Global Newswire, Finder, Trading Platform
Takeaway: The dominance of digital wallets over other available payment methods is magnifying. The penetration rate toward e-wallets is soaring. So it's a big time to capitalize on offering local e-wallets on your online marketplace.
Surprised by the statistics? Want to know what are the major factors for popularity of e wallets?
Here they are:
Major Growth Drivers Of Digital Wallets
Demand for fast and hassle-free transactions

Rapid urbanization

Increase in tech-savvy youth generation

Boost In internet users
Reasons To Add Digital Wallets To Your Online Marketplace
Digital wallets are the most convenient way to help your customers buy faster and within few clicks. Here are the top reasons why your online marketplace should have this payment option: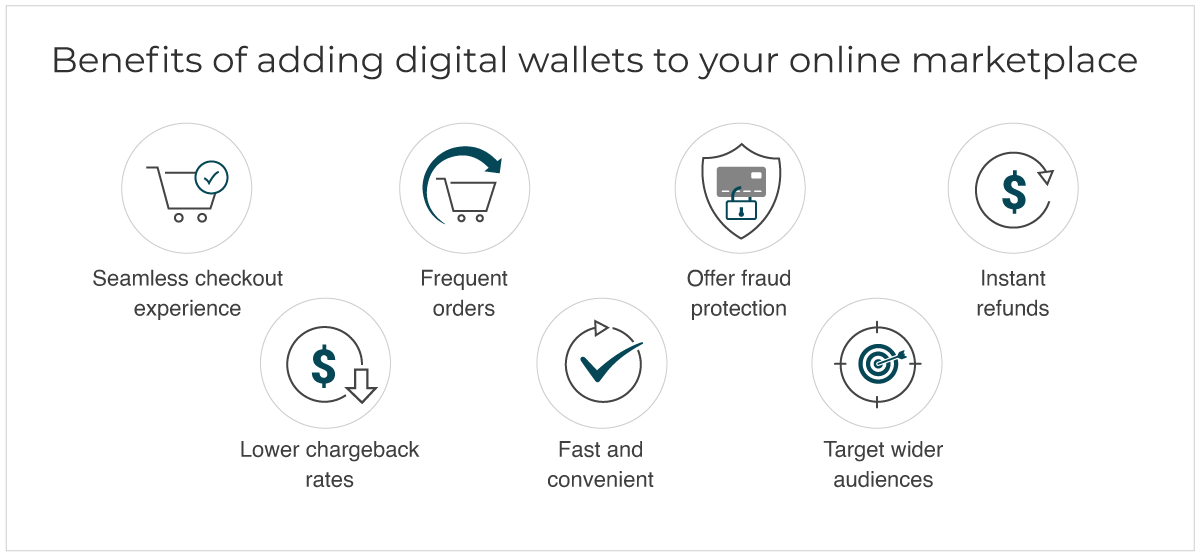 Seamless Checkout Experience
Seamless checkouts lower cart abandonment rates. Statista revealed that 88% of shopping carts are abandoned because buyers have to retype credit card information. In the past, this single reason incurred huge losses of potential revenue to online marketplaces.
With e wallets, there is no need to manually input the details like card number, CVV code, and expiration date. Every payment information is automatically updated. So that your ecommerce store doesn't lose out on revenue when a card is lost, stolen, or expired.
Moreover, your online marketplace can significantly reduce the total time consumed in checkouts as customers don't have to manually fill in details and wait for OTPs from the bank. Digital wallets are a bonus when there is a technical error on the bank side. Because many customers do keep some balance in their wallets.
Fact: 35.26% boost in conversion rates can be seen by ecommerce marketplaces that design an effortless checkout experience. (Baymard)
Frequent Orders
Many mobile wallets offer rewards, scratch cards and coupons to incentivize customers so that they repetitively use their platform for purchases. This marketing technique also benefits your online marketplace. Say how? Because customers feel the urge to place more orders with high cart value to qualify for rewards.
Take the examples of Amazon Pay and Google Pay. On the majority of transactions, they either offer cashback or branded coupons to keep customers engaged.
You may also partner with them to promote your Ecommerce store products on their platform.
Offer Fraud-Protection
A digital wallet offers greater protection against fraudulent purchases. By using a card token instead of the actual card number, an e-wallet solution encrypts and secures stored customer information in transit and at rest.
How digital wallets blocks data fraud?
Strict KYC and AML(Anti-Money Laundering) monitoring

Tokenization

End-to-end encryption of transactions

Utilization of PINs and Biometrics (like Fingerprint recognition, Retina scans, Facial recognition, etc)

Two-Factor Authentication (2FA)
Due to usage of highly secured technology, wallets are becoming a go-to payment option for most buyers. And you as an online marketplace can make promising returns on adding e-wallets.
Instant Refunds
When customers use net banking or credit cards for payments, the refund generally takes at least 5-10 days to appear in their bank. When it comes to online refunds, it is important for online marketplaces to eliminate such prolonged and time-consuming processes.
Benefits of instant refunds
Help in boosting the customer loyalty and retention rate

Gives competitive advantage

Minimize customer negative feedback which can tarnish your reputations

Provide Instant Gratification
Instant refunds provided by digital wallets are the most effective way to overcome this delay. Here, customers instantly receive refunds within 24 hours. Many wallets like Paytm, Paypal, also provide instant refunds facility, only when users utilize e-wallet as the payment medium.
Why do refunds take time on credit cards and bank transfers?
Not all bank processes are fully automated. Sometimes, they have to be manually approved.

The process involves at least 3 parties with multiple layers of communication between the entities.

Billing and fraud disputes impact credit card refund times and can take up to six months.
With the presence of instant refunds, digital wallets becomes a golden strategy to promise a phenomenal post-order experience and bolster your brand trustworthiness.
Lower Chargeback Rates
Chargeback rates for e-wallets are over 10 times lower than card transactions. If we talk region-wise, the chargeback rate for e-wallets in the USA is 52% less than cards. For Asia Pacific and European countries, chargeback is 80% and 92% less than cards, respectively. (Source)
What are Chargebacks?
It is a dispute when a cardholder questions a transaction and asks their card-issuing bank to reverse it. It is applicable to debit and credit cards.
Impact of Chargebacks on Online Marketplace revenue
Loss of transaction value

Extra fees for operational costs

Additional payment of commissions
Chargebacks are common in ecommerce transactions which increase your business expenses and reduce revenue. Therefore, digital wallets should be a must-added payment method to reduce the instances and impact of chargebacks.
Fast And Convenient
Customers can keep cash in digital wallets by easily funding the wallet from any bank account, credit or debit card. Users can complete a purchase on your online marketplace in a few seconds with a simple tap, or have their mobile device scanned at the time of accepting delivery at home.
Some recognized payment wallets have also weeded out the limitations of sending and receiving payments from foreign countries. This added convenience helps optimize conversion rates and enhance customer convenience, globally.
Benefits of fast payments
Enhance customer experience

Increase in customer loyalty

Boost Ecommerce Conversion Rate
Customers love convenient and fast payments. By providing them convenient payment options i.e. e-wallets, you can offer an impressive customer experience. From a business perspective, you may notice higher conversion rate, higher order values, and reduction in checkout time.
Target Wider Audiences
By adding wallets, you get huge exposure to various generations. Digital wallets attracted a huge adoption by millennials (24-39 years) and Gen Z (18-23 years) because of compelling rewards and discounts offered by e wallets.
Along with receiving greater acceptance by the younger generation, we also see a decent percentage of usage from the older generation — Generation X (40–54 years) and Baby Boomers (55–74 years).
Fact: 44% of Gen X and 22% of Baby Boomers make payments through mobile wallets. (FIS)
Mobile wallets are mainstreaming into the everyday life of each generation. Therefore, to convert your target generation, the best advice is to integrate digital wallets.
Building Your Online Marketplace's Store Wallet Made Easy With StoreHippo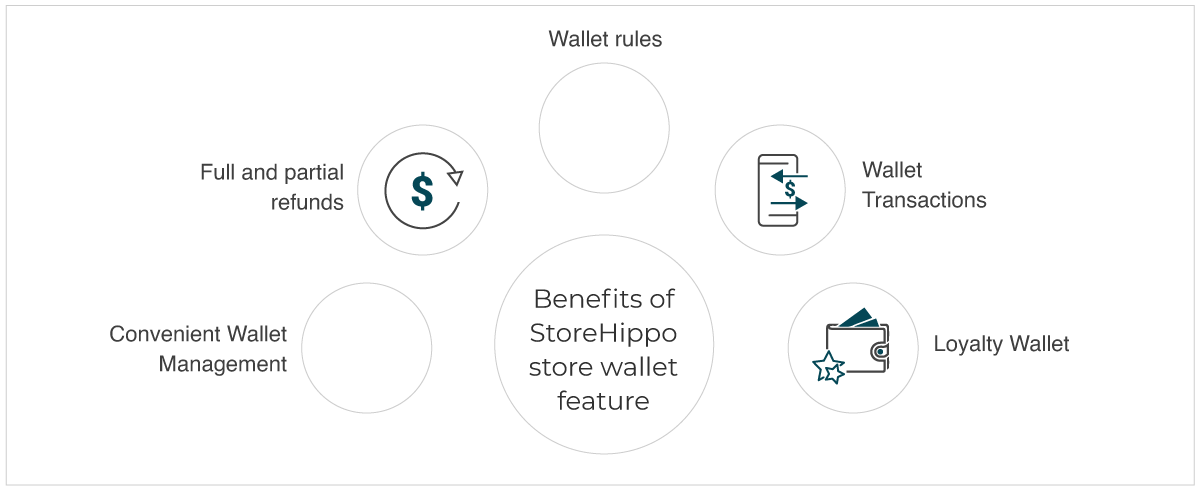 StoreHippo offers a full spectrum of digital wallet solutions that are globally recognized and accepted. Some of them are PayTm, PayPal, Google Pay, Apple Pay, and many others.
Along with these, StoreHippo allows you to add your own store wallet, just like Nykaa has Nykaa Wallet and Myntra has Myntra Credit. You can quickly activate store wallets on your ecommerce marketplace and access a plethora of benefits below:
Convenient Wallet Management
By creating your store wallet through StoreHippo, you can reward customers by crediting cashback, store credits, shopping points and gift cards, directly to their store wallet. They can later redeem these rewards on their next purchase. Through the transfer of rewards directly to the store wallet, you can incentivize customers to use previous rewards and make repeat purchases.
73% are likely to join a loyalty program if their points get automatically updated on their mobile wallets.
Full And Partial Refund
Refunds are seen as a major inconvenience and minimize the business profits. On the other side, returns are critical to customer satisfaction and experience. With store wallets, you can achieve a balance. You can manage full or partial refunds on your online marketplace by transferring the refund amount to the customers' store credit e-wallets. This way they will come back to your store to exhaust that refund amount.
Wallet Rules
To increase customer loyalty and cart value, you may add order-based wallet rules to your ecommerce marketplace wallet. So that during checkout, the wallet discount/rewards will automatically be applied, if they fulfill certain wallet conditions.
For example, you can add a rule "Get upto Rs 50 cashback on making payment through store wallet".
Wallet Transactions
Track and manage different types of actions performed on the users' wallets using the wallet transactions feature. You can check wallet points and add points to the users' wallets using wallet transactions. Get a detailed list of credit, debit transactions or filter transactions based on a time range.
Loyalty Wallet
Encourage customers to come back weekly and boost their loyalty by awarding them loyalty points in their wallets for performing any event – registration, purchase, buying subscription or membership. Furthermore, you can also apply rule to the loyalty-specific redeem options.
Other Popular E Wallets In StoreHippo: Their Features And User Base
Amazon Pay
Adding Amazon Pay, gives you access to 150 millions of Amazon's premium and loyal customers. It promises chargeback support, refund of transaction fee (if customer requests refund), multi-channel payments (web, mobile, Alexa), fraud detection capabilities, etc.
Paytm
Paytm is the most popular e-wallet in India with 130 million users and available in 10 regional Indian languages. For security, it uses 128 bit encryption by Verisign and is PCI DSS compliant. No fees are charged to set up a business account.
Interesting fact: 87% of users between 25 to 34 years prefer Paytm.
Apple Pay
The most secure e wallet using advanced technology like Touch ID fingerprint scanner, radio frequency identification (RFID) and NFC technology to encrypt the transactions. Due to strong partnerships with card providers like Discover, Visa, Mastercard, American Express, it is the most preferred option by iOS users.
PayPal
IT is an intelligent digital wallet used by 426 million users and merchants. It supports 25 currencies and 24x7 Fraud Prevention.
Mobikwik
Mobikwik digital wallet has over 107 million customers and 3 million merchants that have access to amazing payment facilities. You can easily integrate it with your online marketplace within a few minutes via StoreHippo.
PayUmoney
It charges absolutely zero registration cost, offers instant refunds and POS (point of sale) machines to merchants.
Interesting Fact: 40% of global ecommerce spending came from a digital wallet like Google Pay, or Apple Pay. (Source)
Final Words
As digital wallets gain popularity around the world, we want you to learn about the immense benefits of wallets. E wallets play an instrumental role in improving the customer experience, conversion rates, average order value (AOV), and sales.
StoreHippo offers wallet management features and pre-integrated payment gateways. It makes the implementation and set-up extremely easy.
Want to add multiple wallets within a few minutes and convert customers in no time? Get started by building your beautiful online marketplace using 14 days free trial of the StoreHippo.