Just as more consumers are buying online, an increasing number of B2B buyers are turning to ecommerce channels. This is shaking up the B2B industry, where buyers have traditionally liked to physically meet with sellers or speak to them to discuss the quotations and place the orders.
The drastic changes in B2B ecommerce has resulted in the growth of the multi vendor marketplace. And this scenario is putting an immense pressure on B2B businesses to evolve with digital transformation.
Now is the time to look for digital means to boost your marketplace sales - a move driven by the success of Amazon business and changing buyer behavior in the B2B world.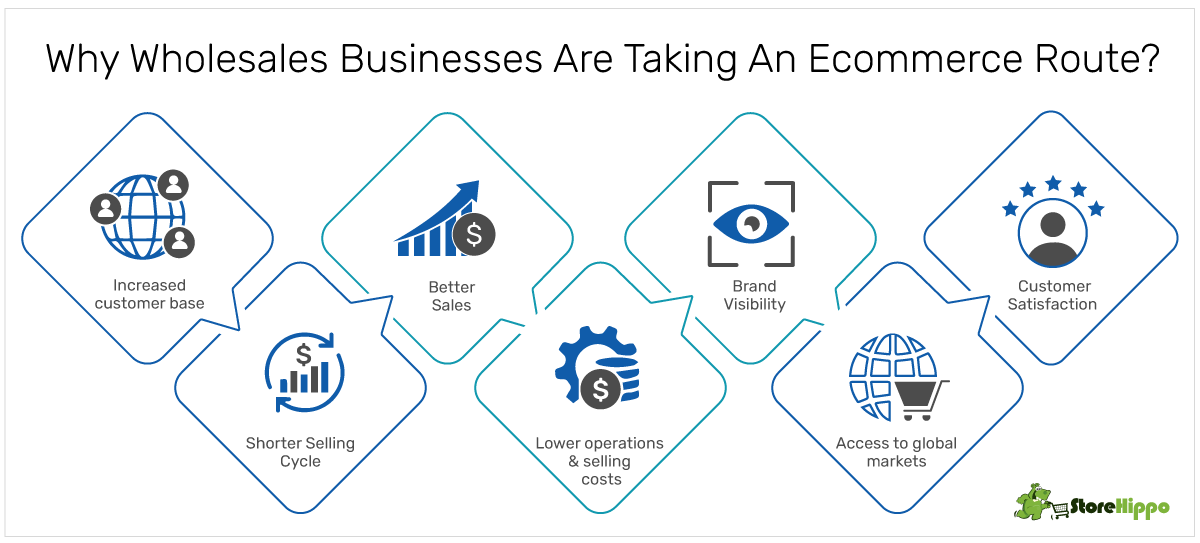 A B2B marketplace solution is a software designed to build online marketplaces for wholesale and large volume businesses. These turnkey solutions build online marketplace for wholesale businesses where buyers and sellers come together to buy and sell their products and services.
It caters to the complex business requirements of wholesale businesses and helps in handling large volume orders, differential pricing, complex taxation, multiple payment methods, personalized discounts, bulk shipping etc. It is a full-fledged multi vendor marketplaces solution that deals with a large number of manufacturers, distributors, wholesalers, retailers, brands and clients.
While building custom software is an option, it is pretty time taking and resource-intensive. It also increases your go-to market time. Alternatively, a B2B marketplace solution offers a ready-to-use platform that can be customized to your unique business requirements. It also cuts down your efforts and time of maintaining and upgrading the hardware, servers, and security. The major benefits of using the B2B platform are:
Cost-effective as compared to the legacy software

Customized solution designed for your unique business requirements

Easy to implement and train your distributors, team etc.

Faster time to market with reliable and battle-tested solution

Automatic software upgrades and low maintenance of B2B marketplace website

Technologically advanced software designed to offer future proof solution
The international B2b ecommerce market is booming and so should your business. If you also want to be a part of this stupendous growth, you need a reliable B2B marketplace website builder that offers global features. Like StoreHippo enterprise ecommerce platform offers a host of global features to take your wholesale business global. It offers easy-to-use features like multi-currency payments, a multilingual website, IP-based pricing, comprehensive tax engine for multi-country tax management, and many more to promote and grow your business.
If you are wondering how to automate your B2B business processes, multi vendor marketplace solution is your way to go. Handling large volume orders, inventories, vendors, and other B2B business requirements manually is very tedious and time-consuming. Let's explore how the StoreHippo enterprise platform can help you leverage wholesale business automation.
Centralized control over your large volume order management cycle with the consolidated view of all sales orders captured across the ecommerce platform

Unified administration framework for your stock management with online synchronization over every part of your B2B marketplace website

Allow your product teams to build and share the visual and interactive product roadmaps to align your team around the product vision

Seamless shipping solution to automate your manual tasks associated with the B2B product deliveries

Automated user management to manage user access to various business resources
Unlike B2C ecommerce, B2B companies are still struggling to personalize their online shopping experiences. Personalization has become a necessity for wholesale businesses but you need a full-fledged B2B marketplace website builder to personalize the shopping experiences of your B2B customers. Like, the inbuilt features of StoreHippo allows you to personalize the shopping experiences through various innovative ways. You can easily implement customized pricing on your B2B online store based on IP address, login, sales, order volume, etc. The automated marketing features and powerful discount engine offered by StoreHippo allows you to capture the customer information to make the right offerings that help in delivering high-end personalization and achieve maximum customer satisfaction.
Most B2B buyers use more than six channels to interact with brands while purchasing online (Source: McKinsey). But unfortunately, the same report indicates that over 65% of the buyer's experience frustration many times in their buying journey. As customers frequently switch between different devices and platforms to buy products, you need a B2B marketplace solution that supports an omnichannel approach. StoreHippo offers ultra-fast, and personalized shopping experiences, across all the channels to grow your online business.
For the smooth functioning of a multi vendor marketplace, vendor management should be extremely hassle-free and streamlined. From the onboarding of vendors to product uploads, pricing and inventory management, and commission payouts should be all easy and manageable in a few clicks. StoreHippo allows the vendors to have their own dashboard where they can have a clear business overview and manage end to end business in a hassle-free manner. At the same time, the admin also has complete control over the vendor activities within the comprehensive vendor management module.
Processing bulk orders is an everyday task for wholesale businesses. And with the management of bulk orders, you need to efficiently manage the supply chain to complete the order cycle. To capitalise on the benefits of a good supply chain, you need a B2B marketplace solution to have your essentials in place. StoreHippo offers an excellent fulfilment strategy with the ShipKaro solution. It can help you to scale your business without taking the pain of setting up in-house shipping services. ShipKaro offers automated and cost-effective options to boost your supply chain management.
B2B marketplaces are growing at a stupendous rate that makes it essential for you to choose a reliable and battle-tested solution. Building an online B2B marketplace has become a necessity but you need a fully scalable and flexible solution that suits your unique business requirements.
StoreHippo is the top B2B marketplace website builder, which comes with a host of enterprise-grade tools and features for wholesale businesses. With the new market changes and dynamic customer requirements, StoreHippo enterprise solution has also evolved big time. It offers all the above features and many other benefits that can boost your B2B ecommerce business like never before. The host of B2B and other multi vendor features like location-based pricing, custom enquiries, pricing overrides, bulk order management makes it easier and better to grow your wholesale business. It also offers 60+ integrated payment gateways that can process large volume orders. Ready to take your wholesale business online with our fully integrated B2B marketplace solution? Start your 14-day free online trial store today.