Bonjour! Ciao! Witam!
All of the above words mean Hello, but you do not feel the same connection with each of these, do you?
A language you do not understand leaves you perplexed.
The same happens to the buyers on your online marketplace when they find your website content is in a foreign language, most likely English.
Did you know: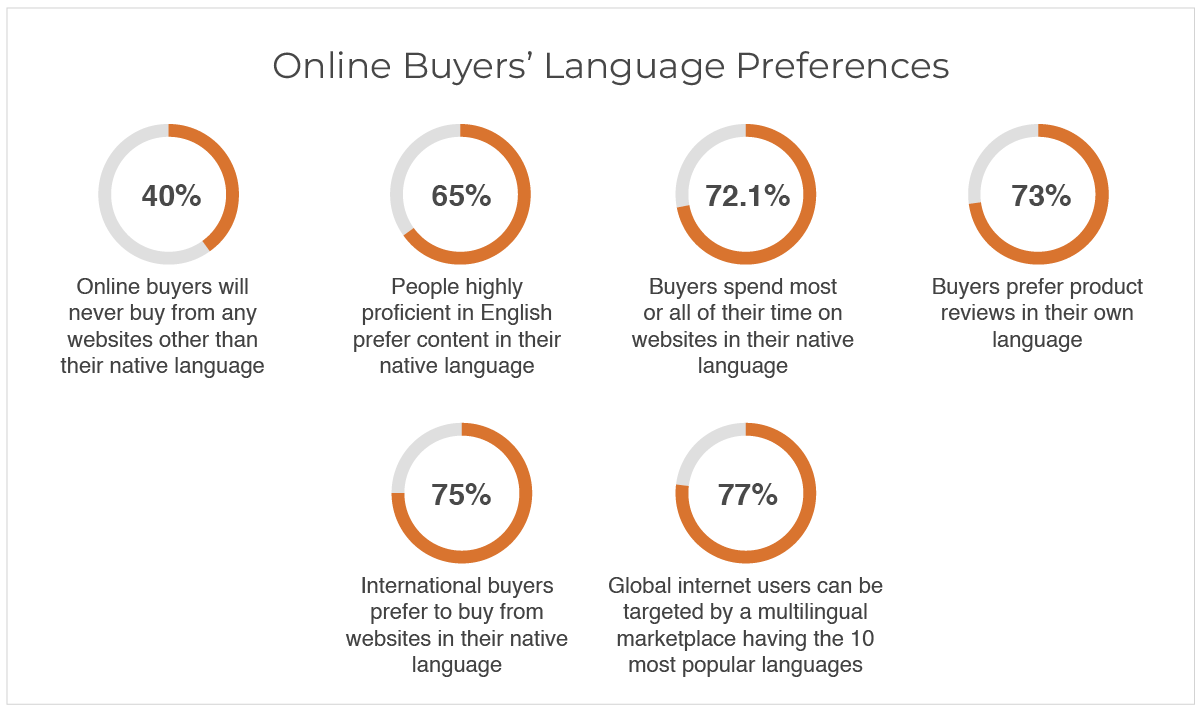 40% of online buyers will never buy from any websites other than their native language

65% of people highly proficient in English prefer content in their native language

75% of international buyers prefer to buy from websites in their native language

77% of global internet users can be targeted by a multilingual marketplace having the 10 most popular languages
The customers have made it clear, that enterprise brands looking for growth beyond geographical boundaries need to break the language barrier.
Building a multilingual marketplace is the way to success in the new world sans borders!
To perform, compete and win in a global market environment, enterprise brands need to have a brand image of a global player. Going multilingual is the shortest and smartest way to achieve this.
Do you know that the global cross-border ecommerce market value is going to be $2248.57 billion by 2026? A whopping 4X~ increase from its 2019 levels.
Also, the fastest growing ecommerce markets across the world are countries where English is not the primary language of the natives.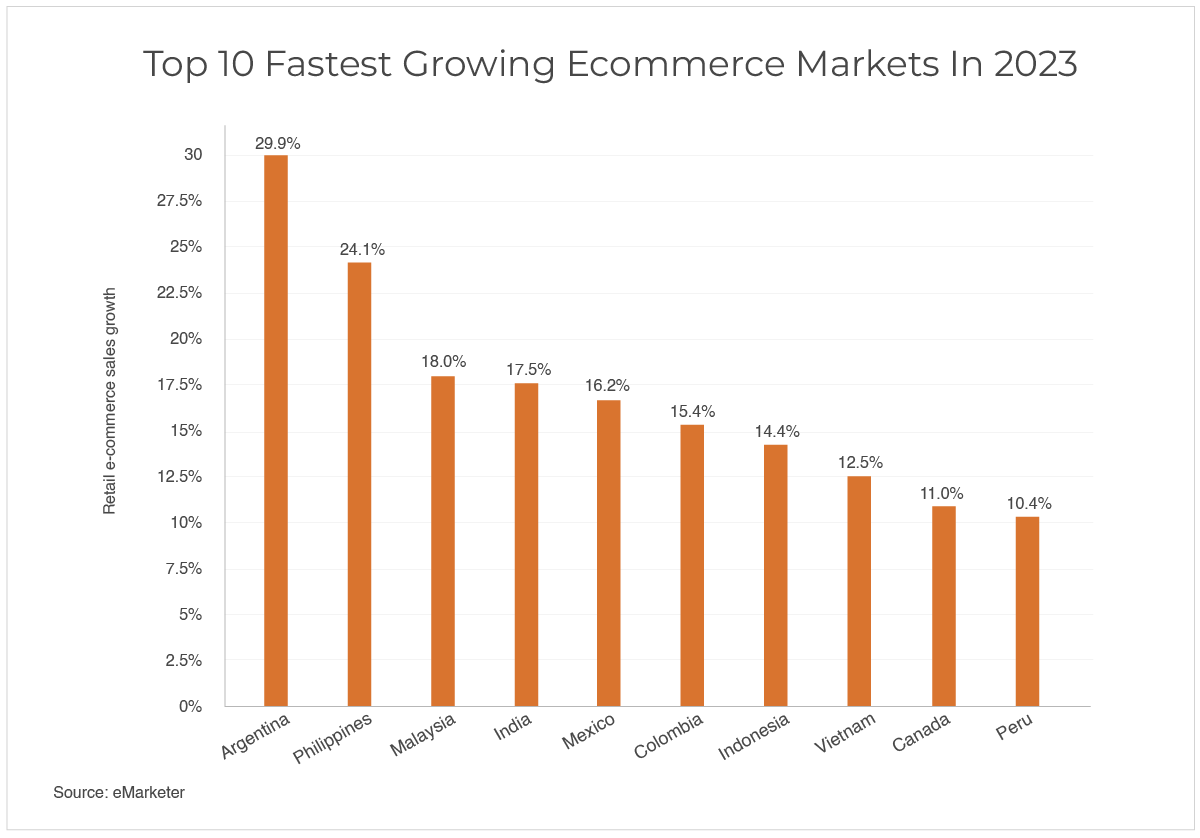 With user experience being at the core of branding strategies, enterprise brands are increasingly opting for multilingual online marketplaces to connect better with global buyers. Having your branding in multiple languages creates a niche for your enterprise brand and makes it stand out from its competition.
With the pandemic push, online shopping has accelerated by at least 5 years. Customers have been conditioned to better online buying experiences. Building websites in the native language of your buyers come with a host of benefits for your brand.
Let us look at the perks of establishing a multilingual marketplace
Multiple languages at your disposal give your brand a wider reach and a global customer base

With non-English speaking regions leading the ecommerce growth, a rich translation strategy helps you win over the non-English speaking customers as well

A multilingual marketplace gives your brand a cutting edge over the competition and helps you connect better with the customers - thus working as a cost-effective marketing tool

A customer is 3x more likely to shop when a brand sells products in their native language - they feel connected to the brand, thus increasing sales and revenue

The presence of their native language makes the customers feel emotionally connected to the brand increasing the overall customer satisfaction

The relevance and context of the content on your site make your business rank higher on SERPs - you can excel in the game by creating content in various languages

When you offer the products in your customers' language, they trust your brand over those that do not - this trust will be reciprocated into sales and revenues

With a multilingual marketplace, you put your brand as a global ecommerce player in the eyes of the customers and your brand value increases manifold

With customers from across the globe flocking your marketplace, you also get hands on a rich customer behaviour analysis - so you plan your future strategies better
With so many benefits to count on, enterprise brands have every reason to invest their time and efforts in building an online marketplace in multiple languages.
Now that we have established the need for a multilingual marketplace, let us move to the next step which is building a multilingual marketplace.
We have two options to get started - let us understand each approach:
Developing a multilingual platform from scratch does require time and resources. If you have plenty of time in hand, this might be an option for your brand. You get to develop the content and build a platform exactly the way you want.
Alas! Building what you want is not that simple! Your dev teams will have to go through iterative development and testing cycles to build marketplace software that can accommodate multiple languages as and when needed.
When you are looking for an easy and hassle-free solution, a ready-to-use multi vendor ecommerce platform can be the best solution for your brand. With a customizable turnkey ecommerce platform, you launch your own multilingual website in a fraction of time as compared to building it from scratch. However, you need to make an informed decision while choosing the best online store builder as this can make or break your business going forward.
To stand out from the crowd of your competitions, choosing the right platform, that gives you the best in class features is important. StoreHippo provides a comprehensive marketplace solution with which you can leave your worries about plugins or manual tedious processes at bay. Platforms supported by StoreHippo come with build in multi vendor functionality and also support building a multilingual marketplace website.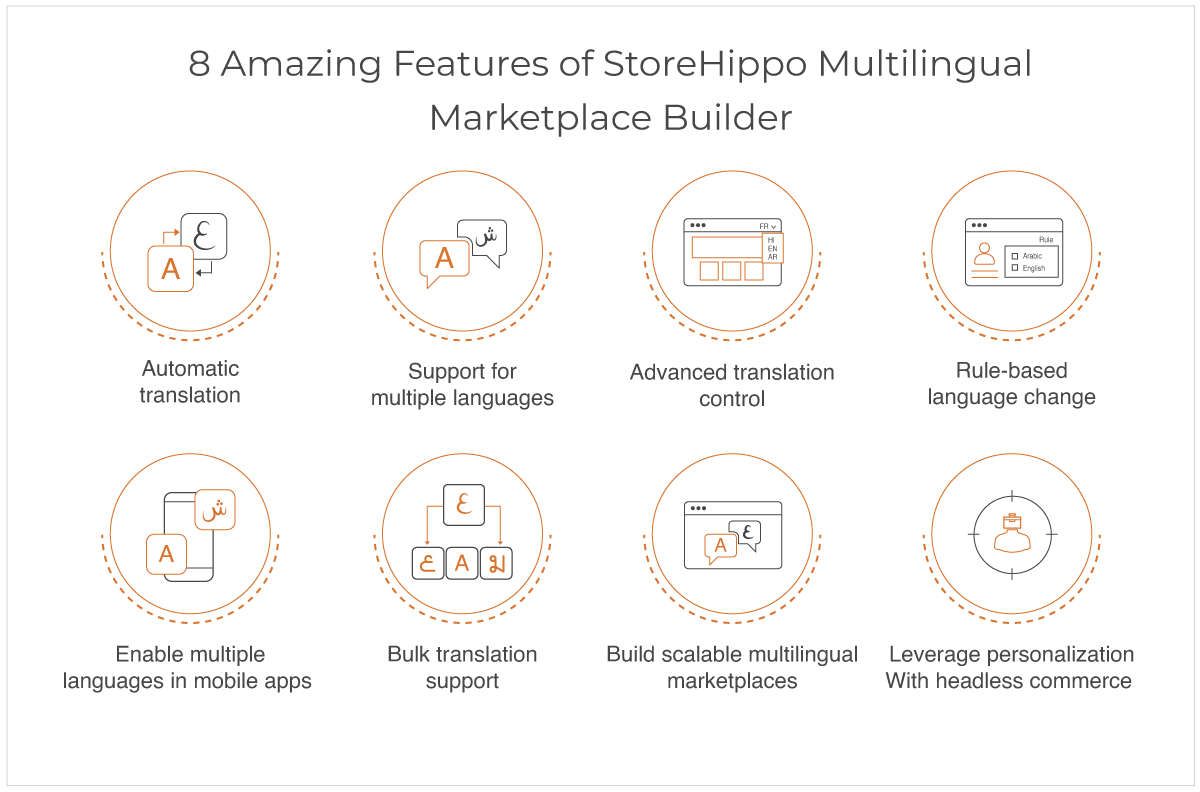 Let us look at the features of a marketplace by StoreHippo, that help you completely stand out -
Building an enterprise brand requires understanding your customers better and offering them a connected experience. For example consider an enterprise brand planning its expansion in the Middle East and EU zone. Would a website in English suffice for all these regions? Well, it can work. But, if the brand wants to add a differentiating factor it would be awesome to also add RTL languages and some of the most popular languages of EU countries like German, French, Russian, Italian etc. to the website.
After all, the aim of every business is to create user experiences that set them apart and allow for smooth, effortless, and quick sales closure. For the above instance, translating a website/marketplace word by word can become too hectic. Hiring language experts for each language, getting them to write fresh content, and then adding to the portal is a hell of work. Wouldn't it be easy if the whole site could be translated into any language in just a few clicks? Sounds fun right?
StoreHippo allows you to translate into any language in the blink of an eye. The auto language-translate feature lets you choose from 100+ languages for your multilingual online marketplace. With all the hard work being taken care of by StoreHippo multilingual solutions, all your enterprise brands need to do is, validate the multilingual content for linguistic and cultural nuances. Thats't it! And you have a brand that is leagues ahead of other players!
Enterprise brands going global cannot be limited to a certain geo-location. A fast-growing brand might decide to target a market first and then tweak the strategy to adapt to the unique requirements of the new geolocations. And usually, such expansions take place quickly one after the other to make the most of the prevailing market demands and the buzz around the brand.
To be able to roll out localized content for international buyers, enterprise brands need marketplace software that comes with support for multiple languages and can quickly translate their content into multiple languages.
StoreHippo multi vendor ecommerce solutions come with a built-in support for building multilingual ecommerce marketplaces. With StoreHippo, enterprise brands can translate their content into 100+ different languages in just a few clicks. Apart from this, the platform also supports RTL (Right to Left) languages like Arabic, Hebrew, Urdu, etc. where the content is written from right to left. The RTL support is extended to RTL-compliant themes that allow you to customize action buttons in any of the RTL languages.
With the marketplace website content as well as themes customized in multiple languages enterprise brands have a better chance to grow their audience base and build a stronghold in new global markets.
What if we say that while translating the content in any language automatically, you can also control which parts you want to translate, and manually override certain segments to retain it in the base language? Sounds complex, right?
To understand better, let's think of a skincare marketplace with product pages in English. You opt for translating the pages to French. However, while you want your product pages and product information in French, you still want to retain the action button on each product page in English. In this scenario, even when you buyers choose French to be the default language, your action button will read "Add to Cart".
Technically, with automated multilingual software, this might be tricky to achieve. However, with StoreHippo, you can have complete control over the segments you want to translate and over the parts you want in the original language. StoreHippo being the best online store builder offers tools that allow you to choose between automatic and manual modes of translations or selectively override automatic translations.
With StoreHippo powering your marketplace website, you can easily translate your content in multiple languages and then add linguistic nuances manually to make your content more powerful, engaging and conversion oriented.
Are you also on the lookout to make your buyer journeys seamless and spot-on from the moment your customers land on your website? Well if you are nodding yes right now, you are just at the right place.
StoreHippo's rule-based automatic language selection tool makes it easy to give a memorable experience to different buyer segments in your multilingual marketplace. All you need to do is add the rules which automatically translate the entire content into the native language of the user based on their IP address, device, buyer segment or any other rule you might have added. You can easily add rules to display different languages for different subdomains, for example, for www.yourstorename.de you can turn on the default language as German, while for www.yourstorename.uk you can turn on the default language as English. That's it!
You can sit back and watch your German users explore your online marketplace in German and UK users in English. Undistracted browsing in the native language, right from the first digital footfall can go a long way in boosting your user engagement and long-term loyalty eventually.
Now since 80% of the eommerce sales are done via the mobile channel, how can you miss on building your marketplace apps in multiple langauges?
Stats reveal that mobile channel buyers are more prone to impulse buying. 67% of mobile channel buyers admit to "online window shopping" for fun on their mobile devices and 77% of these end up making impulse purchases (Source: Ragtrader). Huge insights for enterprise brands looking to leverage m-commerce for growth.
Just imagine how you can make the checkouts faster by offering conversion-oriented multilingual content for your global buyers. Also, for geolocations where smartphones and mobile internet are the only way to be connected to ecommerce marketplaces, having marketplace apps in different languages can go a long way in building your brand presence and a strong customer base.
StoreHippo helps you achieve this effortlessly. You can offer multiple language options not only on your marketplace website but also in your marketplace app and use other built-in marketing tools and notifications to gently nudge your buyers towards conversions in real time.
A marketplace for global audiences can have a massive catalogues with a huge number of products descriptions and other content which needs to be translated in multiple languages. While automatic translations are good enough, you might want to build a stronger brand connect by refining your content using the best-in-class editing services or tools.
Just imagine the effort needed to accomplish this if you have to manually download/upload the content after tweaks. And multiply the effort by the number of languages you have implemented on your online marketplace. Whoa! Quite something, isn't it?
How about getting it all sorted in a few clicks using bulk CSV imports and exports? StoreHippo lets you do this without having to create admin panel access for your linguistic service providers. Your multilingual content can be enhanced by experts or tolls of your choice easily using the built-in bulk CSV imports and exports option for multilingual marketplaces.
When you are expanding your business to global levels, it is essential to make provisions for high performance despite the rapid scalability of your multilingual site. An increase in the site loading time is directly proportionate to low conversions. Stats have proved that a 1-second delay in site load time reduces the chance of conversions by 7%.
For global brands with the marketplace in multiple languages, it becomes imperative to ensure that the site performance does not dip even when the marketplaces scales up exponentially. Your area of concern should be finding the best online store builder that guarantees optimum page loading time, even when you scale to ten times your traffic or create hundreds of new pages on the marketplace. A top-notch site load speed is what you need to keep your customers interested and your cash counters ringing.
StoreHippo multilingual website builder is built on cutting-edge technology which ensures high-performance sites even when your enterprise brand scales up to millions of users and adds multiple language content for diverse buyer segments.
Is it enough to just provide your customers with content in their native language? Or shall your brand go a few miles ahead and implement personalization to connect better? Well, as we discussed earlier, the new-normal for online buying is focusing on seamlessly personalized buyer experiences. This one factor sets your brand apart from all other players in the market.
It is a proven fact that 80% of the buyers are more likely to shop from brands that offer a personalized experience. StoreHippo's multilingual solutions along with decoupled headless architecture allows you to implement localization as well as personalization easily. While it is easy to turn on multiple language options for your global buyers, StoreHippo also ensures that you create personalized buyers journeys across multiple touchpoints easily. in the preferred language of your customers.
Also, StoreHippo is built on MACH (Microservices, API-first, Cloud-Native, Headless) architecture which gives enterprise brands better creative control to build the most amazing online marketplaces. Brands can build innovative ecommerce solutions for global audiences using the agility and flexibility of MACH.
Creating a multilingual ecommerce platform with the comprehensive solution by StoreHippo is easier than you thought right? With multiple languages and a host of features like those mentioned above at your disposal, you do not require any additional apps or plugins to reach a global or domestic audience.
StoreHippo multi vendor marketplace solutions combined with its multilingual capabilities enable brands to add up to 100+ languages in no time without any coding. With a powerful platform to back your brand you can build strategies to build a niche for your brand not only in global markets but also explore the expansive domestic market in regional languages. StoreHippo's 300+ built-in features, 120+ integrations, support for various B2B, B2C, D2C and hybrid business models, multi-store features etc. help brands to build disruptive ecommerce solutions out-of-box.
Ready to write your own success story and nail global ecommerce? Get started right away with your 14-day free trial.