Do you know what strategy Nike used to win the hearts of customers and make them stick to their brand? So let's start by guessing - it might be phenomenal customer service or outstanding product quality or grand marketing campaigns (offline & online), or personalized experience.
Well, it is true if we look at the broader picture, but one thing that purely drives their revenue and customer loyalty is the D2C ecommerce strategy. In the Nike context, D2C is a mixture of 3 ecommerce latest technologies and approaches. These 3 are-
Mobile commerce involves creating PWA sites and apps

Omnichannel ecommerce involves connecting multiple customer touchpoints (like shopping channels) for creating a personalized customer journey
Before moving, let's briefly learn headless ecommerce.
A technology through which ecommerce brands can quickly implement changes to the frontend (like the page content, web design) without touching a line of code in the backend. Simply put, it decouples frontend from backend, saving huge time for developers thus letting them build innovative solutions faster.
With the growth of mobile shopping as well as the development of IoT shopping devices (tablets, mobile, smart speakers, Voice Recognition tools smartwatches); the demand for seamless shopping across channels has boosted.
Here headless CMS helps by optimizing web content for every device for easy navigation, without users zooming pages or facing difficulty in reading webpages. That's why big retail brands need to shift from their traditional monolithic ecommerce platform to headless platforms.
In an endeavor to increase their revenue, Nike decided to connect their brick-and-mortar stores with digital platforms (mobile apps, website). Nike realized that stores and mobile apps could serve as the most profitable customer touchpoint, as mobiles are always in customer's pockets/bags while they are on a shopping spree.
They required a headless ecommerce solution that could help them in creating an omnichannel retail experience across multiple devices and channels (offline & online) without hindering the frontend framework.
Nike switched to a mobile-first approach. They adopted a Node.js BFF (Backend for frontend) sim combined with React SPA for a more robust mobile shopping experience, eventually eating into part of Adidas' market share.
Here is how they seamlessly integrated channels by using headless infrastructure:
In 2018 Nike launched a new store type called Nike Live stores

The Stores were equipped with innovative features to offer a new-age shopping experience. The key feature that caught attention is Nike Scan, which customers can unlock by downloading Nike's mobile app

Through Nike's app, any customer can scan a product's barcode to receive more data on a product including whether or not the product is in stock, in-store, at nearby stores, or online, and what colors are available
Nike has reported that mobile traffic to its ecommerce site exceeded desktop for the first time, signaling the company's long-term efforts to cash in on cross-channel promotion are starting to take effect.
By following the D2C ecommerce model, they made a fortune of 12 billion US dollars in 2020 which jumped from 2 billion in 2009. (Source: Statista)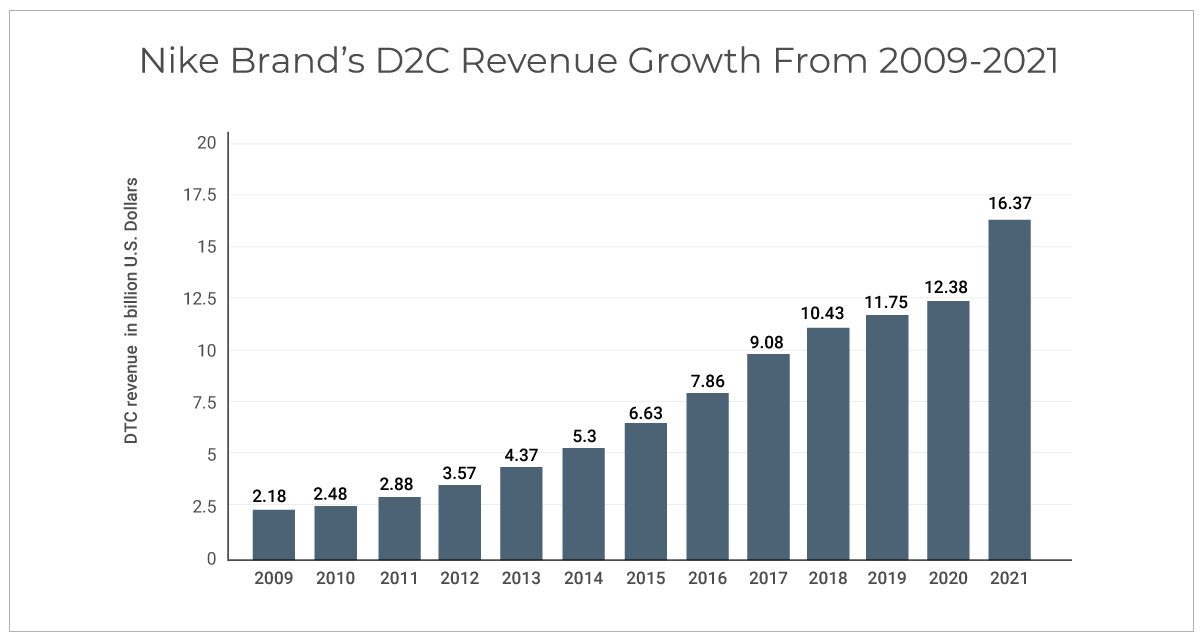 By going D2C, Nike became flexible to do any customization to a website that resonates with their customers. They combine different technologies for their frontend presentation layer and pair them with an ecommerce engine on the backend
Using an API-based architecture like headless commerce made it easier for Nike to deliver seamless front-end experiences. Progressive Web Applications (PWA) technology also helped in accelerating their website's loading speed as well as boosted conversion rates by reducing page abandonment.
Nike Live stores are focused on housing a localized assortment to best suit those geographies, and its wholesale partners receive different products depending on what type of consumer they serve. Matching collections to what's popular in given geography pushed Nike to think of "offline stores" as shipping or pickup points for online orders.
Freedom to create the personalized online experience, independently of the technical restrictions to the backend systems is what headless has offered to Nike. While Nike already excelled in email personalization, product recommendation, advertising by meticulously analyzing customer data
Example 1: Nike acquired computer vision firm Invertex and incorporated its technology into its app. So here is how this technology works ~ when people point a smartphone camera at their feet, Nike Fit app scans them with the aid of computer vision, data science, machine learning, artificial intelligence, and recommendation algorithms.
Example 2: The app also provides access to the "Nike Plus rewards program" which is manufactured to offer early access to new products and exclusive offers to members to increase their loyalty. What is unique in the program is customers having access to Nike experts who recommend their merchandise based on their sports needs. App also offers personalized workouts and access to in-store events.
By employing a D2C headless approach, Nike earned higher profit as compared to other sports apparel brands. Nike's gross margins rose to a healthy 44.7% in 2019 by eliminating middlemen that eat away significant profit and mark prices higher, which makes products unaffordable for most buyers. Coming to sales, it grew from $2.5 billion in 2010 to $16.4 billion in 2021(see graph). Nike also entrusted 100% of its manufacturing of apparel to 112 independent factories in 12 countries, thus saving cost and time from nerve-wracking logistics management.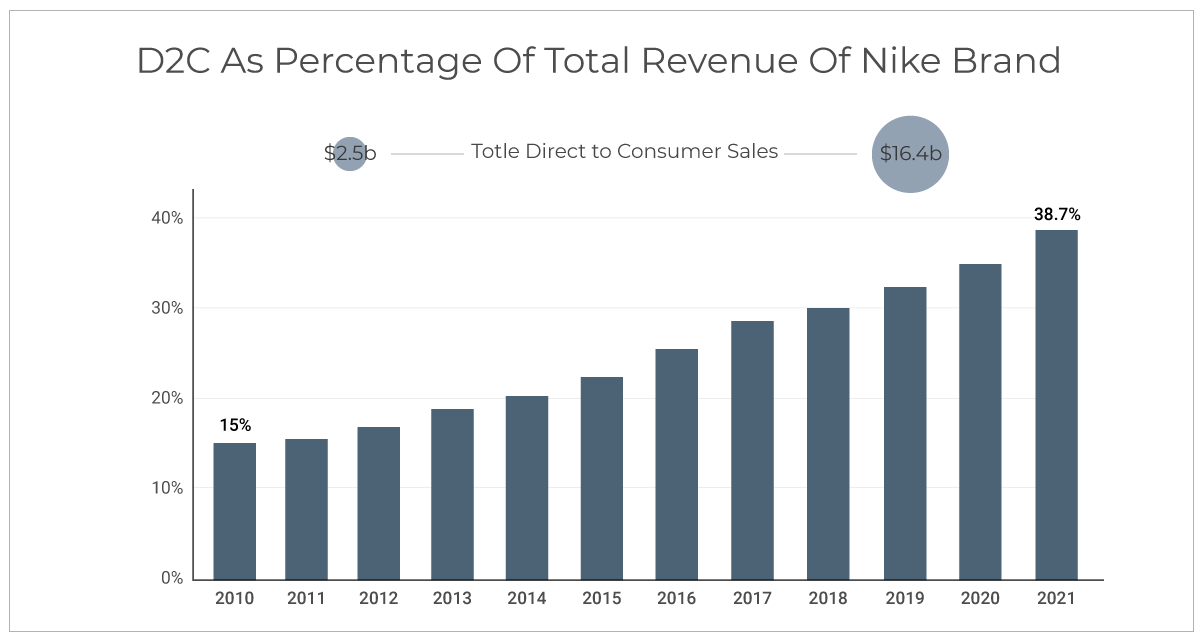 To kickstart a D2C strategy, you need to inject D2C dna into your people, processes, product, and promotions. So let's deep dive into what you can do.
Create an evergreen process that could stand by the D2C environment. Equip your employees with the latest D2C technologies and impart knowledge about D2C

Centralize data under a single platform using headless ecommerce platform

Wisely select channels where you think you have higher chances of winning
Want to touch sky-high revenue and win customer loyalty without disturbing your current infrastructure? Then you should choose a D2C headless ecommerce solution with the following features:
GIVE app-like experience to your customers via PWA sites that load quickly on mobile devices and can be added to by the users to their home screen at a click. Unlike apps, PWA sites do not need approval from Google Play or Apple store.
The platform should let you create Android and iOS apps directly from your dashboard within a few clicks, along with the flexibility to customize the app according to your business needs.
Also called back-end only content management system lets you create and distribute content from one server to another via RESTful APIs. With this, storing and delivering final content is simple. Moreover, it also allows content editors or marketers to collaborate and edit content.
Headless platforms like StoreHippo lets you do a host of business integrations like CRM, Accounting, Live Chat, email marketing tools, unified notifications (SMS, email, push, and web), marketing analytics, and other advertising tools.
The ecommerce platform must offer globally recognized payment gateways to convert every possible sales opportunity.
Promote your brand across various channels by offering various Coupons, discounts via StoreHippo Discount engine tools. StoreHippo also offers you to create Dynamic Marketing pages in a few minutes that cater to specific locations, user segments, and devices.
If you are looking for a solution that contains all of the above features, you must try StoreHippo. It is a complete ecommerce platform equipped with headless ecommerce compatibility and 250+ advanced features(PWA, codeless apps, marketing tools, integrated payment gateways, etc) you require to run a successful D2C ecommerce business, without any technical restrictions.
In today's time, we can see that more and more brands are creating new approaches to sell and deliver their products, from purchasing via Alexa (voice search) or Google home to buying directly via Instagram. Since these channels are emerging, a business needs to stay up-to-date with the latest solution that could make them more competitive in the market.
Headless commerce brings businesses more freedom, allowing businesses to easily adapt given consumer changes.
Want a real-time experience on how headless ecommerce works and how it can increase your business value? Get started with 14 days free trial of the StoreHippo D2C headless platform to unlock the box of full opportunities.