Does your enterprise ecommerce brand have an enormous volume of site visitors, but only a tiny percentage of them are converting into customers? Despite promoting products on multiple channels and plunging money in various campaigns, does your monthly conversion still suck? If yes, then probably you are not personalizing your B2B marketplace. Let's confirm this by answering a few questions.
Are you bombarding customers' inboxes with promotional emails and messages, regardless of their interests?

Do you experience a low email open rate and click rate compared to the number of emails sent?

Are you running an ad campaign that only glorifies your B2B products and does not acknowledge customers' problems?

Do you see less conversion rate from your ad campaigns?
Did you say YES to the questions? Unfortunately (and fortunately), you need to draft ecommerce personalization strategies to convert more B2B marketplace visitors into customers.
Purchasing processes in B2B are changing. Whereas in the past, the manufacturer or distributor sales team was the first point of contact for buyers, businesses today want to buy online and take advantage of personalization.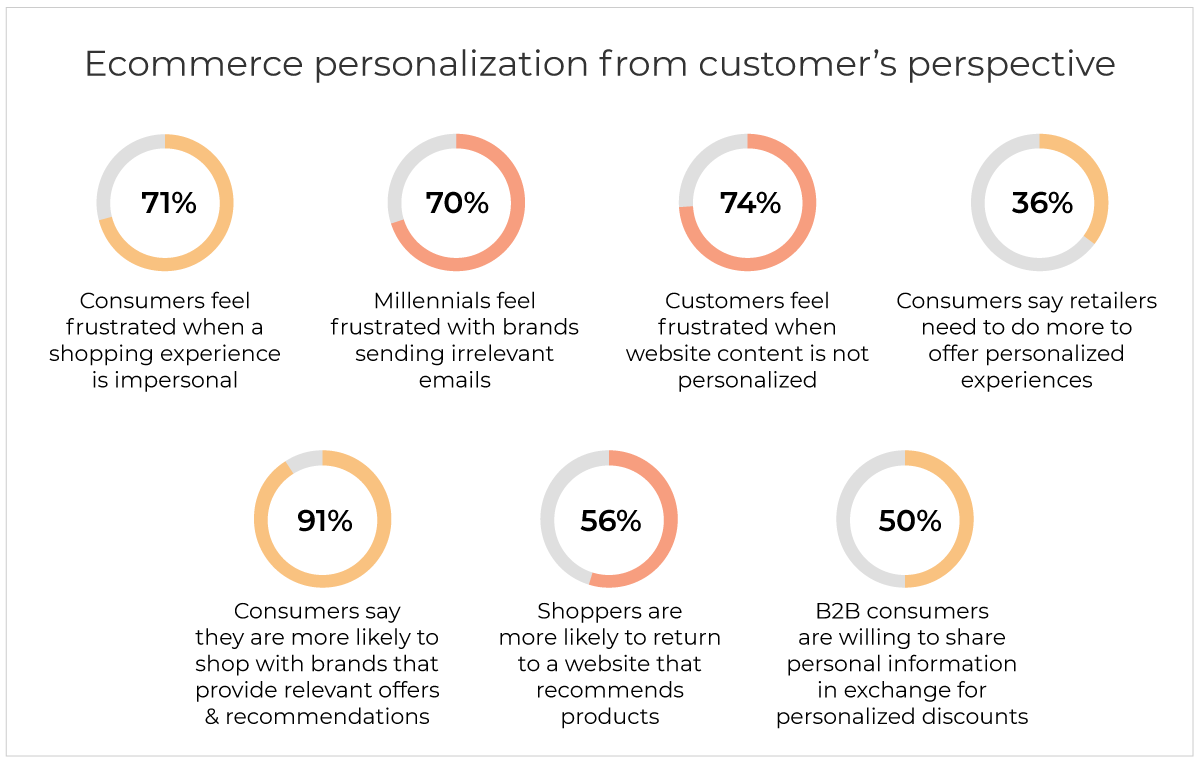 71% of consumers feel frustrated when a shopping experience is impersonal

70% of millennials feel frustrated with brands sending irrelevant emails

74% of customers feel frustrated when website content is not personalized

36% of consumers say retailers need to do more to offer personalized experiences

91% of consumers say they are more likely to shop with brands that provide relevant offers and recommendations

56% of shoppers are more likely to return to a website that recommends products

50% of B2B consumers are willing to share personal information in exchange for personalized discounts
Source: SmarterHQ, Instapage, Retail TouchPoints, Invesp, Accenture
Conclusion: The demand of today's modern customers is that they want them to feel acknowledged and treated more like a friend or a special person. And Amazon does this stupendously.
Marketers have cashed in on the benefits of personalization over the past few years. And to back this up, we bring you some cool stats: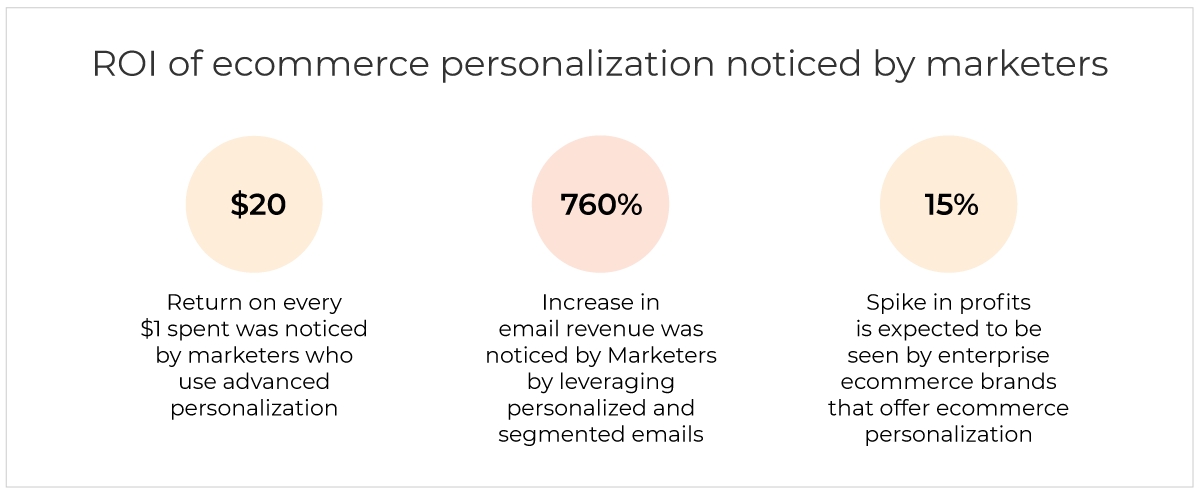 $20 return on every $1 spent was noticed by marketers who use advanced personalization

760% increase in email revenue was noticed by Marketers by leveraging personalized and segmented emails

15% spike in profits is expected to be seen by enterprise ecommerce brands that offer ecommerce personalization
Source: Liveclicker, Campaign Monitor, Gartner
Conclusion: Personalizing customer journey heightens their loyalty and intensifies your revenue and net profit. So it is a win-win for your customers and your business.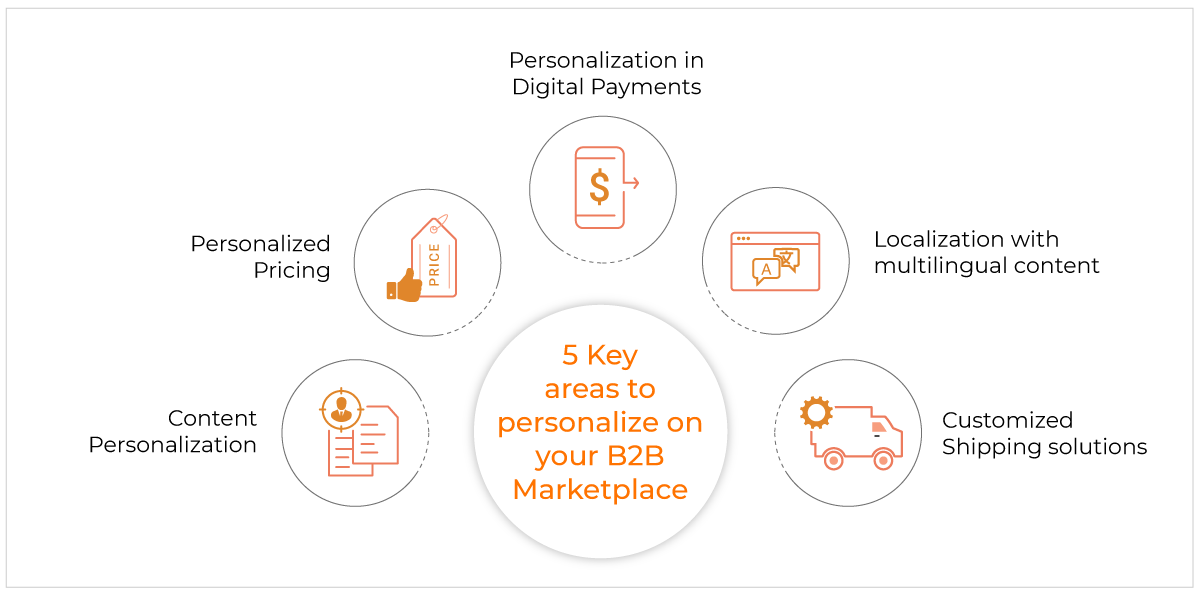 Personalization is not just about sending emails with "customer's name". It means personalizing the entire customer journey i.e. from first landing on your site to purchasing a product and becoming a returning customer. Sounds complex? Let's see how you can personalize in different ways:
84% of business to business customers said being treated like a human, not a number, is very important to winning their business. Today customers have become smarter and demanding. Hence, you need a rock-solid approach to win their hearts.
A. Personalized Homepages: Recommend products based on the visitor's real-time activity, their gender (male or female), their order history, their wishlisted items and their browsing history. Another way of personalizing is to put images (with links) of customers' most favourite products categories on the homepage slider.
Benefits of Personalized Homepages
Sharp rise in engagement metrics like time on site, click through rate, interaction rate.

Improvement in conversion and sales volume

Strong and valuable relationships
B. Offer Sorting Option: Allow the customer to personalize some parts of their purchase journey. By adding a sorting feature on your site category pages and products pages, you can simplify customers' shopping experience.
As a result, customers will have to scroll less (which is mind boggling); hence saving energy and time. For example, on a category page, you can add a "sort by" section which can include filters like "featured suppliers", "avg customer rating", "price lowest to highest", etc.
C. Personalize on the Basis of Visitors' Location: Many location auto-detection tools are available in the market that let you access the user's location and device details. In a few clicks, you can configure these inside your app/site. With access to the user's device IP address, ZIP code, GPS location, location proximity, you can begin personalizing a visitor's experience without asking for their information.
Tips: Use greetings on the homepage in their language and display prices in their local currency (if your B2B marketplace has international appeal). Customers will be more thrilled than ever, and eventually, your conversion rate will be higher.
D. Personalized Promotion: Brands lose 38% of their customers because of implementing poor personalization practices (Gartner). Thanks to this research, you got a chance to improve B2B marketing pitching. Are you clueless on how to move forward? Consider the below marketing strategy to retain customers:
Email Marketing: Begin with analyzing customer's behavioral and quantitative data. Segment data into various groups. Then, send hyper-relevant emails to each customer group that acknowledge their needs. You will notice a significant jump in email open rates, engagement rate and website traffic.

Run search ads and create customized landing pages: Start with creating multiple landing pages for different search keywords that you will use in your Search Ads. Use these pages to create search ads in Google Ads. This way customers don't have to churn through the entire page and can make quick purchase decisions. Best B2B marketplace software like StoreHippo provides customizable and pre-designed templates. So that you can build sales friendly landing pages in a few minutes.

Google Remarketing Ads: You can re-target people who have previously visited your website, mobile app, or who are in your CRM databases; by showing them relevant ads when they visit other third party sites and apps, Youtube, Google search, etc.
B2B customers' decisions are dictated by countless factors like stakeholders, seasons, company budget, etc. They are more price-sensitive than their B2C counterparts. Also, different B2B buyers have unique perceptions of value.
Example: Customers who prioritize quality over price are less price-sensitive, in comparison to buyers who prefer cheap pricing over quality. Hence, It's imperative to provide relevant prices according to buyer preferences. Let's dive into some B2B pricing models.
Top Pricing Model To Follow
A. Dynamic Pricing: Here prices change based on variables that are not related to the customer. Variables can be a specific time of day, weather, or competitor's pricing.
Example: A B2B marketplace selling appliances like AC, refrigerator, etc, can raise AC prices during the summer season.
B. Customized Pricing: The trick here is to incentivize customers by offering a price based on their characteristics. Price per customer ensures higher customer satisfaction and personalization.
Example: Upon visiting a product page, the non-logged-in will see a price tag of $5, while wholesalers see it as $3.
C. Value Based Pricing: Value pricing is customer-focused pricing, meaning companies base their pricing on how much the customer believes a product is worth.
Example: If a customer needed travel bags in bulk, one seller is offering a bag at Rs 1000, whereas another seller is selling at Rs 1500/bag. Second seller is offering quality material and aesthetics. If the customer is quality conscious, he will prefer the second seller.
D. Volume Based Pricing: Here the more volume customers buy, higher will be the discount. Using it, you can encourage buyers to purchase more,
Example: A B2B marketplace that sells t-shirts wholesale can offer 15% discounts on actual price per unit, if the customer buys more than 100 shirts.
Offering personalized payment options during checkout, in accordance to the shopper's past payment or purchase history, can make purchase decisions fast. For example you can either ask for "full payment" or "6 equal payment installments" during checkout, based on their financial preference.
Another way to offer ecommerce personalization is to provide multiple payment methods to appeal to customers living across different nations. Let's say, an enterprise ecommerce brand sells to North American (like USA) and Asian countries (like India). So they can offer "credit card" for US buyers, whereas for Indian customers, it can be "bank transfers".
A study by Forrester says, "Flexible payment options have the potential to boost sales by 17% and average order size by 21%".
You can also offer payment-based rewards by crediting shopping points, cashback, vouchers, and gift cards to their account; if they purchase using a particular payment option.
A. Credit Card: It is the most loved and popular payment option among millennials and Gen Z due to extreme benefits like cashbacks, points, good credit score and even more.
B. Bank Transfers: Allows the customer to transfer from their bank to merchant Bank in a quick and secure way.
C. Mobile Payment: Allow customers to process payment directly from their mobile wallet such as Paypal, Google Pay, Alipay, etc.
D. Business Line Of Credit: Allows customers to purchase bulk orders by utilizing the credit offered by your marketplace. You can partner with a credit provider to enable this service.
Does your brand also target international audiences? If yes, then making your site content easily accessible into their languages is crucial. So that they can browse your ecommerce website in their native languages, and can purchase seamlessly without any language barrier.
Here are some stats to convince you:
75% of online buyers prefer to make purchase from online stores in their native language

77% of global internet users can be reached by adding the top 10 most popular languages on your site
To enable this, you can add a drop-down language switcher to the main menu via StoreHippo. You can translate your content in 100+ global languages(including RTL languages), straight from the StoreHippo admin panel. The translation support allows automatic as well as manual translation of site themes, products, messages, etc from one language to another.
Many of your customers might live miles away from your distribution centre. To enable quick shipping, find a local distributor or establish a new fulfilment centre near to that area. You can even partner with global suppliers to ship orders across global destinations.
Tips To Personalize Shipping Experience
Cheer-up customers by offering a custom gift or coupon card, which they can use on their next purchase.

Sending a series of emails from order confirmation and dispatching to order fulfilment.

Ask for the most suitable time slot for delivery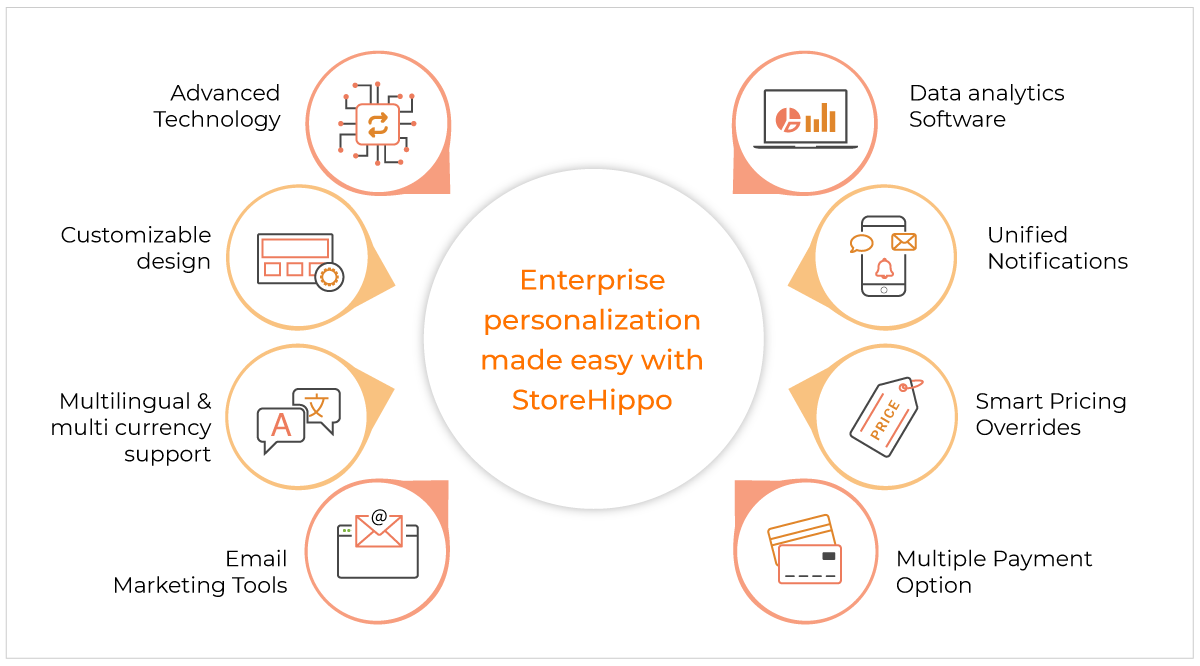 StoreHippo is a 360-degree enterprise ecommerce solution that has 300+ inbuilt features that builds next-gen tailor-made stores for enterprise brands. Wanna see how it helps? Let's uncover:
StoreHippo is powered by MEAN (MongoDB, ExpressJS, AngularJS and NodeJS) stack, which is the most flexible and high-performance technology stack available.
All the online stores powered by StoreHippo are by-default PWA— to ensure incredible mobile user experience. As we are talking of UX, we cannot ignore how StoreHippo uses automatic image resizing and optimisation, aggressive caching and CDN to deliver fast loading sites on any device.
With ZERO coding and design experience, you can create attractive storefronts via customizable themes. With drag and drop feature, you can revamp the entire theme design as per your business needs.
StoreHippo offers an inbuilt multi lingual and multi currency solution. It supports bulk translation and rule-based translation of your site content. There is no need for extra coding or plugins to show site content in multiple languages and prices in multiple currencies.
Run email marketing campaigns by syncing email tools like Mailchimp and Sendgrid with StoreHippo. You can personalize customer messaging and interactions by using customer segmentation features. These tools offer automatic triggering of email when a customer abandons the cart.
Example: If 1000 of your customers (out of 50k customers) are interested in buying wholesale apparel, you can create a "customer group(of 1000 people)" and send an email saying "50% discount on the [product name] by [supplier's name]" to these buyers.
Get detailed reports of visitor behaviour on your website to make informed data-driven strategies with Google Analytics. With analytics, you also monitor transaction and revenue data. Plus, StoreHippo has inbuilt reports offering key details on best selling products, regions, vendors.
Using StoreHippo ecommerce platform, you can send 4 types of notification i.e. email, push, SMS, and web notification to re-target users. Additionally, you can create and send custom notifications for certain events like- holiday season sales, price drop for the cart item, abandoned cart, order confirmation, delivery status, etc.
You can also use the discount engine in StoreHippo to create unique discounts/coupons based on product category, order quantity or device selected by the customers and share these discounts via notifications.
StoreHippo lets you implement customized pricing based on login, IP address, customer segment, order volume, sales etc, in a fast way. Thus, reducing operational or technical hassles. You can also offer pricing comparisons between different product types to help buyers in making informed decisions.
StoreHippo offers integrated payment gateways through which offering multiple payment options is easy, for example ~ debit card, credit card, net banking, prepaid wallets, bank transfers, etc.
Additionally, StoreHippo has 60+ domestic and international payment gateways that are 100% secure, PCI compliant and SSL certified. You also get support for COD and offline payment options to your customers.
As the payments are processed from an automated payment system, there will be little to zero chances of error or inaccuracy. Both suppliers and buyers can negotiate better, as suppliers have access to buyer's spend patterns.
There are limited business websites that offer features to deepen customer relationships, drive sales, and simplify online transactions. Amazon Business is one of the best examples here. Amazon Business has pushed its way into the B2B space, using the same approach they have followed for B2C: create a scalable platform for buyers and sellers to sell/buy, learn, compare, and grow.
Want to achieve big-time success like Amazon Business? For that, you need an intuitive ecommerce platform with the right enterprise grade features to scale your business.
StoreHippo has you covered for all your enterprise business needs. With the 300+ inbuilt features such as one-stop shipping solution, 50+ pre-integrated payment gateways, automated marketing tools, customizable themes, analytics, mobile app builder; you can create, run, and grow your B2B ecommerce brand in less time.
Start your B2B personalization journey to deliver tailored shopping experiences with StoreHippo. Take benefit of our 14 days free trial to try and experience StoreHippo's rich features.