Modern enterprise customers are empowered shoppers. Today's online shoppers use multiple touchpoints like mobile, social channels, voice shopping devices, offline stores etc. to make a purchase.
In the past, omnichannel shopping was a thing for retail businesses to reach customers through various channels like ecommerce, online marketplaces, social media, etc. But today, the expectations of enterprise customers have also risen big time. And omnichannel has become a need of the hour for enterprise brands.
This is why multiple touchpoints have become super important in the ecommerce world. The behavior of modern shoppers is not planned but born from necessity.
These new consumers are called omnichannel shoppers. And to cater to them, your enterprise, whether it is a B2B or B2C brand, needs to choose an omnichannel approach to survive and thrive in business.
Over 89% of customers switch to do business with competitors if they have a poor shopping experience – Gartner.
It is evident that the customers make a purchase on the experience they have with your brand. In today's dynamic world of ecommerce, where enterprise ecommerce businesses are racing to grab the attention of consumers, providing a unified shopping experience is a must. The omnichannel approach does exactly the same. It takes you everywhere your customers are. Omnichannel is a fully integrated approach to provide a unified shopping experience across all channels or touchpoints. A true omnichannel shopping goes beyond brick-and-mortar locations to mobile-browsing, online marketplaces, social media, and wherever your users browse online through retargeting ads, and much more.
Looking at the evolution of this shopping trend, consumer behavior changes, and growing usage of multiple shopping channels, it is the right time for you to build an online store with multiple channel experience capabilities and capitalize on new marketing opportunities.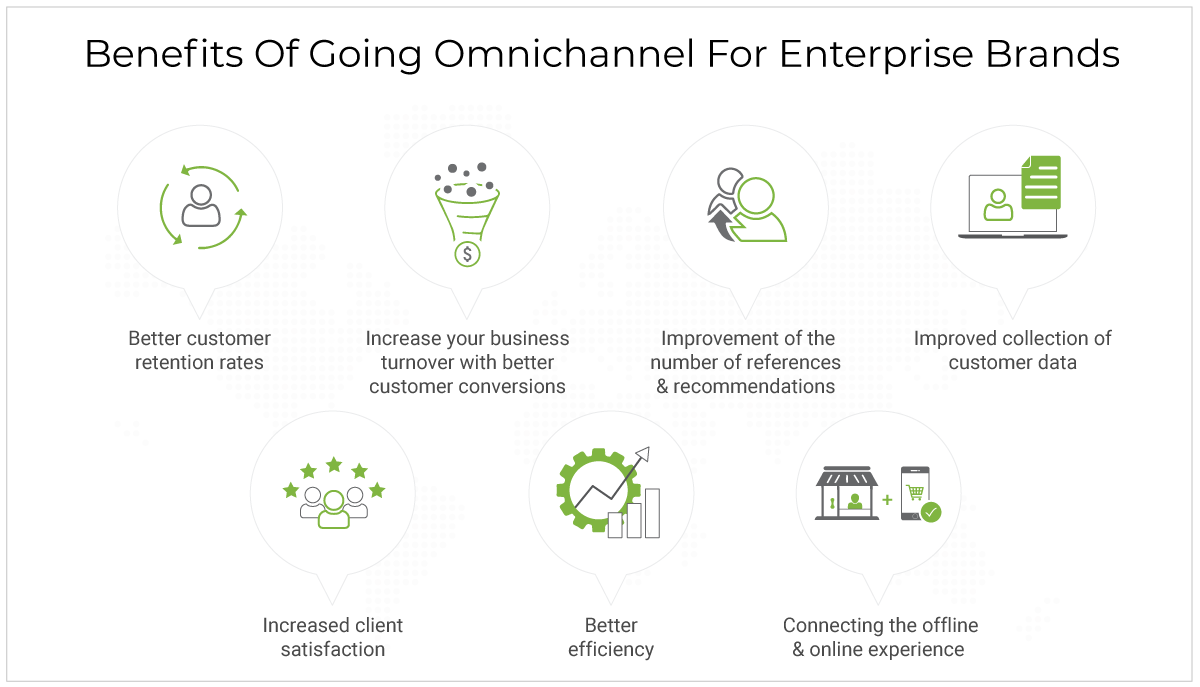 Shoppers who use multiple channels to complete a purchase have a 30% higher lifetime value than the customer who uses only one shopping channel. So, a strong omnichannel approach can help your customers stay with your brand for a longer time. But only being available on multiple channels is not enough, you also need to target and retarget the consumers everywhere across multiple channels. So, choose a platform that supports high-end enterprise features to enhance online shopping experience. Retargeting customers with personalised offers can boost the customer retention rates substantially. With StoreHippo, you can also send push notifications to inform customers about custom deals and cross-selling offers to retain them. This functionality of the platform helps in improving the retention as well as conversion rates from omnichannel traffic.
Attracting new customers and converting them is the all-time business requirement. Well, this task gets easier for you when you have the right personalization strategies in place.When you deal with multiple shopping channels, personalization becomes super important to attract and convert them. But you need the right ecommerce platform to personalize your content with an omnichannel approach. StoreHippo helps you to send personalized offerings including product recommendations, push notifications on mobile, emails, and more. The platform also allows you to create dynamic landing pages and send personalized emails based on unique customer preferences to make your enterprise ecommerce store a huge success.
Did you know that over 88% of consumers trust online reviews as much as personal recommendations? And the best part is that more than 72% of them take some sort of action after reading a positive review. So, it is highly important to leverage word of mouth strategy with increased references and recommendations. Along with that, you can leverage reference and recommendations on multiple channels with an omnichannel strategy. But to make this happen, you need a right ecommerce platform that allows customers to add ratings and reviews to the product listings, helping customers make informed choices. Like StoreHippo allow your customers to add reviews and ratings, and the platform also uses an algorithm to make suitable product recommendations to the customers.
As they say, knowledge is power and getting to know the needs of your target audience is an ultimate key to the success of your enterprise ecommerce store. Whether you deal in B2B or B2C business, customers remain the king. And gathering relevant customer data is vital to ensure online business success. When it is about multi-channel shopping, you need to gather relevant customer data from multiple channels. But with a suitable omnichannel ecommerce platform, you can leverage the customer data from multiple channels to increase your business profits.
Just like StoreHippo helps you gather the important data like location, buyer interest, buying history, shopping channel, device and operating system, CRM data, and alike to personalize the customer experience. You can also send customized product recommendations based on customer buying behavior or past purchase history and get rich marketing tools to personalize your marketing message across various channels.
Client satisfaction is the foremost key to online business success. Client satisfaction is the foremost key to online business success. To achieve the high satisfaction of clients, you need to be available wherever they are. And this is not only applicable for sales but service too as customers check, buy and seek good service through any of the channels. With an omnichannel ecommerce platform like StoreHippo, you can easily offer live chat support options and extensive customer support on multiple channels.
Gaining efficiency in business operations is quite a task if you do not have the right tools and technology in place. Offering a centralized database, accessible through any channel increases the visibility of your products and promotions and makes all the information they may need available. But for this purpose, you need to choose an efficient ecommerce platform like StoreHippo that offers centralized business operations while leveraging the omnichannel approach.
If you want to integrate your online and offline interactions, you need to cross this gap with an omnichannel approach. As most of the customers carry out online research before heading to a store. There is a dire need to connect the online and offline customer experiences and omnichannel is the best way to do it. With a marketplace builder like StoreHippo, you can meld online and offline for customers and provide them with an experience that covers all they need and boost your online sales.
Now when you know that providing the best-in-class experience to online buyers is no more a choice. It has a direct impact on your sales conversions and bottom line of your business. Powering your enterprise brand with the right omnichannel ecommerce platform can do wonders in achieving all the multiple channel benefits. StoreHippo is the perfect solution to provide a unified experience to your customers while ensuring a steady growth in conversions. It offers 300+ advanced features, essential to building an enterprise ecommerce store with multi channel capabilities.
StoreHippo helps you implement a successful omnichannel strategy with a headless solution. StoreHippo is built on headless architecture to give you enough flexibility to do changes on your enterprise store to cater to different customer segments. You can easily cater to different sets of shopping channels, customer segments, locations and customize the offerings to boost maximum conversions.
Ready to unleash your business growth with StoreHippo omnichannel solution? Explore all the enterprise-grade features by starting your 14-day free trial today.