B2B ecommerce is projected to be much bigger than the B2C industry. To match this unprecedented growth, businesses need the right B2B ecommerce solutions. The B2B landscape is quickly shifting away from the more traditional offline territory. With the enormous ecommerce opportunities in enterprise businesses, now is the time to enter into the enterprise ecommerce bandwagon.
If you also want to not only survive but also thrive in the online B2B market, prepare well to join this trend with a full-fledged enterprise ecommerce platform. Now, when you know digital is the present and future of enterprise businesses, get started with all the what's, and how's of entering into the B2B ecommerce industry.
Let's start from understanding the concept of B2B ecommerce platforms to go online.
What is an enterprise ecommerce platform?
In a nutshell, enterprise ecommerce platforms provide an online platform to sell online by managing the complete lifecycle of the buying and selling process. The enterprise platform is specifically designed for wholesalers, vendors, manufacturers, distributors, and other stakeholders involved in online business.
While some B2B ecommerce solutions are delivered as software packages, today's major platforms are cloud-based - simplifying, or even eliminating, the software installation and upgrade requirements.
Why do you need an enterprise platform to go online?
In order to provide the right things to your customers — while also tailoring their experience to your brand — you need to find the ecommerce platform that's right for your B2B company.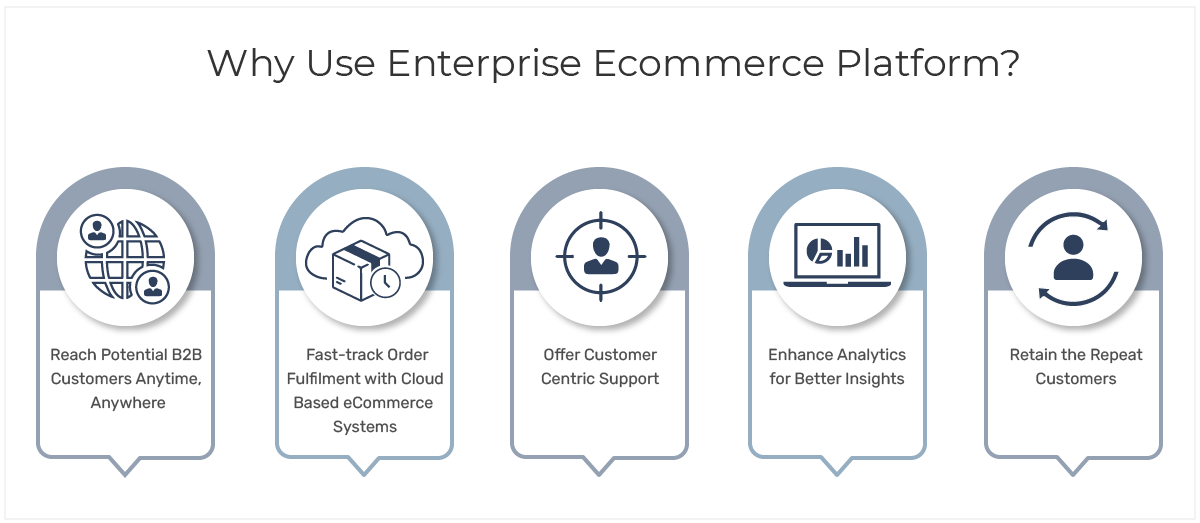 Reach Potential B2B Customers Anytime, Anywhere

Fast-track Order Fulfilment with Cloud-Based eCommerce Systems

Offer Customer-Centric Support

Enhance Analytics for Better Insights

Retain the Repeat Customers
Are you ready to catch the big digital wave of B2B with the right enterprise ecommerce platform?
The race to go online and create B2B websites is never ending. With over 79% of the manufacturers and 84% of the wholesalers planning to increase their spending on customer experience, now is the time for your enterprise business.
And all you need to get started with the right strategy and tools to capture the market and grow tremendously. To make your enterprise business a huge success, you need a B2B ecommerce solution that serves as a backbone of your digital commerce strategy.
How using a readymade enterprise platform helps businesses
1. Supports advanced business models
Unlike B2C models, B2B businesses have more versatility in business models. Quickly adapting your B2B solution for changing market dynamics can be cumbersome and costly. Alternatively, a well designed enterprise ecommerce platform comes with inbuilt features to support the most popular ecommerce models adopted by big brands. From multi vendor marketplace to multi store set up along with multilingual sites, the right platform gives to everything to play around and experiment.
And yes, you don't have to bother about bugs and flows, as these have been tested and fixed in many live scenarios. Just imagine, how easy it becomes for you to strategize and implement new business models to grow your business when you use the right enterprise ecommerce solution. Just like StoreHippo offers an enterprise ecommerce platform built on the most advanced technology. It is designed for high-volume fast growing businesses. The capability of StoreHippo to handle extensive customizations makes it easy to suit the requirements of different business models without any hassles.
2. Flexible pricing management
Pricing is one of the crucial factors for wholesale businesses as the enterprise business owners need to offer customized pricing for wholesale and retail deals. It is important for enterprise business owners to cater to different user groups and provide customized pricing solutions. So, it gets important to choose a B2B ecommerce solution that has this inbuilt functionality to offer different prices to different users. An enterprise ecommerce platform can really do wonders for your business growth as it allows you to display the prices based on login, devices, order volume, and other customer profile related factors. You can also display the price in different currencies for different countries to cater maximum customers.
Just the way StoreHippo supports enterprise businesses with its flexible pricing features. It offers highly flexible pricing management for wholesale and retail stores. This pricing override feature helps you to sell globally where you can set up prices in multiple currencies based on their IP address.
3. Custom inquiry generation and invoices
The enterprise businesses product prices vary based on the order amount and quantity. So, the feature of custom inquiry generation should be present in your ecommerce platform to generate product and quantity related enquiries right on the product page. An enterprise ecommerce solution becomes a must when you need to address a vast number of customers online. The custom inquiry and invoice generation feature is also very important because of the different tax structures. The taxes can be based on the different products and services or rule of the land where your business operates. StoreHippo is B2B enterprise solution that supports you to generate custom enquiries for enhanced customer engagement and custom invoice for streamlined business operations.
4. Powerful tax engine
The enterprise businesses already have a lot of hassles to look after as they deal in large order volumes and payments. And taxation management adds to their business problems. It helps you to manage one of the most difficult yet important parts of online business i.e. taxation. For the same reason, it is extremely important to have the functionality of a comprehensive tax engine.
An enterprise ecommerce platform comes to the rescue here. Like, the tax engine of Storehippo B2B platform supports the calculation of various taxes like GST in India and other hierarchical taxes for various countries.
5. Manage bulk-order processing and compare products
Processing bulk orders is an everyday affair for enterprise businesses. It is a very time-taking and resource-intensive task to manage bulk orders. It is important to have the ease to process hundreds and thousands of orders in one-go with automated features. The enterprise businesses need to compare products regularly on the basis of different sellers, prices, and other parameters to make the final purchase decision. At the same time, the comparison of products is an important feature in the B2B sector.
This is why enterprise businesses need B2B specific features to resolve these challenges. Like, StoreHippo is well-designed to cater these needs of enterprise businesses. The B2B ecommerce solution offers integrated features of product comparison and bulk-order processing to engage and convert your customers faster.
A B2B ecommerce store seems to be just an online store that serves enterprises and wholesalers. But in reality, it requires many business functionalities like logistics, payments, marketing automations, mailing software, CRM, ERP, and more. And you need a flexible B2B ecommerce solution so that your enterprise business can work with the accustomed software while managing online stores seamlessly.
StoreHippo that helps you to integrate seamlessly with multiple systems and streamline workflows in a better manner. These features also help in making local suppliers and distributors to work more efficiently on the platform.
7. Inbuilt marketing and promotions
Product promotion and targeted marketing are not only popular in the online retail industry. But it has made a mark in B2B as well. Today's B2B buyers are aware of the personalized marketing and need deals and promotions to suit their business requirements. For this purpose, you need inbuilt marketing features within your B2B ecommerce solution.
An enterprise ecommerce solution with an automated marketing engine can be a great help to strategize your marketing efforts. The inbuilt marketing features and discount engine of StoreHippo allows you to set up promotions, discount coupons, free shipping, promo codes and marketing customization features to boost online sales.
8. Customization and Scalability
Every B2B business has different requirements and needs regular customizations. But making regular changes in the enterprise software can lead to technical glitches, and many other operational issues. An enterprise ecommerce platform can be a great help here. It makes the changes very easy to implement and accommodate all your business needs without any hassles.
StoreHippo offers an extensible platform that allows tweaking not only the frontend but also the backend according to your enterprise business needs. With its scalable and flexible architecture, it offers you a stay on solution even as your business grows.
9. Secure solutions to win customers
Every business running online has security issues and they need to deal with them very carefully. Any data breach can sink your enterprise business.
The enterprise ecommerce platforms offer battle tested secure solutions for brands. From ensuring the safety of your customer data to transactions enterprise ecommerce platforms have inbuilt features to handle all of it. With enhanced security you can easily win customer trust and keep your customers loyal to your brand. StoreHippo uses next-gen technology to build enterprise stores within a secure ecosystem. StoreHippo's unique security features allow high-end server and data security. All your data is securely encrypted to protect all sensitive information on online stores. Also, the inbuilt FREE SSL feature helps you to build secure online stores. Along with high-end security, it fulfils your business needs and helps you to boost your e commerce business.
Why is StoreHippo the best enterprise ecommerce Platform?
Are you ready to kickstart your wholesale business and leverage the tremendously growing B2B market? StoreHippo is all set to offer most advanced enterprise-grade features with a mobile commerce edge. With 300+ inbuilt tools and features, future-ready technology, mobile-first approach, StoreHippo supports all your business objectives while enhancing business reach, acquiring more customers, and increasing sales.
The B2B ecommerce solution offered by StoreHippo helps you to create enterprise ecommerce stores with exceptional B2B and B2C features. And icing on the cake is that all our stores are built with PWAs (Progressive Web Apps) to make your site look and work like native apps on multiple devices. Explore more growth-oriented features of our platform by starting your 14-day online free trial store today.