Have you been looking to start your online business but are confused about selecting a product niche or segment for your brand?
Since we know that ecommerce is everywhere, be it fashion, food, electronics, and more. A specific segment shows no sign of slowing down in the ecommerce world – the shoes and footwear products. Let us tell you some facts about the lucrative shoe and footwear market segment.
India is the second-largest producer of footwear and approximately 75 per cent of the production comes from the unorganized sector. Most of the top multi-vendor marketplaces are leveraging this segment domestically as well as internationally.
Let's have a look at the top online shoes and footwear marketplaces that are acing the shoes and footwear segment.
Amazon has become the most preferred online marketplace for shoppers in India. Since its inception in 2013, it has been giving tough competition to ecommerce giants. The online marketplace has a wide range of footwear products, from casual, formal, sports, and much more.
Ajio is a digital fashion extension of Reliance and was unveiled in the year 2016. The company constantly brings a wide range of the latest collection of shoes and footwear at the best prices. It makes the exclusive international brands available easily on the website along with the rich heritage styles of India.
Myntra is one of the largest apparel and footwear online retailers and launched its online marketplace in the year 2013. Soon after the company realized the boom of online marketplaces, it shifted from an inventory-led approach to a marketplace-led approach. With a huge number of registered sellers, it offers a huge collection of shoes and footwear on the website.
Flipkart has become one of the leading multi-vendor marketplaces to sell online, be it manufacturer, supplier, or vendors. Flipkart has pioneered the footwear segment by offering an affordable range of shoes and making them easily accessible to customers.
Koovs was launched in 2011 and sold electronic items and mobile phones. Soon, it entered the fashion world to bring the latest and trendy collection of shoes and footwear. The store has been associated with more than 100 brands – local and international including designer and private labels.
Amazed by the massive popularity of these marketplaces and want to create your own multi-vendor marketplace now? Don't let this super popular and money-making segment wait anymore and start with your online store.
Start your footwear online business journey today!
How to build an online marketplace for shoes and footwear
By now, you must be all set to start your dream online business and make better profits. With the ever-growing demand of customers, there are ample opportunities waiting for you in this segment despite the stiff market competition. Yes, you just need to plan your online business and get the right tools in one place.
StoreHippo has you covered here!
Read on to know the top features you must have to build an online marketplace;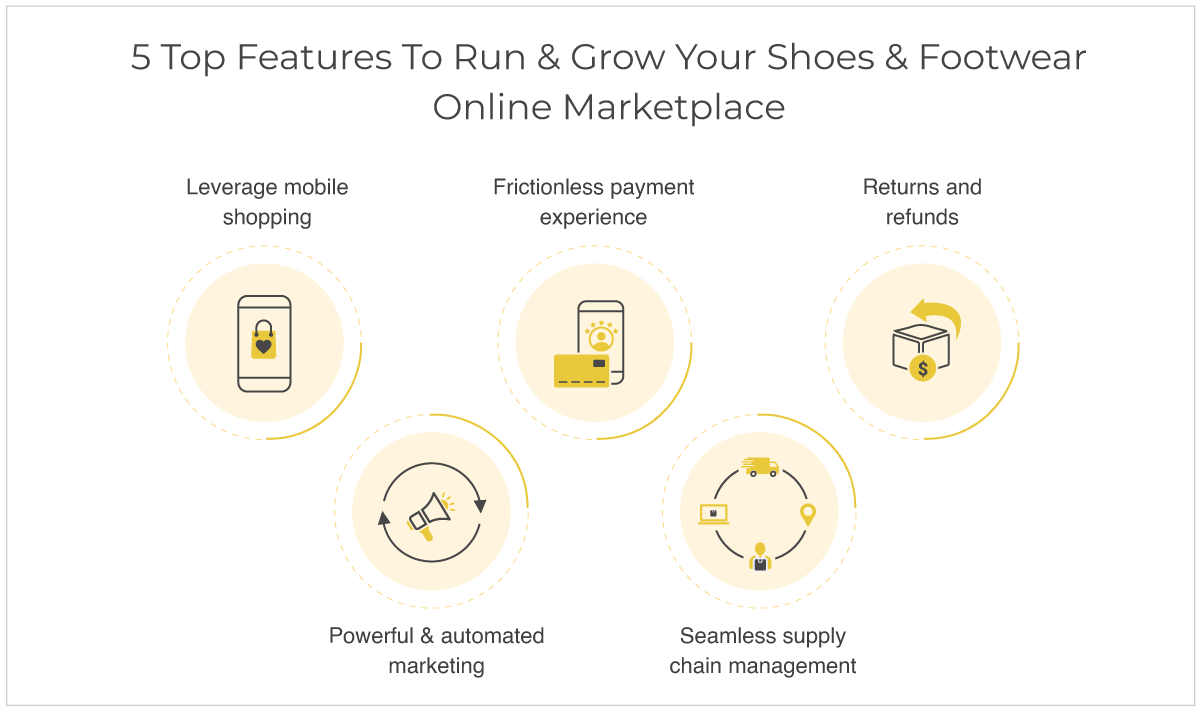 Today, customers communicate with multiple devices but mobile is the most accessible device for most of them. Probably, that is the reason why 50%-80% of the sales come through the mobile channel depending on different industry verticals.
Taking mobile commerce into consideration, you can not only sell more shoes and footwear products but also reach larger geographies. A multi vendor marketplace solution should work well with multiple devices of every size and configuration. Additionally, building a PWA store that looks, feels, and works like a mobile app can create a competitive advantage for your website.
Powerful and automated marketing to boost your business
Even if you have the best range of products on your website but they can't be sold if they are not marketed well. To create a brand value for your online business, your website should be SEO-friendly and also require powerful marketing tools to run successful campaigns.
Some of the tools required for multi vendor marketplace solutions are email marketing tools, discounts based on location, user profile, order amount etc, real-time push notifications, customer retargeting tools like abandoned cart follow-ups.
Frictionless payment experience for customers
A bad or insecure payment experience can lead to permanent loss of customers. But the good part is that you can easily drive a frictionless payment experience while you build an online marketplace. Here comes the role of an ecommerce platform that offers multiple payment options to help you convert maximum customers and offer seamless checkout for the customers.
Just like you get 60+ payment gateway options to choose with StoreHippo at no additional cost. This allows your customers to pay securely with multiple payment channels like net banking, card payment, wallets, cash on delivery etc.
Seamless supply chain management for hassle-free delivery
To run successful online shoes and footwear business, you need a smooth supply chain system that can deliver the products. The timely delivery of goods helps in building the trust of customers and also create a positive brand reputation in the market. StoreHippo offers automated and discounted shipping options to widen your customer base globally and take your online footwear business to the next level.
Make returns and refunds simple and fast
The returns and refunds hassles can lead to major dissatisfaction of customers if not handled well. And this problem gets more accelerated in case of multi vendor marketplaces. A simplified return and refund solution by StoreHippo can become your saviour here. It offers a simplified solution to manage the returns and refunds through an individual seller dashboard. The sellers can also handle the reimbursement from their dashboard without any further dependencies. When these processes are easy and take less time, there are more possibilities of improved customer experiences and loyalty.
Take your online shoes and footwear business to the next level with StoreHippo.
The must-have features have been emphasized to let you understand the important features required for your online business success. To make a well-planned business successful, it is important to support it with the right technology solution.
Whether you already have a brick-and-mortar shoe store or are thinking of building an online marketplace to sell a range of footwear products, StoreHippo can become your one-stop solution. With the right tools and features to support the creation, marketing, and maintenance, it gives you everything you need to run your online footwear business successfully. The fully hosted and managed solution to help you achieve much-desired business growth without worrying about any IT hassles. Moreover, the mobile-first approach of StoreHippo lets you capture the major chunk of mobile shoppers within the ecommerce market.
Don't wait anymore to jump on the bandwagon of ecommerce. Start your free store trial from StoreHippo to explore all the must-have features on the online marketplace.
1. How can I build a shoes multi vendor marketplace with StoreHippo?
You can build a highly flexible and scalable online marketplace with StoreHippo's advanced ecommerce solutions packed with powerful features like end-to-end vendor management solutions, adaptive payments, etc. Such end-to-end solutions help you seamlessly build, run, and manage your business.
2. Can I offer mobile shopping solutions to my customers?
Yes, you can offer mobile shopping solutions to your customers with StoreHippo's mobile-first technology. You can quickly build Android or iOS shoes apps directly from your admin dashboard at no additional costs with no need for coding. Also, the stores powered by StoreHippo are PWA stores that look, feel and work like mobile apps even on entry-level devices.
3. Can I integrate with my preferred delivery partners on StoreHippo?
Yes, you can seamlessly integrate your own fleet of delivery boys and manage them using the in-built delivery boy management software with StoreHippo. It comes with 30+ preintegrated shipping providers and automated shipping solutions. With the automated shipping solutions real-time tracking, scheduled pick-ups, inbuilt map for correct order routing etc, you can ensure timely hyperlocal deliveries.
4. What kind of upgrades will I need to do as my business scales up an online marketplace and to manage it?
You do not need to upgrade your online marketplace as your business scales with StoreHippo. It comes with comprehensive in-built solutions like end-to-end vendor management solutions, powerful discount engine etc that helps you manage your business as it grows.
5. Can I offer multi level discounts to my shoes customers?
Yes, you can offer multi level discounts to your shoes customers on your multi vendor marketplace with the powerful discount-engine from StoreHippo. You can optimize your profits by offering deals and offers like flash sales, product level discounts, order value based discounts, coupon codes etc.
6. Does StoreHippo support multiple brand and location based store fronts?
Yes, StoreHippo supports multiple brand and location-based stores for your online marketplace. It comes with comprehensive location-based multi-store ecommerce solutions. Enterprise brands can seamlessly create a chain of sub-stores for multiple locations, multiple brands, various product categories etc. It also enables brands to target different audience segments based on their specific demands.
7. What will be the cost of reaching my customers on multiple touch points?
With StoreHippo's omnichannel ecommerce solutions, you can seamlessly reach out to your customers on multiple touch points. To know more about the costs, please drop us a mail and our technical team will contact you.
8. Does StoreHippo help in recovering abandoned carts?
Yes, StoreHippo helps you recover abandoned carts with its powerful notifications tools. You can retrieve your lost sales by sending personalized mail notifications to your customers following up on abandoned carts.
9. Can I onboard international vendors on my shoe marketplace?
Yes, you can seamlessly onboard multiple international vendors on your shoe marketplace with StoreHippo. It helps businesses create a unique vendor account for each vendor by filling in details in a simple registration form. These vendor accounts give a clear understanding of inventory and global order status to the admin as well as the vendor themselves.