ONDC Network has been creating a buzz ever since its inception. Touted as the UPI for ecommerce, Open Network For Digital Commerce aims to democratize ecommerce in India by creating a level playing field for MSMEs, FPOs, and other small sellers who have not yet joined ecommerce.
With the open network for ecommerce in place, MSMEs can register themselves on the network and reach out to customers pan-India.
To put it in perspective, ONDC Network enables small and medium sellers to have an online presence and compete along with industry bigwigs like Amazon, Flipkart etc. to reach customers anywhere in India.
However, this does not mean that enterprise brands and D2C businesses can not join the open network, in fact, the ONDC network is here to bring all businesses on a common shared network.
The revolutionary open network creates a framework where all the existing online buyers can use some buyer app registered on the network to discover products and services sold by the sellers. The sellers registered on the network, use buyer apps to list their products and make them discoverable when any buyer searches for a product.
Let us understand this with a real-life example. Suppose a buyer Mohan Kumar is planning to buy basmati rice. He searches for basmati rice on the ONDC network. His request will be processed by the multi-domain network registry which will show all the sellers on the ONDC network that are selling basmati rice. This means that Mohan will be able to choose the best product that suits his budget instead of being limited by any platform like Amazon or Flipkart which will show him only a few sellers registered with their platform.
Once Mohan chooses his desired product and seller the order will be shipped by the seller to Mohan using one of the many on-network delivery partners. Alternatively, the seller can even use off-network delivery partners.
By bringing buyers, sellers, payment solutions, and fulfillment partners within the network, ONDC network makes ecommerce easy, simple and affordable for all.
ONDC Network seller app is the software or the seller-facing interface that offers end-to-end solutions to the sellers to list, showcase and sell their products to millions of customers across India using the Government of India-backed Open Network for Digital Commerce Protocol. Seller app helps various SME businesses, D2C sellers, dealers, individuals etc. to register on the open network and scale their business digitally.
Various ecommerce solution providers have offered their seller apps for merchants planning to join the open network. The top 5 seller apps to start selling quickly on the ONDC Network are:
Mystore

seller app for the ONDC Network





eSamudaay app





GOFRUGAL Technologies ERP and seller app





Growth Falcons app for F&B sellers





SellerApp
The ONDC Network Seller App is basically an interface that helps merchants create an online set-up for their business and showcase their products. It also registers the sellers for the ONDC network and helps them specify their service area, GSTIN and other details. After completing the process sellers can be discoverable on the open network for ecommerce whenever a buyer searches for a product sold by the seller.
For example, Mr Ravi Gupta registers his store " Guptakirana" on the ONDC network and lists different grocery items for selling in a range of 10 kilometers. When the buyer Mohan Kumar from the previous example searches for "basmati rice" on his buyer app, he will be shown the varieties and rates of basmati rice sold by Mr Ravi Gupta and other sellers selling the same product as below.
Seller Name Product Rate Shipping Charges
Guptakirana Basmati Rice 175/kg None
RKGeneralStore Basmati Rice 195/kg Rs. 18
RKGeneralStore Basmati Rice 155/kg Rs. 45
Clearly, buying from Guptakirana is the most profitable deal for Mohan Kumar and so he will place an order on Mr. Gupta's store.
Once the payment is made, Guptakirana can see the order in the admin panel of his seller app and align the item for shipment using either an on-network delivery partner or its own fleet of delivery boys.
While selling on the open digital network opens up huge growth avenues for merchants and SMEs, they need an interface that connects their business with the end customers. For this purpose, they need reliable seller apps that help them reach more buyers and manage their business effortlessly.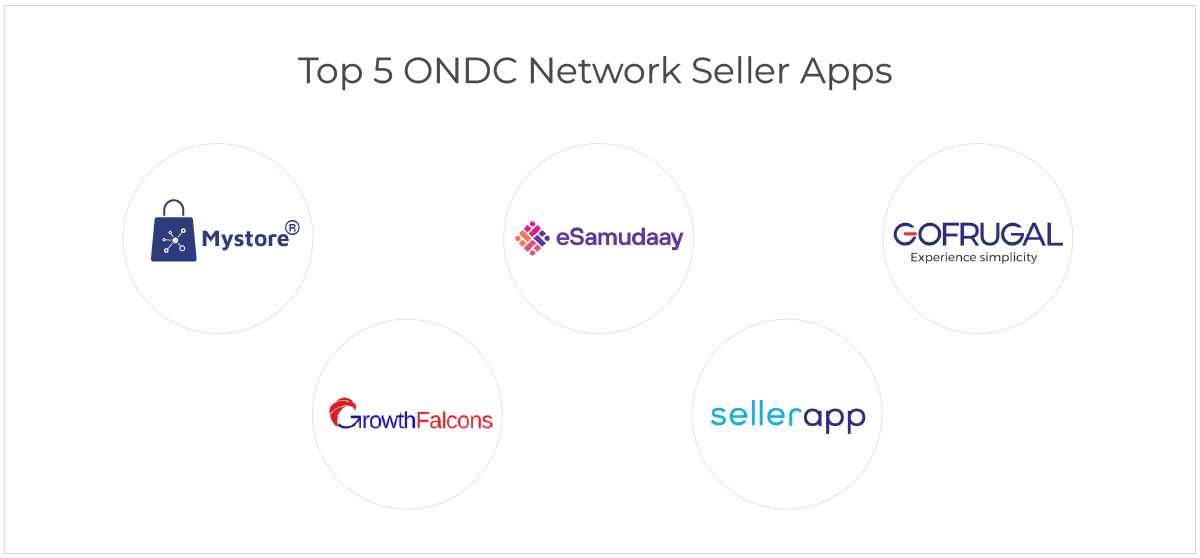 To help merchants make an informed decision, StoreHippo brings the list of 5 best ONDC Network seller apps. Here we go:
Mystore® is an Indian marketplace connected to the ONDC network, launched by StoreHippo to facilitate SMEs across India in making the most of the open network. Mystore offers an ecommerce store to sellers at ZERO subscription cost. The same cutting-edge technology (MEAN stack, MACH architecture, SPA, decoupled headless solutions) that has been powering enterprise brands on StoreHippo is used to build high-performance, mobile-ready online stores for SMEs.
Mystore offers a feature-rich admin dashboard and a gamut of built-in tools to manage the end-to-end business. Sellers who have never been online and don't have much technical know-how can also operate the easy and seamless Mystore admin panel.
Mystore also offers seamless integrations with payment gateways, logistics providers, mail providers, SMS providers and other integrations to make the online journey seamless and hassle-free.
Sellers also get a unique QR code using which their buyers can directly land on their favorite sellers' page. Mystore has a multilingual admin to facilitate sellers to do business in their native language. With the intuitive admin interface of Mystore, even novice sellers with basic knowledge of operating mobile phones or computers can easily run and manage their business on the ONDC network.
Merchants using other platforms like Shopify, WooCommerce, Magento etc. can also migrate easily to Mystore and start selling their products on the ONDC network. Mystore supports businesses across 40+ industry verticals pan India which include Agriculture, Beauty & Personal Care, Electronics & Appliances, Fashion, Food & Beverages, Furniture & Kitchen, Grocery, Health & Wellness, Home categories.
eSamudaay the platform built to support local economies across India is offering a seller app for merchants planning to register with ONDC network. The eSamudaay seller app simplifies order processing and management for merchants. It offers solutions to accept orders, manage product catalogs, manage stock status and handle order fulfillment.
Currently, the eSamudaay buyer app is onboarding businesses from the grocery and food and beverages segment. The app is functional for sellers selling in Ahmedabad, Bailhongal, Bansur, Bardez, Bengaluru, Bhopal, Bijnor, Chikkamagaluru, Cuttack, Dehradun, Gorakhpur, Hamirpur, Haridwar, Jammu and Kashmir, Kanpur, Kaup, Kotdwar, Kotputli, Lakhimpur Kheri, Lucknow, Mandya, Mangalore, Meerut, Mudbidri, Mysuru, Parsa, Porvorim, Ranebennur, Shillong, Singur, Surathkal, Tiswadi and Udupi through the ONDC network.
GOFRUGAL offers ERP solutions for Open Network for Digital commerce. Merchants using the GOFRUGAL seller app can go for omnichannel selling with the app. Their customers can shop from the merchant's shop using different channels, where channel-specific inventory and pricing are displayed to them. All the sales, accounts and inventory data can be seen from the admin panel which also offers reports.
The GOFRUGAL Technologies seller app started for Grocery sellers from 50+ cities which include Bangalore, Bhopal, Chandausi, Chennai, Chindwara, Chittoor, Coimbatore, Delhi, Ernakulam, Gangtok, Jaipur, Kanchipuram, Kanpur, Kolkata, Lucknow, Noida, Pune, Pollachi, Ramanathapuram, Theni, Thiruvallur, Tindivanam, Tirunelveli, Vijayawada and Vizianagaram. Currently, GOFRUGAL seller app has onboarded sellers from all over India.
Growth Falcons the AI-based growth marketing agency has developed its ONDC network seller app to facilitate Food and Beverage brands and restaurants to get onboarded seamlessly on the open digital network. Growth Falcon offers quick onboarding, analytics and integrated logistics to the sellers.
The Groth Falcons app is currently available for F&B brands and restaurants in Bengaluru and New Delhi.
SellerApp and YES BANK have collaborated to offer YES BANK's corporate customers a seller app for selling on the Open Network for Digital Commerce. SellerApp offers catalog, inventory, customer, orders and reports functionalities to its merchant clients.
SellerApp started by onboarding Grocery and Home & Decor sellers to the ONDC network. Initially, it was available for sellers in Delhi, Gurgaon, Noida, Mumbai, Bangalore, Greater Noida, Vadodara, Indore, Mangalore, Jaipur, Moradabad, Bareli, Lucknow, Faridabad, Chennai and Thiruvananthapuram but now covers pan-India sellers. SellerApp has the following category of sellers: Agriculture, Beauty & Personal Care, Electronics & Appliances, Fashion, Furniture & Kitchen, Grocery, Health & Wellness and Home.
ONDC Network has opened up new possibilities for growth for small and medium sellers through digital channels. Using the advanced and feature-rich seller apps offline retailers can register their presence on the open network for digital commerce quickly and start growing their reach to markets beyond their geographical location.
However, they should choose their seller app only after doing a careful review of all the seller apps available with ONDC Network. Storehippo Mystore seller app offers an edge to the merchants as it offers a gamut of features currently not available with any other ONDC network seller app. Also, Mystore offers premium plans with advanced features and omnichannel solutions for different stages of fast-growing businesses.
Ready to join the ONDC Network and the new ecommerce revolution? Get started right away by registering on Mystore seller app.
1. Can I join the ONDC network without using a seller app?
No. You need an open network for digital commerce protocol-compliant seller app to register and start selling on the open network.
2. How do I sign up as a seller on the ONDC Network?
To sign up as a seller on the ONDC network you can choose your preferred seller app, say the Mystore seller app for example and follow the registration process.
You need to provide your GSTIN and bank account details, provide the necessary information about your business, and undergo the verification process. Once verified, you can upload your products and details and set up your online store. Once you have listed your products your products will be auto discoverable on all buyer apps whenever a buyer searches for that product.
When you receive an order you can ship it using one of the on-network logistics providers or your own delivery boys.
3. What are the benefits of using the ONDC Network seller app?
The seller app for the open network offers several benefits like:
Access to a large and diverse customer base pan-India

ONDC network compliant tech-

solution

to start selling online in no time

Complete solution to run and grow online business

Get started with ecommerce at zero or minimal upfront cost ( depending upon the seller app you choose)

Easy-to-use interface for easy product listing, inventory management, and order processing

Built-in marketing and promotional tools to help increase your product visibility and sales

Opportunity to collab with the ONDC network and your seller app in various promotional and visibility boosting activities

Robust and multi-layer security which includes secure payment processing and streamlined checkout for a seamless customer experience.

Discounted logistics with various on-network logistics partners for efficient order fulfillment and delivery
4. How can I manage my products and inventory using the ONDC network seller app?
ONDC network seller apps like Mystore come with a feature-rich admin to help you run and manage your business. You also get a mobile admin interface to run your business on the go. Every seller app provides an admin dashboard where you can easily add, edit, and manage your products.
With Mystore's multilingual admin dashboard, you can update product details, images, and prices as needed. You can also offer discounts and add SEO details to optimize your products and pages for better SERP rankings.
5. How does the ONDC network seller app ensure the security of my business and customer data?
The ONDC Network seller apps comply with data security protocols and employ several measures to safeguard your business and customer data. Mystore seller app takes the following measures to safeguard your business and customers:
Encryption: All sensitive information, such as customer payment details and personal data, is encrypted to prevent unauthorized access.
Secure Authentication: The app uses strong authentication methods to ensure that only authorized users can access your seller account.
Compliance: The apps have to follow compliance measures set by open network and industry standards to maintain data privacy and protection.
Data Backups: Regular data backups are performed to prevent data loss in case of unexpected events.
PCI-DSS: Built on a PCI-DSS platform Mystore seller app prevents data breaches and builds customer confidence.
These security measures work together to create a safe and secure environment for your business operations on the ONDC network.