Being a modern 21st century buyer, you must be familiar with same-day delivery and 1-2 day delivery. Correct?
Here comes, even faster deliveries, thanks to q-commerce. Wonder what's that?
Driven by customer expectation and the rush to win more buyers brands have taken to quick commerce — ecommerce that is super quick. Yes, some FMCG and grocery retail brands in India have reduced delivery time to 10-30 minutes.
The mantra is blink and it's there for you! And these brands are now referred to as quick commerce companies in India.
Their quick commerce business model has been disrupting many traditional ecommerce brands — by fulfilling customer needs for grocery items, beverages and personal care items in just 10-30 minutes.
With focus on selling high-demand goods and completing deliveries within a few minutes, these q-commerce brands witnessed an immense growth of customers and revenue, along with competitive advantage.
So let's see how these startups are leveraging fast deliveries to acquire customers and build an undefeatable business.
To begin with, lets first evaluate the Q-commerce market.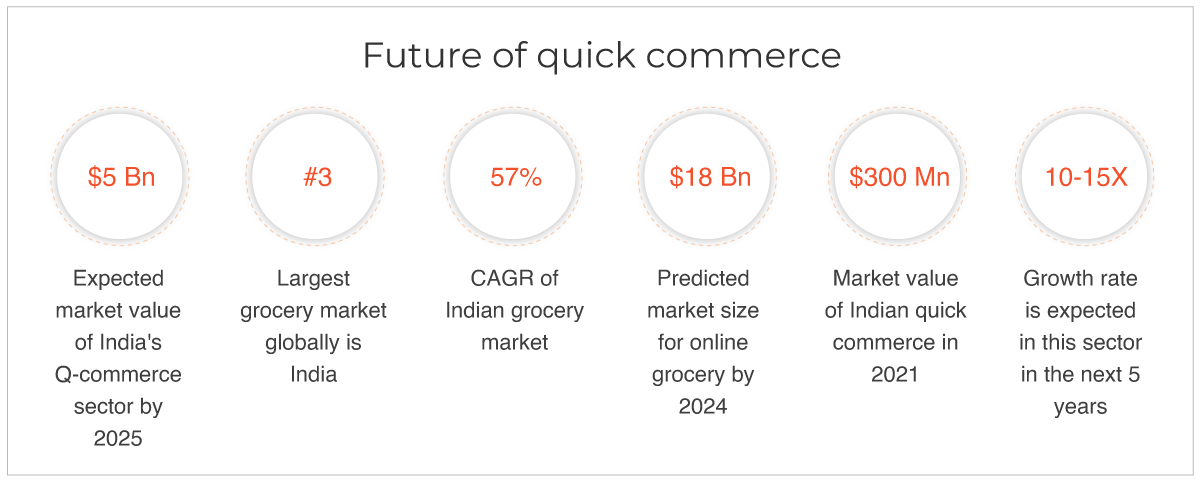 $5 billion is the expected market value of India's Q-commerce sector by 2025

#3 largest grocery market globally is India

57% is the CAGR of Indian grocery market

$18 billion is the predicted market size for online grocery by 2024

$300 million of the market value of Indian quick commerce in 2021

10-15x of growth rate is expected in this sector in the next 5 years
Takeaway: Given the profitability of the quick commerce market, there is huge potential for quick commerce startups to disrupt the market and acquire a bigger chunk of customers.
Changing consumer behaviour — from value and price seeking to convenience seeking

Massive adoption of ecommerce shopping, currently at 30% annual growth rate

Mid-to high income households in metros are turning from kiranas to quick commerce companies in India

Increased preference for fresh and quality products
Takeaway: Statistics prove that the desire for convenience among the young buyers are pushing demand in the quick commerce market i.e. millenials and Gen Z.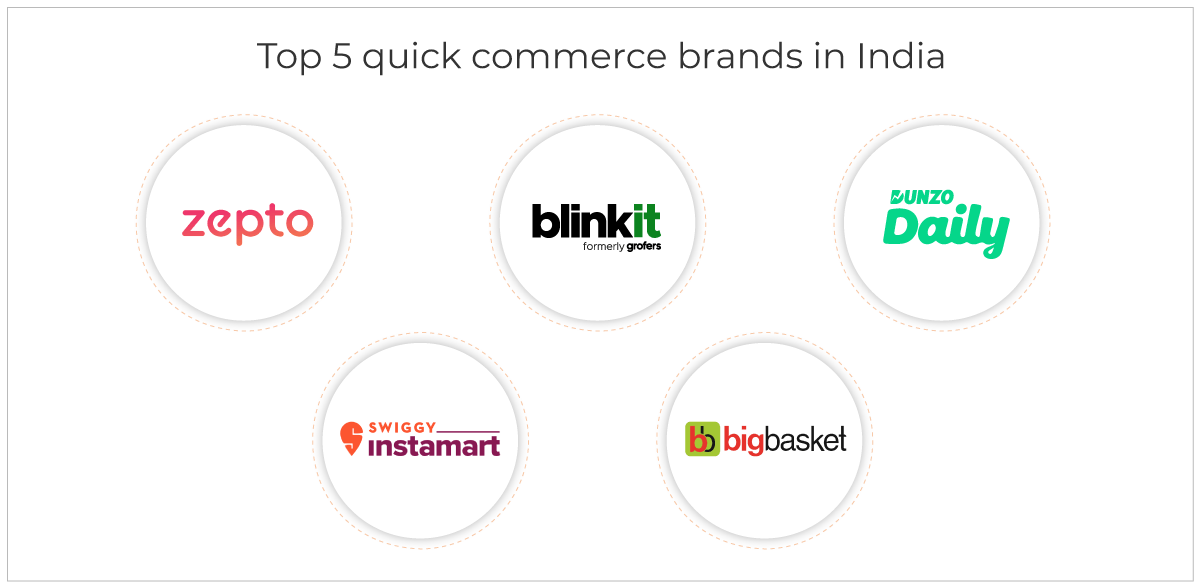 Zepto started its services in April 2021 to deliver groceries, personal care products, home essentials, baby care, products — within 10 minutes. The average delivery time is 8 minutes 40 seconds(approx).
Cities Covered: Bangalore, Mumbai, Delhi, Chennai, Hyderabad and Pune.
To fulfil delivery within 10 minutes, they have 100 micro-warehouses that can complete 2,500 orders/day. Due to this, they're able to overcome obstacles like chaotic roads, last-mile connectivity and volume of deliveries

Zepto App features like live order track, instant pick up, Cashless Payment, digital wallets, Geo-Fencing with ETA notifications and pickup & delivery verification SMS — create an extraordinary customer journey
The Q-commerce delivery model alone fostered them millions of dollars with a $10 billion dollar valuation. Their grocery deliveries are skyrocketing at 200% annually.
Formerly called Grofers, it has now rebranded as Blinkit with the vision to deliver consumer goods in 10-20 minutes. It is currently operating in 14 cities.
Cities Covered: Agra, Ahmedabad, Bengaluru, Chandigarh, Chennai, Delhi-NCR, Hyderabad, Jaipur, Kolkata, Mohali, Mumbai, Pune, UP-NCR.
Today Blinkit has 1 million+ customers shopping weekly. The average weekly retention is about 50%. This means 50% of the users come back to shop again

To make sure that stocks never run out, they have 250 micro warehouses and local kiranas catering to each covered area

They have partnered with 14,000-15,000 individual delivery partners with handsome payouts
A quick commerce company in India, Dunzo Daily delivers home groceries, food, medicines, pet supplies, health and wellness, gifts, bike rides, pick and drop, laundry delivery, etc — within 35-40 minutes at a minimum delivery fee.
Cities Covered: Gurgaon, Pune, Chennai, Mumbai and Hyderabad, Bangalore, Delhi & Hyderabad.
They created a 'Dunzo Delivery Partner App" to monitor delivery boys/girls and assign orders to them

It uses artificial Intelligence with its platform for effectively demand forecasting, making better inventory decisions and smoothen supply chain operations

Some of the app features that keep customers satisfied and loyal are:

GPS real-time location tracking for customers to track delivery boys

Provides popular payment options like UPI, Credit/Debit Card, Online Banking, etc

Send push notification to remind customers of the latest discounts, exclusive deals, loyalty plans, payment confirmation, delivery status, etc

Focus on gathering Reviews & Ratings

With a focus on supply chain and giving exceptional customer experience, It has witnessed 40x growth in 2020-21. They have been delivering 2 million monthly orders
Swiggy Instamart launched in August 2020 with a quick commerce business model to deliver groceries within 45 minutes to customers around 18 cities. Today, it processes 1 million orders weekly.
Cities Covered: Bangalore, Delhi-NCR, Hyderabad, Mumbai, Chennai & Pune
Key resources of Swiggy include local shops and restaurants, technology, payment system, delivery providers

For fleet management, they have partnered with Fast Despatch Logistics, a last-mile delivery service provider. It collaborated with the electric-cycle manufacturer i.e. Hero Lectro Cargo (HLC) to deliver orders through e-bikes

To enable hyper-quick deliveries, they leveraged dark stores owned by third-party sellers

On Swiggy App, customers also get multiple payment methods —Card Credit, Debit Cards, Net Banking, mobile wallets, COD, etc

To enable exceptional customer experience, they offer facilities like chat/call support, auto-detection of location, live order tracking, coupons, etc on their App
Just like other quick commerce startups, Bigbasket is also establishing a network of 'dark stores' and using advanced technology for instant deliveries.
Cities Covered: Serves 40+ cities — DelhiNCR, Bangalore, Visakhapatnam, Surat, Patna, Indore, Chandigarh, Jaipur, Hyderabad, Mumbai, Pune, Chennai, and many others.
BigBasket App offers customers facilities like — multiple payment methods, order delivery scheduling, 3-step simple checkout, vouchers/discounts, BB Star membership, email and push notifications about orders status

They use warehouses and third-party kirana stores in different cities for inventory procurement. So that they can quickly deliver fresh goods to customers

They have also introduced grocery products under its private labels for marketing and revenue generation
While quick commerce is gaining rapid acceptance and huge popularity, starting a q-commerce brand comes with its own challenges. Here are a few of them:
The task of handling and fulfilling orders is cumbersome. Meeting delivery deadlines, order packaging requirements and tracking order process needs an intervention of technology. Badly handled orders can have a negative impact on brand reputation, customer satisfaction, and revenue.
Have an advanced order management system in place that takes care of order packaging, delivery, refunds etc

Shipping automation- streamline your end to end shipping process with strategic planning, delivery automation, real-time order tracking, real-time dynamic routing etc
The customer demands will never be the same. Sometimes during peak seasons, you may see a steep spike in orders. While on normal days, order volume remains regular. Coping up with these unpredictable demand patterns is challenging.
Use an inventory management system to monitor inventory in real time. This way you can cut costs, eliminate deadstock, forecast demand and boost profits by promoting higher-performing items only.
Given the Indian traffic conditions and congested streets in tier 2 and 3 cities, it becomes difficult to fulfil deliveries within 10-30 minutes.
If you want low-cost deliveries, partner with local kiranas stores as they don't charge much

Establish third party dark-stores to fulfil delivery on-time

Through a Delivery Boy App, you can assign the orders to riders and keep track of the entire delivery process and optimise their routes
Quick commerce business model demands a comprehensive tech solution that should have capabilities to handle diverse requirements of your hyperlocal marketplace and location-based stores.
Choose an ecommerce platform that gives complete control over your q-commerce business as well as advanced technology to manage your changing business requirements.
Without an accurate view of how your SKUs, products or vendors are performing, you can end-up making bad business decisions. This in turn, can hurt your revenue and sales.
An ecommerce platform with inbuilt reporting features for core business aspects like inventory performance, sales data, site traffic, marketing data, orders fulfilment, revenue, etc.
Many quick commerce startups fail due to lack of coordination between business operations. For instance, if your warehouse management system is not in sync with your logistics solution, a supply chain manager will have less visibility over an order movement from a Kirana store/warehouse to a customer. Thus, leading to inaccurate on-time pickups, delay in deliveries, route diversions, and so on.
Integrate all your business software and marketing channels with your quick commerce site to get a comprehensive view of your business operations.
StoreHippo is an ecommerce platform that offers a comprehensive solution for launching a quick commerce company. Let's explore them:
StoreHippo has a comprehensive hyperlocal marketplace solution that frees you from inventory-based business models, which is usually adopted by businesses with deep-pockets. From building location-based stores to building hyperlocal ecommerce apps to managing the delivery boys, StoreHippo got you covered.
It comes with 300+ inbuilt features and 120+ seamless integrations that make it easy to design tailor-made solutions for your quick commerce brand.
Partner with local dealers/kirana stores to expand your business services in multiple locations. Take advantage of their physical stores and inventory, while reducing capital expenditure on establishing micro-warehouses for inventory storage. It enables your dealers to streamline local deliveries more efficiently. With StoreHippo's scalable infrastructure, quick commerce companies in India can rapidly diversify into any number of product categories, dealers/vendors, locations etc.
Easily onboard owners of local grocery/Kirana and other everyday essential stores as vendors. You can then manage vendor products, inventory, commissions, promotions and payments from a centralised dashboard.
Easy Vendor Onboarding: By embedding online registration forms, you can collect their store and personal information, along with valid proofs

Inventory Management: Get a clear overview of vendor specific inventory and keep track of available stock and products with them

Shipping and Discounts: Set up vendor specific shipping charges and discounts, while optimising shipping costs and maximise ROI

Order Fulfilment by Vendor: You can allow vendors to generate and print invoice, ship orders, update order status, etc. So that your quick commerce startup can avoid the expense of shipping
Want to reach customers in various locations? Want to manage supply chain disruption? Well, StoreHippo can totally help you. It lets you set-up multiple sub-stores based on product category, affiliates and geolocation.
Through a central dashboard, you can monitor the performance of each store. Further, generating unique coupon codes for each store is also possible via coupon code generator.
Accelerates delivery speed

Maximises marketing ROI due to hyper targeting

Remove barriers to sales

High customer satisfaction
Increase your mobile conversions by creating Android and iOS quick commerce apps, straight from StoreHippo's app builder. Further to capture customer attention and boost app purchases, you can include CTA buttons and "ratings and reviews" on each page via StoreHippo themes.
Readymade, Customizable Themes

: Get 100+ mobile-friendly themes, uniquely made for online grocery stores. You can alter the theme design by simply dragging and dropping with no prior design experience.
Plus, all the themes load within a second which gives you advantage on search engines. As Google prioritises fast loading sites/apps in ranking web pages. Not to mention fast loading sites also accelerate conversions.
Interesting Fact: A 1-second delay in page loading can result in a 7% reduction in conversions.
Pre-integrated 60+ payments gateways:

Get support for

multiple payment options

like credit

cards, net banking, UPI, digital wallets

to facilitate smooth checkouts.
Best way to speed-up your q-commerce deliveries and improve your profit margins is by partnering with people who own two-wheeler vehicles. This is a cost-effective way.
StoreHippo provides a dedicated delivery boy app that lets you track delivery boys from the dashboard. You can assign deliveries and can even chat with delivery boys via app. While delivery boys can accept/reject orders and update order status with ease.
Want to ensure that your products never run out of stock and you don't miss on multiplying profits? StoreHippo's Inventory management+ system helps you to decipher the customer density and product demand in different target locations. Based on the information, you get to know which dark store to stock.
Additionally, your inventory level automatically can be updated after every new order, return or cancellation.
Reduce over-stocking cost

Improve profit margins

Save unnecessary stock movement

Analyse latest quick commerce market trends

Identify fastest-moving SKUs
Easily track inventories of various vendors by integrating the best warehouse management software to manage your vendors' warehouse inventory. With this, you can streamline your logistics operations and inventory availability like other quick commerce companies in India
By leveraging automated marketing tools, you can enhance customer engagement and increase revenue. Talking about StoreHippo, it provides a gamut of tools to enhance your q-commerce marketing, for example, inbuilt SEO features to acquire organic site traffic and conversions through search engines
Plus, you also get a discount engine and a coupon generator for quickly creating personalised discounts/coupons for different customers.
What we learned from the above 5 quick commerce companies in India is that ~ we need solid ecommerce technology as well as a powerful supply chain strategy to deliver groceries or fresh produce within a guaranteed time.
So are you prepared to build a disruptive quick commerce startup? The journey of launching a q-commerce company in India became easy with StoreHippo.
Want to see how? Get started with 14 days of free trial StoreHippo to experience out-of-box features in real-time.