D2C or direct to consumer brands are bringing a revolution in the entire ecommerce industry — giving tough competition to traditional enterprise ecommerce brands. Want to know the reason why? Well, there are many. So let's uncover:
Low and competitive pricing

Free delivery and returns/exchanges.

Quick customer support and grievance redressal

True omnichannel experience
Due to these facilities, "40% of consumers say that 40% of their spend will go to D2C brands." Additionally, D2C's disruptive approach has millennials and Gen-Z hooked.
"68% of consumers between 13-44 years are purchasing directly from D2C brands."
Some exceptional D2C brands are even diluting the monopoly of large enterprises — like Nestlé, Samsung, Titan. What's more surprising, many of these large enterprises shifted to D2C selling, after witnessing huge success of new brands.
Uptill now, you must have gauged the success of D2C. So now let's learn how 5 enterprise ecommerce brands who were once small startups (like you), and are now making millions of dollars via D2C.
In this article, we are going to look at -
How did they first launch?

How did they create an army of loyal customers in a few years?

How do they market themselves?
Lessons To Learn From Top 5 Successful D2C Brands

Mamaearth
Mamaearth is a D2C brand whose Unique Selling Point (USP) is toxin-free, FDA-approved skincare products. Due to this USP, they received huge customer engagement and loyalty.
Their D2C strategy
This D2C brand has a strong focus on influencer marketing and targeted digital funnels by targeting 1000+ mom bloggers, health and fitness YouTubers

They initially targeted mothers and their babies. But as they started getting positive feedback, they began to target younger audiences

Despite years old competitors like Himalaya, Johnson & Johnson, etc; Mamaearth's special attention to customer's needs made them a customer's choice and created abundance of wealth

They have been leveraging the wide popularity of platforms like Amazon, Flipkart, Nykaa, etc, and they also sell through traditional stores. Thus, implementing an D2C omnichannel approach
Learnings
When it comes to product design or features, look at the customer pain points

Find ways to create D2C brand differentiation

Follow a lean innovation cycle i.e responding to customer's feedback through rapid product experimentation and improvement in real-time

Utilise the customers' data to improve your product, customers services and sales. Analyse customer behaviour, shopping patterns and other relevant data to maximise marketing revenue and net profit
BoAt
BoAt is a D2C electronic brand that provides trendy yet high-quality electronic wearables, at affordable prices. Established in 2016, boAt now sells over 10,000 products every day to 20 million+ customers located in India.
Their D2C strategy
Cost-effectiveness was a major pain-point for customers buying music electronics. D2C brand boAt identified and addressed this pain by offering a wide variety of affordable devices. For example — headphones, earphones, speakers, premium cables, wireless speakers, earbuds (Airdopes), home audio equipment, etc. They managed to attract attention with their stylish, pocket-friendly; yet quality products
Their distribution strategy is admirable. It started selling products on online D2C channels — Amazon, Flipkart, Myntra, and Jabong — as their target audience is millennials. As their business expanded, it started selling in Croma outlets and on their official website

Their digital marketing strategy mainly involves running Facebook ad campaigns, Youtube Ads, and doing organic marketing on other social media — Instagram, Twitter, etc

They utilised word of mouth marketing by onboarding Bollywood celebs and cricketers — like Virat Kohli, Hardik Pandya — to glorify their brand and create buzz

They also diversified their product portfolio year-on-year. In 2017, they launched basshead earphones; in 2018, speakers and in 2019, soundbars and home-audio systems. The product was launched after recognising India's demand for bass devices and a 20-30% annual spike in music electronics. As a result of constant innovation and diversification, they acquired a 37% share in the Indian personal audio segment in 2020. Thus, beating big names like Samsung, Realme, JBL, etc
Learnings
Satisfy the needs of

D2C users and develop products by closely observing their requirements.
Study your customers buying behaviour, such as — which channels they shop, how often they shop, and what thing motivates them to buy.
Keep yourself updated with market trends and industry demands to update your D2C strategy on a regular basis and achieve high ROI.
Warby Parker
Warby Parker is a D2C enterprise ecommerce brand that disrupted the traditional and expensive eyewear market by selling prescription eyeglasses at affordable cost and uncompromised quality. With that vision in mind, they made a net revenue of $393.7 million in 2021 and has 2.15 million active customers.
Their D2C strategy
To differentiate among their competitors, they came up with two USPs — affordable prescription glasses and ease of purchase. This USP coupled with other factors (discussed below) attracted millions of customers to their site and retail stores

As they sell eyeglasses, they provided advanced shopping technology on their D2C site — Augmented reality. By offering an AR virtual try-on feature on App, they eliminated the customer's pain point of not being able to visualise the look of glasses on their face

To further address the customer's pain point during eyewear shopping, they launched a "Home Tryon Service". This initiative lets customers order five pairs of glasses for home trial before making an actual purchase

75% of Warby Parker's retail customers visited the stores after browsing their enterprise ecommerce website. They acknowledged this customer behaviour. Hence, they binded online and offline channels to get rich insights into their preferences and offer personalised recommendations

They opened a few brick and mortar stores to offer an omnichannel D2C experience. Fortunately, they gained massive sales from offline stores generating $2900 in sales per square feet. Today, this D2C brand has over 160 stores in the USA

They used an innovative method of addressing customer queries. When a group of customers post the same issue in a Twitter thread; they create and upload a short Youtube video and share the video link on Twitter for customers to watch. Following this strategy earned them a loyal D2C customer base
Learnings
Have a unique value proposition to dilute the monopoly of big brands in the market

Provide exceptional D2C customer service through utilisation of online customer service channels preferred by customers to interact with your brand

Offer a personalised and connected D2C buying experience, no matter on which channel your customer meets your brand

Have an awesome distribution strategy to appreciate sales volume and reach new customers

Transition to offline retail wisely i.e. research the market and study the offline customer data
Everlane
Everlance is a clothing D2C brand in the US selling designer and luxury clothes directly from their network of factories — at an affordable price.
Their Strategy
Price competitiveness and transparency, and compliment-worthy clothes are their USPs. Just go to their enterprise ecommerce store and you will be mesmerised by its timeless collection
Best of all, they have justified their end prices by explaining the cost incurred during manufacturing, packaging and delivery
Their main D2C sales channels are — websites and retail stores. By limiting their sales on two channels, they managed to cut down the end cost for customers and boost their revenue
Example: The cost of manufacturing a crew-neck sweater for Everlance is $42. It sells it for $100. While its rivals sell the same for $200+ and have a lot of middlemen in between
It effectively utilises Twitter, Tumblr, Facebook, Instagram and Pinterest for advertising, while promising phenomenal customer service

During the pandemic, it stressed more on curbside pickup and sidewalk shopping in the stores— keeping business flourishing
Learnings
Competitiveness and uniqueness of products is crucial for D2C brand's sales

Offer complete price transparency to end customers in order to earn their trust
Healthkart
Healthkart is a healthcare D2C brand dealing in fitness products and preventive health solutions to customers in an economical manner. Currently, their annual revenue is over Rs 369 crore and have several stores in 46+ cities
Their Strategy
Fake healthcare products and equipment was a major concern among customers. They identified this problem and launched a D2C enterprise ecommerce store with the unique value proposition of selling original and approved health products. This alone created a buzz among their audience and stimulated plenty of interest

For fast and effective deliveries, they have partnered with trustworthy logistics providers like Blue Dart, Shadowfax, FedEx, etc

Having a diverse mix of products lessened their reliance on one product. This, in turn, generated new income streams. Today they sell products of various categories — sports nutrition, healthy food and drinks, Ayurveda, fitness equipment, vitamins and supplements, etc

They have an amazing D2C distribution strategy. This includes selling on health-specific marketplaces like 1mg and Pharmeasy as well as on Amazon, Flipkart and Nykaa

Their main focus is on fitness products — as it drives enormous traffic and sales. Realising the high demand for fitness, they also planned to launch gym memberships + consultation from gym trainers and yoga trainers
Learnings
Keep testing your products to see what's working or what is not

Innovate new ways to sell your existing products. For instance, offer complementary products or lifetime membership
Launch A D2C Enterprise Ecommerce Store With StoreHippo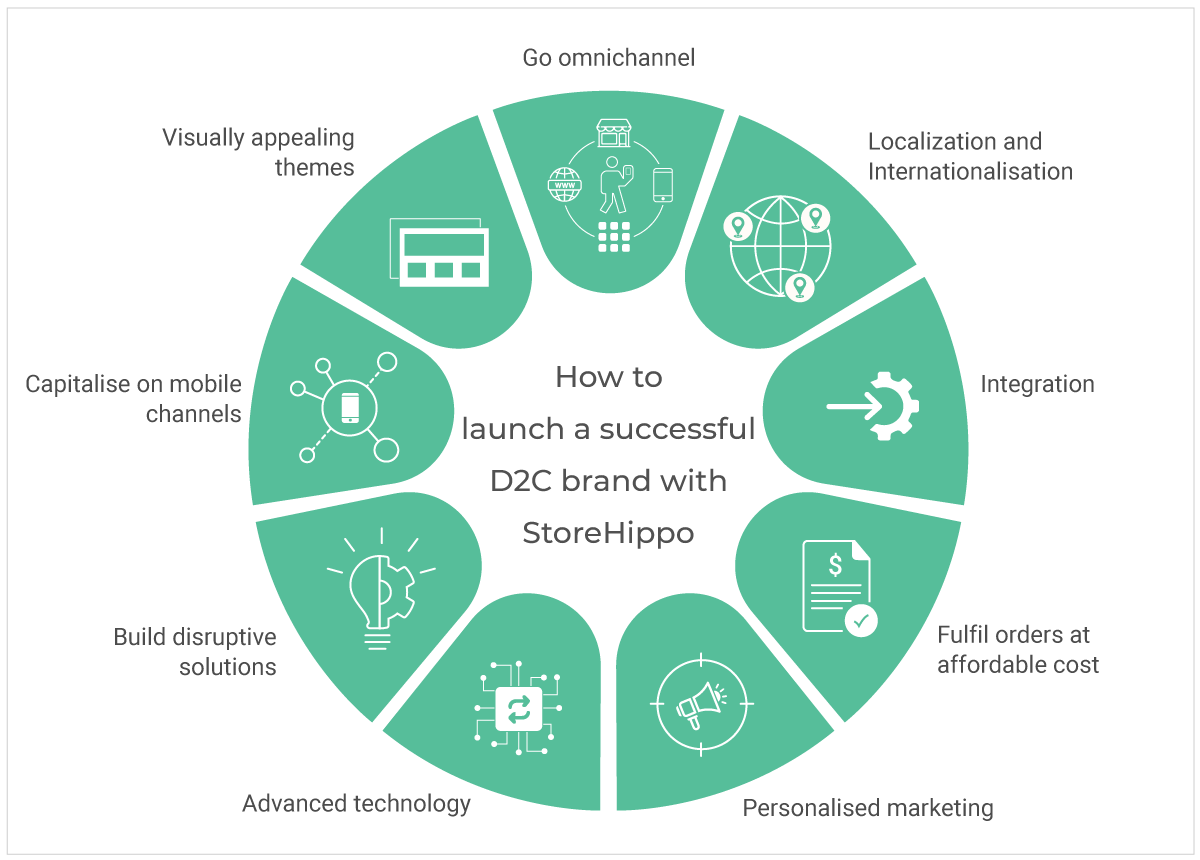 After reading success stories of top D2C brands, do you feel motivated to start your own D2C brand? Ofcourse! And StoreHippo is here to power your vision.
StoreHippo is a SaaS enterprise ecommerce platform that provides you with cutting edge technology, advanced tools and a host of inbuilt features to launch your D2C brand store. Here are its few benefits:
Advanced technology
StoreHippo uses the advanced next-generation technology that benefits you in immense ways — faster development, mobile-first, scalable, highly customisable, and so on.
You get extensible features such as — automated order management, 100+ integrations (payment gateways, logistics, live chat support, etc), RESTful API based extensible backend, omnichannel support, PWA apps, and more.
Build disruptive solutions
To attain disruptive results, StoreHippo offers extreme flexibility which can be used to tweak the platform inside out and build disruptive solutions by combining the best in breed technology, tools, most popular business models etc. StoreHippo's agile solutions help you pivot your business model easily and build personalized experiences for creating your customer-centric D2C brand.
Capitalise on mobile channels
Mobile is the most preferred digital channel for online buyers. StoreHippo mobile-first ecommerce platform helps you build online stores that are PWAs. This means your customers can get the look and feel of a mobile app when they open your website in a browser. Also, your site works seamlessly like a mobile app on entry-level devices and slow internet connections. What's more, you can build mobile apps right from your admin without any coding. Leveraging m-commerce for more sales is easy with StoreHippo.
Visually Appealing Themes
Boost your customer engagement and conversion rate with our easy-to-use attractive themes. Moreover, all the themes are device-friendly, allowing you to deliver an exceptional omnichannel experience on various devices and channels.
Go omnichannel
StoreHippo is built on headless architecture that lets you connect multiple customer touchpoints — be it site, app, mobile, tablets, social media, voice assistants, offline stores, etc. Thus, promising a seamless digital experience across all touchpoints and devices.
With headless, you can tweak the storefront design, prices, checkout pages, landing pages, marketing offers, etc as per customer's past purchase behaviour — to offer a truly personalised D2C experience.
Localization and Internationalisation
Make your site content available in native languages of your target audience in various countries. With StoreHippo inbuilt solutions, building multilingual enterprise ecommerce stores and enabling multi-currency payments is super-simple.
Integration
StoreHippo comes handy with seamless integrations that help you to leverage the functionalities of accounting software, ERP, payment gateways, and logistics solutions to level up your online store. Additionally, it supports headless commerce that helps you to take the advantage of REST APIs to make integrations even more easy.
Fulfil Orders At Affordable
Cost Completing order quickly and efficiently requires onboarding of trustworthy warehouse partners and logistics solutions. StoreHippo solves this problem by providing an integrated logistics partner. With this, you can deliver to 26000+ pin codes across India.
What makes it affordable is ZERO upfront cost for setting up an account and discounted shipping rate. Apartly, you also get COD support, bulk order upload option, automated delivery, etc.
Personalised Marketing
From personalised landing pages, product recommendations, discounts, checkout, delivery choices etc; StoreHippo has everything you need to build the most-engaging buyer journeys. Some of them are:
Discount engine:

Reward your loyal

D2C

customers by creating unique

discount

and coupons codes.

Email marketing tools:

Reach to customers' inboxes directly by sending relevant emails on the latest launches, sales, price drop, out-of-stock, etc.

Unified notification

: Always be on the top of your

D2C

customer mind by sending

push notifications

to their mobiles and desktop to immediately alert for any new offer.
Apart from these features, StoreHippo has 250+ more features that makes it first-choice among D2C brands. What's more exciting, it also takes responsibility for software security and maintenance, thus providing ZERO development hassles.
Final Takeaways
The success of D2C brands reveals that customers are transitioning from traditional brands. Why do customers prefer D2C so much over traditional brands? Because consumers get niche products at competitive prices and personalised shopping experiences that are not acknowledged by traditional brands.
D2C brands generally focus on web-specific retail, direct distribution, advanced technology, customer feedback, product innovation, customer data, social media marketing, and unique selling proposition — to become a success.
Want to make D2C transition in an effortless way? Get started by booking a free demo of the StoreHippo enterprise ecommerce platform to have real-time experience of its immersive features.