Is your brand present across multiple channels like app, website, social media, offline stores? If yes, don't you want to multiply your sales and customers on existing as well as new channels? Of course, you are willing.
You know what else we know? — You not only want more sales and customers, but want to retain existing customers and make them spend more. Correct?
The simple and straight answer is — Go Omnichannel.
But the real question asked by brands is — how to transition from single-channel or multi-channels to omnichannel retail? Easy peasy! We can get started by researching on how top omnichannel retail brands are doing this?
Sounds like an intelligent decision? After all, it will only save your time and resources demanded in experimentation and testing. So let's explore them, but first let's take a look at the latest Omnichannel trends to build a successful strategy.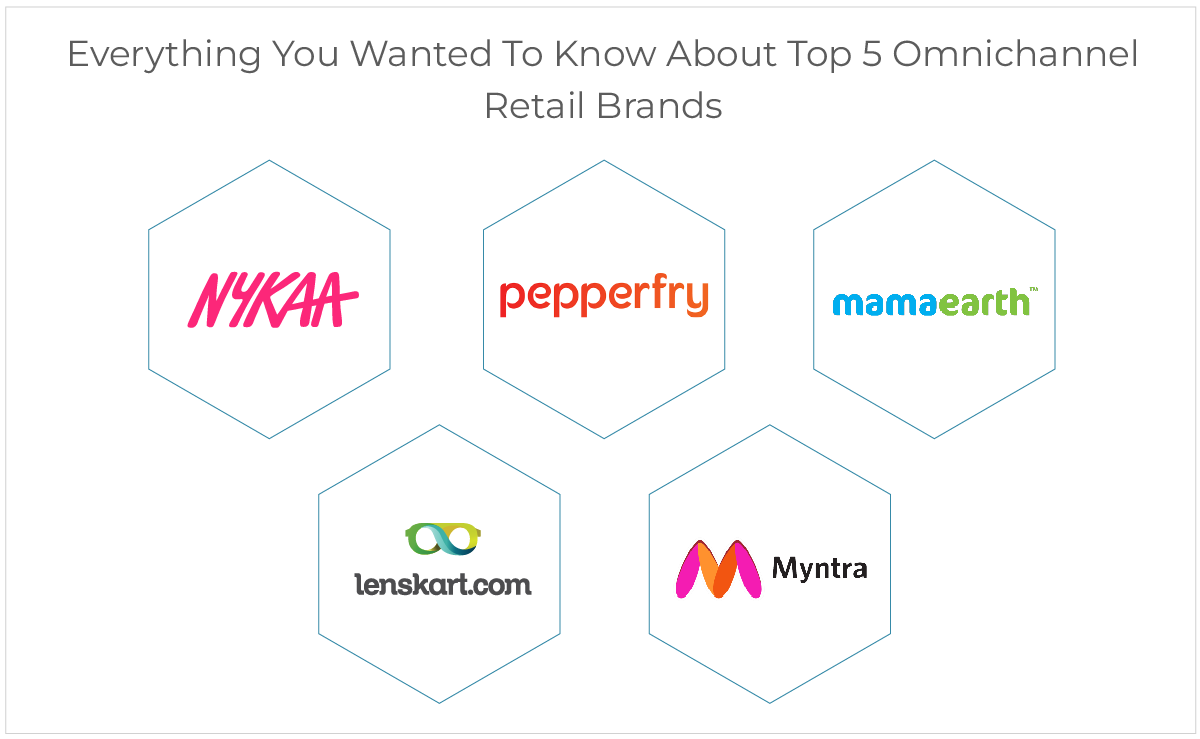 50% higher growth is seen in omnichannel retail shopping in 2021

73% of consumers use multiple channels in their purchase journey and expect the same experience at every channel or touchpoint they use

50% users consult 3 channels before closing a big ticket purchase

3.5X higher engagement rate is noticed with omnichannel

Consumers use online channels to purchase goods, research alternatives and identify physical stores
Sources: GroceryDive, HBR
Takeaway: Brands who have rapidly acknowledged this new omnichannel trend by revamping their current strategy, are the ones with 10 times higher conversion rate and sales.
Want to know the top brands with the most powerful omnichannel retail strategy? In this section, we are going to reveal omnichannel brands who quickly adapted to omnichannel trends and exponentially multiplied their brand reach and profits. Let's explore them:

Nykaa is the leading Indian fashion marketplace that is omni-present across online and offline channels. By creating their customer touch points, they saw significant uplift in their revenue and profit margin.
Their omnichannel strategy starts from widening their marketing channels and connecting them with websites and apps. They curates unique omnichannel content for each type of channel such as—

Beauty Book articles, Editor's Choice widgets and Buying Guides for app and website users. Beauty Book attracts 7.5M views and 4 lakh visits/month

Web series, educational brand collaborations, YouTube make-up masterclasses and tutorials for Youtube and Instagram

They introduced virtual try-on technology that uses an advanced face tracker algorithm that detects lips, eyes, cheeks, and hair and applies virtual cosmetics, to give a real-time, true-to-life view of the products

They also introduced a Routine Finder, which is a comprehensive skin, hair and wellness tool that allows customers to build a beauty regimen with recommended products. This initiative notices 15,000 visits per day across all platforms, of which 90% are through the App users and 10% are websites
A popular option for home decor, furnishing, lighting, and mattresses, Pepperfry is India's largest online furniture marketplace. They serve their huge customer base via online channels as well as concept-based retail studio outlets, rightly leveraging the omnichannel approach.
Pepperfry opened 32 offline franchise stores in 25 cities to ignite store footfalls as well as create multiple touch points for omnichannel shopping. This strategy alone garnered them an increased 45% conversion rate

Their franchise stores offer live video calls, customer support and consultation to customers to enable a direct and personalized interaction with customers

For customers who first land on their site, they have integrated augmented reality technology including 3D visualizations, virtual try-ons and product demos. This made their customers to visualize how the products will look in their own home
A natural skincare brand Mamaearth's 90% of the sales are through online channels, and 10% through offline stores.
Their first non-owned channel in their marketing media mix is Social Media. They sell directly on Instagram and Facebook— since their target audience millennials relate to Instagram extensively

Then they also got onboard with online marketplaces like Amazon, Nykaa, Flipkart, and Myntra

From multi-channel, they shifted to the omnichannel trend by opening retailer stores in 100 cities in India— for more brand visibility and sales opportunities
Lenskart is disrupting the entire Indian eyewear by adopting the new omnichannel trend and strategizing to influence next generation omnichannel buyers.
It has grown its offline presence by adding 250 stores per year. So that online customers can experience the products before purchasing

To bolster their omnichannel efforts, they also created a 3D virtual trial room that allows customers to feel like they are in a physical store when experimenting with various styles of spectacles. Buyers can click a selfie through their webcam, and pick out glasses that best suit their face through a 3D feature

Their consumer can shop at a brick-or-mortar store and can return the order through any digital storefront (apps/desktop website/mobile website) and vice-versa
Myntra takes the coveted spot of India's largest fashion marketplace with a consistent traffic of over 44 million monthly visitors on its website. The online fashion store boasts of 7000+ brand partnerships and significant brand presence across various channels.
Myntra partnered with large offline brands to create an omni-channel experience. They leverage their inventory in the stores or the consumer experience that we have in the stores to direct the traffic

They introduced 'Myntra-Mall', enabling shoppers to experience their favourite brands', Official Brand Stores (OBS) on its app. The concept replicates the offline mall experience, where shoppers choose to enter the brand stores for an appraisal on the entire offering, with the convenience of being online

Following the omnichannel trend, it also leverages capabilities of AI and AR to allow customers the camera on the customer's phone and critique their fashion choices.
StoreHippo enterprise ecommerce platform in India comes with 360-degree omnichannel solutions for brands planning to go omnichannel. Here is why enterprise brands should choose StoreHippo to build a seamless, unified, muti-channel strategy to get connected with their customers across multiple touchpoints: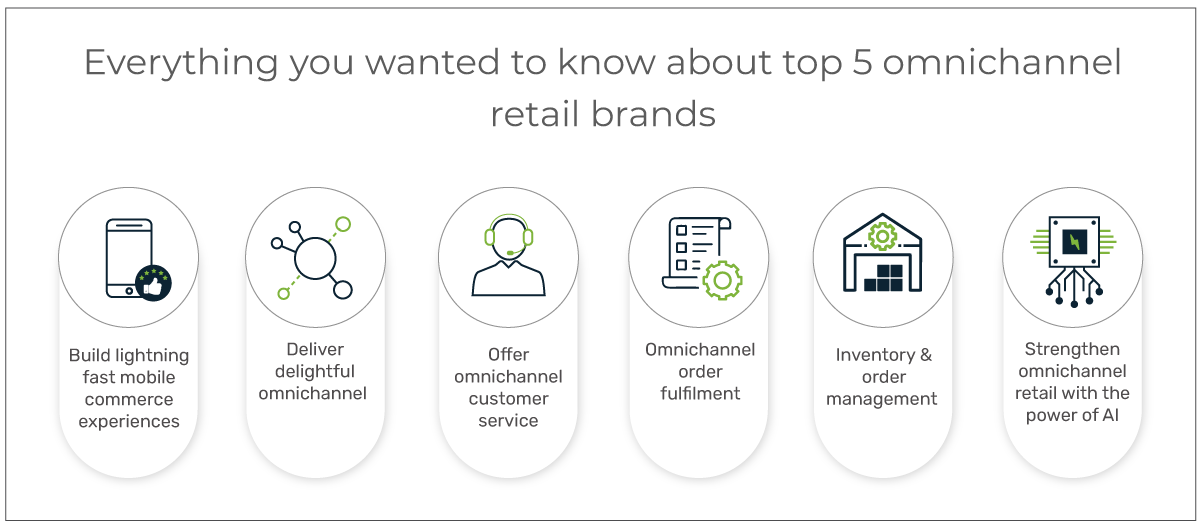 Fact: "When customers shop in store, they use mobile apps to find discounts, better deals, do price comparisons and watch online product videos.
With the prominence of mobiles in shopping, mobile has become a compelling omnichannel shopping channel. StoreHippo m-commerce solutions help you retain and grow your customer base, experiment with your marketing, reduce your go-to-market time and boost sales.
Mobile-Friendly Themes: With a fully customizable platform like StoreHippo, you get a rich collection of 100 professional-looking and customizable themes. So that you can build and design a conversion-friendly app and sites
PWA Site: Reach out to a wider audience and grow your traffic Transforming your online store into a Progressive Web App (PWA). The best thing about PWA is that it even works under low to no internet connectivity. With inherent capabilities, PWA promises better customer engagement, increased conversion, and retention rate
Mobile Apps: By using StoreHippo mobile app builder, you can build your Android and iOS mobile app to retain buyers and increase customer LTV. Apps can also be integrated with Facebook, Twitter, Instagram, and other social media sites. That means with a single tap, customers can easily share your app or experience with their network
Mobile Payments: For frictionless checkouts, StoreHippo the best ecommerce platform in India offers seamless integrations with more than 60 payment gateways. You can activate multiple mobile payments like UPI and wallets. The COD and Offline Payment support is also provided, so that you don't miss any potential customers
Push Notification: Use in-app push notifications to send personalized offers in real-time and gently nudge your customers towards conversions
An omnichannel experience requires brands to use multiple channels to create a seamless buying experience for their customers. Therefore, you need a content management system to deliver an omnichannel retail experience.
StoreHippo empowers brands to sell omnichannel with Headless Commerce Solutions. Headless offers them agility and helps them move faster, thus breaking free of the rigidity of traditional software. The technology enables brands to implement quick solutions for exploring new markets/channels.
Enhanceddigital experience

Keep pace with changing customer demands

Higher conversions rates

Effortless buying experience on all devices and channels
Fact: 72% of customers expect the sales rep to know their issue and purchase history, when interacting with them.
To meet this expectation, you need to adopt an omnichannel support approach. With omnichannel support, you can offer support on numerous channels and can record their interactions. StoreHippo the best ecommerce platform in India lets you integrate multiple customer service channels like —
Messenger apps like Facebook Messenger, Whatsapp Messenger

Social Media Channels

Chatbots or Live chats

Emails

Phone

Web Feedback Forms
Once you integrate these channels and customer support tools to your site/app, you can seamlessly handle customer issues across channels and can transfer the chat from one to another channels.
Bonus: StoreHippo provides live chat integrations. You can add a chat service either from our available chat tools or by adding your custom chat solution.
Storehippo has an omnichannel order fulfilment solution for retail ecommerce brands i.e. omnichannel logistic providers.
StoreHippo's integrated logistics solution lets you deliver to 27000+ pin codes in India and 220+ foreign countries. You can manage and sync orders from multiple channels like online marketplaces, online stores, mobile sites and apps etc — on a single automated dashboard.
Plus, you get ability to offer omnichannel fulfilment options to your customer, such as:
Buy Online, Pickup In-Store

Buy Online, Pickup In-Store (BOPIS) – ship to store from distribution centre

Buy Online, Ship from local store to home

Buy online, Return/Exchange in a nearby store
Pro Tip: Offer in-store pickup to motivate customers to visit your store. For customers, they receive fast and free shipping. While your business can save on shipping costs, build strong relationships and boost order value. StoreHippo the top ecommerce platform in India comes with 30+ pre-integrated logistics partners to make your fulfilment streamlined. It also offers built-in delivery boys solutions to help you and your vendor-distributors manage their own fleet of delivery boys.
Accelerate their digital growth with automated stock management, purchase order management, omnichannel order processing, real-time inventory tracking and manay more features from StoreHippo the best ecommerce platform in India.
With inbuilt reporting, you can get detailed reporting on sales, inventory, out-of-stock items, open and fulfilled orders, orders from various channels, product trends, and other insights. You can even integrate your ERP, logistics solution, warehouse software and accounting softwares for accurate inventory and order management.
Avoids overstocking

Reduces the dollars spent on holding stocks

Better demand Forecasting

Accurately fulfill orders with least error

Streamline operations
Just like Lenskart and Nykaa, you can also achieve exponential growth through AI. Artificial intelligence is being utilized by top omnichannel retail stores to provide chatbot services, filter fake reviews, recommend relevant products and provide personalized services to online buyers.
To make you more competitive, StoreHippo allows you to utilize AI's advanced capabilities as illustrated below:
Product Recommendation: Personalizing your ecommerce store via relevant product recommendation, creating personalized homepage feed, shooting relevant emails and push notifications, customize price based on their loyalty/purchase frequency, run remarketing ads, etc.
AI Chatbots: You can integrate AI powered chatbots with your online stores to recommend products, discounts, or other offers in a relevant manner and least efforts. Chatbots are a low-cost way of providing 24/7 customer service and collect valuable data and track user behavior.
From integrating channels/platform to ensure stock availability across channels, to offering personalized marketing and enabling flexible deliveries to customers - the demands to offer a great shopping experience is colossal. That's where omnichannel retailing reduces the challenges, and offers a full-stack solution for each ecommerce process.
Just like the above brands, you can also deliver superior customer experiences while seamlessly managing operations, marketing promotions, and analytics with an omnichannel-ready, ecommerce solution - StoreHippo.
Get started with a 14 days free trial to experience Storehippo omnichannel capabilities in real-time.