The 21st century is surely an era of digitisation. Today, everything is available online from gadgets to groceries. The trend of shopping online, especially from a one-stop marketplace destination has penetrated not only large metros but is catching the pace very fast everywhere.
Take it up on yourself. Where will you go to buy your clothes, mobile phone, gadgets, daily needs, or for almost anything as a matter of fact? Will you run to the nearby shop or explore the plethora of options on multi-vendor marketplace like Amazon?
You guessed it right. With customers flocking to the multi vendor marketplaces, it's time to recalibrate your ecommerce strategies.
First, let us overview some interesting facts about online marketplaces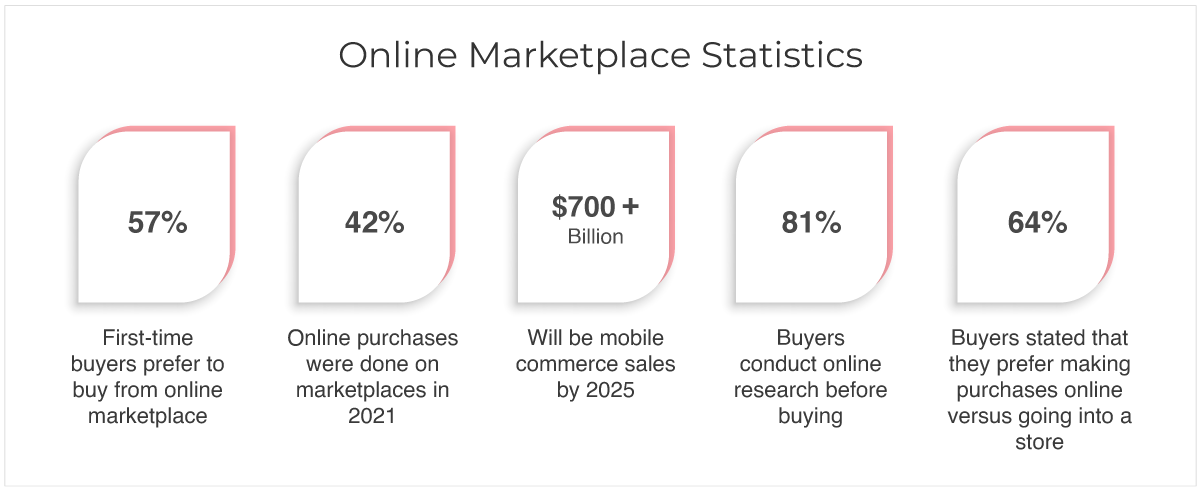 57% of first-time buyers prefer to buy from online marketplace
42% of online purchases were done on marketplaces in 2021`
$700+ billion will be mobile commerce sales by 2025
81% of buyers conduct online research before buying
64% of the buyers stated that they prefer making purchases online versus going into a store
Source: Digital Commerce 360
This drastic shift of interest has certainly led to a huge demand in the online sellers and marketplaces. Indeed, it is much easier for sellers without worrying about the tech aspects and storefront. Thankfully, the top multi-vendor marketplaces like Amazon business, Flipkart, Paytm offer enormous opportunities to sell anywhere across the country and increase brand visibility.
Find out the top 5 online marketplaces that rule the world of ecommerce. More you see the success stories, the more you will get inspired to kick start your online marketplace.
Here are the top 5 most popular online marketplaces in India that capture a great amount of share of the Indian ecommerce industry.
Amazon has become one of the most preferred online marketplaces and over 70% of online shoppers consider it the most trusted marketplace. The company made $75.5 billion in sales revenue in the first quarter of 2020 with a net income of $2.5 billion.
This online marketplace has over 3,00,000 sellers and 30 million+ products. The great deals make this platform one of the most liked multi-vendor marketplaces.
Initially, it has started selling books and now, sells a large variety of products online. The variety of products and affordable prices makes it one of the most desirable marketplaces in India.
It is the best suited platform for sellers dealing in home and kitchen appliances, fashion, mobile, sports, electronics, and more. This multi-vendor marketplace is a hub for more than 6 lakh merchants and has over 28 million products.
It offers various services like payments, travel, tickets, recharges, movies, shopping, and more. The quick payments, cashbacks and discounts make this most suitable for sellers and customers.
Are you amazed with these success stories? Have all these marketplaces inspired you to create a successful one for you?
So, your first step is to choose a best marketplace builder and you are all set to explore the world of staggering opportunities.
In this fierce ecommerce competition, you can also chart the route of online success with a powerful marketplace builder. You can turn your business into a thriving online marketplace with StoreHippo and ace the ecommerce world. StoreHippo offers a leading multi-vendor marketplace solution with best-in-class features to launch successful multi seller websites. You can easily onboard vendors who wish to sell their products and services online on your platform, and attract customers to your one-stop marketplace.
Choosing this win-all formula allows you to start your online business at a fraction of cost without any software development and maintenance hassles. StoreHippo is loaded with over 300+ inbuilt features to create, market, and maintain your online business – all at one place. Our fully scalable marketplace solution is ready to use with multi-faceted expertise of building a variety of vertical and horizontal marketplaces for B2B as well as B2C businesses.
Here are must-have features of best marketplace builder that you should incorporate in your online marketplace:
As the name suggests, multi-vendor is all about vendors. Providing a vendor-friendly website with an easy registration process is the foremost feature you should look for in the platform. Just like StoreHippo offers a smooth start to the vendors and allows them to register quickly and start selling on the website.
An individual dashboard for vendors empowers them to manage their online business conveniently. A personal vendor dashboard allows them to understand their orders, profit, losses, returns, customers, and everything about their business. It encourages the vendors to manage their online business efficiently and profitably.
The best marketplace builder has to mandatorily offer seamless order management as it is the core of online business. Every vendor wants to get their orders ready for delivery. And an efficient marketplace platform like StoreHippo understands it completely. Some of the order management features are:
Real-time notifications to vendors
One-click mechanism to view order details, feedback, and reviews
Seamless sorting and organizing mechanism for all orders
Automated invoice generation with single-clicks sharing system.
Communication remains the primary key to every successful business. And it is the same with a multi-vendor marketplace too. A good marketplace platform should offer unified notifications over SMS, web, email and phone to the customers and keep them updated about the latest developments on multiple instances.
Shipping is one of the most important aspects of online business and an integrated shipping solution can save you from a lot of order and shipping hassles. The one-stop shipping solution offered by StoreHippo has all the features to make shipping as easy as pie for your online business. Some of the features include:
Eliminate payment downtime with the adaptive payment features of the best marketplace builder. StoreHippo offers seamless payment settlements where the order amount automatically gets split by payment gateways. The commission of admin and seller is paid automatically. It also gives GST and many other tax benefits to the vendors. Make your way to seamless payments between the customer and vendor with 50+ payment gateways offered by StoreHippo.
To create a multi-vendor marketplace that is advantageous for sellers, buyers, and your business profitability, you need marketplace software that is ready to meet market challenges, has a gamut of features and is still easy to use. StoreHippo fits the bill perfectly.
Its ready-to-use tools and features allows you to do business effortlessly and in turn, boost the overall returns for your business. With the plug-and-play solutions from StoreHippo, enterprise brands can go to the market in record time and build a marketplace that is way ahead of competitiors. Built on MACH architecture, StoreHippo gives better creative control to brands to build innovative, personalised and agile solutions that quickly respond to market demands.
Ready to build your own multi vendor marketplace with unique solutions? Get started by exploring the features of StoreHippo. Start your 14-day free trial today.
1. Can a turnkey multi vendor solution be useful for building an enterprise multi vendor marketplace?
Yes, with turnkey multi-vendor marketplace solutions, you can build a highly scalable and flexible ecommerce platform. StoreHippo offers a fully hosted and managed solution to help manage fast-growing businesses with high-volume sales.
2. How long does it take to launch a multi vendor marketplace with StoreHippo?
You can launch your multi vendor marketplace with StoreHippo in no time. StoreHippo offers comprehensive Saas-based 360-degree ecommerce solutions to help you quickly build, run and manage your marketplace.
3. Will I have control over the products sold by my vendors on the platform?
Yes, you can have complete control over the products sold by your vendors on the platform. The admin can approve or reject the products uploaded by the vendors. Also, the products will be displayed on the marketplace only once they are approved by the admin. You can also apply a check on any unwanted product uploads.
4. How can I enable my customers to shop seamlessly on mobile phones?
Your customers can seamlessly shop online on mobile phones with StoreHippo. The best marketplace builder, StoreHippo comes with in-built mobile apps builder that helps you build Andriod and iOS apps directly from your admin dashboard at no additional costs and no coding. The stores powered by StoreHippo are also PWA that look, feel and work like mobile apps even on entry level devices.
5. Can sellers manage their own orders and inventories?
Yes, sellers on your multi vendor marketplace can effortlessly manage their own orders and inventories. StoreHippo enables the sellers to easily add, edit, upgrade products etc by logging in their unique seller account. They can have authority to add and view complete inventory, product variants, product details, pricing image etc.
6. What will be the cost of additional plugins on my multi vendor marketplace?
There will be no extra cost of additional plugins as you do not need any plugins to manage your business. StoreHippo comes with in-built solutions to manage your regular business activities, like end-to-end vendor management solutions, products management, order management etc.
7. Can I expand my business to global markets?
Yes, you can expand your business to global markets with StoreHippo go global features. Here is a list of all global features offered by StoreHippo:
60+ pre-integrated domestic and international payment gateways

Multiple currencies

to help you offer seamless checkout process

Multilingual websites so you communicate better with your audience

Powerful tax engine to calculate location-based taxes and generate multi-currency invoices
With a host of global features on yoru ecommerce platform, you can quickly take your multi vendor marketplace to the global market.
8. What will be the cost and time taken to add new customer touchpoints?
You can quickly add new customer touchpoints with StoreHippo. Please drop us your exact requirements and our team of experts will evaluate them and get back to you as soon as possible.
9. Does StoreHippo have SSL and PCI compliance?
Yes, you can secure your business with free SSL for your business in a few clicks with StoreHippo. You can also ensure payment information and customer data safety by building PCI DSS-compliant sites with StoreHippo.
10. Can I implement differential pricing for my customers in different geolocations?
Yes, you can implement differential pricing on your multi-vendor marketplace with the inbuilt price override feature from StoreHippo. You can plan better profit margins by offering custom prices to your unique customers based on factors like their order volume, order frequency etc.