From an affordable hand blender to an expensive dishwasher, every kitchen and home essential is now sold online.
Electric Irons, air conditioners, room heaters, air purifiers, microwaves, egg boilers, refrigerators; you search them on Google, check out their features/quality and place an order at a click.
Simple and convenient!
So, if you are planning to build your own website for selling appliances, then watch the latest statistics of the online kitchen and home appliances market.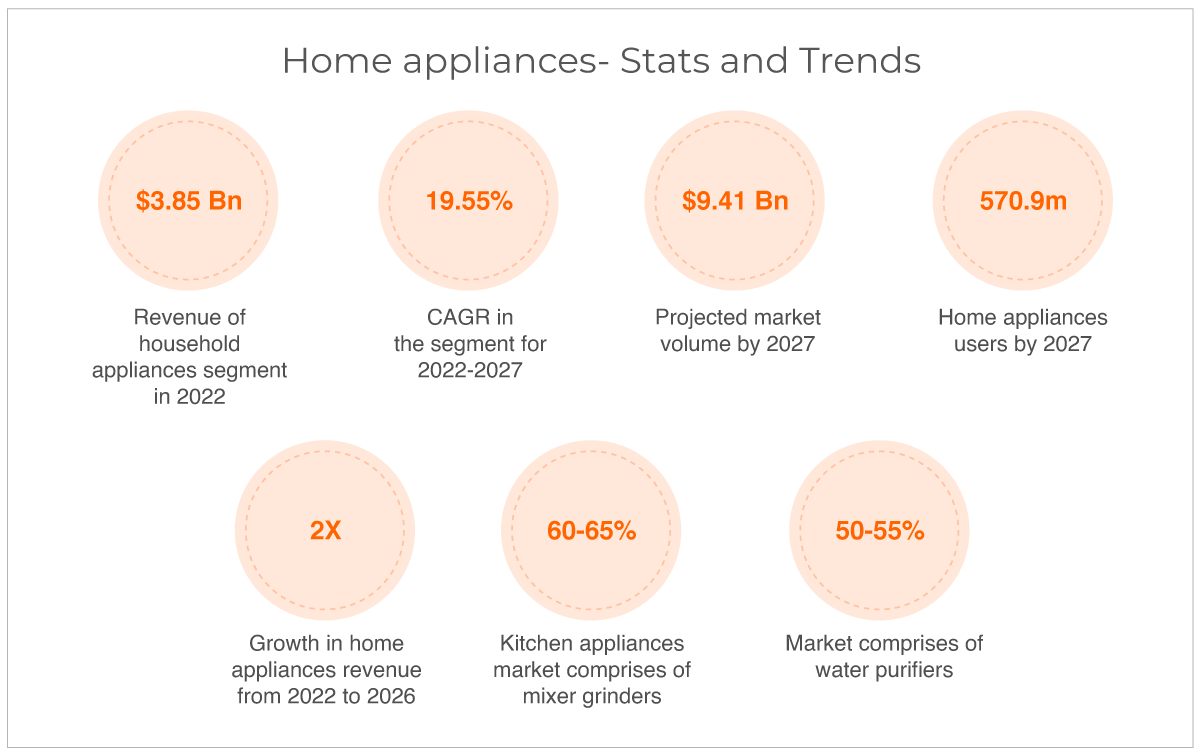 $3.85bn revenue of household appliances segment in 2022.

19.55% CAGR in the segment for 2022-2027

$9.41bn projected market volume by 2027

570.9m home appliances users by 2027

2X growth in home appliances revenue from 2022 to 2026

60-65% of the kitchen appliances market comprises of mixer grinders

50-55% of the market comprises of water purifiers
Source: Statista, Redseer

With discounts/offers, a variety of brands, product reviews, and ratings, easy payments, available at a click; online marketplaces have become the most preferred source of purchasing appliances in India.
Do you now want to see how successful kitchen and home appliances selling websites made customers? So, let's end the wait and start the revelation.
Here is how the top household appliances multi seller stores have created a strong market presence:
The kitchen and home appliance categories are most visited on Amazon, which is the reason for thousands of reviews and ratings for each type of electronic. It has more than 20,000 kitchen appliances sold by 40+ brands.
A unique category of kitchen appliances where buyers can readily find and click to purchase.


User-friendly product pages that answer the buyer's about a product and promotes quick checkouts.


Multiple payment methods, such as COD, online, or wallet transfer; further lessen cart abandonment.


Their SEO strategy to rank the website on the first page on google is commendable. They are ranking for 300+ keywords related to kitchen and home appliances. Some keywords are washing machine online, Mixer Grinder, etc
There are 4000 appliance brands on Flipkart that are selling into 55 categories of small and large appliances.
Incredible tactics to boost sales by using marketing tools. Such as email notifications, product discounts, social media promotions, marketplace app notifications, and others.


Fast loading website that lets buyers shop quickly on any device.


Navigation menu bar that directs a user from "TV & appliances" category to product-specific categories like kitchen appliances, home electronics, AC, fridge, etc.
Vijay Sales is a pioneer in the online and offline appliances market that sells electronics from 20+ brands. They have an inventory of 3500+ products across 11+ categories that deliver to 302 cities in India.
A user-friendly homepage that uses a navigation menu, search bar, sliders, product categorization to simplify shopping and reduce buying confusion.


Advance filtration to weed out the unwanted shopping results and make perfect choices.


Promotional offers like 30% discounts, exchange offers, free products offers, no-cost EMI, membership benefits, etc.


High converting product pages that feed buyers with required information about the product. This includes- pricing, clear images, description, warranty, payment options, delivery date, reviews, ratings, etc.
A mobile wallet as well as an online marketplace that offer multiple ranges of goods and payment service to online users.
A very clean interface where even a kid can fluidly browse and purchase products at a click.


The Navigation menu directs the buyer where to find the product they are looking for. For example, TV & Appliances> Home Appliances> Electric Water Purifiers.


They have marketplace apps that serve dual purposes. One as a payment wallet and the second, as a shopping app. They even have amazing cashback offers on purchasing from their marketplace.
It sells 3000+ appliances on its marketplace and delivers to 6000+ cities and towns in India with the help of 20+ logistics partners.
3 major techniques used to gain returning buyers
Effortless buying experience with a search bar on the top and a menu bar on the website. Through these elements, buyers can easily find the product by either typing in the search bar or opening the menu bar.


The website is fast to load and easy to use on mobiles and desktops. Moreover, to maximize mobile sales, they created a marketplace app to capture smartphone buyers.


Flexible payment options are provided to meet the unique demand of buyers. To overcome the cart abandonment rate (due to lack of trust), they also used security logos near to transaction forms.


Build your online home appliances marketplace with StoreHippo marketplace app and website builder. Before stepping into the actual work of creating a marketplace website, you need to evaluate the best website builder/software. How to evaluate the best? It's a no-brainer, you just have to search for 6 critical features listed below.
StoreHippo comes with a well-rounded marketplace builder to help enterprise brands build the most innovative marketplaces. Here is the list of features offered by StoreHippo to build future-ready marketplace websites:
StoreHippo software lets you allot unique dashboards to each vendor. The feature will allow your vendors to manage their orders, deliveries, stocks, etc. With an admin dashboard, you can monitor vendor performance, inventory, commissions, revenue, and shipment.
Mobile apps for the marketplace customers, vendors, delivery boys etc. to help get complete mobile-ready solutions and run the business on the go. StoreHippo provides support to deliver fast shopping experiences to smartphone users.
Shoppers have an instinct to compare things, regardless of where they shop, offline or online. Hence, vendor comparison in StoreHippo allows buyers to compare prices, ratings, and products offered by different vendors.
StoreHippo has a pre-integrated logistics solution, Shipkaro, that delivers to 26000+ pin codes in India at discounted rates. So you don't have to fear the sky-high delivery cost.
StoreHippo has a collection of 100+ mobile-friendly themes that are available in vibrant colours and designs with drag-drop functionality.
StoreHippo has 50+ pre-integrated payment gateways at no additional cost. Also, you will get national and international payment support to reach global customers.
Now StoreHippo has amazing tools to market your marketplace. You get a discount engine (for displaying discounts on items) SEO Support (to get found on Google and other search engines) and email tools integration(to push current customers in making a purchase).
With all these amazing features on one platform, you can easily build your own marketplace website for selling kitchen and home appliances.
You got everything in one place. You got some growth strategies. You got your competitor's online sales strategy. You got a guide to picking the best marketplace builder.
What else?
The only thing left is taking action. How will you do that? The first step is signing up for a marketplace builder.
StoreHippo's plug-and-play marketplace software allows you to explore the platform before making final payments. Isn't it a great way to test its capabilities and compatibilities? Here is an offer you can't miss! Get 14 days of free trial on StoreHippo marketplace builder and start selling online.
1. How can I build a kitchen and home appliances multi vendor marketplace?
You can seamlessly build your multi vendor kitchen and home appliances marketplace with StoreHippo. With StoreHippo's comprehensive SaaS-based 360-degree ecommerce marketplace solution, you can quickly build, run and manage your marketplace.
2. Can I build different landing pages on my marketplace for premium and regular customer segments?
Yes, StoreHippo enables you to create different landing pages for different buyer groups. It comes with built-in drag-and-drop tools to customize themes and features for different personalised landing pages. You can tweak the front end and the back end with much ease and make new dynamic pages for unique brand requirements.
3. How can I offer differential pricing on my home appliances online marketplace?
You can offer differential pricing to your customers on the home appliances marketplace with StoreHippo. The price override feature enables you to maximize the profit by applying different prices for the same products listed in different locations or customer segment based sub-stores.
4. Is it possible to offer different personalized deals to different audience segments?
Yes, you can offer different personalized deals to different audience segments with StoreHippo. The inbuilt discount engine enables you to implement multi level personalized discounts and offers based on customer's order value, purchase history, etc.
5. Can I build omnichannel solutions for my home appliances brand?
Yes, StoreHippo enables you to reach new markets with its omnichannel ecommerce solutions. You can get higher conversions by targeting your home appliances customer on multiple touchpoints like marketplace websites, apps, social platforms or any other channels preferred by your buyers.
6. How can I offer faster checkouts to my home appliances customers?
With StoreHippo's wallet management solutions, you can offer faster and frictionless checkouts to your customers. Also, with multiple payment gateways integrated on your marketplace, you can make each transaction smooth for your customers.
7. Can I add and manage affiliates on my multi vendor marketplace?
Yes, you can. StoreHippo enables brands to grow their reach with its affiliate network. With the affiliate module, you can create, manage, and pay your network of affiliates seamlessly. You can also manage all the affiliate transactions, new order entries, cancelled order commission reversal, available balance etc. automatically through the Affiliate ledger.
8. What security tools/measures does StoreHippo offer?
StoreHippo offers a multi-layer protection to secure the multi vendor marketplace and customers data. StoreHippo also secures your online transactions with PCI DSS compliant payment gateway partners. With its in-built one way encryption, StoreHippo protects and stores all sensitive information against data theft.
9. How many plugins will be needed to run the marketplace end to end, i.e, manage sellers, orders, discounts, shipping etc?
None. You do not need any additional plugins to run the marketplace. StoreHippo comes with comprehensive in-built solutions like end-to-end vendor management solutions, powerful discount engine etc to help you manage day-today business operations.
10. Does StoreHippo offer multi-currency support on mobile devices?
Yes, StoreHippo offers 60+ doemstic and international payment gateways supporting currencies from across the globe. Also, built on mobile-first technology, StoreHippo offers seamless checkout processes even on mobile devices.