Want to know the top glasses multi vendor marketplaces in India that have secured customer trust in minimum time? Do you want to discover the exact strategies of these eyewear marketplaces?
If your answer is yes, then I am sure you even want to know the latest technologies they used. Right?
Stay glued! Because I am going to reveal some effective growth strategies used by the 5 best glasses marketplaces to convert website visitors into regular customers.
Let's have a look at the most popular eyewear glasses marketplace and their unique ways to convince and convert new audiences:
This specs marketplace gets two lakh visitors in a month and delivers nearly 800-900 glasses every day to 100+ cities in India. Isn't that great? Let's explore more.
One methodology that levelled up Lenskart's annual revenue: Lenskart ran a nationwide digital ad campaign on social media and Google that drove tons of visitors to their website.
Using the custom marketplace building solutions, they created attractive web designs, and discount offers on their website that converted those visitors into returning customers.
Other Growth Tactics used:
Easy website navigation and product filtration that boosted purchases and ended the confusion during online shopping.
High-converting home page that kept their customers engaged for a long time. Elements used are- customer video testimonials, sliders, call-to-action buttons(Shop now, View range), clear product images, menu, etc.
Faster checkout option with a phone number or Facebook ID.
Multiple Payment options to stop cart abandonment caused due to the non-availability of preferred payment channels.
Another multi vendor marketplace selling high-quality glasses from 32 global brands to 50+ cities in India.
One Most Powerful Strategy: Deploying captivating discounts and offers on their homepage and social media pages that draw customers to buy instantly (even when they don't need it).
Other Growth Tactics used:
Simple and minimalist website design that loads faster, especially on mobile devices. Thus, ensuring the ultimate shopping experience with no frustration.
A prominent "Home Service" section for customers looking for eye checkups, lens consultation, and real-time brand selection, at home.
Responsive navigation menu with visual elements like images of glasses, call-to-action buttons and links to category pages (which are gender-based as well as price-based).
It is a south Indian optical selling platform that gained a lot of conversions and promising customers from their eCommerce website.
One Most Powerful technique to increase customers: They typically conducted a survey to find out the pain points of their customers. After watching the results of the survey, they ran a social media campaign showing the pain point through visuals. The campaign attracted thousands of buyers to their online marketplace and offline stores.
Other Growth Tactics used:
WhatsApp, call, and email icons in the website footer for instant customer support.
Conversion friendly Website that has fast loading speed, easy navigation, one-click sign-in, faster checkouts, and is mobile-friendly.
Crazy discounts and combo offer to sell the latest eyewear collections. Such as Frame + Arc lenses @ Rs 999.
This multi seller marketplace sells a wide range of eyeglasses, sunglasses, and contact lenses from 5+ brands.
Growth Tactics used:
Social media integration makes sharing easy. This also increased their following on Facebook and Twitter.
Lens comparison option to help customers in selecting the best.
Rich product pages with real customer ratings, reviews, description, quantity, number of shipping days, price, discounts, fast checkout button and add to cart button.
Personalized purchase assistant through which customers can buy the correct lens, by selecting their right and left eye power plus base curve.
An eyewear marketplace that sells spectacles, contact lenses, sunglasses, accessories for every gender and age. It has over 20 glasses vendors that sell on a commission basis.
One simple yet effective way to boost monthly sales: Great promotion on all the social media sites and their website. By offering budget-friendly deals like frame + lens at 890, new frames starting at Rs 545 they earned great attention and sales from online customers.
Other Growth Tactics used:
Free shipping, cash on delivery, and mobile wallet integration for payment.
Informative homepages with a dedicated menu, product categorization, clear graphics, sliders, and easy-to-find pages through effective linking.
Easy website navigation and fast-loading website that boosted the shopping experience and checkouts.
Virtual try-on for glasses, Digital Eye Strain, and online eye screening facility on the website
Get started with StoreHippo Marketplace Builder: Build your own marketplace and start selling online in no time.
Now I guess you have an idea of how to grow your eyewear and glasses marketplace. Right?
Now we will come to the actual part - setting up a multi vendor marketplace. For this, you have to-
Select marketplace software and,
Create your website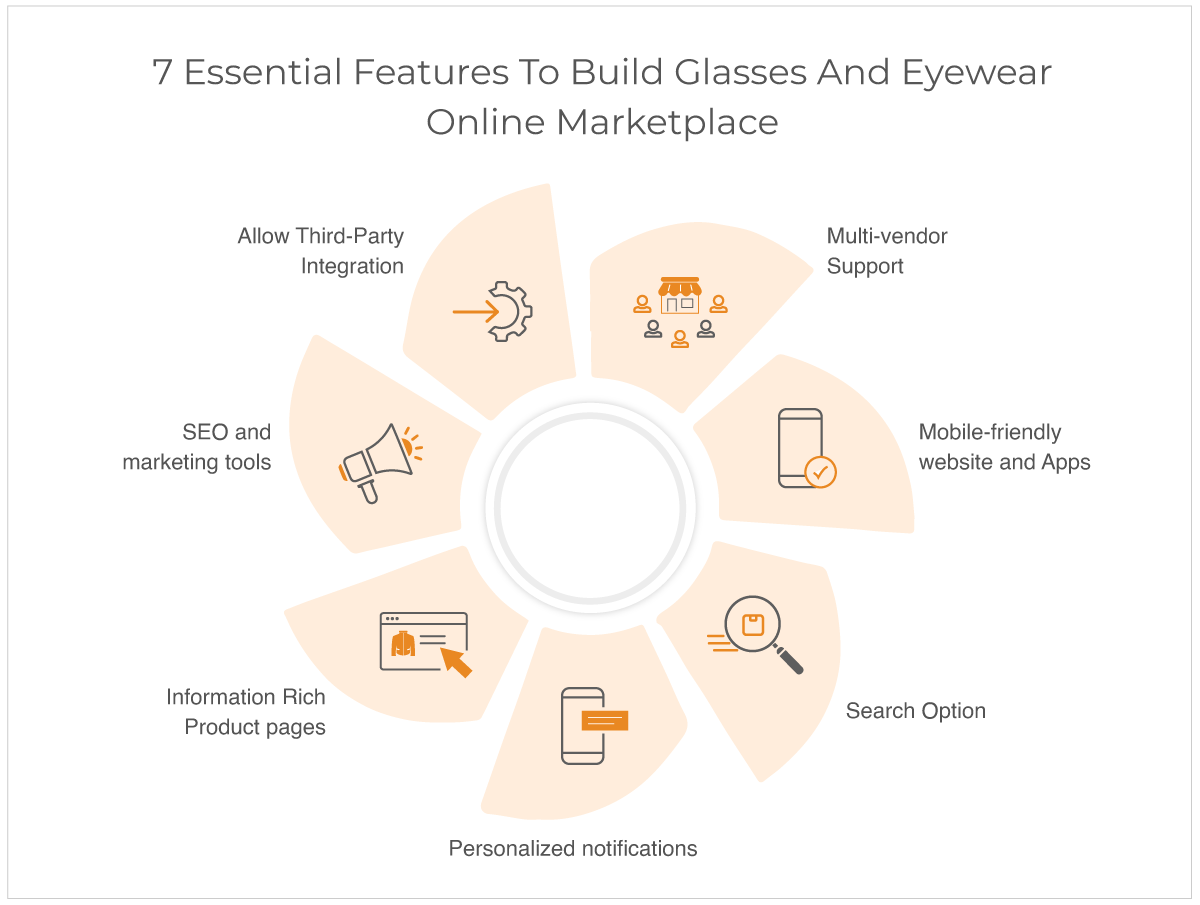 To be able to choose the best marketplace software and build an engaging glasses and eye wear website, let's have a look at 7 must-have features in the best marketplace builder:
To allow vendors to sell freely on your platform, you need software that gives features like - vendor dashboard, admin dashboard, vendor performance, and inventory management, etc.
A website that is fast to load and easier to navigate on mobile, convert maximum buyers. StoreHippo marketplace builder helps you in creating mobile responsive stores with no extra coding. If you wish to create an app for both Android and iOS users ZERO additional cost
By enabling the search options above the website menu can eliminate frustration and save time. This directly helps customers to find exactly what they need and buy it immediately.
It gently pushes your customers towards checkout by sending real-time alerts via email, SMS, or push notifications. To send personalized deals, StoreHippo gives you insight into customer behavior by their browsing history.
Do you like the product pages of Lenskart or Lensbazaar? To enable such informative product pages, you need rich tools that allow you to add 360 view images, videos, descriptions, etc.
SEO tools will help in enhancing your search visibility in Google and other search engines.
To create a conversion-oriented website, you need to integrate payment channels, social media channels, and logistics solutions.
When you sign up for StoreHippo, you will receive all of the above-mentioned features plus bonus services.
I know I know! You want a recipe to build your own marketplace. Don't worry, you can check it at StoreHippo.
Are you second guessing and procrastinating about launching your multi vendor marketplace to sell eyewear? Let's start with preparing a list of resources you will need, plus a marketing plan to grow your store.
StoreHippo promises to give you the best marketplace builder. My question is - Are you ready to build your online glasses store? If yes, then sign up to avail 14 days free trial of StoreHippo.
1. How can I build my glasses multi vendor marketplace like Lenskart?
You can seamlessly build your glasses multi vendor marketplace like Lenskart with StoreHippo's end-to-end vendor management solutions. It offers powerful features and tools like separate vendor and admin dashboards, adaptive payments etc to help you build, run and manage your marketplace business.
2. How can I reach potential eyewear customers on their mobile phones?
You can reach your potential customers on their mobile devices effortlessly with StoreHippo's mobile-first technology. With Storehippo you can leverage m-commerce and attract more customers by seamlessly creating Android and iOS mobile apps. The stores powered by StoreHippo are PWA stores that look, feel and work like mobile apps even on entry-level devices.
3. Can I offer enhanced search to my glasses customers with StoreHippo?
Yes, you can offer enhanced search on your multi vendor marketplace with StoreHippo. You can offer flexible filtering, define the category-level groups and create multiple groups based on the search criteria for any given category, like gender, framing style etc
4. Is it possible to recover abandoned carts on my shades and eyewear multi vendor marketplace?
Yes, it is possible to recover abandoned carts on your glasses multi vendor marketplace with StoreHippo. With its powerful abandoned cart recovery tool businesses can follow up their incomplete orders with personalized notifications and convert their lost sales into customers.
5. Can I offer personalized buyer journeys to my customers on my glasses online marketplace?
Yes, you can offer extreme personalizations to your customers with the best marketplace builder. With the decoupled headless architecture, you can easily tweak the front end and back end to implement multi level personalizations. You can customize your shipping solutions, digital payments methods, offer multi lingual content, personalize the discounts etc with StoreHippo.
6. How can I target my eyewear customers acoss all touchpoints like marketplace store, marketplace apps, physical store etc?
StoreHippo, you can easily target your glasses customer on multiple channels and boost your conversions. The next-gen omnichannel solutions from StoreHippo, enables brands to quickly create multiple customer touchpoints using the same backend logic and APIs.
7. Can I offer multiple payment options to my eyewear customers?
Yes, you can seamlessly offer multiple payment options to your customers with the best marketplace builder, StoreHippo. You get full COD support with multiple online payment methods like digital wallets, mobile payment options, net banking etc.
8. What are the marketing tools offered by the best marketplace builder, StoreHippo, for promoting the eyewear online marketplace?
StoreHippo, the best marketplace builder offers a rich gamut of built-in marketing tools to help you boost yoru conversions. The smart marketing tools offered by StoreHippo are personalized notifications, powerful discount engine, coupon codes, abandoned cart recovery, SEO tools etc.
9. Can I scale up to cross border ecommerce with my glasses multi vendor marketplace?
Yes, with the battle-tested solutions from StoreHippo, you can easily take your business to international markets. Below mentioned are the few go global features offered by StoreHippo:
60+ pre-integrated payment options
Multi lingual feature to connect with different native language speakers
Multiple currencies to support payments in local currencies
Global shipping and logistics provider for easy order fulfilment
Wide range of marketing tools for strategic multiple geo-locations targeting
StoreHippo offers the best gobal ecommerce solutions to help you take your glass and eyewear multi vendor marketplace to global markets.
10. Is StoreHippo a secure marketplace for my glasses business?
Yes, StoreHippo PCI DSS compliant ecommerce platform offers multiple security features to keep your online buisness secure and safe. The built-in multi-layer protection secures your business and customers' data. The PCI DSS compliant payment gateway partners secure the online transactions.